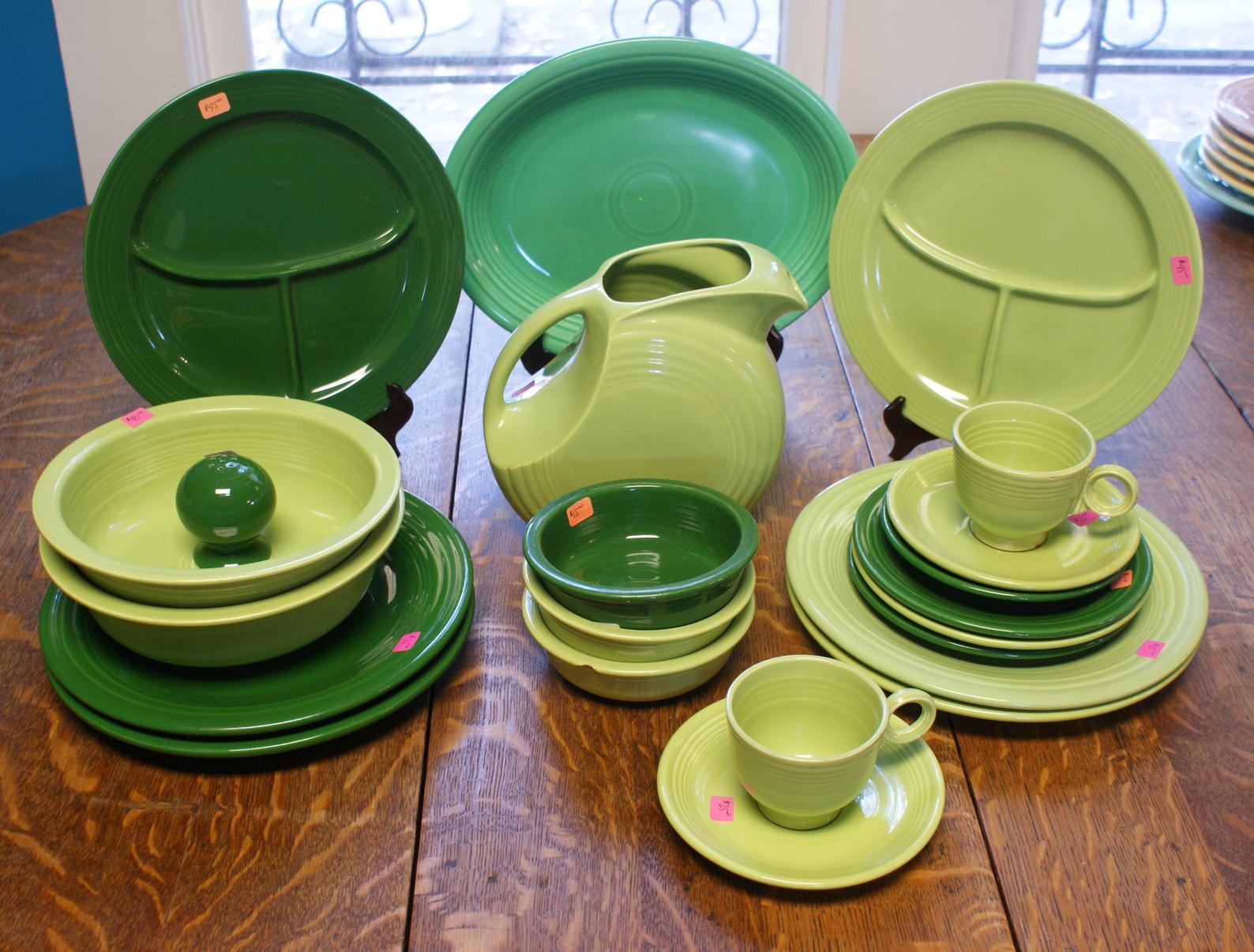 When it comes to dinnerware, Fiesta is a household name amongst the likes of Pyrex and Fire King. The company's tagline says it all: "An American Icon."
Fiesta dinnerware, sometimes called Fiestware, is made by the Homer Laughlin China Company. The solid-colored, heavy-duty pottery has been manufactured in a wide array of colors and styles. "Vintage Fiesta was created around the depression era and was made in bright, uplifting colors to appeal to people and lift spirits," says Jessica B. of JessiesVintageDishes.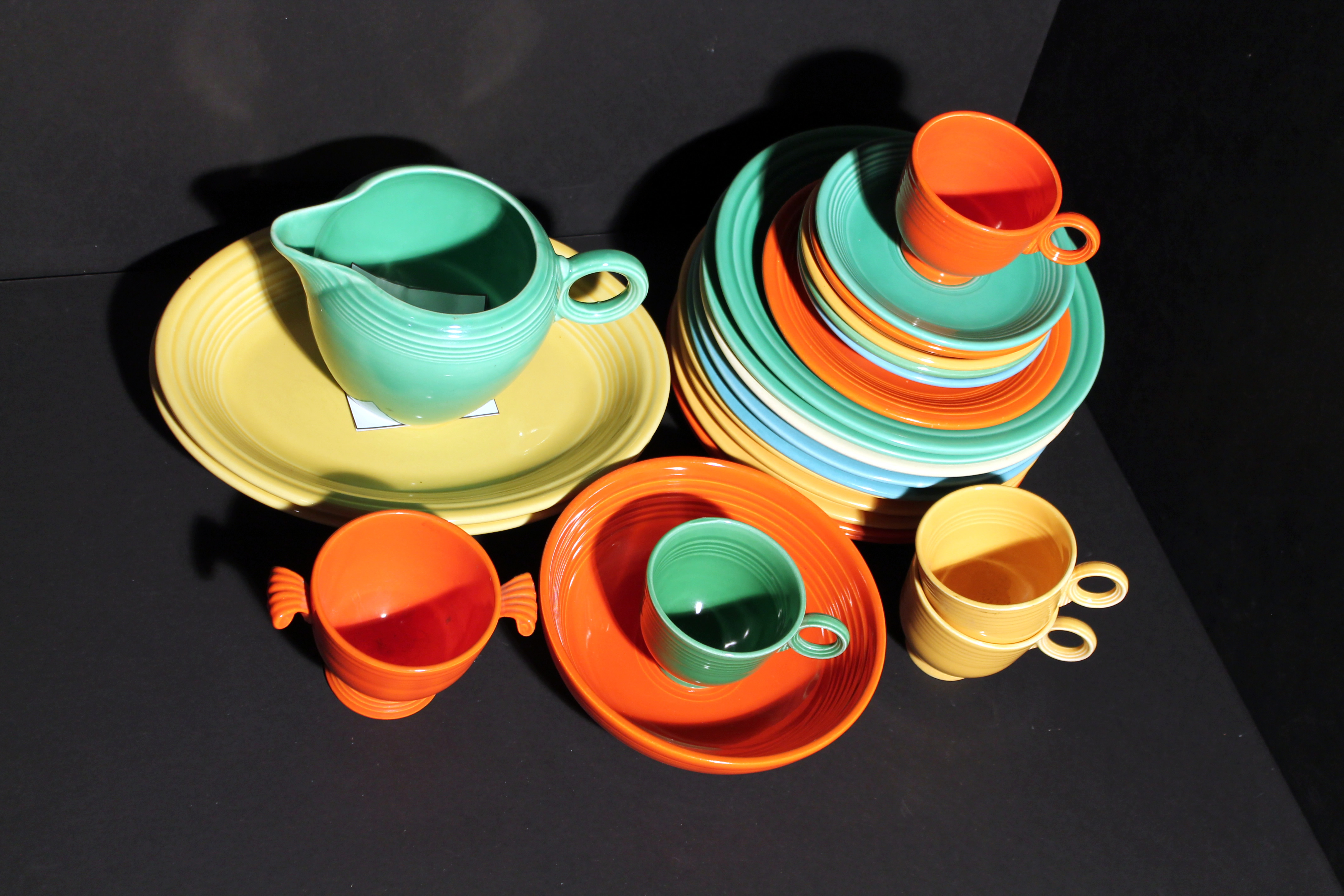 Everyone has different reasons for seeking out and purchasing Fiesta pottery. Many people, like Sharon Wilkes of Mom's Curio Cabinet, love it for the fun colors and heaviness. "I love all the mix-and-match colors," says Wilkes, "but more than that, they're so sturdy! My kids have broken everything in the cabinet except my Fiestaware."
Others see the pottery as a purely economic hobby—some rare, individual pieces can sell for thousands of dollars! Many older colors and styles were discontinued and some were only manufactured for a short period of time. This makes vintage Fiesta dinnerware a highly collectible niche. 
The History of Fiesta Ceramic Dinnerware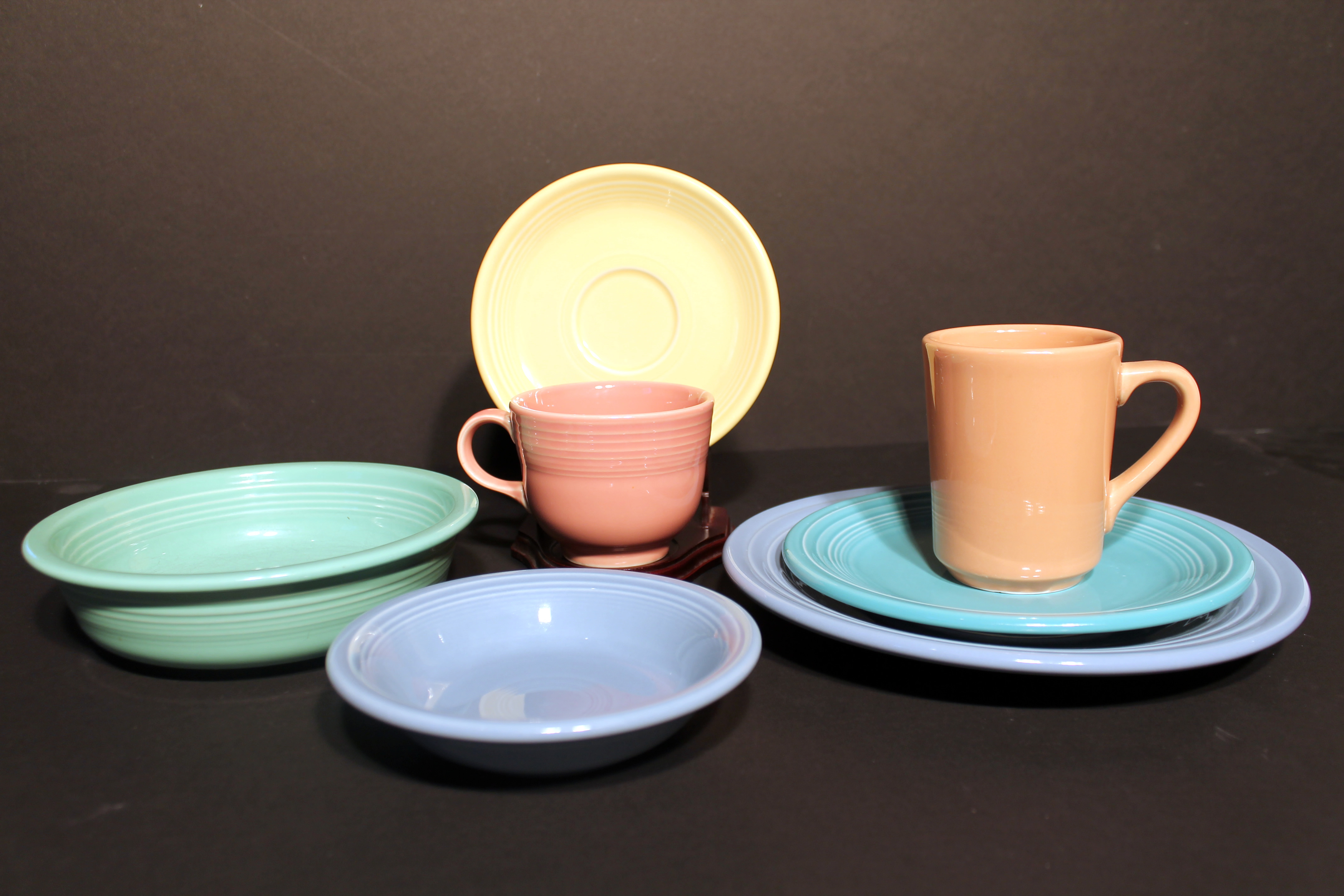 Fiesta started in 1871 when brothers Shakespeare and Homer Laughlin partnered to sell pottery made in factories in their hometown of East Liverpool, Ohio. The Laughlin Brothers were successful, but in 1876 Shakespeare decided to pursue different interests. The other brother took over alone and renamed the venture "Homer Laughlin China Works."
The Creator of Fiesta Dinnerware
In 1897, Homer sold the company to two business partners, William Wells and Louis Aaron. In the early 1900s, these partners expanded by building a factory across the Ohio River in what would eventually become Newell, West Virginia. When the Newell factory was built it was the largest pottery plant in the world, with a capacity to produce 300,000 pieces daily. The company continued to flourish and, in 1927, second generation potter Frederick Hurten Rhead was hired as the design director for the Homer Laughlin China Company.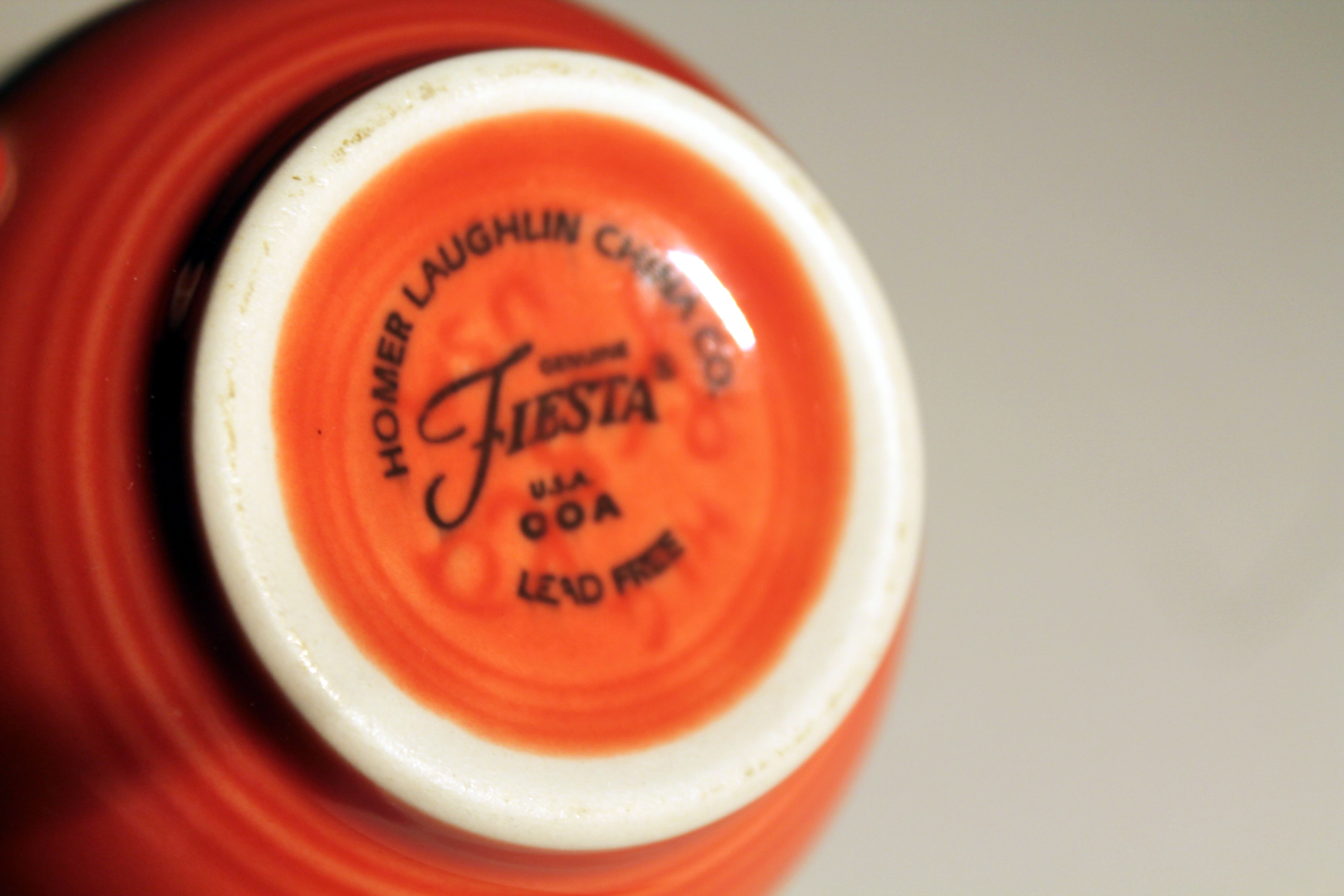 This was a turning point for the company because Rhead was the creator of the Fiesta collection. In 1936, the company introduced Fiesta dinnerware to the American public at the Pittsburgh China & Glass Show. The collection was so popular that more than a million pieces were produced by the second year of manufacturing.
The Original Fiesta Colors
The original five Fiesta colors were Green, Cobalt Blue, Yellow, Red and Ivory. A year after the Fiesta line debuted, the company added a sixth color: turquoise.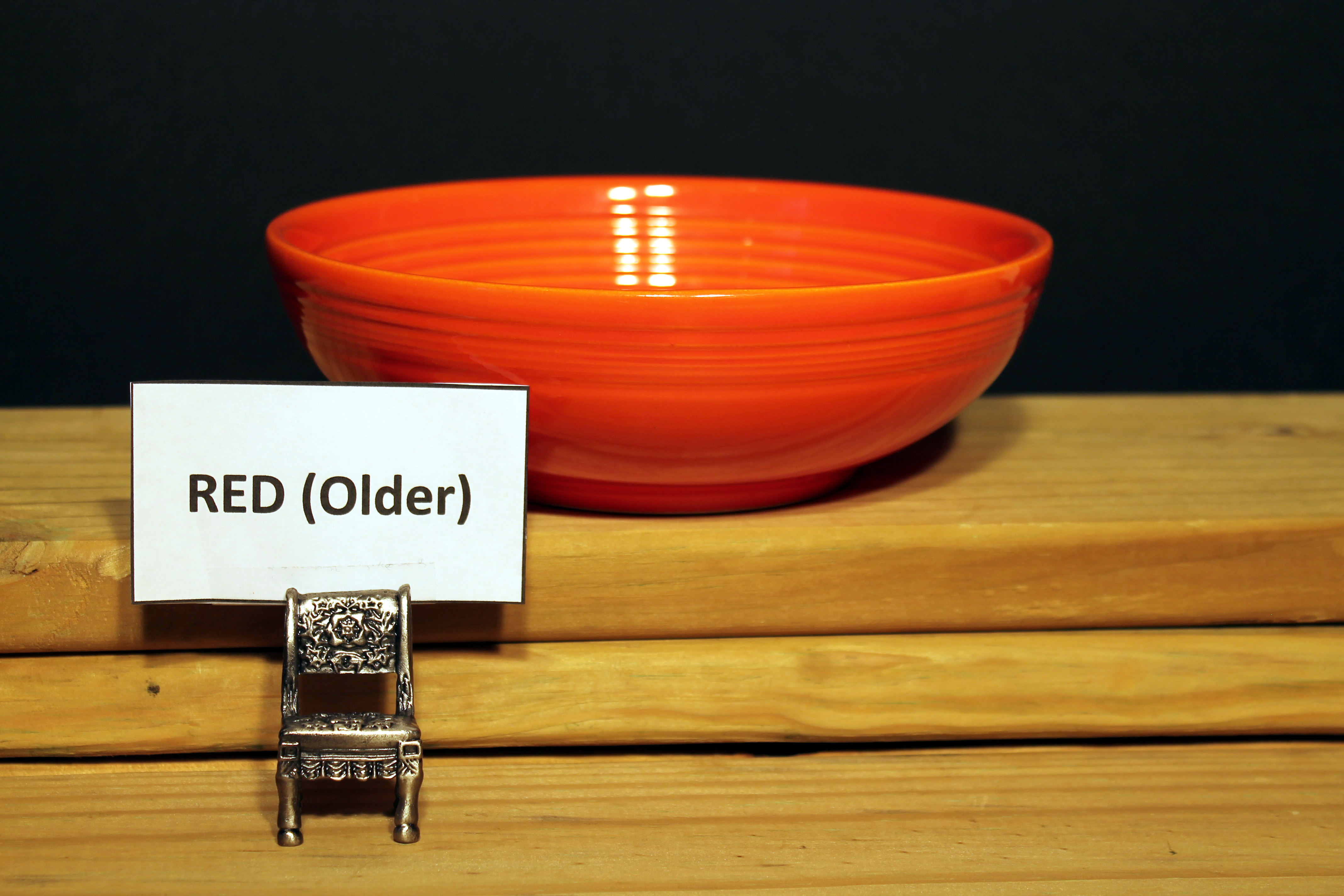 Part of how the company achieved its bright coloring was with uranium dye, which they no longer use. This history is what interests Mark and Sarah Hellevang, owners of House of Hellemann LLC. "The uranium in the dyes gave the old colors a brilliance that just doesn't seem to be the case with the new versions," says Mark. "Also, as the time has gone on, those colors have changed which is really neat to see. My favorite is the atomic Red. although all of the old pieces have some sort of usage of the uranium, the red specifically has a color that just looks so radioactive. The modern red is closer to a hot-wheels track orange now, but still has a great vibrant color to it."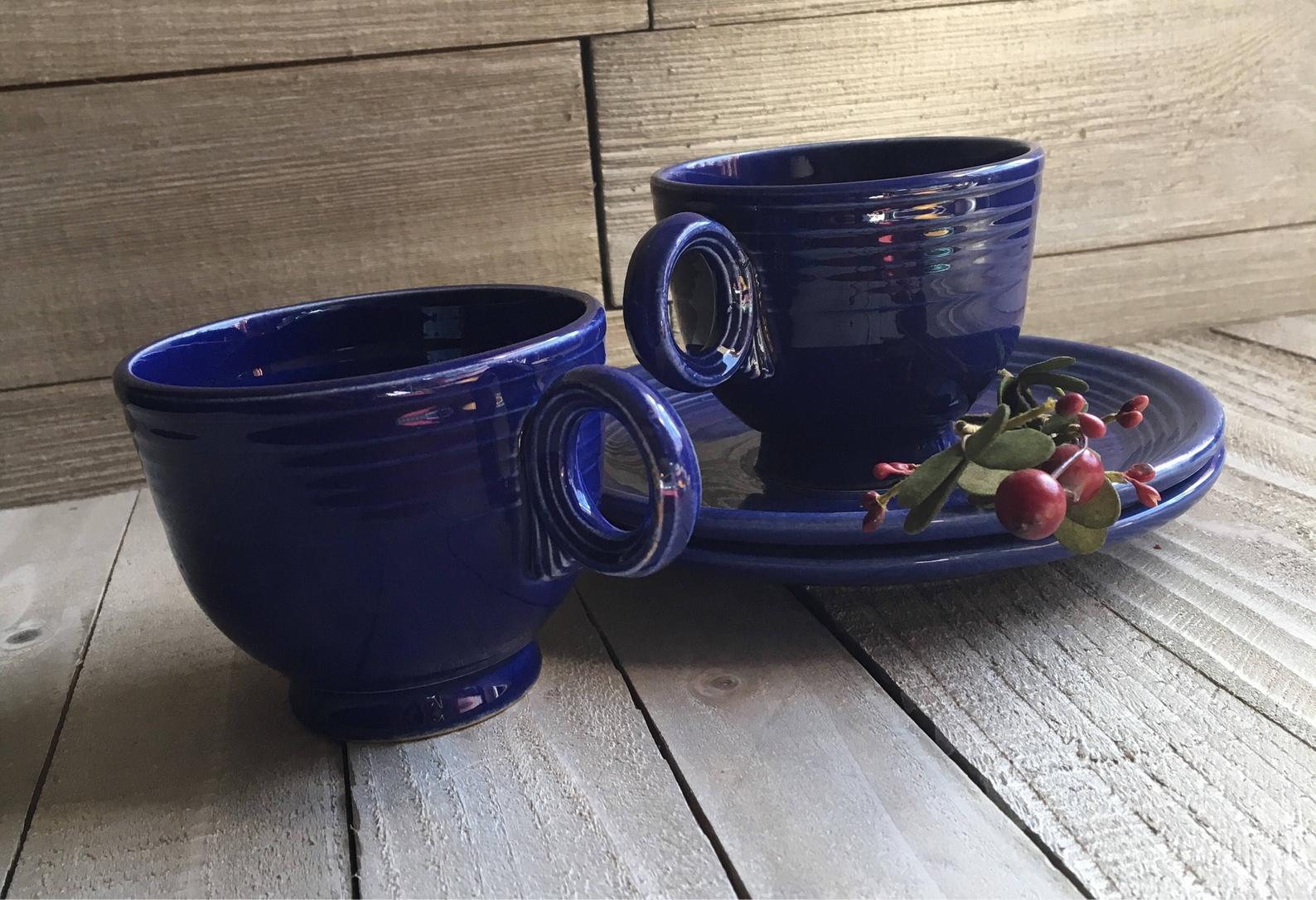 The Original Fiesta Shapes
Rhead's initial design of Fiesta pottery featured Art Deco influences and the widening concentric circles that are still an identifying feature of true Fiesta ware. The first line of Fiesta pottery featured 34 different pieces, including pots, pitchers, bowls, plates, candle holders, vases and trays.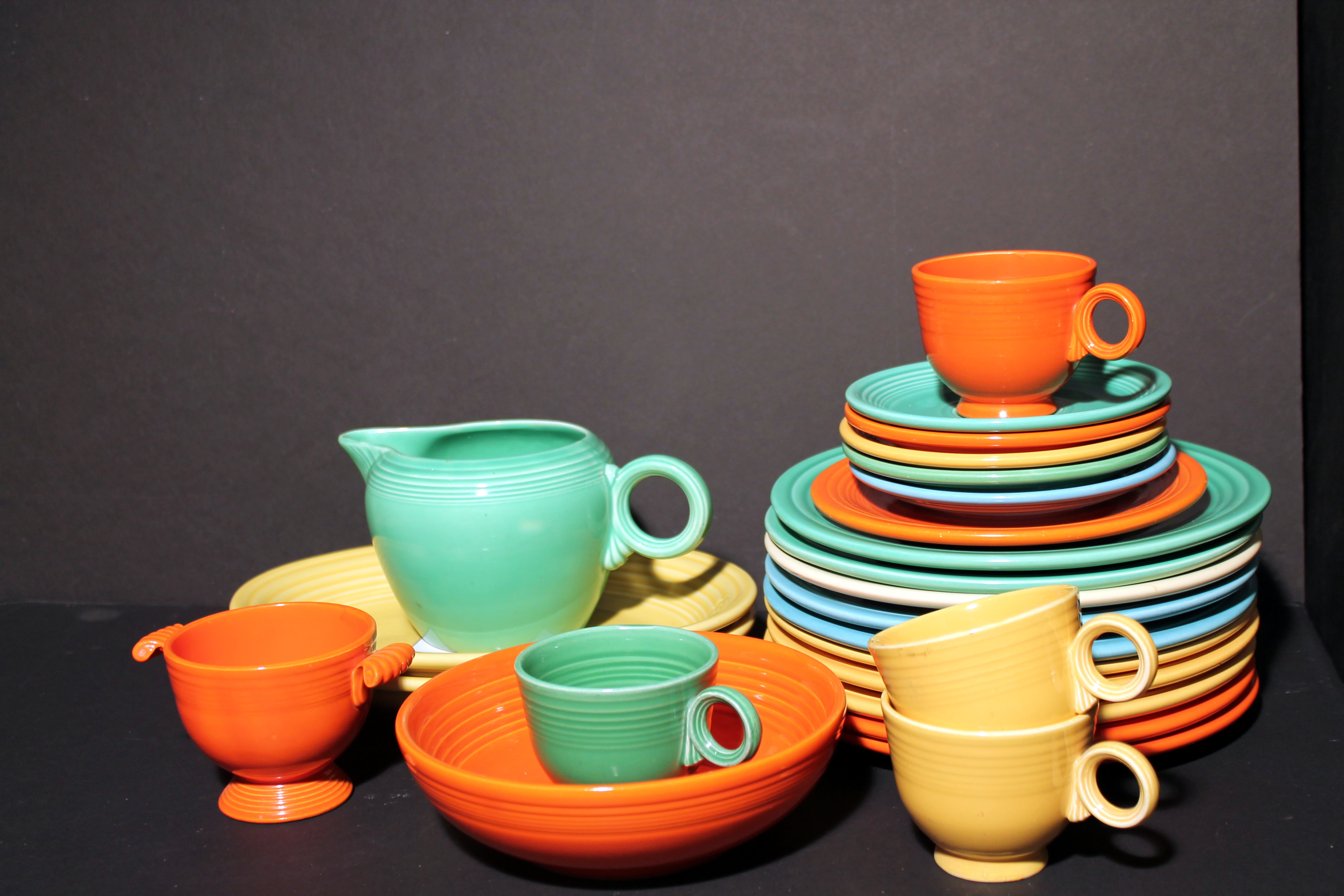 Some changes to this original line-up happened quite quickly:
Lidded mixing bowls, which came in four sizes, were discontinued just six months after manufacturing began. They were the first of many Fiesta shapes to be discontinued.

The 12-inch compartment plate was discontinued before Fiesta even added its sixth color, turquoise. 

Many pieces were slightly changed, including teacups, nesting bowls and ash trays.

The covered onion soup bowl model was discontinued just a year after production began.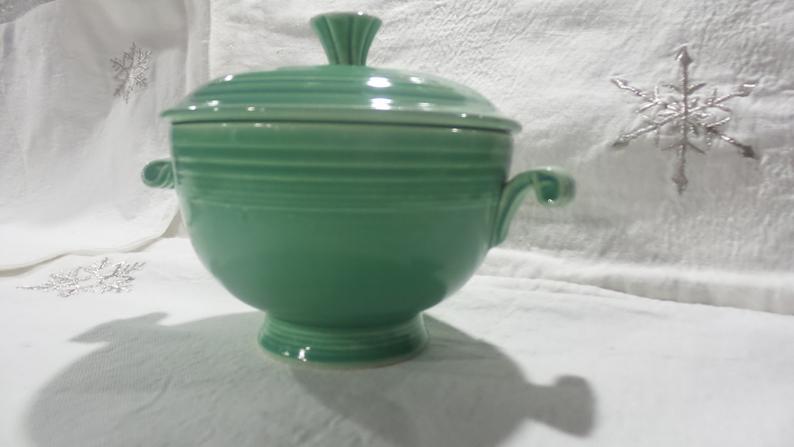 These rapid changes to the original Fiesta pottery mean that there are precious few pieces that are truly original. These shapes (i.e., the covered onion soup bowl or the 12-inch compartment plate) are highly valuable and sought-after by collectors.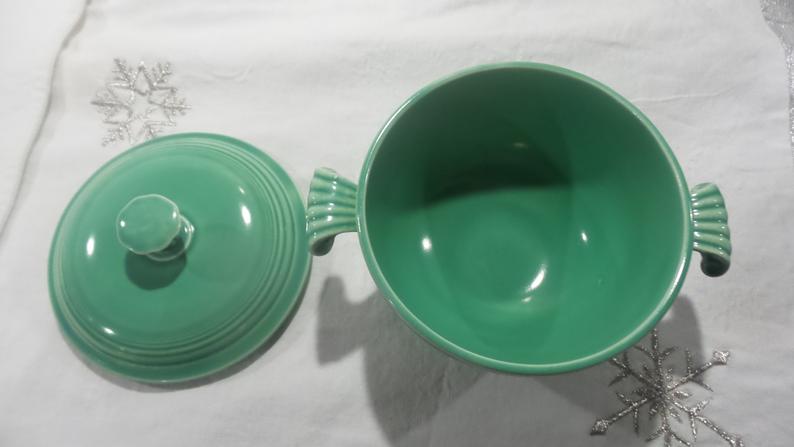 1930s and 1940s: New Fiestaware Shapes
In the 1930s, Fiesta introduced several new pieces geared towards Christmas entertaining. These included items like a gravy boat, egg cups, a platter and Tom and Jerry mugs (intended for an eggnog-like alcoholic beverage called a Tom and Jerry). Seven new pieces were also released as part of a promotion in the 1940s: a juice set featuring a pitcher and cups. Original shapes continued to be discontinued as new ones were added.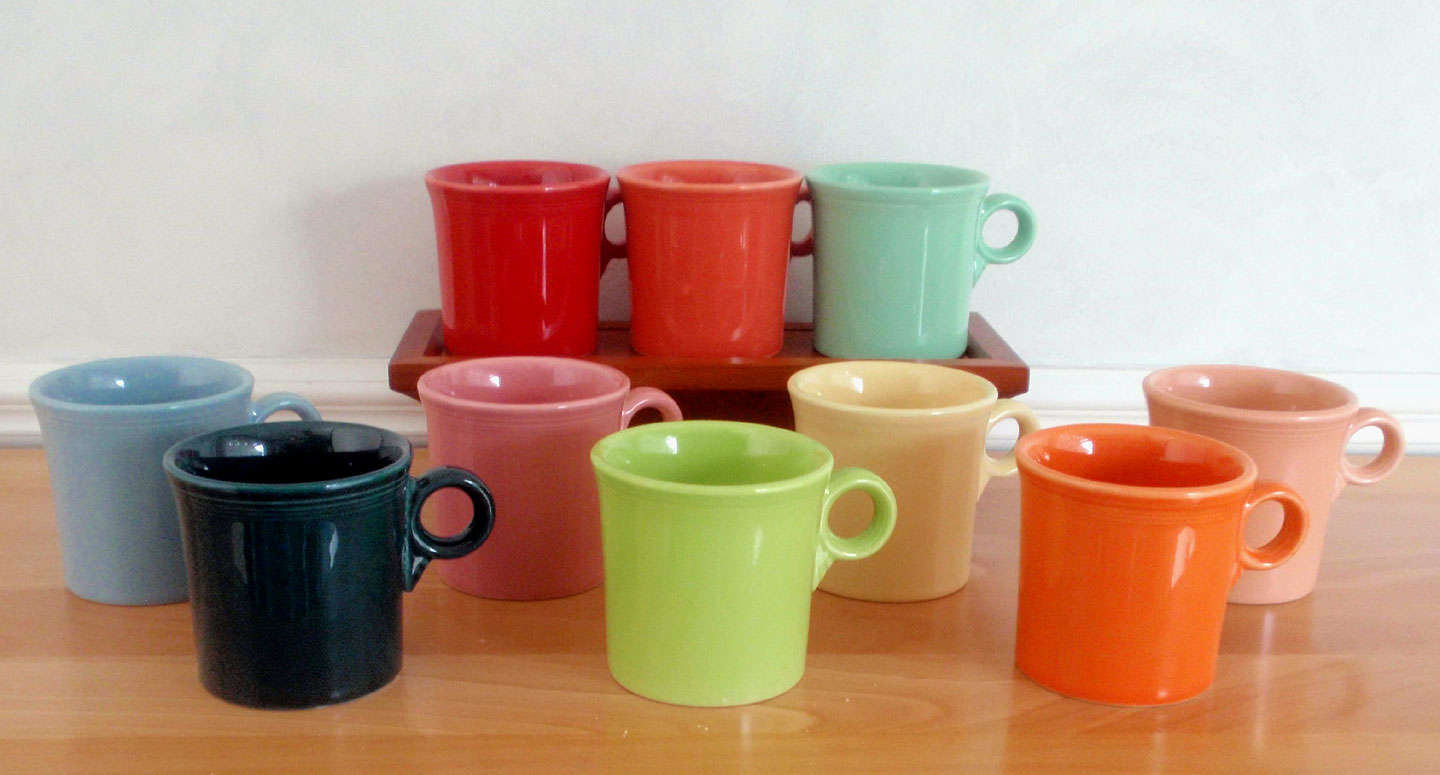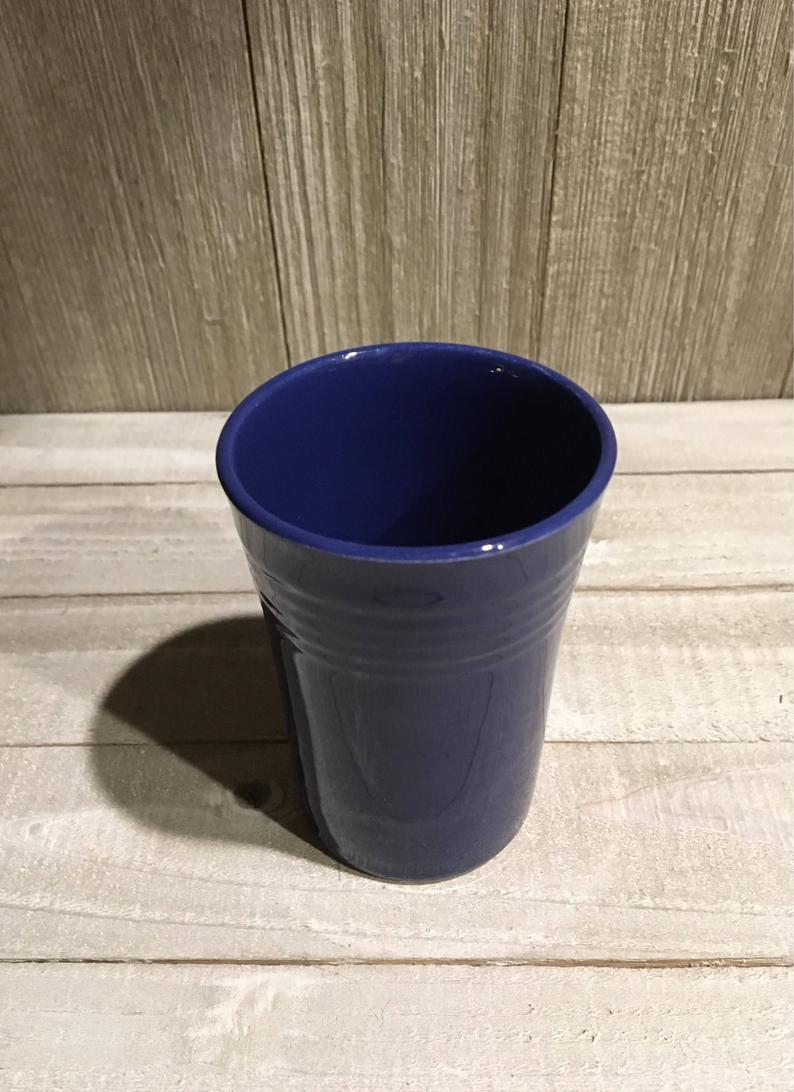 Remember the uranium dye that gave the original Fiesta Red its signature bright hue? In 1943, the Homer Laughlin China Company had to discontinue this color because the US needed uranium for World War II. Original red didn't reappear until 1959. 
1950s: New Colors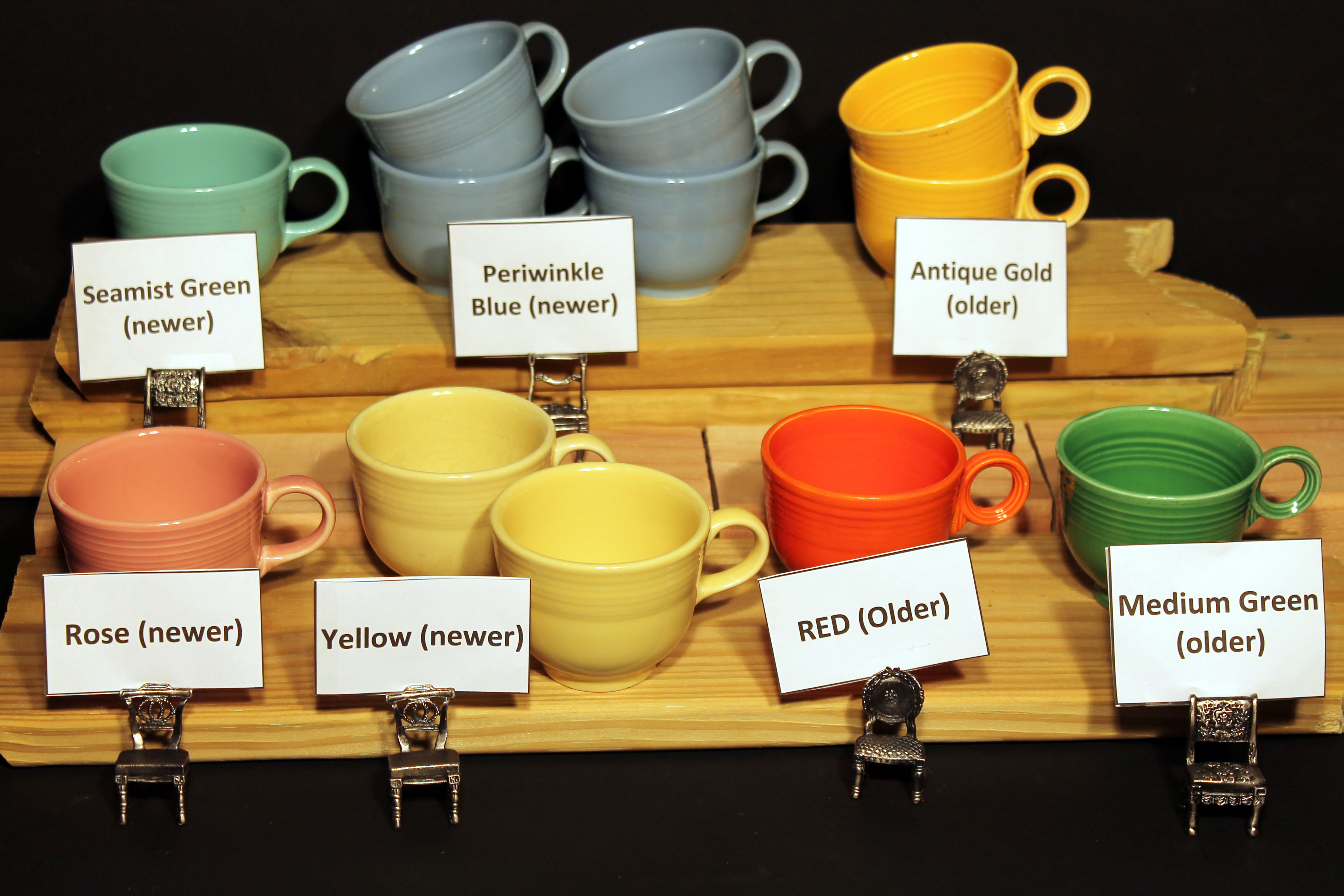 Fashion trends dictated a major change in colors in the 1950s. In 1951, three of the original Fiesta colors were retired: cobalt blue, yellow and ivory. These were replaced by softer pastel colors that marked the fashion and design scene in 1950s America. New Fiesta colors added in 1951 included Gray, Chartreuse, Rose and Forest Green.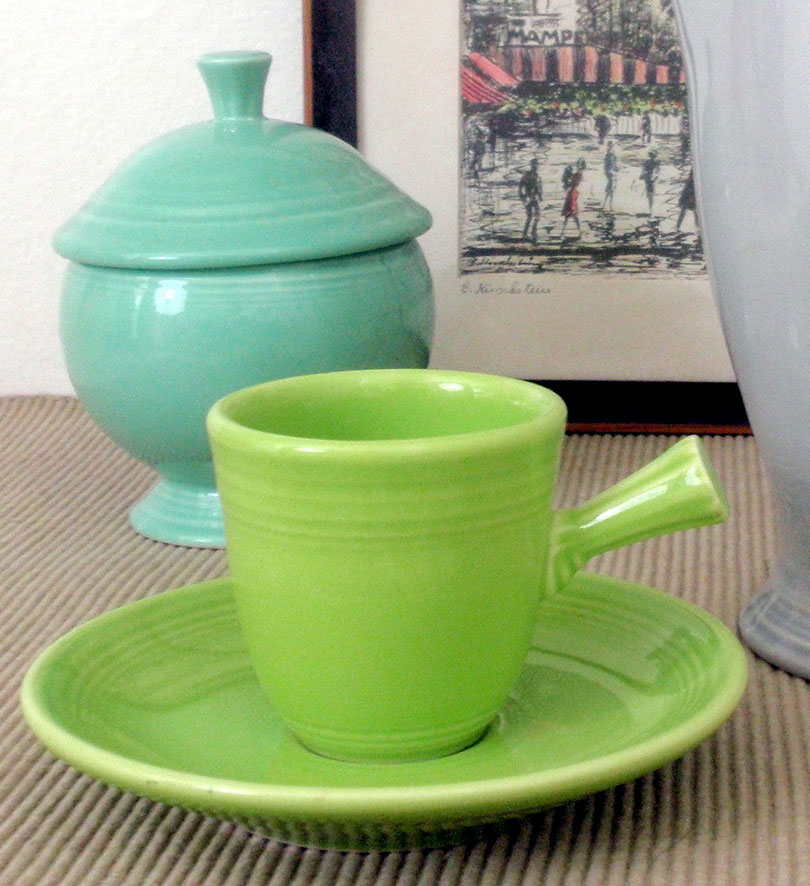 These four colors were only produced for about eight years, which makes them relatively valuable. In 1959, Homer Laughlin China Company discontinued these four colors and added a new one: medium green.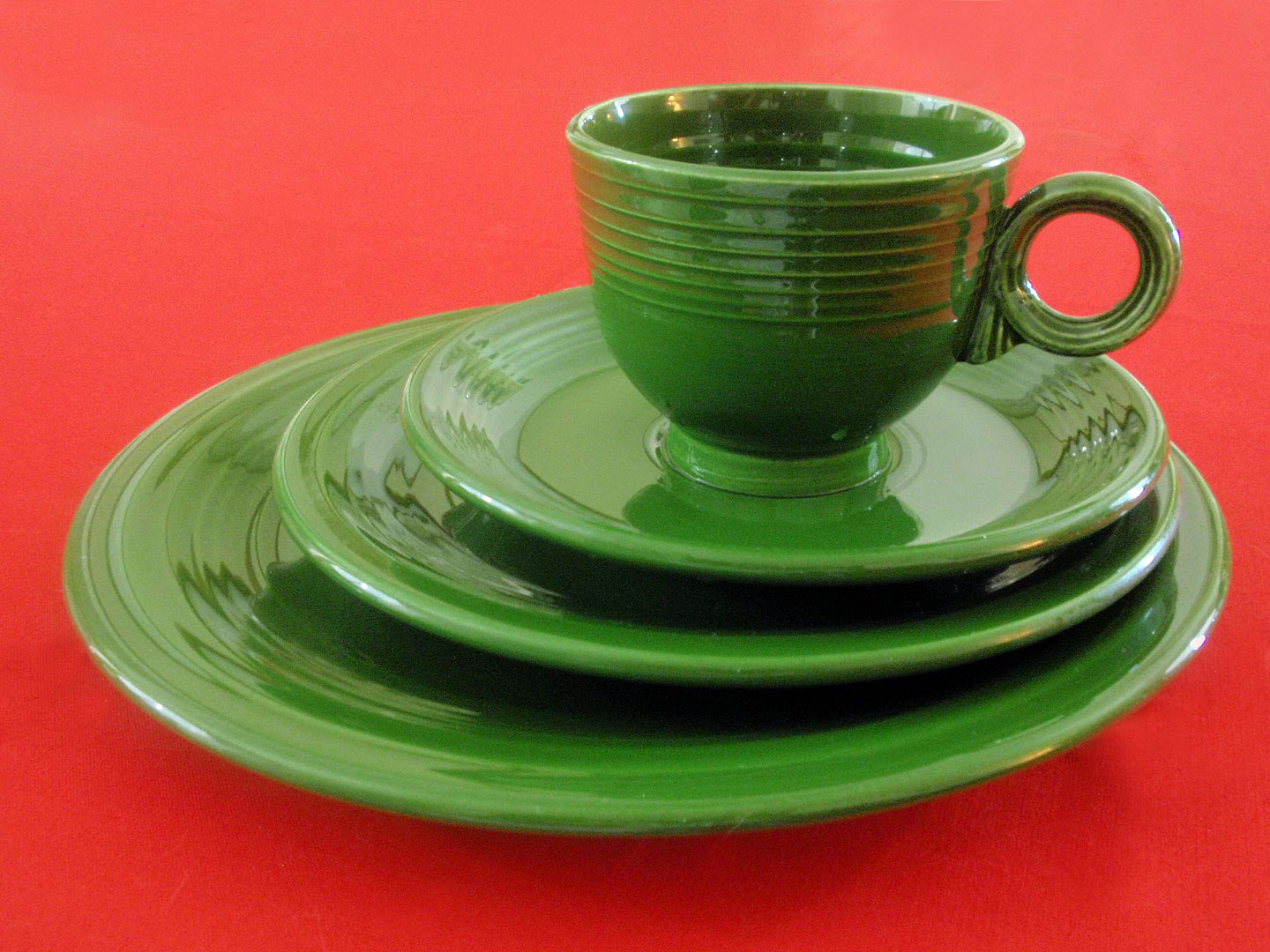 1960s: New Challenges
In the 60s, cheaper imported pottery started to negatively impact the bottom line for American pottery companies and Homer Laughlin was no exception. In response to the trendiness of earth tones in this decade, Fiesta introduced two new colors in 1969: Turf Green and Antique Gold. Also in this year, Homer Laughlin restyled the Fiesta pottery line and released it as "Ironstone."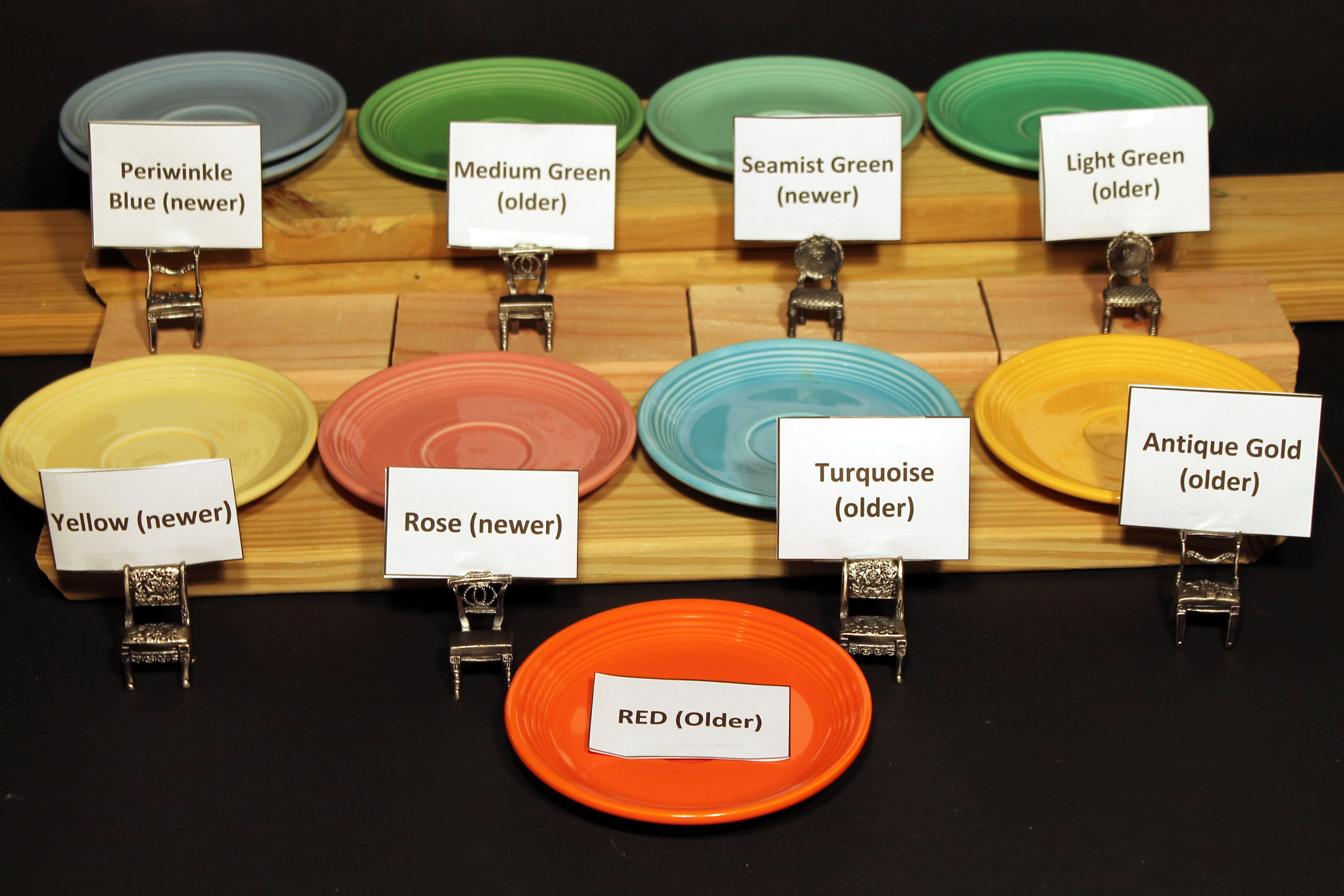 Despite so many attempts to rejuvenate interest in their dinnerware, sales dropped and Fiesta was entirely retired in 1972. Vintage Fiestaware is defined as any of the pottery line made between 1936 and 1972. 
1980s: A Triumphant Return for Fiestaware
After the Fiesta line was dropped by Homer Laughlin, collectors started gathering the vintage pieces in earnest. Many people had fond childhood memories of the brightly colored china. 
Many people, like Jessica B. of JessiesVintageDishes, inherited Fiestaware from older relatives. When Jessica's husband's grandmother passed away, she left them a few of her Fiesta kitchen pieces, including a Fiesta Kitchen Kraft Casserole, a gray platter and some plates. "Grandma's pieces had been around since the 40's and 50's and were still in great shape," Jessica says. 
As Fiesta nostalgia continued to grow, the high-end New York City department store Bloomingdale's saw an opportunity. Representatives from Bloomingdale's approached the Homer Laughlin China Company and, in 1986, Bloomingdale's released a new line of Fiesta pottery with new shapes and glazes, and, of course, new colors: Apricot, Rose, White, Cobalt and Black.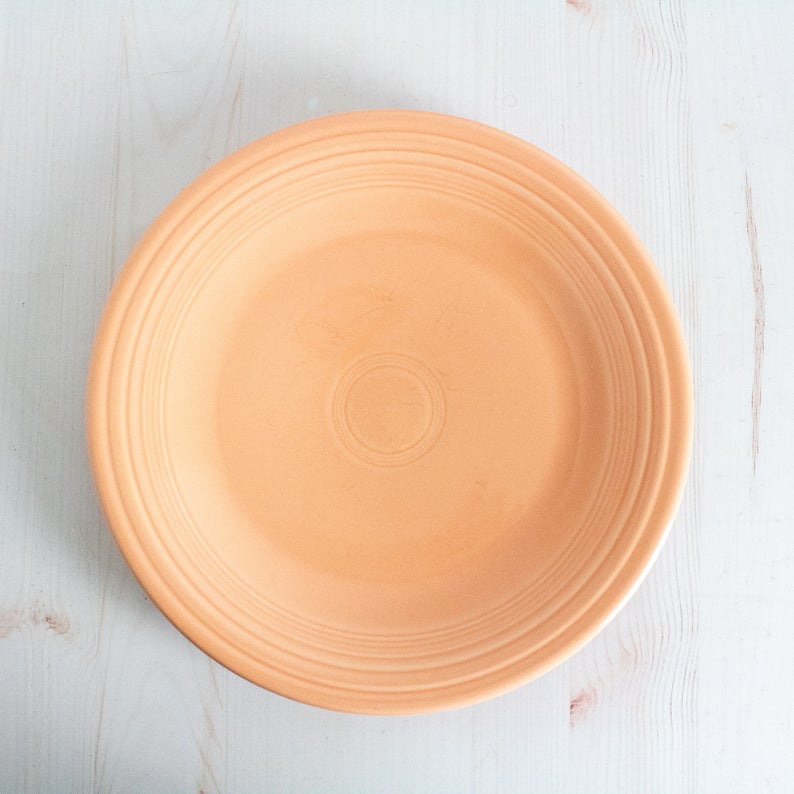 The modern line of Fiestaware (sometimes called "post-1986") releases new colors almost every year and also discontinues colors regularly, meaning that some of the post-1986 colors are still limited and collectible.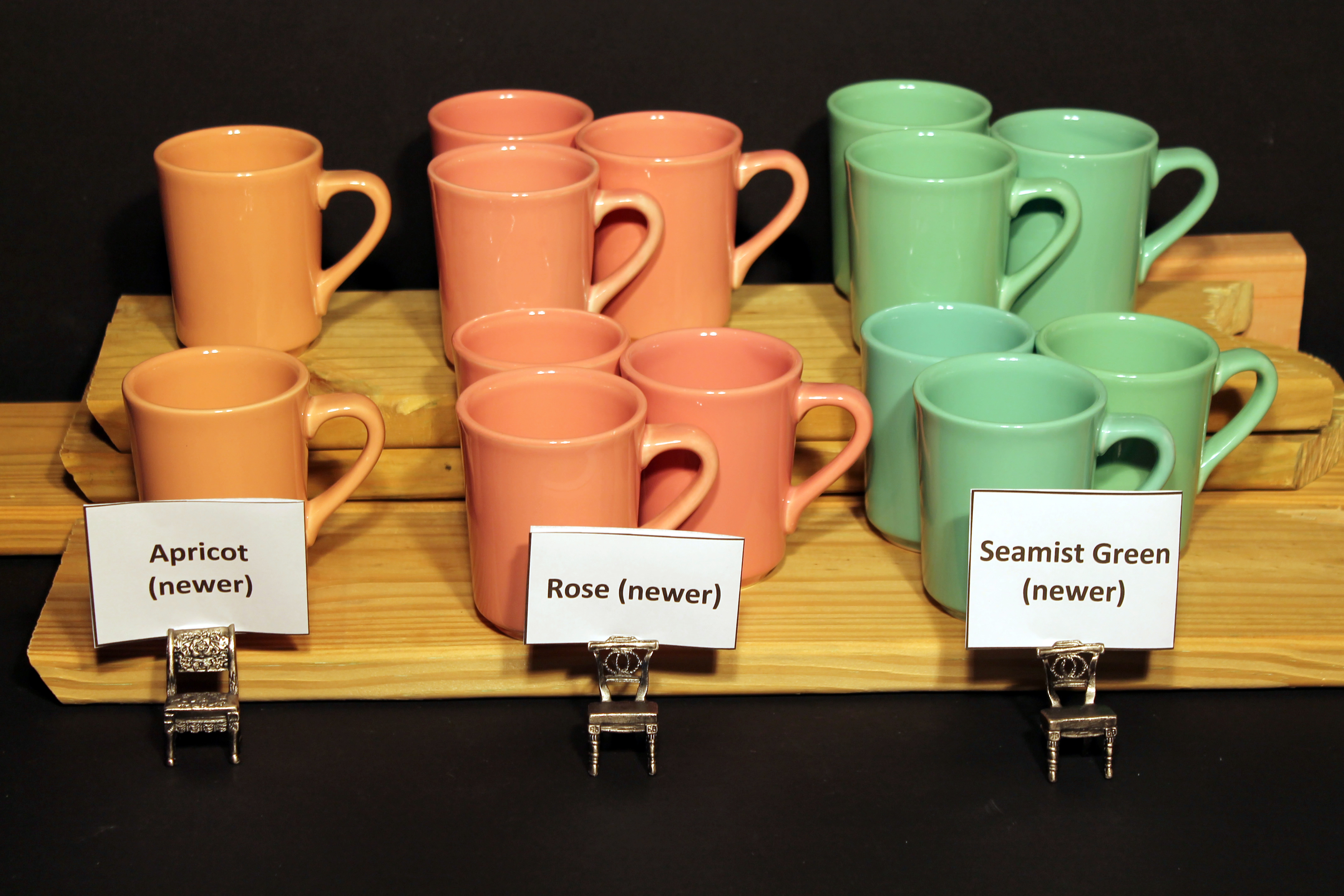 After Jessica B. inherited her grandmother's vintage Fiesta, she actually began adding contemporary pieces to her colleciton. "Once my cupboards were full of contemporary (post-1986) pieces, both for functional use and display, I moved on to vintage Fiesta," she says. "After I had a few pieces, I was addicted to the different shapes and feel, wondering about the history of each piece. I still add pieces to my collection monthly, both vintage and contemporary." 
Identifying True Fiesta Ceramics
Mark had never heard of Fiesta until his wife saw a collection of about 20 pieces at an estate sale, where the couple gets most of the inventory for their store. "She saw it and immediately brought it to the front to put in our pile," he says. "I didn't know why she was getting these oddly colored pieces that didn't match anything, but the more research we did, the more I learned about the old colors and the new colors."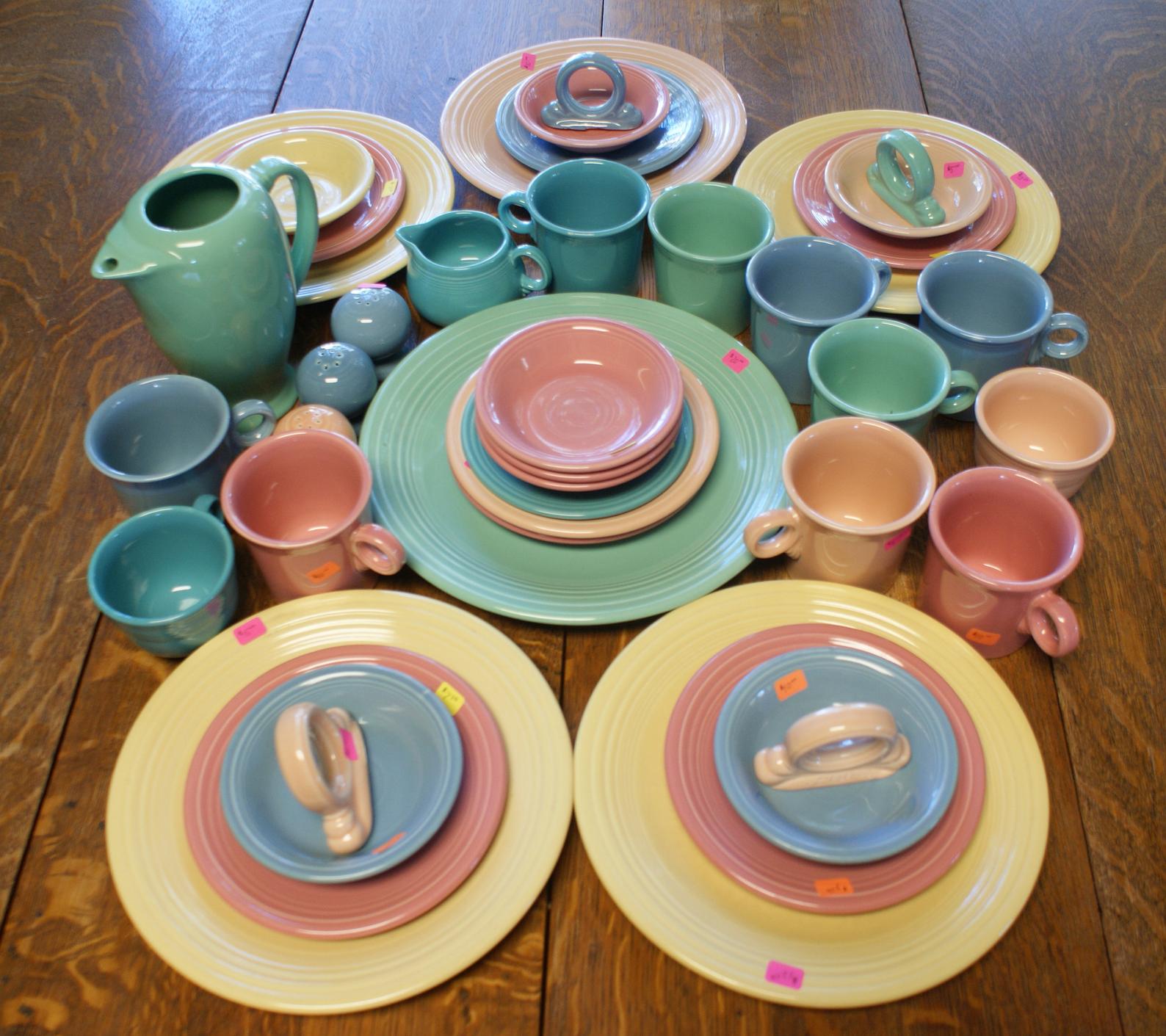 Mark says its easy to get lucky at estate sales and online auctions while hunting for vintage Fiesta pieces, but it can sometimes be difficult to determine which are the truly vintage colors and which are modern ones. "The greens specifically are hard to decipher without having more than one piece to compare," he says. He adds that shopping at estate sales is preferable to shopping online when it comes to Fiesta because shipping can get expensive. "Fiestaware tends to be a thick piece of ceramic and a single plate can cost about $9 to ship from the middle of the country to either coast." 
When it comes to identifying Fiesta ceramics, there are several things to consider. These include the shape of the piece, the glaze color, the decoration or pattern on the piece, and the Fiesta mark. With this information, you can likely verify if a piece of pottery is part of the Fiesta collection and even calculate its approximate age. 
The Fiesta Mark
When it comes to identifying real Fiestaware, the Fiestaware mark is the best place to start. The company has used more than 10 distinct Fiesta marks throughout its history, so while the mark can provide a starting point, it's unlikely to give you an exact year. Some marks were used exclusively in the old line, some marks were used exclusively for the post-1986 Fiestaware, and some marks have been used for both modern and vintage Fiesta.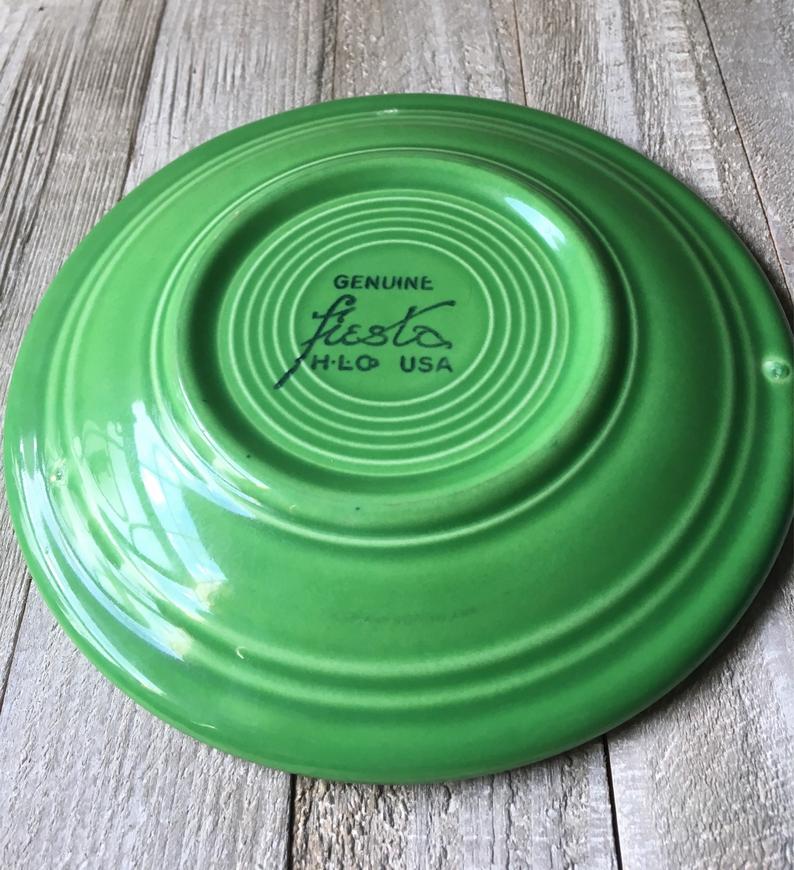 "There are some pieces that won't have a mark on them just due to their size or shape, but typically all the plates and bowls easily are marked, and the mark is under the glaze so it's not going to rub off," says Mark.
Fiestaware marks appear in two ways: as a stamp underneath the glaze, or imprinted in the pottery itself as an in-mold mark. Generally, flat items have the stamp and hollow items (like mugs) have the debossed in-mold mark.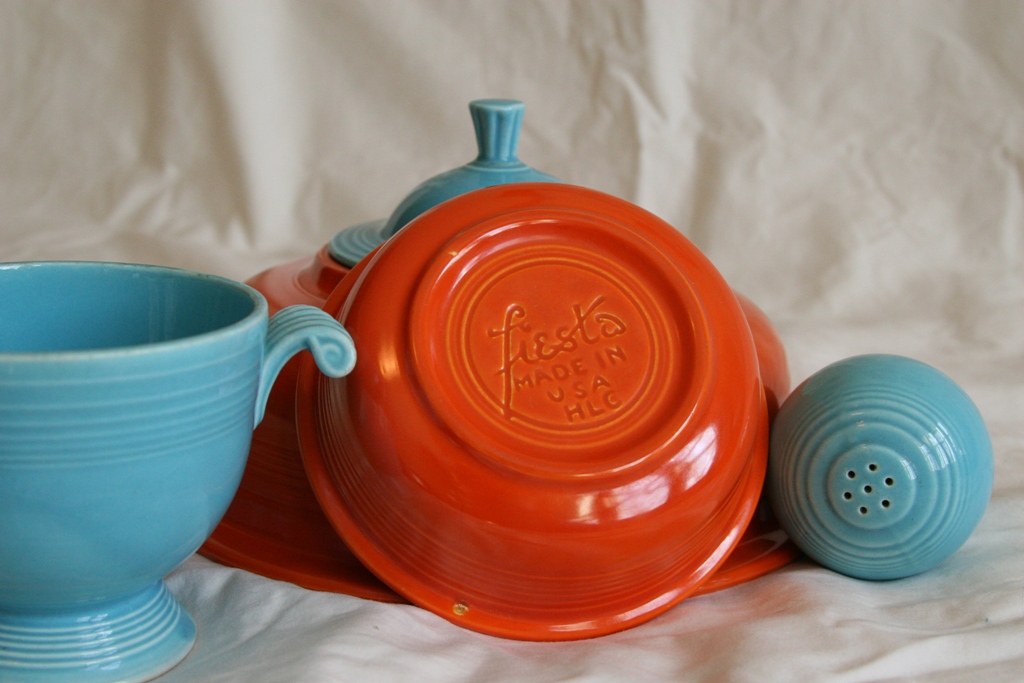 Definitive Logo Marks of Old Fiestaware
Lowercase "fiesta" stamp: If the mark is an under-glaze stamp and the word "Fiesta" is entirely lowercase letters, the piece is vintage. "

There are lots of variants in the markings, but older vintage Fiesta was ink stamped on the bottom in all lower-case letters," says Wilkes.

No modern Fiestaware has a

stamp

where the logo is in lowercase letters, though some modern Fiestaware will have an

in-mold mark

where the logo is lowercase.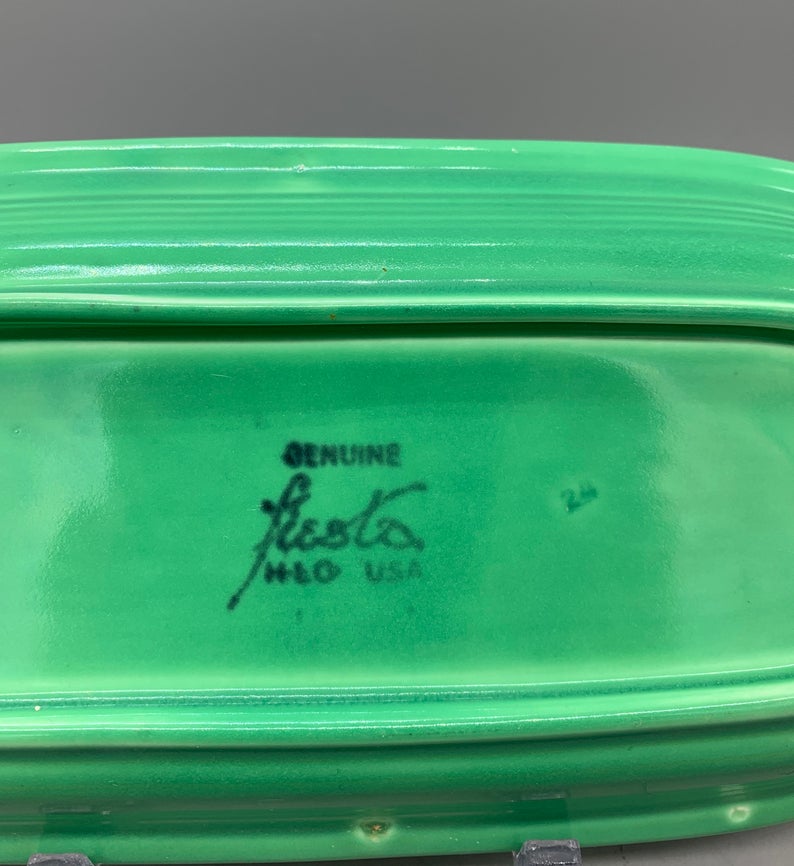 Definitive Logo Marks of New Fiestaware
Uppercase "FIESTA" stamp: If the mark is an under-glaze stamp and the word "Fiesta" is entirely uppercase letters, the piece is modern. This rule applies exclusively to stamp markings—if the uppercase mark is in-mold, the piece might be old or new.
A capital H on an in-mold mark: If an H appears on the debossed mark, it is definitely a post-1986 piece. The absence of an H does

not necessarily

mean the piece is vintage, though. 

The words "Lead Free": This guarantee appears on some modern Fiestaware and almost never on vintage. 
A three-letter code: In 1992, the company started marking its pottery with a three-letter code that designates the year and quarter the piece was made. If this code appears, your Fiestaware is modern. 
Besides the Fiesta logo, many of the marks include some form of Homer Laughlin China Company (HCL, HCL USA, H-L-Co) and sometimes "Genuine," "USA," or "Made in USA." 
Does All Fiestaware Have a Mark? 
While one can glean a lot of information from the Fiesta mark, the absence of one doesn't mean the piece wasn't made by Fiesta. "Since not all Fiesta is marked, it is best to get to know the shapes and colors," says Jessica B. "Get a few pieces and get to know the feel and weight of a piece." 
Rings
"If the piece doesn't have a stamp," says Wilkes, "look at the color and pattern. True Fiesta pieces have a graduated ring design that becomes wider spaced as it moves away from the center."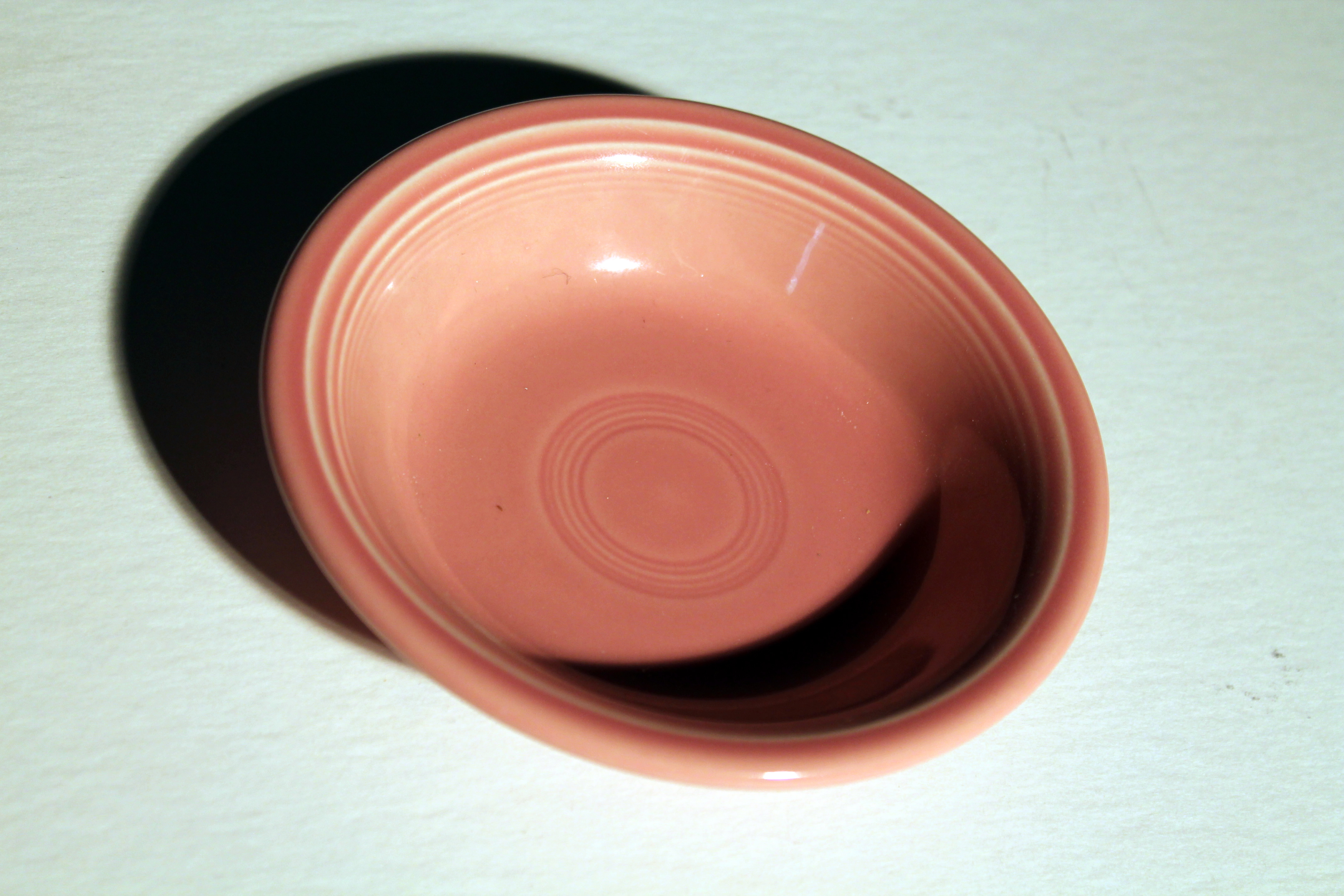 Copycat Fiesta
There is a lot of dinnerware out there in bright pretty colors that look very similar to Fiesta. "There are a few copy cats and similar dish lines out there that have been made over the years," says Jessica B.
"There are also some lines made by the same company, Homer Laughlin China, during the same time period, using some of the same glazes, that often get lumped in with Vintage Fiesta," Jessica says. "They are different shapes but the same colors. Though not Fiesta, they blend well into collections. Some of these lines are Harlequin and Riviera, considered by collectors to be 'sister lines.'"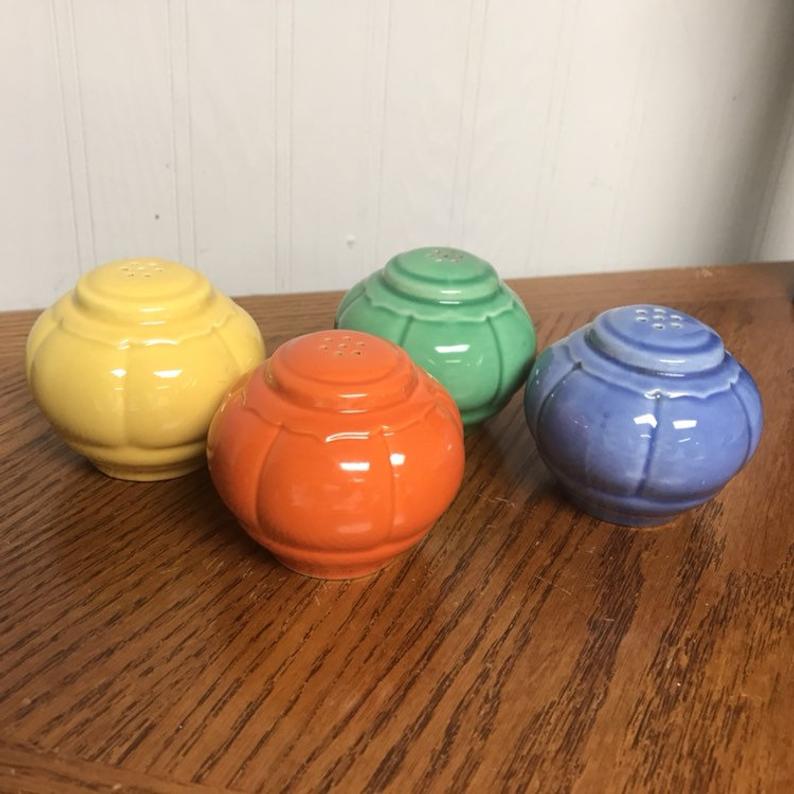 The Most Rare Pieces of Fiesta Dinnerware
Because Fiesta is still making contemporary dishware, it can be easy to get ripped off if you aren't paying close attention. "Some sellers out there don't know what they are doing," says Jessica B. "Just this past weekend, I saw some mugs at a flea market that are still in production that could be purchased from the factory for half of what the vendor was asking." 
As one might imagine, the more rare items from Fiesta are more expensive. Here is an outline of what to look for if you're seeking rare Fiestaware.
Rare Shapes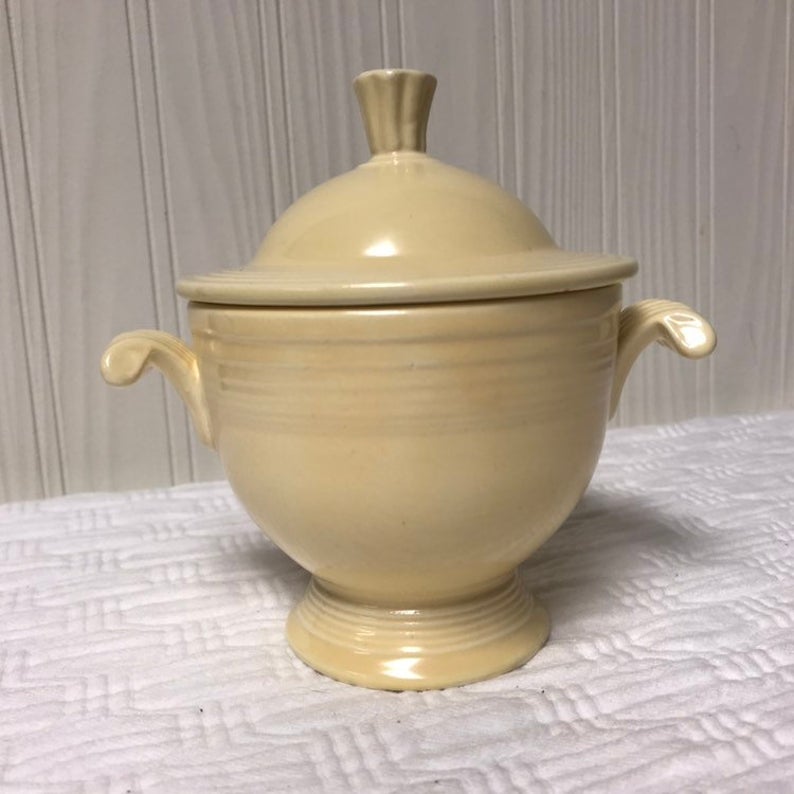 Complete Sets
Pieces made in the thirties and forties that include lids—such as sugar bowls—are very expensive in completion, because the pieces often get lost. "Finding any second-hand Fiesta ware is exciting, but the real finds are serving pieces like casserole dishes and serving bowls," says Wilkes. "Cake plates with prints, lidded casseroles, salad bowls are all great finds and can go for as much as $250." 
Vases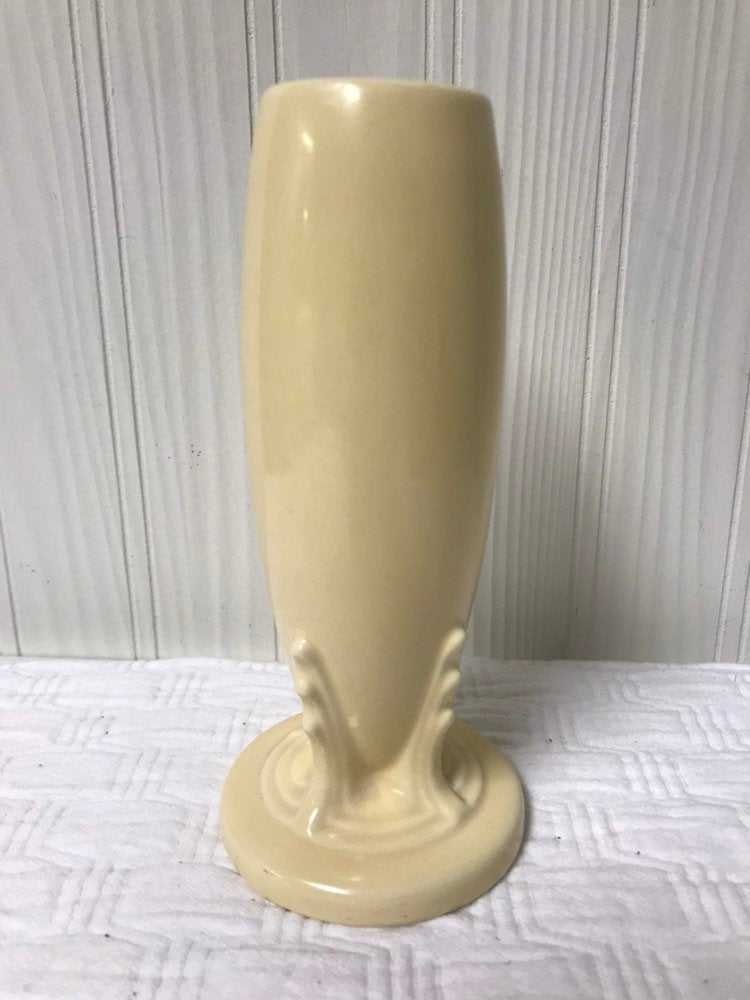 "Vases in undamaged condition are hard to find," says Jessica B. Fiesta made flower 8-inch flower vases for about 10 years, while the same vases in 10-inch and 12-inch sizes were only produced for about six years. As such, the prices for these vases can hover around $2,000 a piece.
Covered Onion Soup Bowl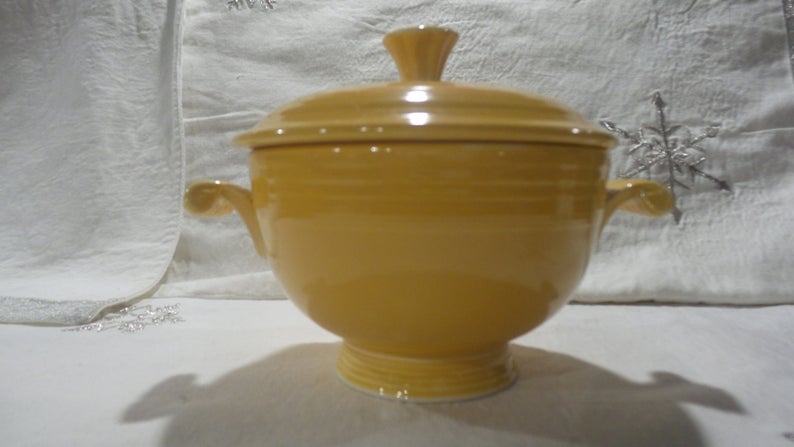 "Most collectors have a 'holy grail' piece," says Jessica B. "For me right now it would be to have a few covered onion soup bowls in my collection or a complete set of mixing bowls with lids. Both were discontinued very early on in the production line. I have only seen a couple of covered onion soup bowls in all my searching." 
The covered onion soup bowl was the second piece of Fiesta to be discontinued in 1937, after just under a year of production. The turqoise color was released literally weeks before this item was discontinued, so covered onion soup bowls in turqoise are perhaps one of the most valuable and rare Fiesta items on the market. The bowl is usually unmarked but some earlier ones have an in-mold mark. 
Lidded Mixing Bowls
Released for just six months between 1936 and 1937, the Fiesta lidded mixing bowls came in four sizes in the original five colors. Because they were discontinued so quickly, these bowls often cost upwards of $1500 a piece.
Rare Colors
Certain colors of Fiestaware in almost any shape are considered valuable by collectors. "The original color line—red, cobalt blue, light green, yellow, and ivory—is usually the most valuable," says Wilkes.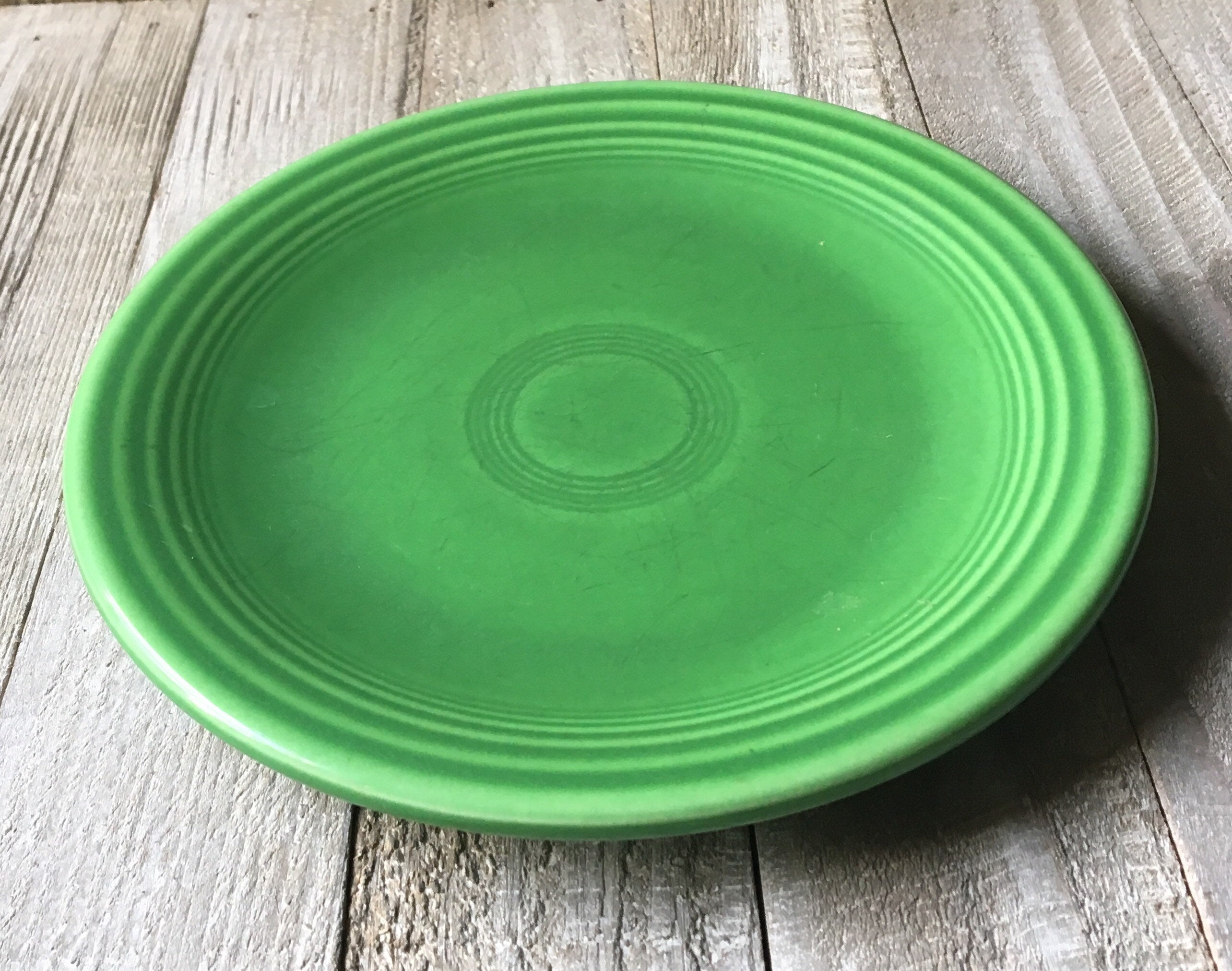 Medium Green
"Medium green from the 1960s is the rarest and most sought after color," says Wilkes.  "It was one of the last of the colors the company made before they introduced the new Fiesta lines in the 1980s." 
Medium Green, introduced as the eleventh Fiesta color in 1959, is a particularly difficult color to find, especially in serving pieces, so it will usually fetch a higher price. "It is a beautiful 'John Deere' green made for a short time," says Jessica B. Some items in this color can cost as much as $3,000 because of their rarity.  
Items that are particularly hard to find in medium green include the cream soup bowl and the six-inch dessert bowl. 
Red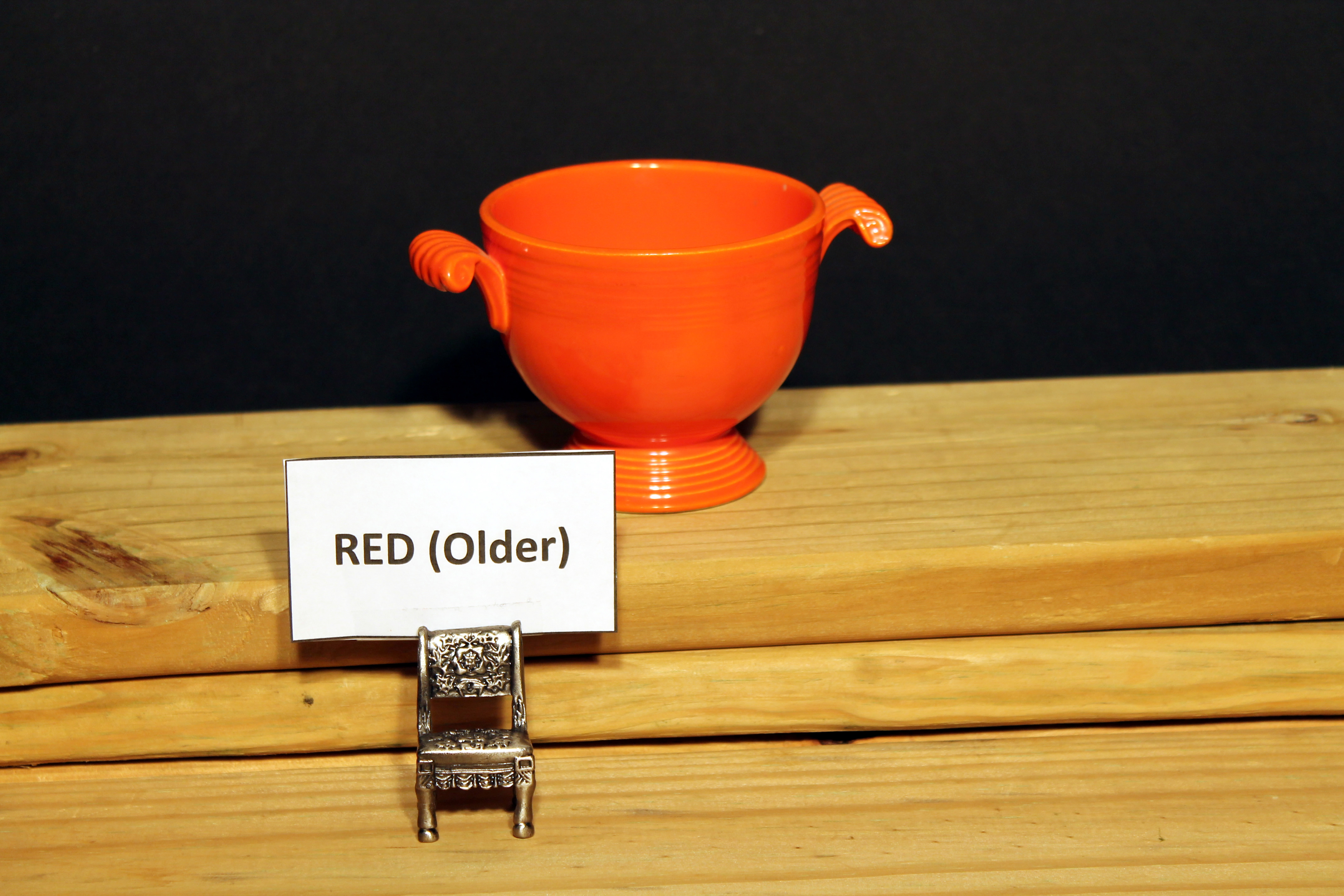 Because of it's spotty history and the 16-year discontinuation during and after World War II, red also sometimes commands a higher price than the other original colors.
Turquoise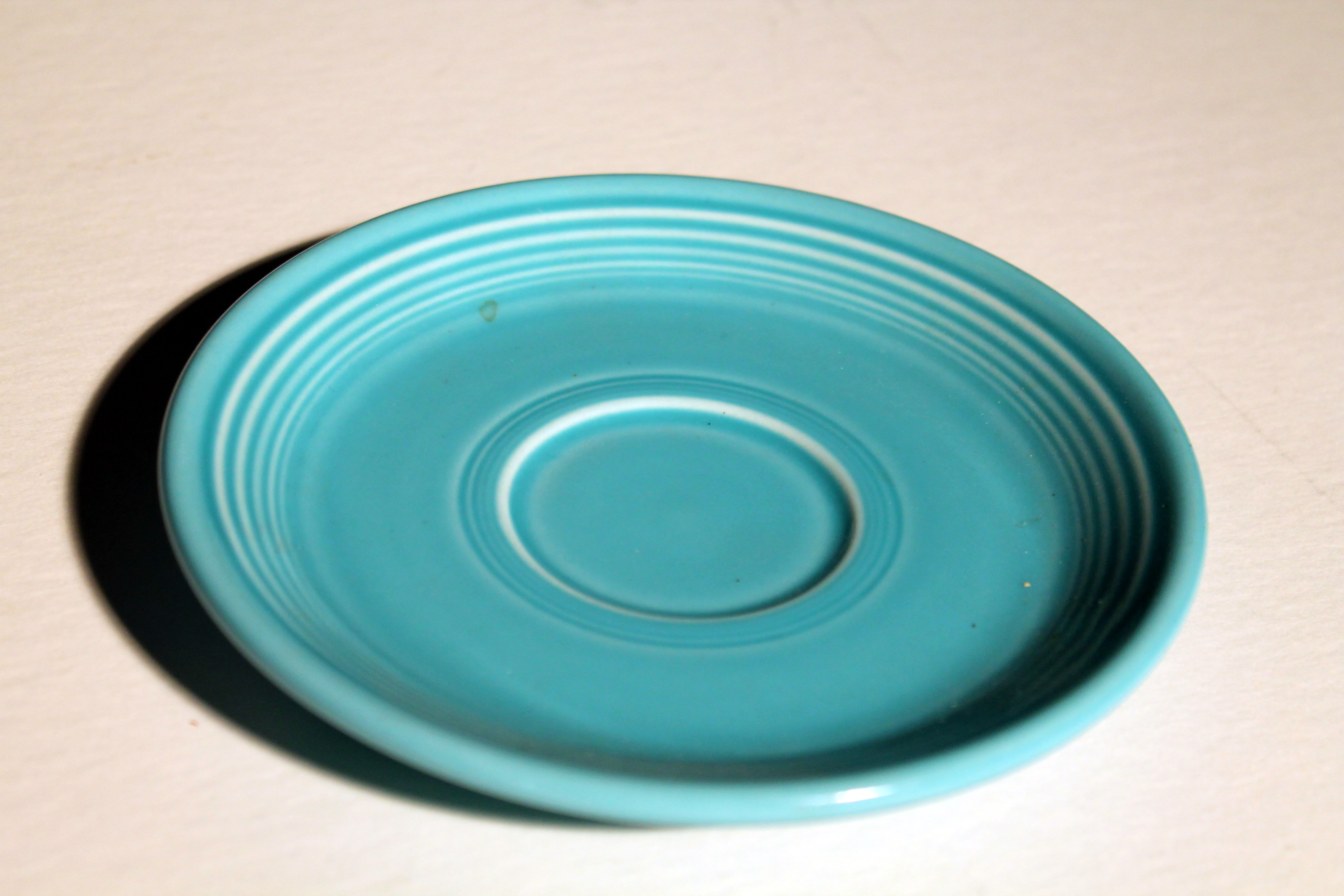 Because it was released a little later than the original five colors, some shapes are quite hard to find in turquoise. This includes the covered onion soup bowl (an already hard-to-come-by shape), 
Condition
Jessica B. advises that newbies interested in vintage Fiestaware get to know the colors and subtle differences in shapes. "Also, condition is everything to most collectors," she says. "A crack or chip can devalue a piece as much as 80 percent."
Wilkes agrees that the best Fiesta pieces are free of chips and cracks. "The glaze should be glossy and intact, not dull or full of crazing," she says. "If so, it may not be food safe. A small nick on the bottom or some utensil marks might be ok for your personal use or to fill out a collection, but it will lower the value of the piece."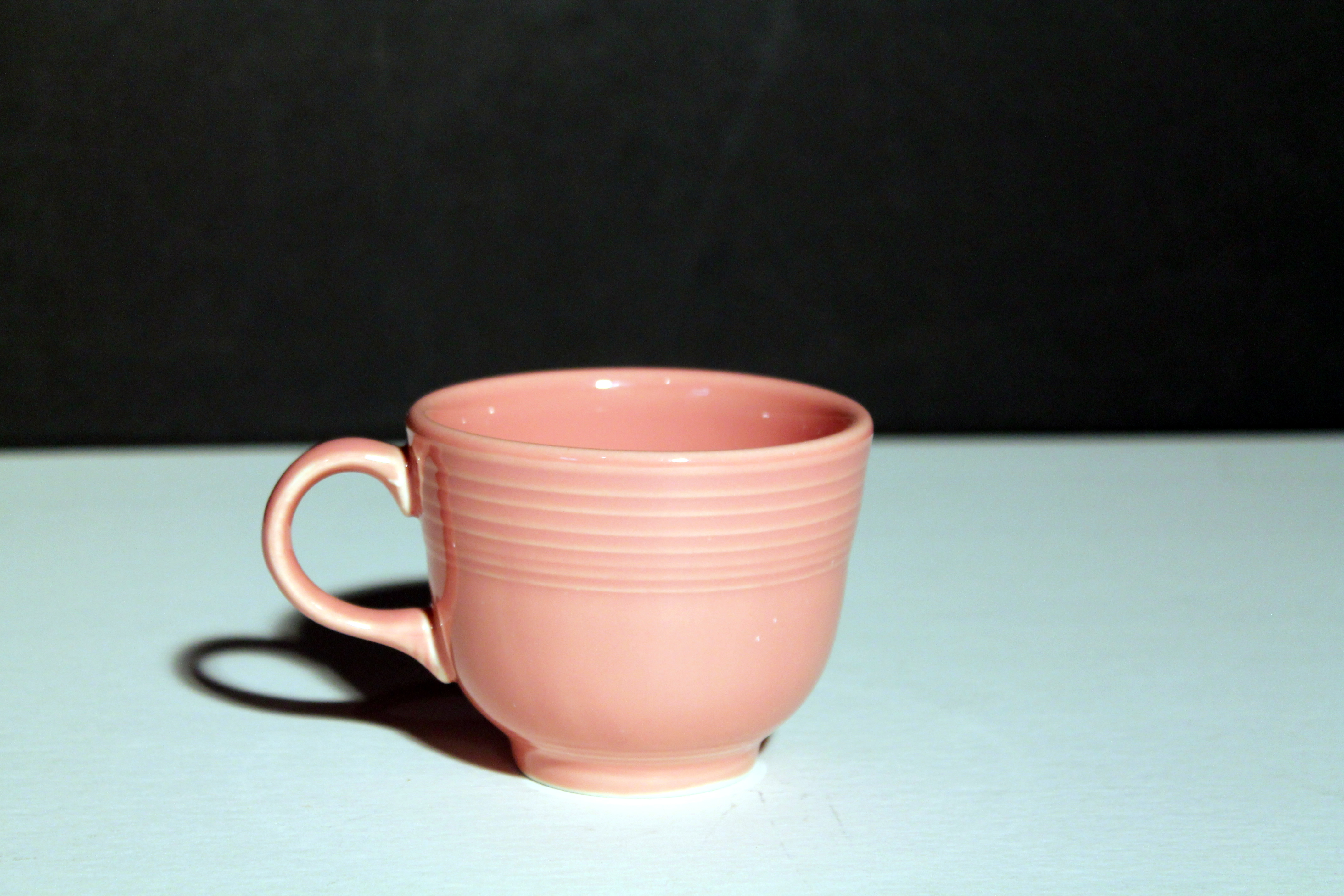 Join the Fiesta Hunt
One of the coolest things about Fiesta dinnerware is that almost all the colors, vintage and modern alike, can be mixed together to create a your dream dining set. There is plenty of information on the Fiesta Factory Direct website as well, to help you identify any pieces you might find at estate sales!
Thanks to the following Etsy sellers for contributing their images to this article: