It's not an exaggeration to say that Pyrex has a cult following. Estate sales are often swarming with hardcore Pyrex collectors seeking their next big find. Some are just looking for a beautiful, functional retro piece for their kitchen use or for display, while others are on the hunt for extremely rare Pyrex patterns and shapes.
Corning, the company that makes Pyrex, never missed an opportunity to promote its products to housewives back in the vintage Pyrex era of the fifties, sixties and seventies. There are plenty of long-lasting, standard Pyrex products that are found easily. Some items you can event get for less than $10 at an estate sale. But there are also several coveted, rare Pyrex patterns, in various colors and shapes, that only the most serious collectors seek (and save up for).
"Corning was so prolific and produced so many items that I am still learning about new Pyrex items all the time," says Laurel Capp, owner of PyrexPotpourri. "There are also many different patterns and color combinations which makes it very difficult to know about each one. Most rare patterns were promotional or test patterns released in small quantities versus standard patterns produced for years."
"Pyrex comes in a whole myriad of different patterns and there is a pretty large range on price points between patterns," says Alexandra Barclay of TheCoolCurator. She adds that the patterns most in-demand now were produced early in the Pyrex timeline, mostly in the 50s and 60s. "The midcentury modern style has really had a strong resurgence." 
Teresa Mackie of PyrexKitchen retired four years ago to start selling Pyrex full-time. She makes more money with her Etsy store than she did with her job. "Back in the 50s, every home in America had a piece of Pyrex," she says. "Casserole dishes, coffee pots, tea pots and mixing bowls—it was mass produced and no one ever thought it would become the collectable it is now." 
What Makes a Rare Pyrex Pattern?
Shape
"The mixing bowls always seem to be the most collectible but the fridgie, or refrigerator, sets also sell very well," says Barclay. "It's often hard to find a matching set with all 4 pieces and matching lids." This challenge adds to the rarity and value of complete sets in certain patterns.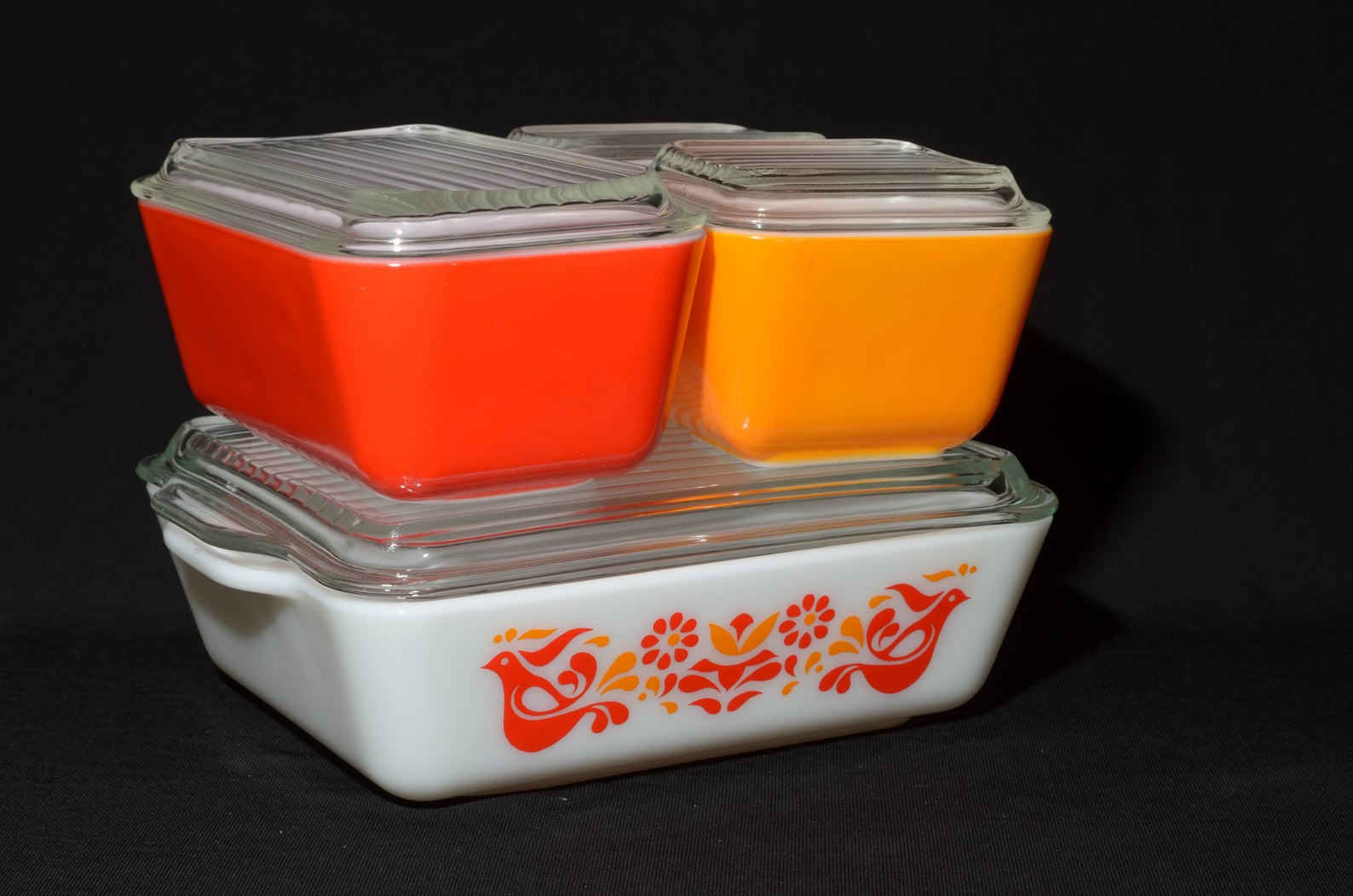 Promotional Pyrex Patterns
"The most rare Pyrex patterns are the promotional Pyrex," says Lucie Courchesne of LucysMidCentury. Promotional Pyrex patterns were sometimes referred to as "non-standard" and were usually offered for a limited time. The company often marketed them as gifts for holidays.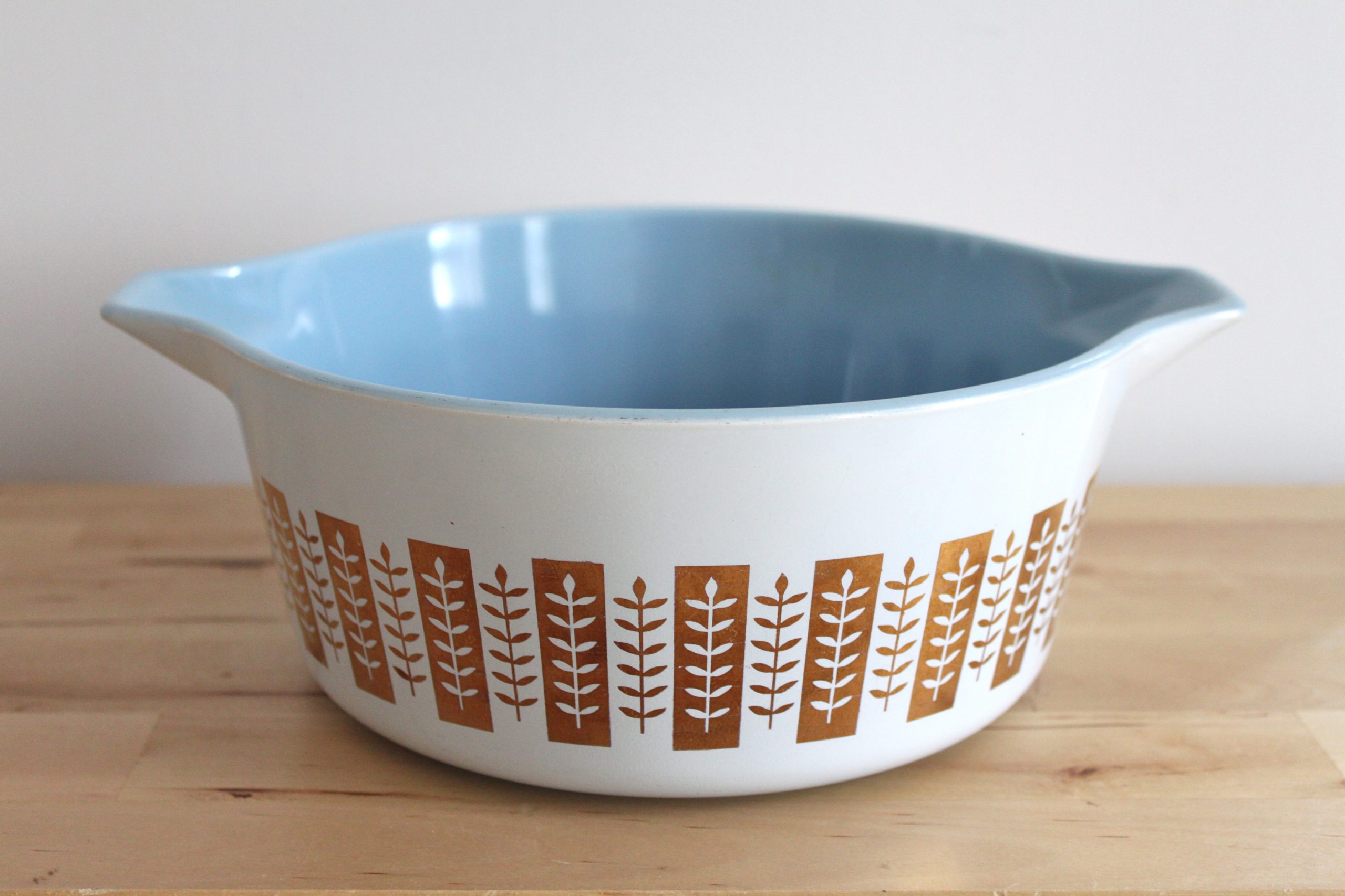 Accessories were a big deal with promotional Pyrex. The special, limited-edition Pyrex often came with a trivet, carrier, cradle or candle warmer. When it comes to hunting down these promotional patterns, it's important to remember that names for the patterns were never standardized, though many have become commonly used.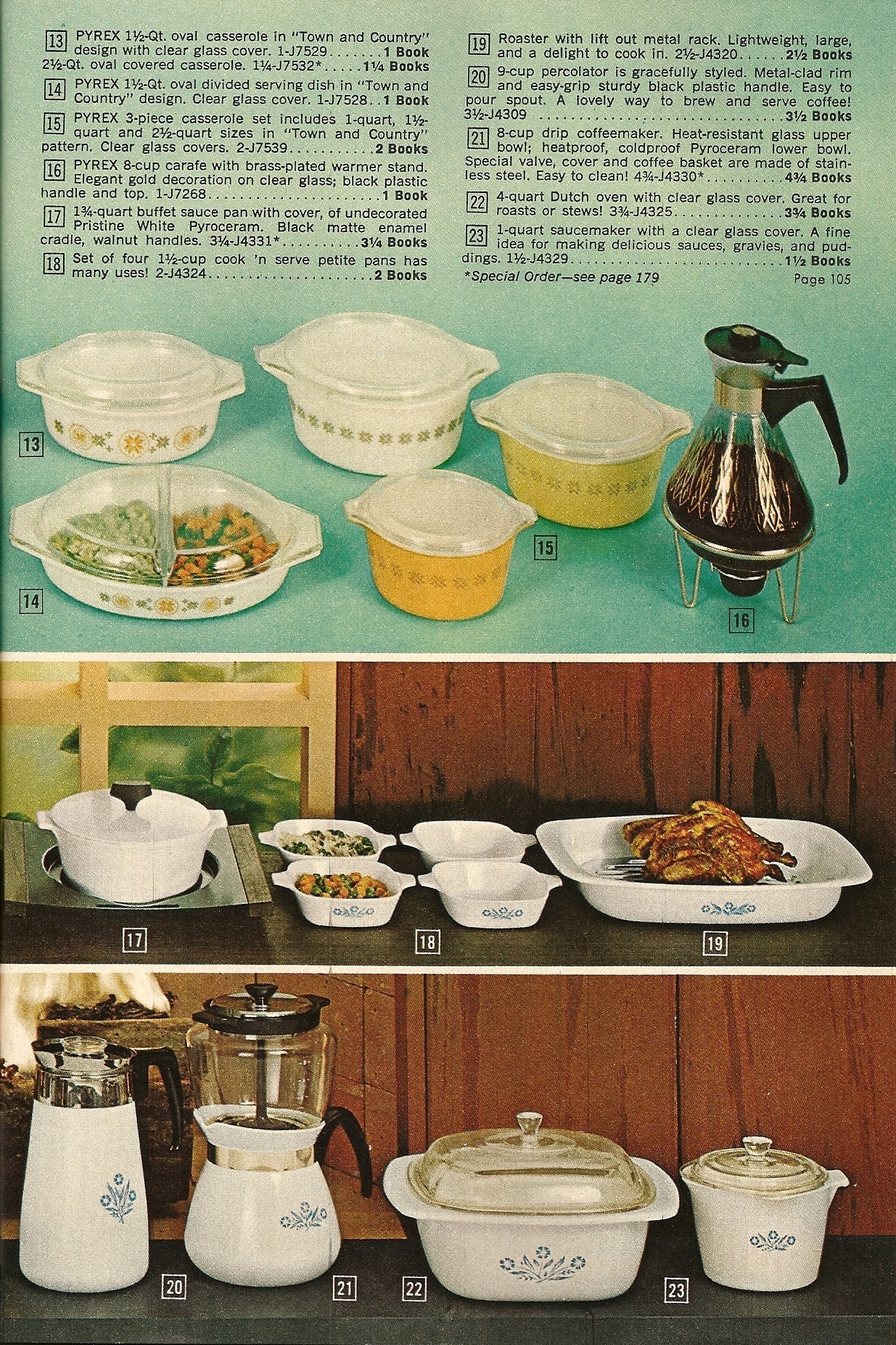 "Obviously patterns produced for short time periods are more likely to be rare, as are some special promotional items, including those produced with another company," says Buffy O'Connor-James of PyrexPartyPixie. Third-party promotional items were also produced by Pyrex, which partnered with companies like Stanley Home Products and Dainty Maids to release special items. These tend to be exceedingly rare.
Popular Pyrex Patterns
"There are other patterns that are more expensive because of demand or popularity," says Capp. "Patterns such as Dots, Solid Pink, Pink Gooseberry, Pink Scroll, Solid Turquoise, Turquoise Butterprint, Friendship, and the Balloons chip and dip sets are popular and in high-demand, so these sets go for $200 to 300 or more depending on the condition."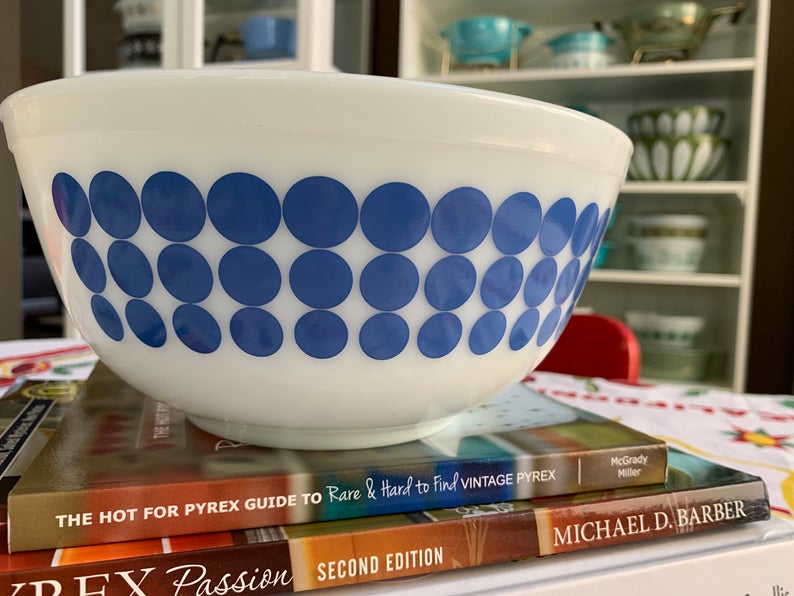 Prototype Pyrex
"There are quite a lot of Pyrex prototypes which have survived, which are very rare," says O'Connor-James, "as well as a few patterns which were produced only in short runs, or as gifts for employees."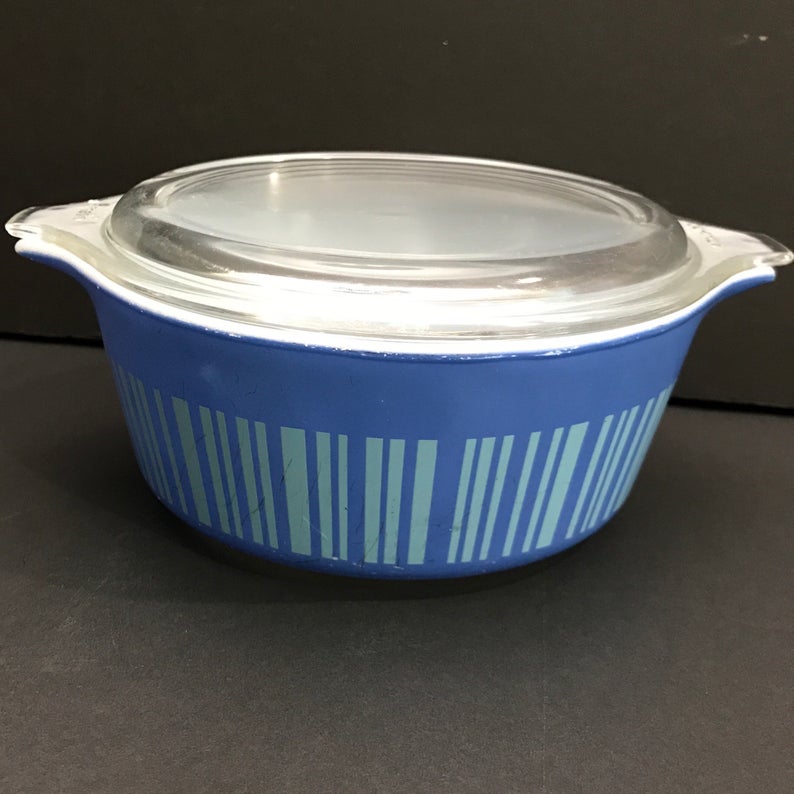 A perfect example is the Blue Stripe casserole, commonly known as the Barcode pattern. "It's relatively easy to find Pyrex Barcode casserole dishes in blue," says O'Connor-James, "but prototypes were also produced in yellow and green; orange and yellow; brown and orange; yellow and black; blue and yellow; green and white; and black and blue. They are very rare."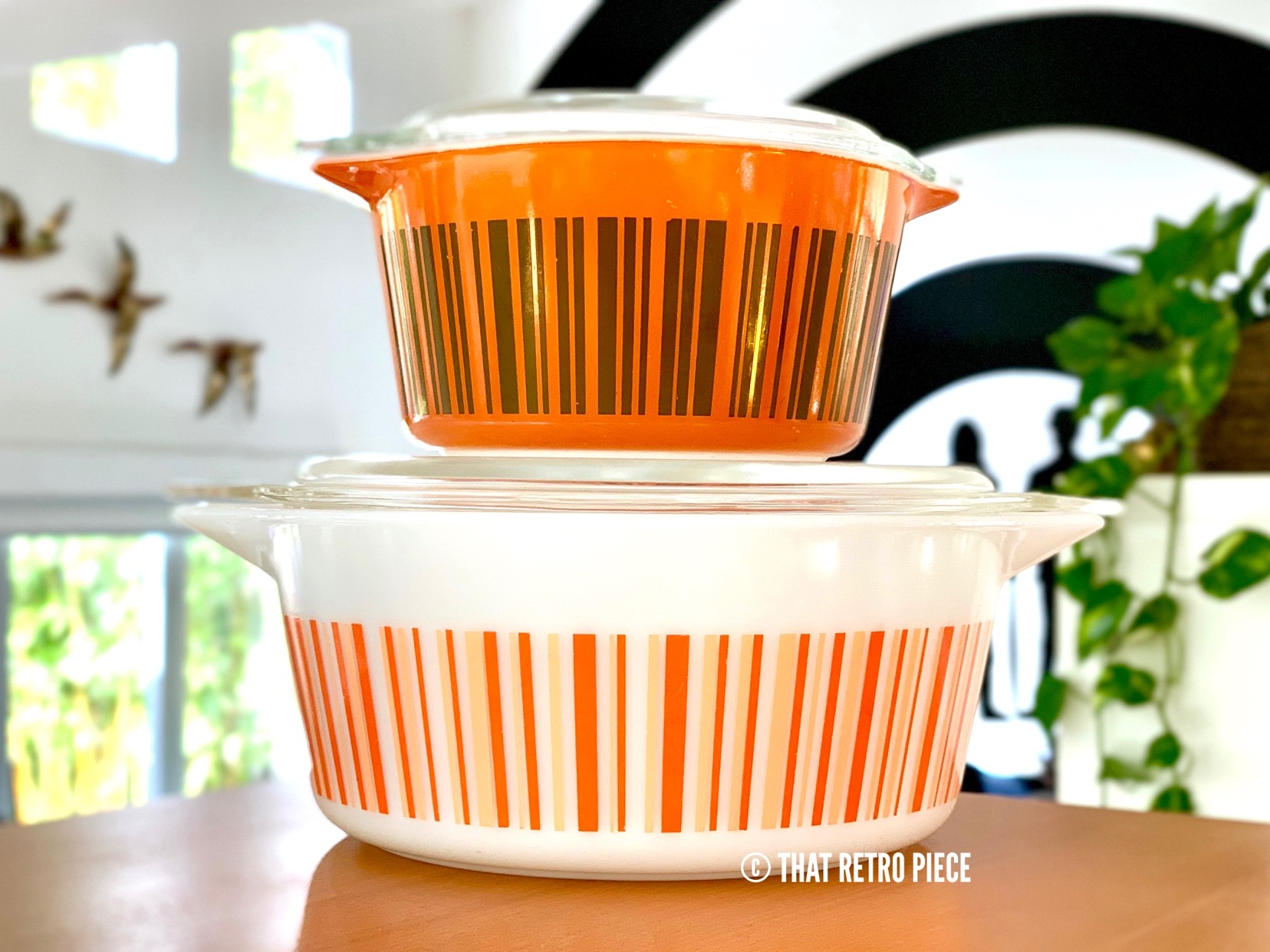 Some of the Most Rare Pyrex Patterns
Starburst Pyrex Casserole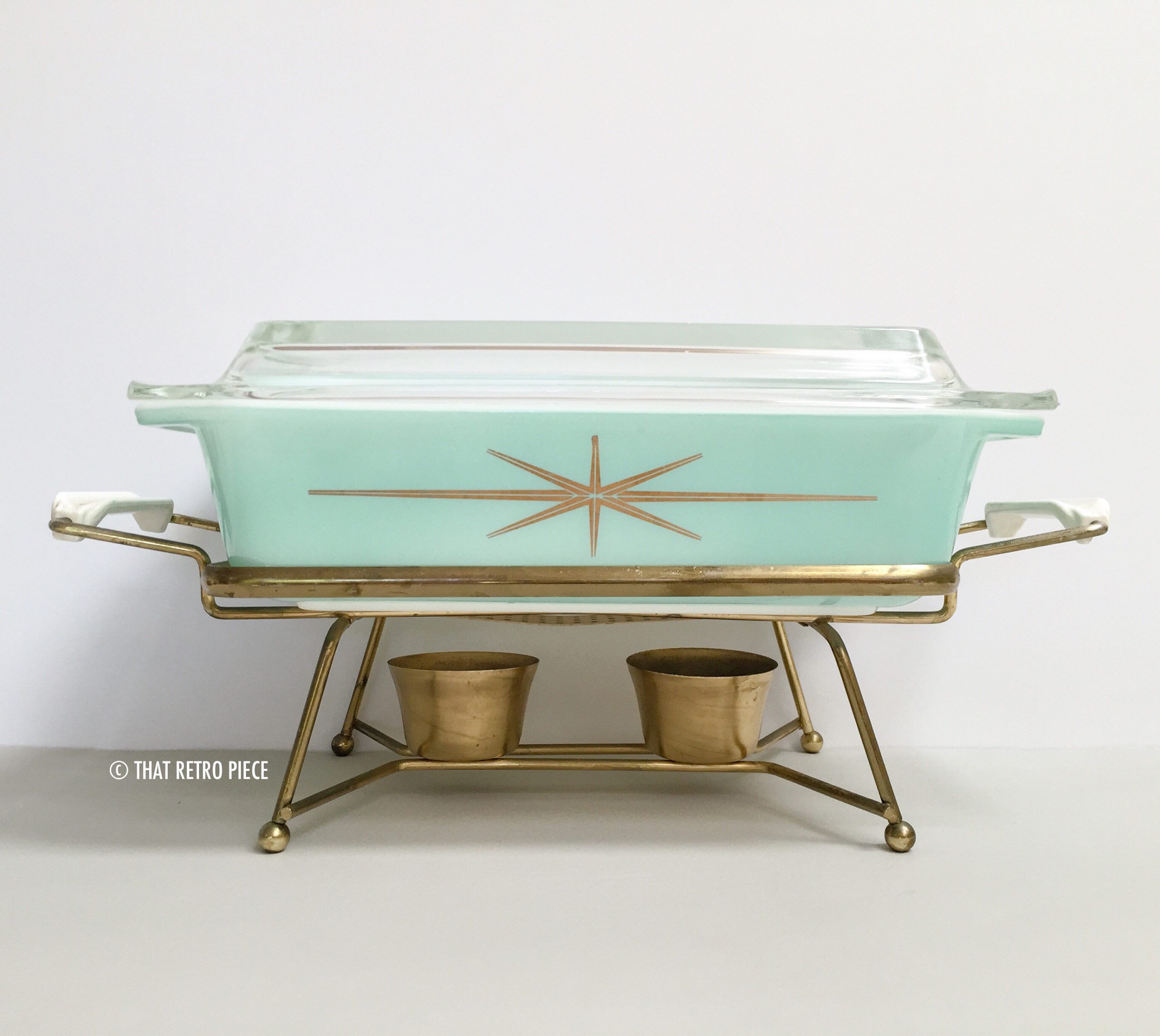 "The turquoise starburst space saver is very popular and I think now costs around $400," says Capp. "You see them a lot, but their popularity makes them hard to find and more expensive."
Pyrex released the Cinderella Serving Casserole, more commonly known by its unofficial name of "Starburst," in 1960. The same design was released with the gold star on a black background. Both designs came with a cradle and double candle warmer. Introduced in 1960, it is thought that the starburst pattern was only produced for a year or less.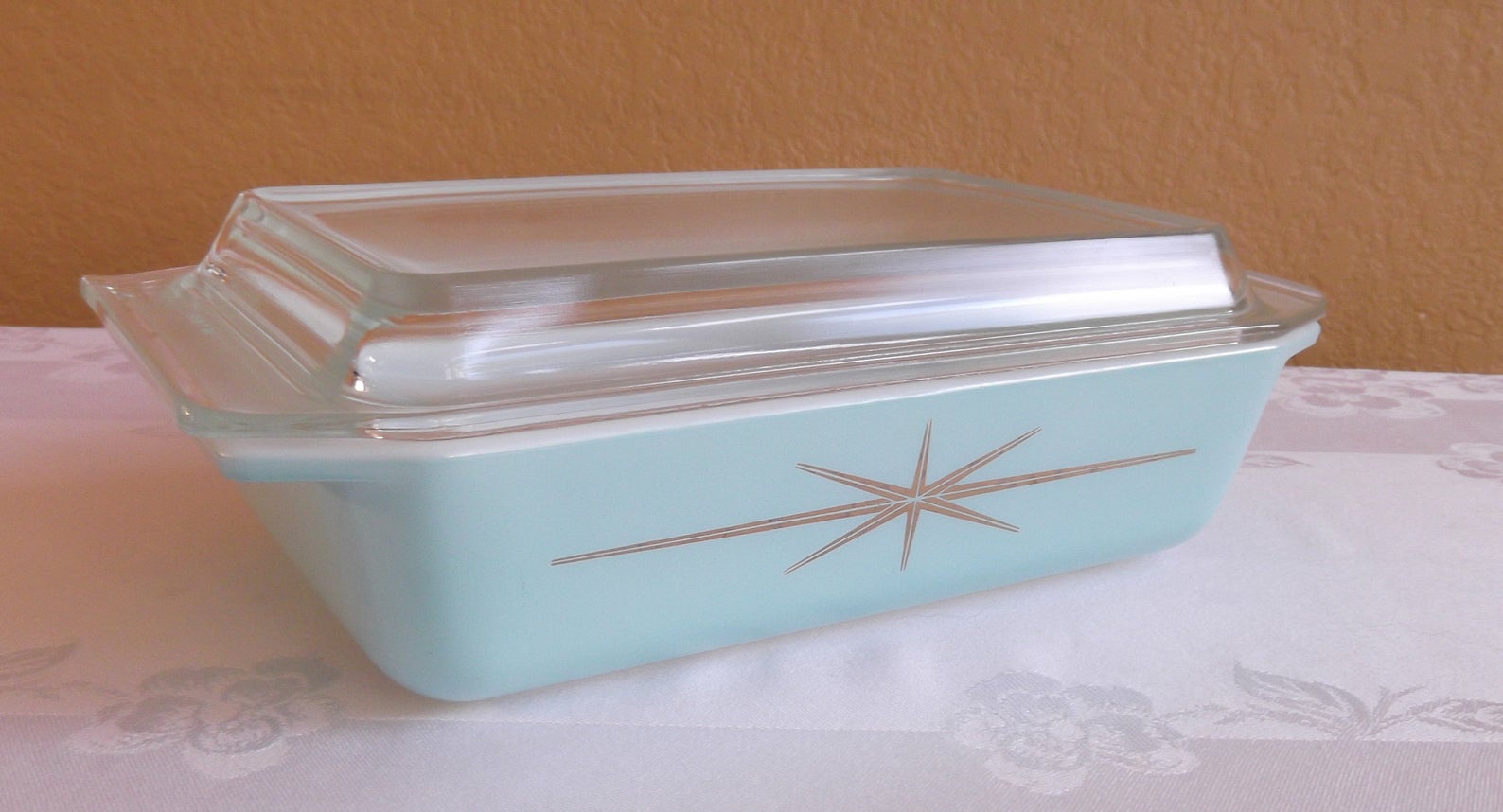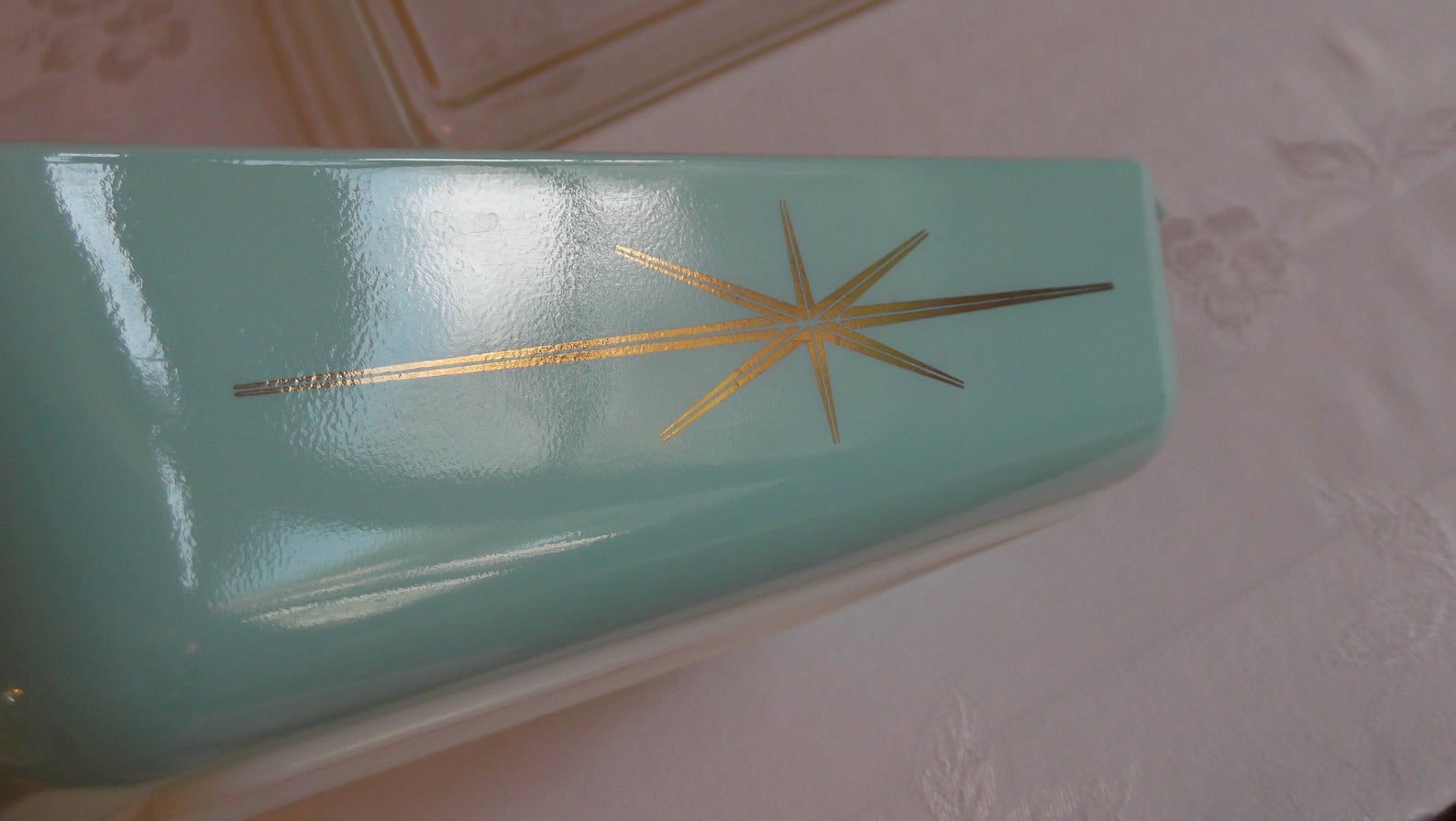 Rainbow Stripe Pyrex Mixing Bowl Sets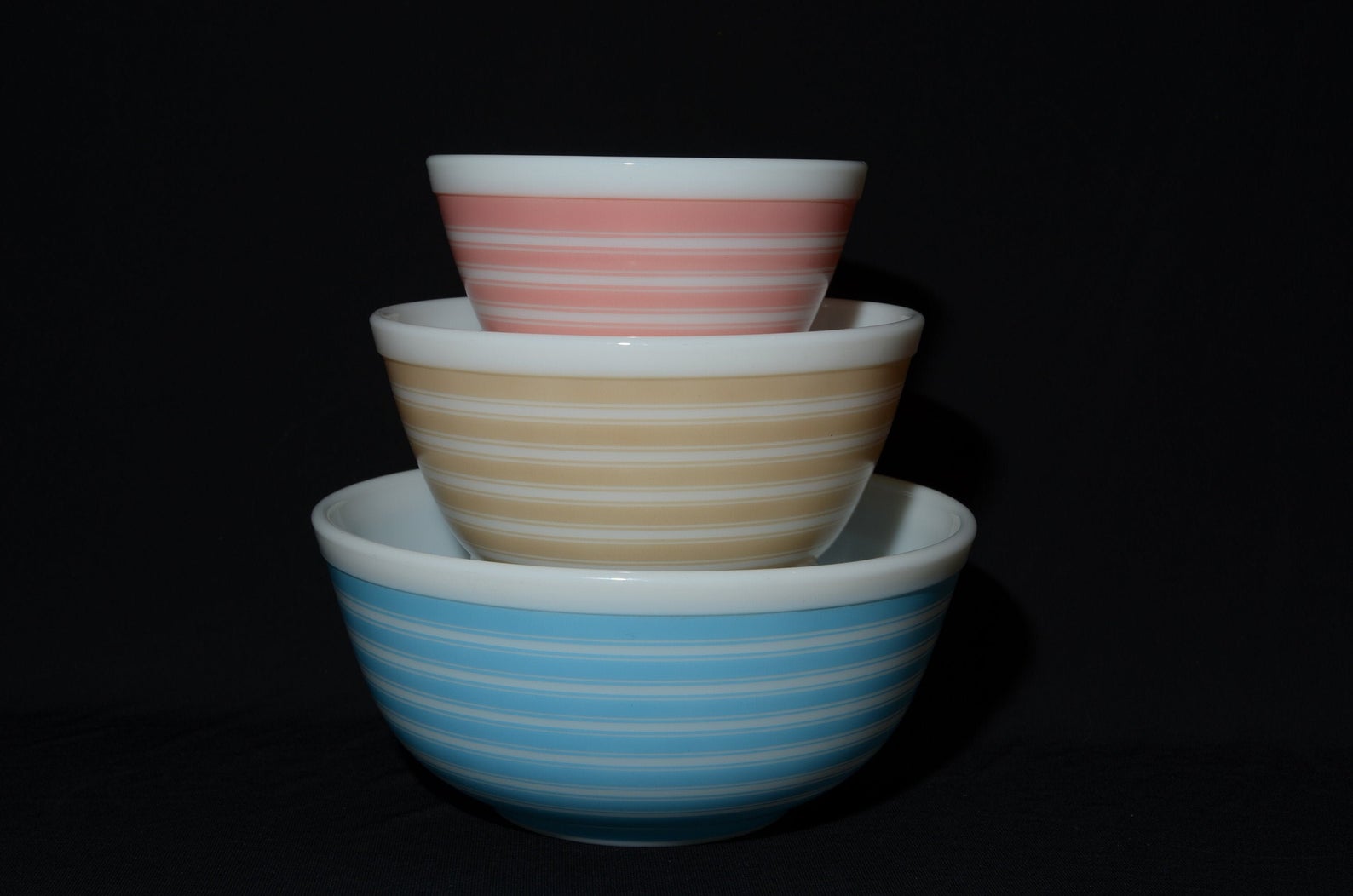 The Rainbow Stripe Mixing Bowls, released in 1965, were manufactured for two years. The bowls came in four colors: Pink Stripes, Blue Stripes, Sandalwood Stripes and Yellow Stripes. When bought as a set, customers received a small pink stripes bowl, a medium sandalwood stripes bowl, and a large blue stripes bowl.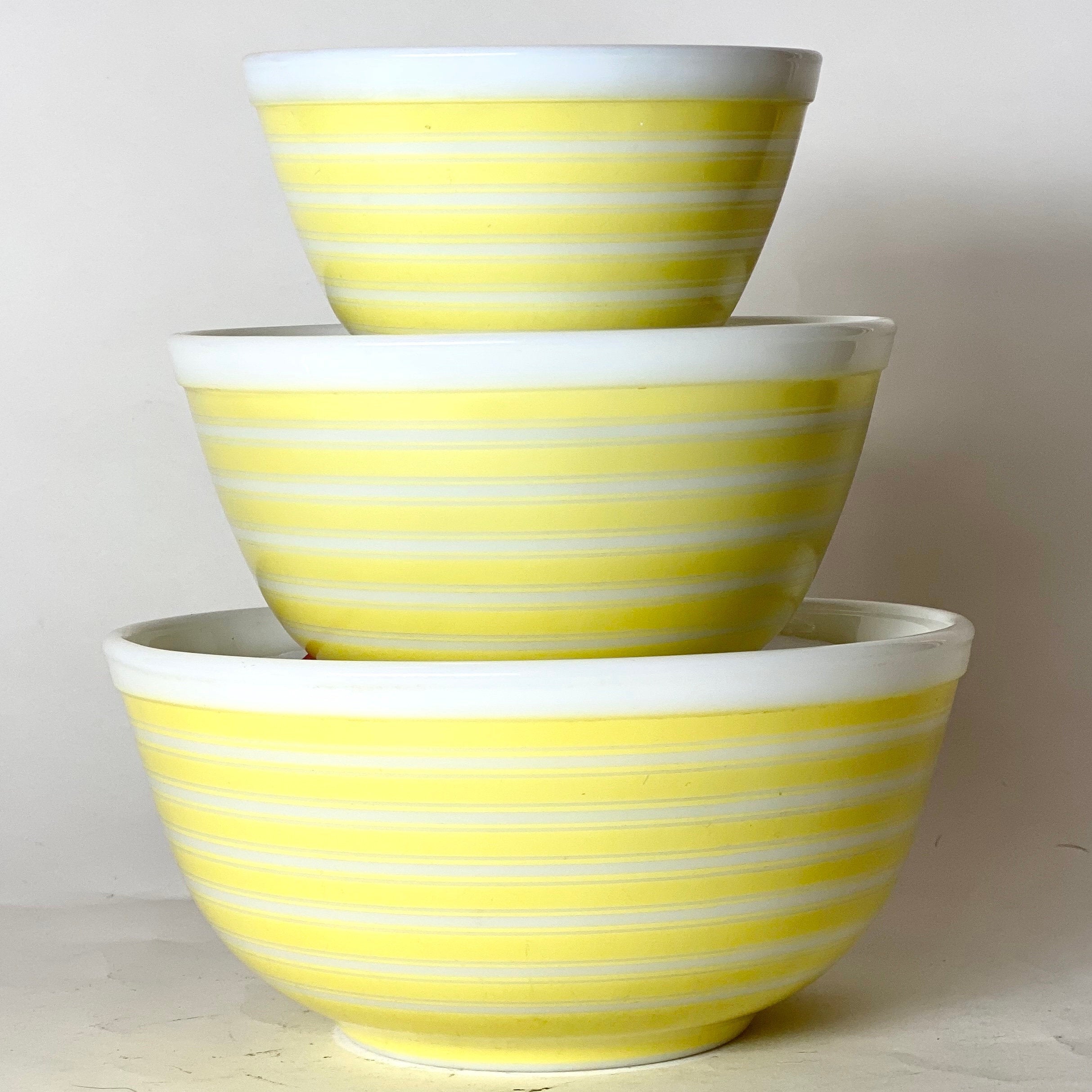 Because the yellow stripes bowl could only be purchased individually, it is considered fairly rare. All stripe colors were available in all three bowl sizes, so customers could mix and match their own, personalized Rainbow Stripe collection. The Rainbow Stripe Mixing Bowl was discontinued in 1967 after only two years of production, adding to its elusiveness.
Yellow & Black Gooseberry Pyrex Mixing Bowls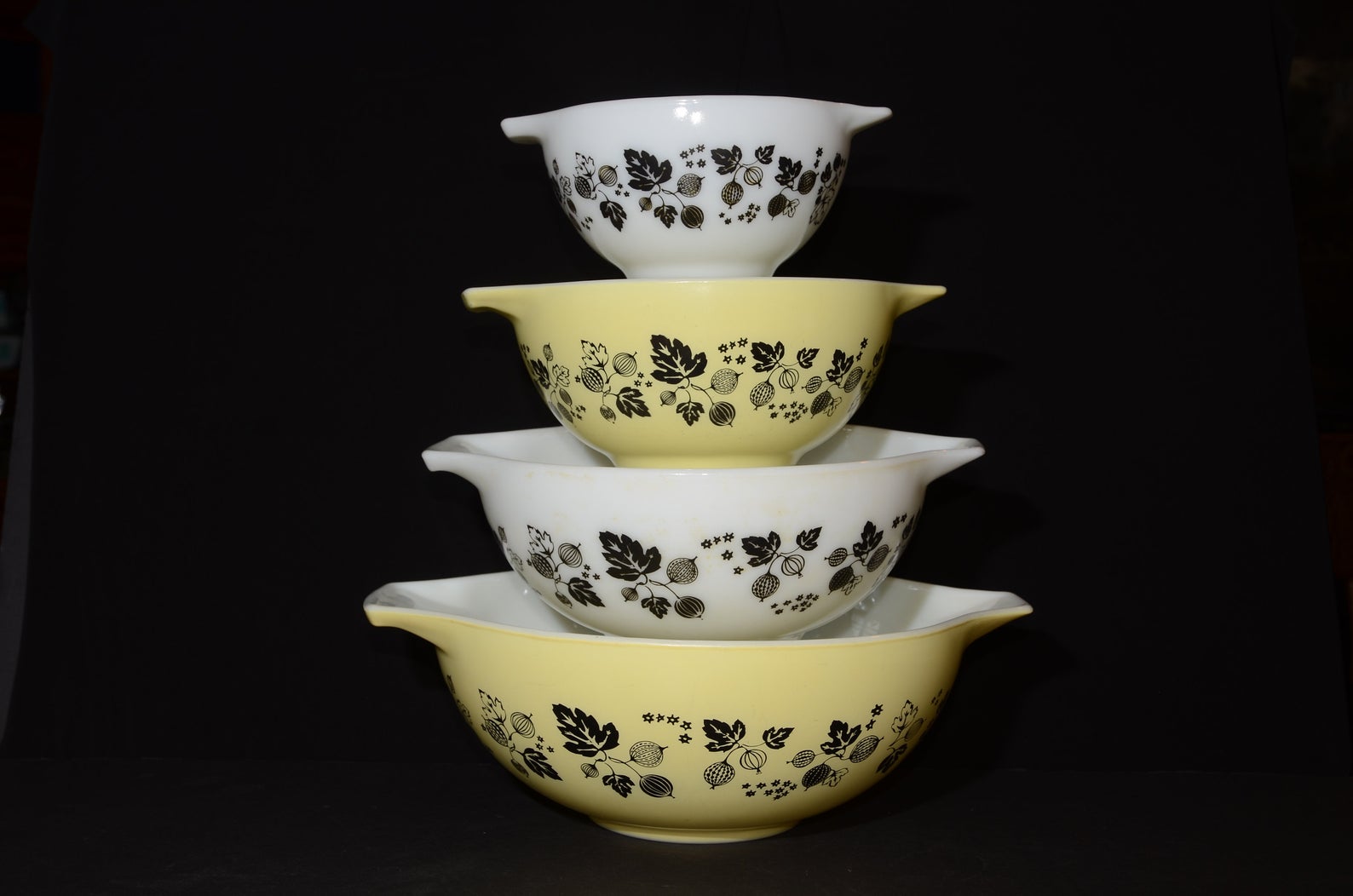 The Pyrex Gooseberry pattern was one of the first four patterns released by Pyrex, along with Snowflake, Pink Daisy and Butterprint. The most common Gooseberry iterations feature a pink print on white/opal background, or a white print on a pink background.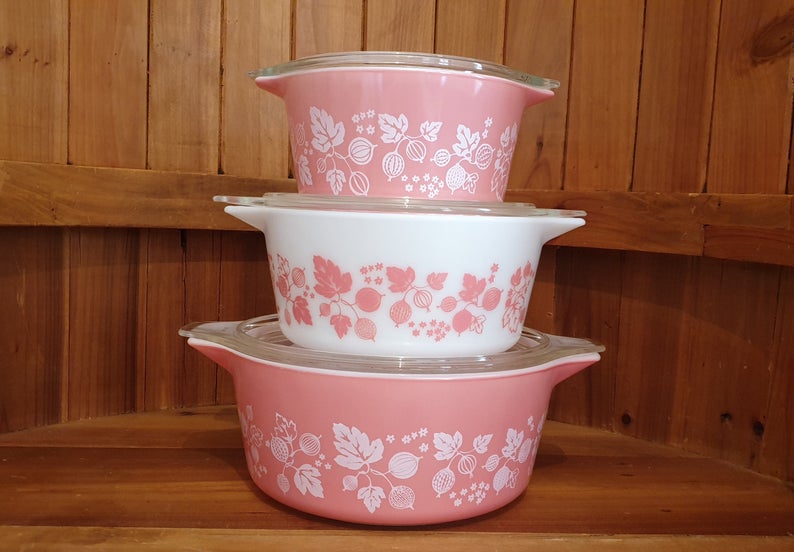 Much more rare is the yellow and black color combination of the Gooseberry Pyrex pattern. Black and yellow Gooseberry Pyrex was only ever released in the four-piece Cinderella mixing bowl set, and it was discontinued in 1962.
Even more rare than the black and yellow gooseberry, there are a few sets of beige bowls with a golden Gooseberry pattern, which was released as an employee gift.
Pyrex Balloons Chip and Dip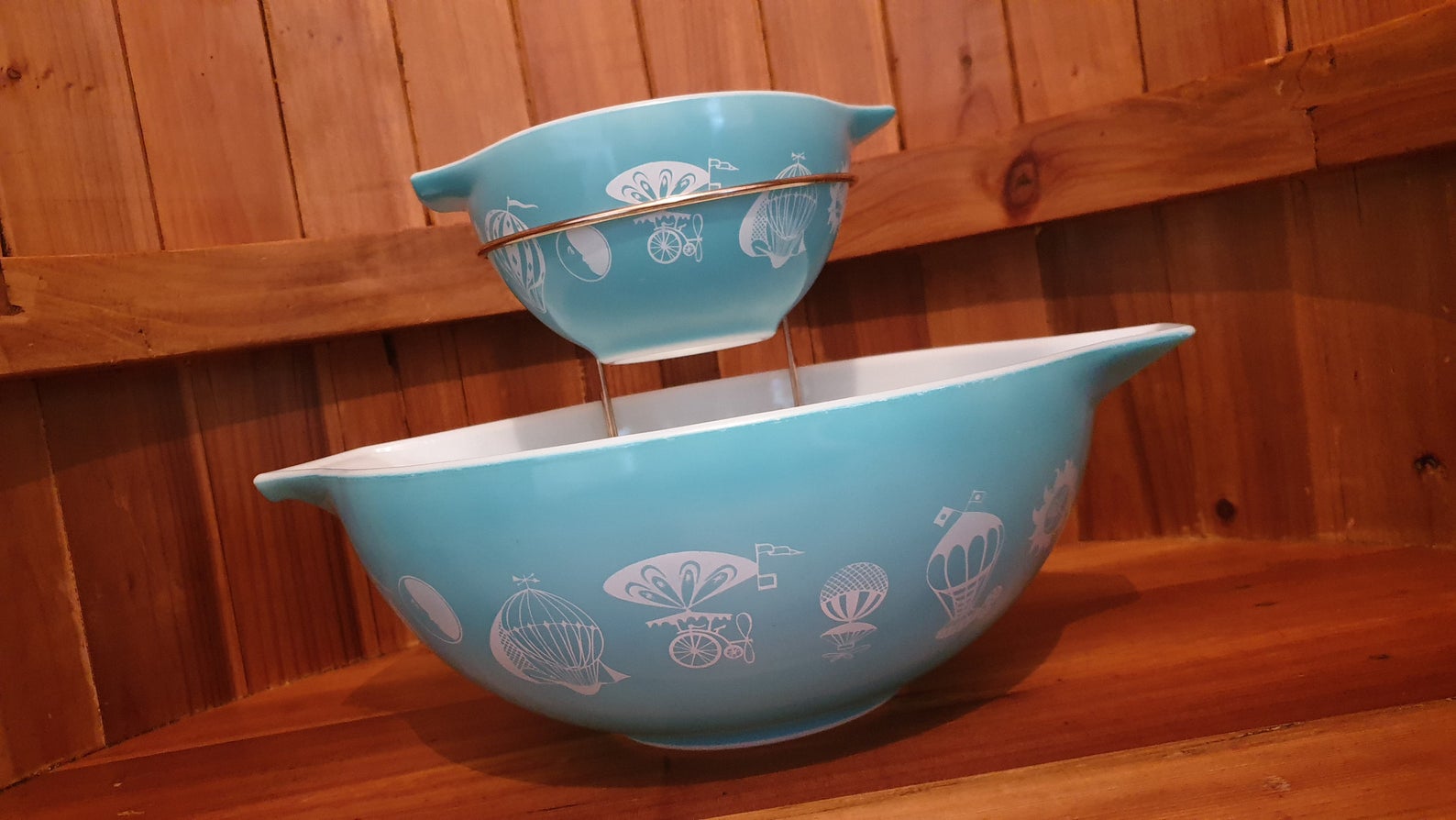 Chip and dip sets were almost always released as a promotional item, and this balloon design was a major hit that is hard to find these days.  Released in 1958, the Balloon Chip and Dip was the first patterned promotional chip and dip set that Pyrex ever produced. The original set came with a large Cinderella bowl, a small Cinderella bowl and a metal bracket to attach the two so the small bowl hovers over the larger one.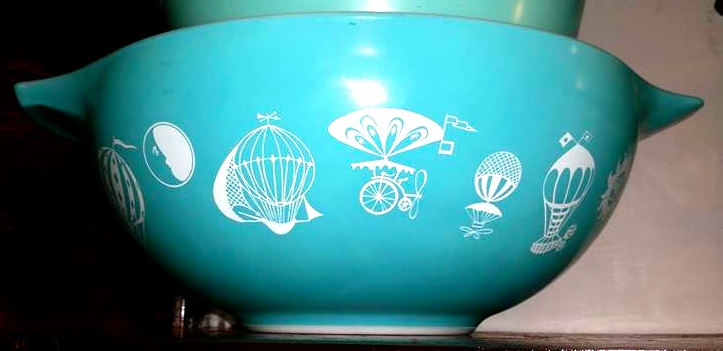 The whimsical pattern is non-standard, so the name "Balloons" isn't official – but it might as well be. The white design, featuring a hot air balloon, a flying bicycle balloon and a crescent moon, stands out on a turquoise background.
Pyrex Pink Stems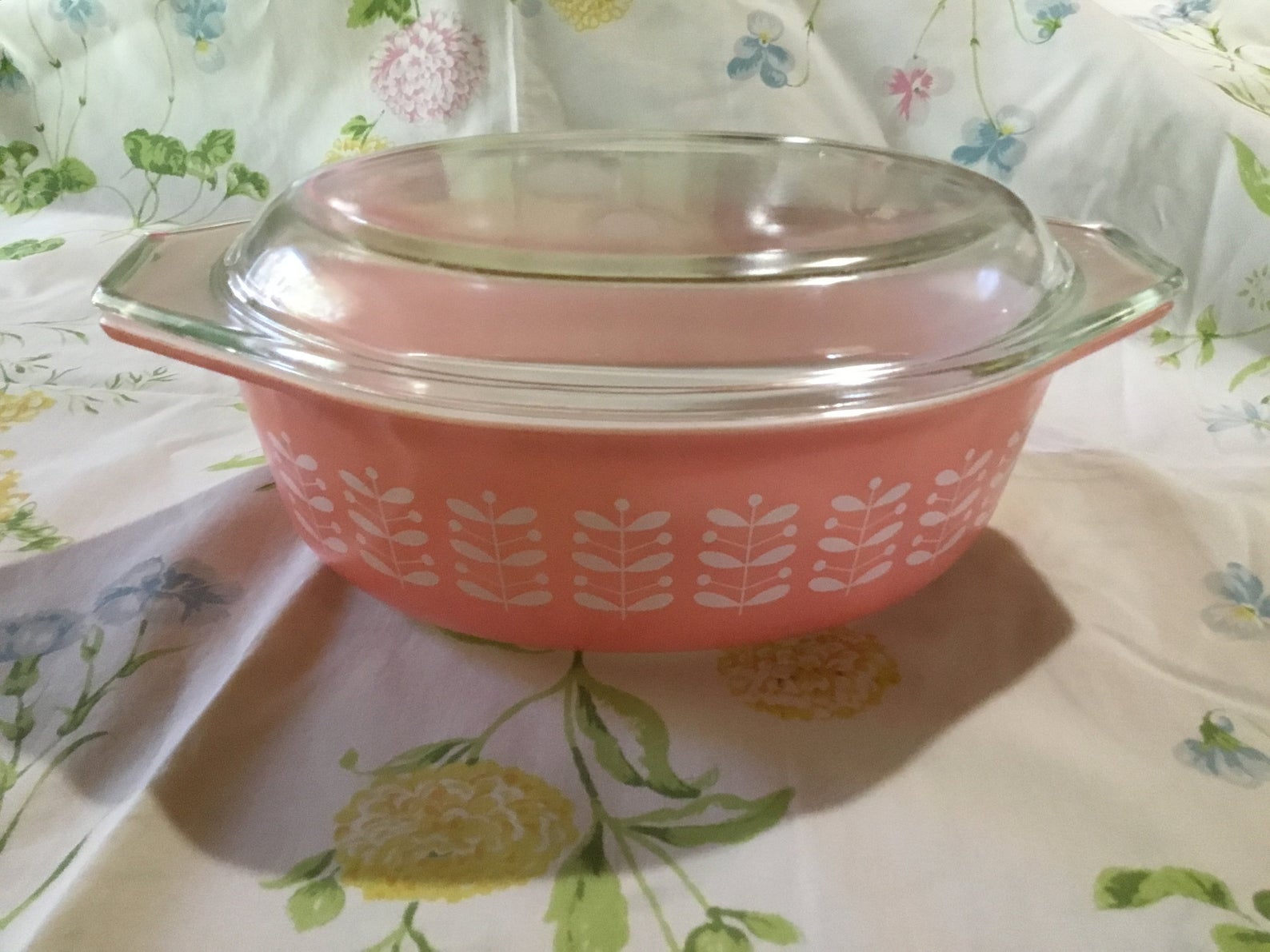 The Pyrex Pink Stems pattern was released in 1968 as a promotional item. It was only ever manufactured in one shape: a small oval casserole dish. Another non-standard name, there isn't a lot of information about this pattern out there because it is so rare.
Yellow/Orange/Pumpkin Butterprint Pyrex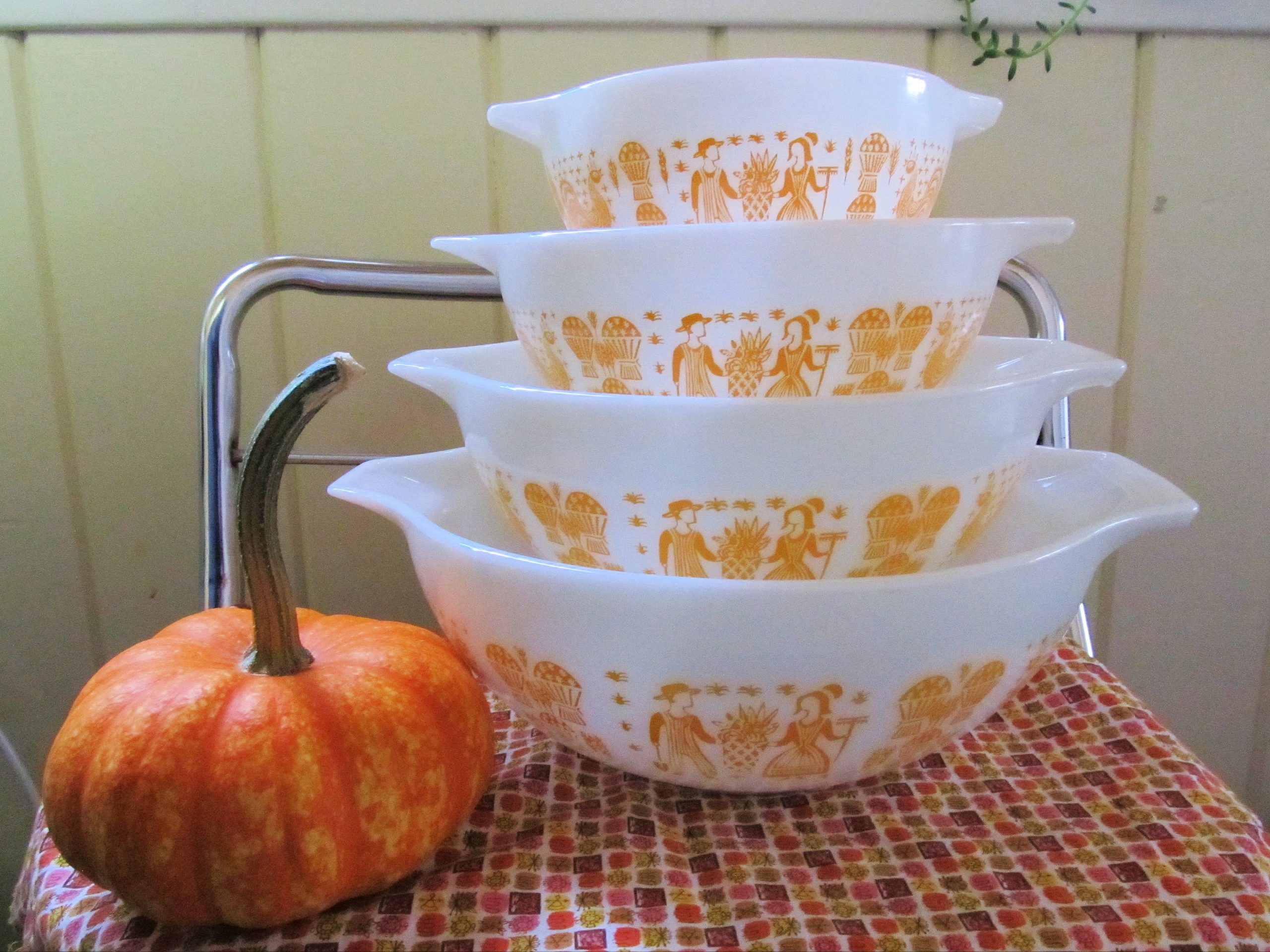 Butterprint is a pattern featuring an Amish-farm theme. A male farmer with a shovel and a female farmer wearing a bonnet hold a bundle of corn and wheat. They are surrounded by corn stalks and bundles of wheat. The pattern also features a large rooster.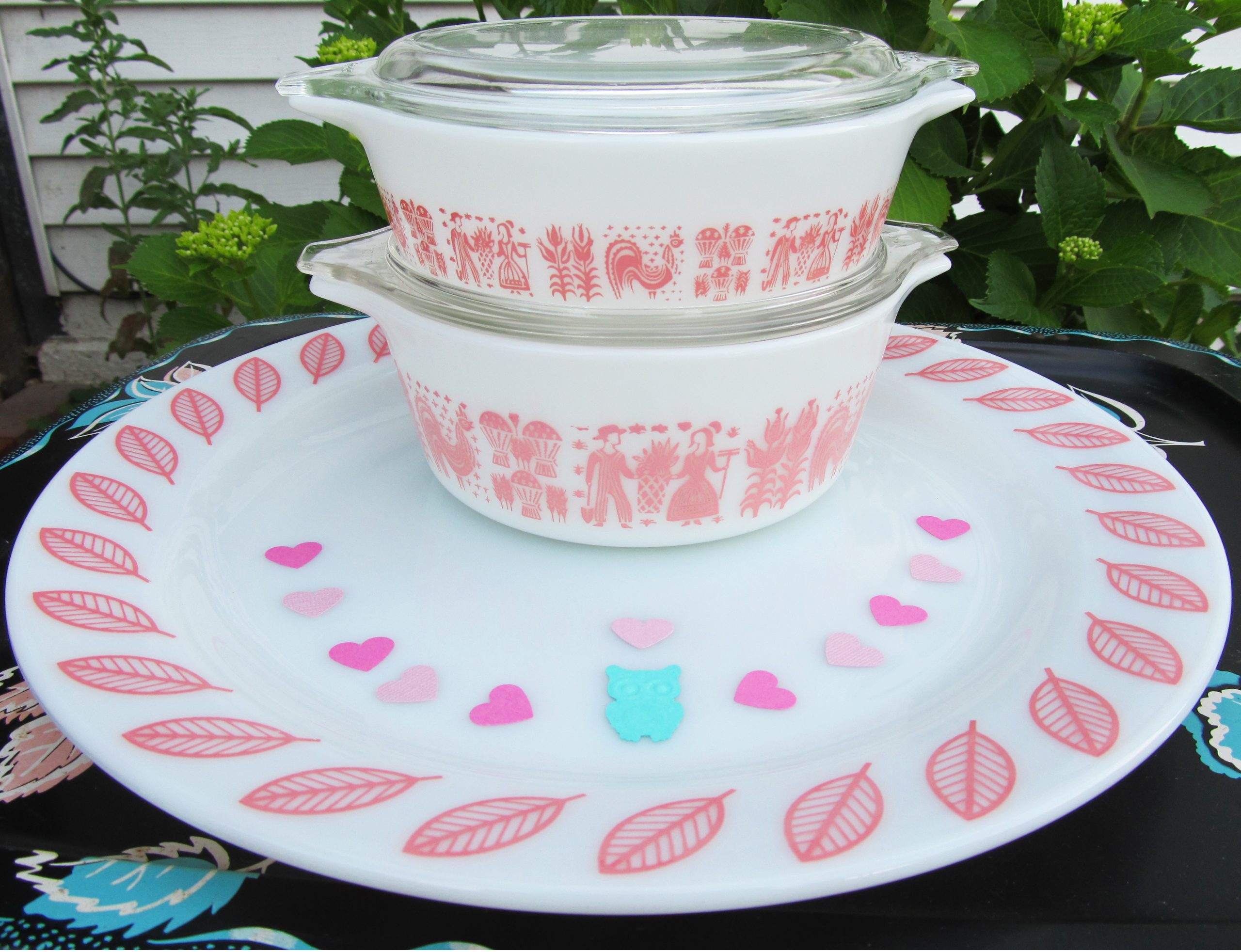 Butterprint was the third pattern ever printed on opal Pyrex, after Snowflake and Pink Daisy. The pattern is sometimes referred to as Amish, Rooster, Farmer & Wife, or Rooster & Corn. The Butterprint pattern was first released in 1957 in turquoise on white and white on turquoise.
Butterprint Pyrex was discontinued in 1968, but not before some very special promotional patterns were released. These included white butterprint on a pink background, and pink and orange butterprint on the opal background.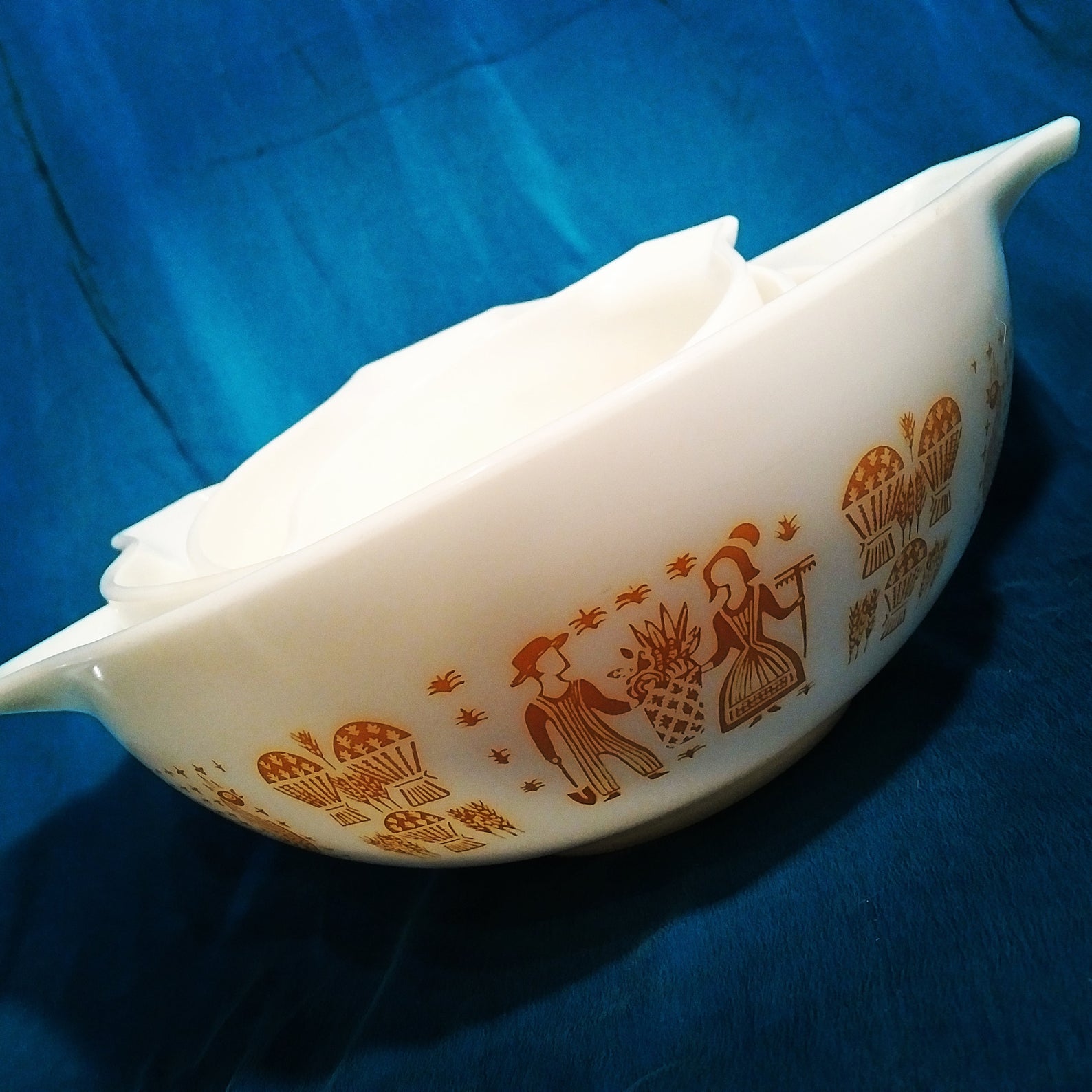 "Pink Butterprint was only released on small casserole rounds, and Orange Butterprint was purchased using S&H green stamps," says Capp. 
Trading stamp programs were one way that Pyrex sold its promotional items. Loyal customers received stamps with every Pyrex purchase, with the intention that they could eventually collect enough to redeem the stamps for a special promotional item from the gift catalog.
Pyrex Turquoise Diamonds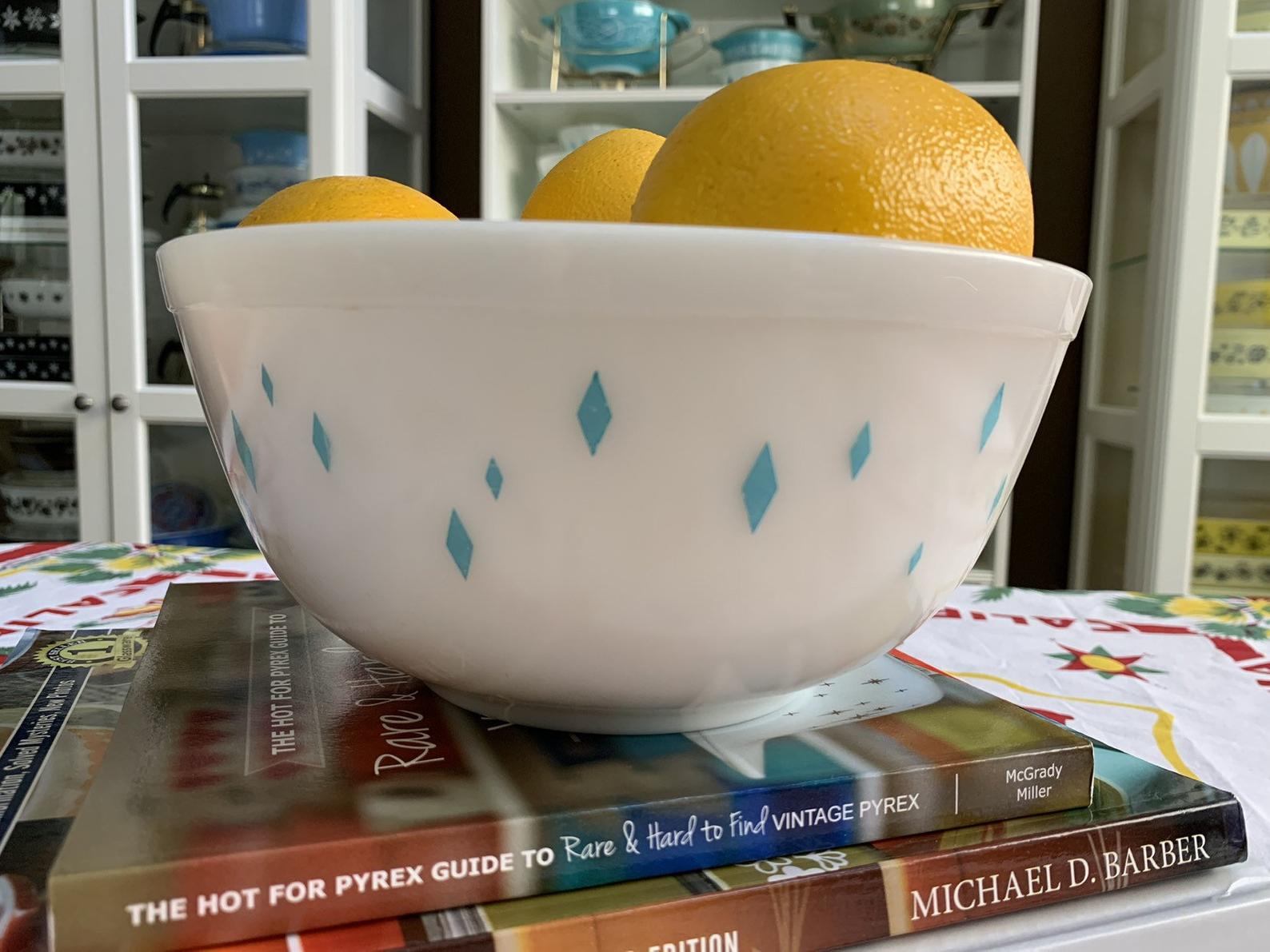 "This was an item that Pyrex made for another company, Dainty Maids, and it was sold through catalog sales," says Capp. "It consists of an opal white bowl decorated with turquoise diamonds and it originally came with a lid and carrier. The bowl itself is now going for a couple hundred dollars, and I imagine it would cost much more if you could find it complete with the carrier and lid." Manufactured in the 1950s, the bowl does not feature a Pyrex stamp or any kind of marking, and the name "turquoise diamonds" is non-standard.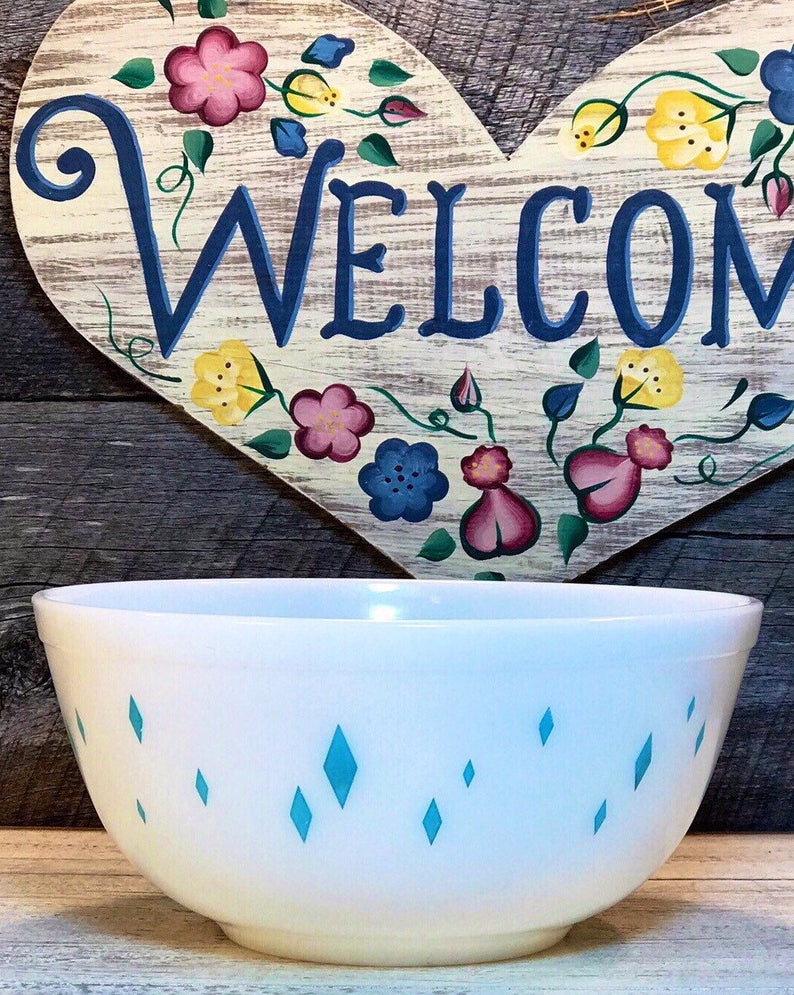 Pyrex Atomic Eyes Chip and Dip Set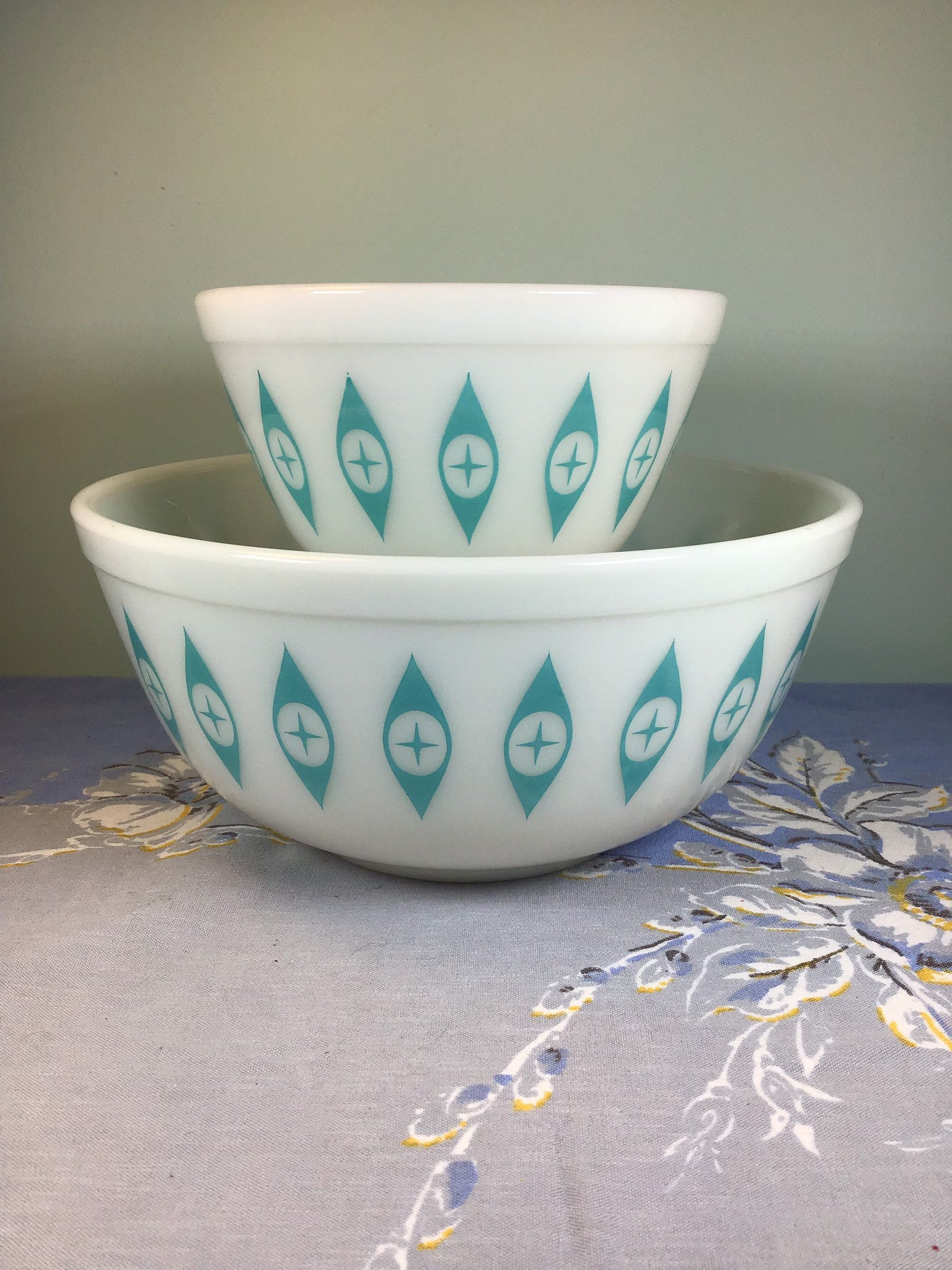 A highly-coveted pattern, the Atomic Eyes Chip and Dip is the holy grail for some Pyrex collectors. Released in the 1950s, some of the bowls feature a Pyrex stamp while others don't. The non-standard pattern is also known simply as "Eyes." This pattern was also printed on a juicer and coffee carafe when the chip and dip was released.
The Most Rare Pyrex Pattern: Lucky in Love
If you're a true Pyrex fan, you know that a one-quart round casserole dish sold on eBay for $4,000 in 2015. The reason for the incredibly high price for this dish? The extremely rare pattern on it: Lucky in Love, a 1959 promotional pattern. 
Lucky in Love features tall, retro-style, spiky grass, green four-leaf clovers and pink hearts on an opal, or white, background. The dish also featured an opal lid—very unusual, as Pyrex lids are almost exclusively clear glass until 1972, when the opal becomes more standard on several shapes. 
The Corning Museum of Glass has a prototype of the dish on display. This prototype is only the grass and clovers—no pink hearts. There is debate about whether or not Lucky in Love was ever officially released. In the tests of this pattern, the green grass bled through the light pink hearts. This flaw wasn't up to Corning standards, so the few dishes that were ever made suffered one of two fates: they were discarded, or they were taken home by employees (whose lucky descendents may have benefitted financially from their ancestors' decision to take it home!). 
This pattern holds great significance for Pyrex lovers, so much so that the company re-released it in March of 2018, although the newer pattern was on clear glass and didn't have the same pastels as the original Lucky in Love.
Pyrex in Great Condition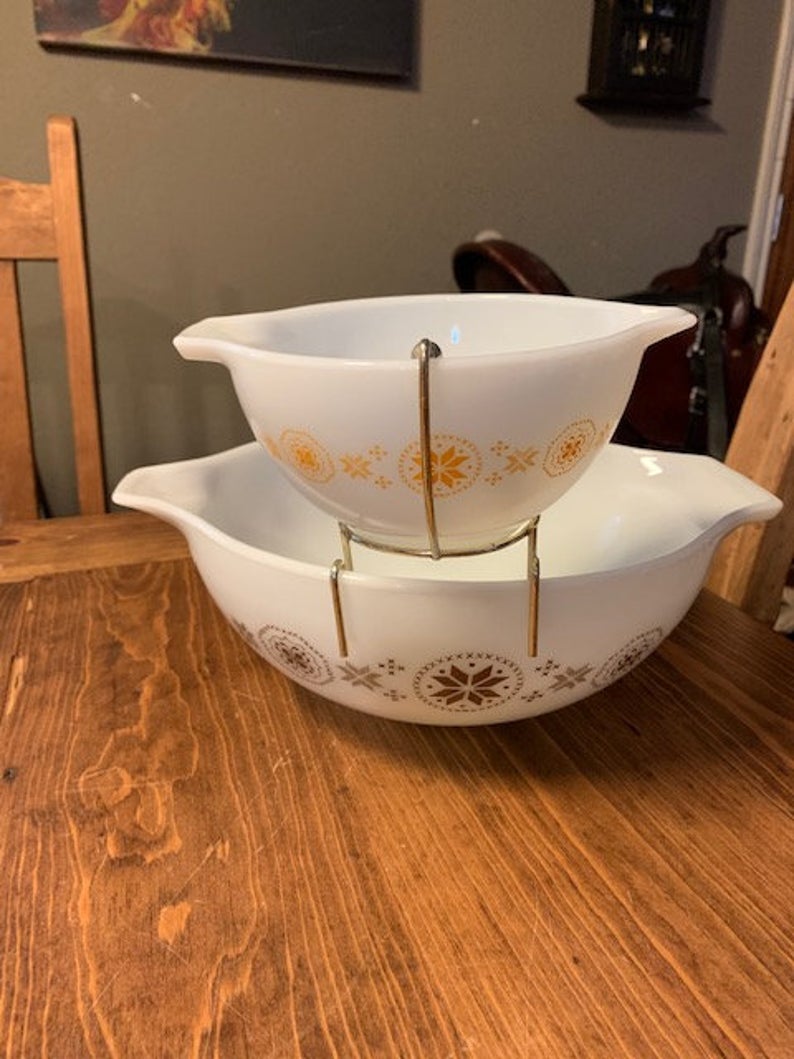 Condition is a major concern when shopping for rare Pyrex patterns. Because Pyrex dishware is so sturdy and functional, the older items have often been used very heavily. This can mean that the condition is less than excellent. "A Pyrex that is dishwasher damaged will have lost it's color and the shine will be faded," says Courchesne. Many older Pyrex also have nicks or scratches in the paint. 
Be wary of items you can't hold before purchasing. Once, Courchesne bought a shiny-looking Pyrex at an auction sale that seemed in good condition. "But when I touched it, it was sticky, and I realized that the seller put some oil on it to make it shine again," she says.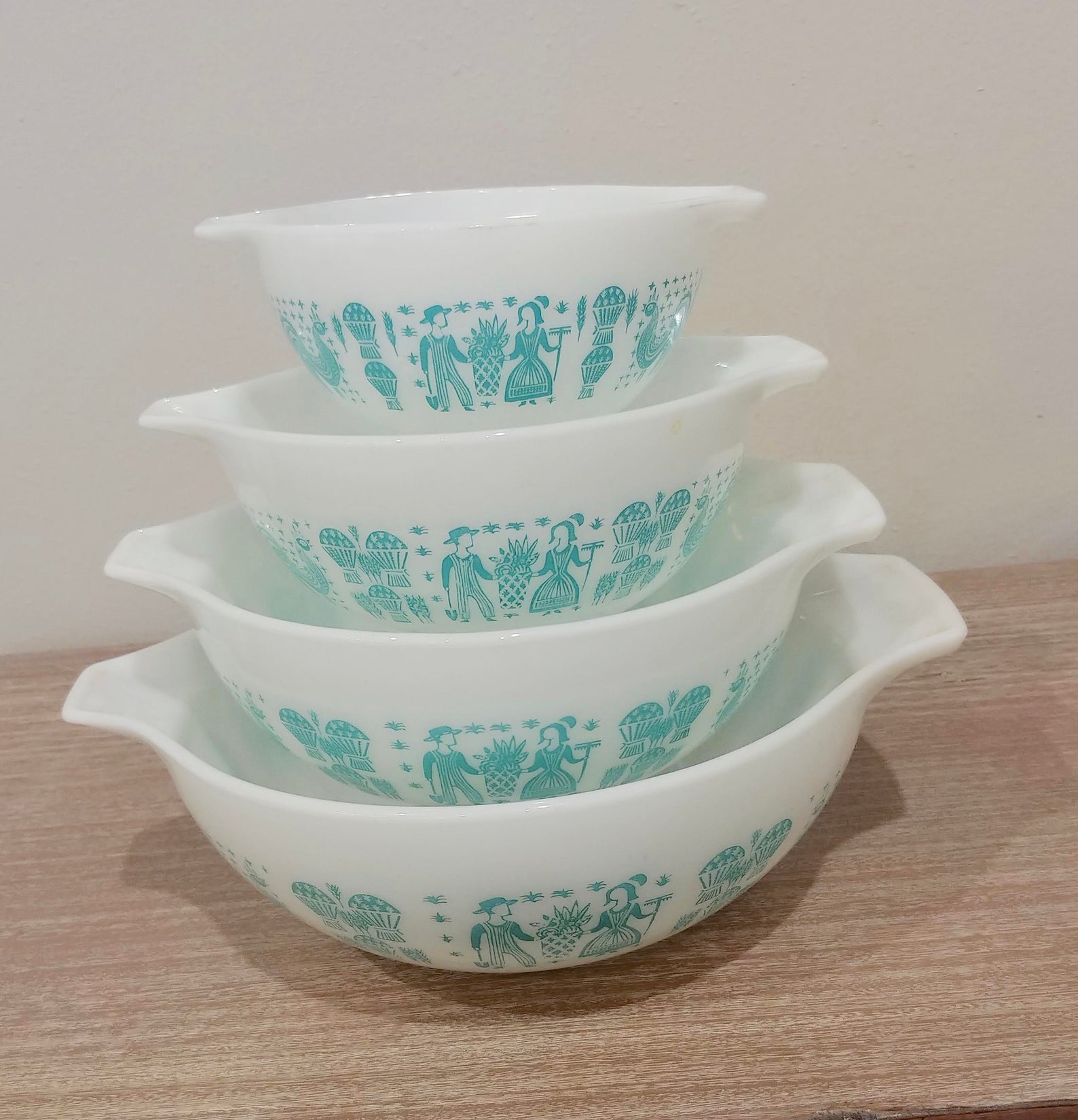 Capp says she has heard rumor of solid-colored Pyrex mixing bowls being painted to appear a rare color, like pink, and sold for more than they're worth. She advises using the stamp as an identifier. "Most Pyrex has a stamp on the bottom, though a couple are unmarked, like the large Eyes bowl and the Turquoise Diamonds bowl," says Capp.  
O'Connor-James says an easy way to reduce your chances of buying a fake is to only buy from a reputable dealer. "Otherwise, Pyrex usually has a manufacturing stamp on the base," she says. "It is well worth investing in a reference book or two, as they should tell you the correct stamp for the type of piece you are looking at."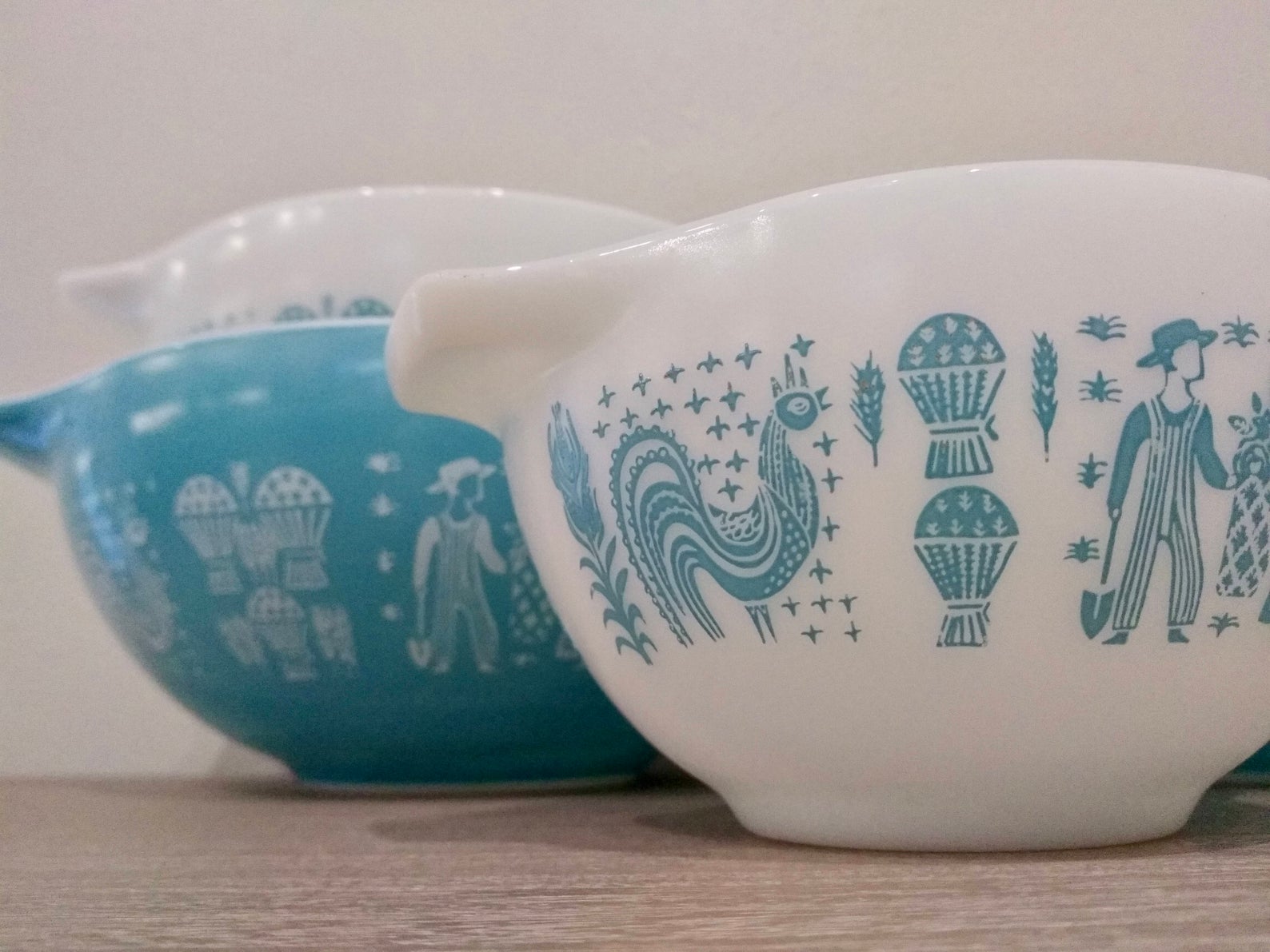 Where to Find Rare Pyrex Patterns
"It takes time and patience," Courchesne says of the rare Pyrex hunt. She recommends looking at estate sales, Facebook Marketplace, Pyrex groups on Facebook, auction sales, EBay, Etsy and second hand stores if you're looking for a specific rare pattern. "You can also be part of collector Pyrex groups, on Facebook or elsewhere, and make some exchanges," she says. "Some patterns can be found more easily in some areas or countries than others."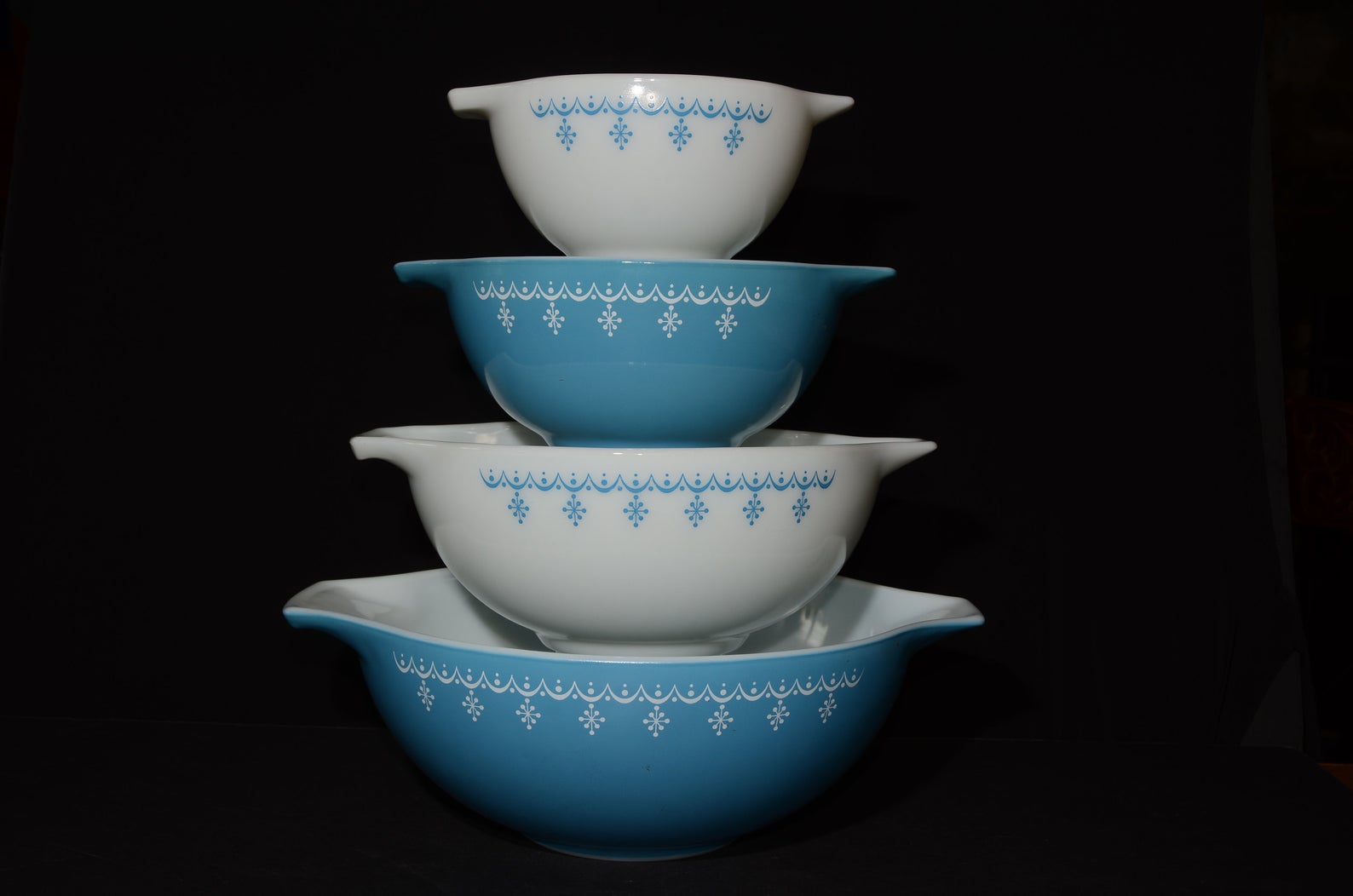 If you're looking for something which is specifically hard to find in your own country, O'Connor James recommends eBay. "Ebay is helpful as it is international, but do remember that some sellers prefer not to post Pyrex overseas, which is a shame and can be a bit frustrating for the dedicated collector." 
O'Connor-James recommends starting close to home in your search for Pyrex of any kind. "The first place to look though should be within your own family," she says. "Many elderly relatives have Pyrex, because nearly every home had some from the 1950s onwards. Finding super-rare patterns is largely a matter of luck and being in the right place at the right time."