If you're anything like us, you're a bargain bin diving, vintage-hunting, estate sale perusing maniac with an eye for minute details. When it comes to locating rare pieces and hidden treasures at estate sales and antique malls, there is no greater discovery than pieces that warm your heart and bring a sense of nostalgia back into your life. The mid-century, elaborate kitchenware designs made by the Anchor Hocking Glass Corp have been collector favorites for decades – and it isn't hard to see why.
Originally produced for use as common household cookware and dish sets, Anchor Hocking's most well-known brand, Fire King, has garnered enormous interest over the past 40 years. Eclectic vision, vibrant colors and uniquely crafted glass pieces truly put Anchor Hocking's Fire King brand of kitchenware pieces in the spotlight for collectors looking for a touch of nostalgia.
What Are Fire King Glassware Products?
Vintage Fire King dinnerware and glassware products were first produced by the Anchor Hocking Glass Corp. based in Lancaster, Ohio. In 1942, in the hopes of cornering a fresh market for affordable and attractive cookware, Anchor Hocking Glass began producing their now-famous line of ovenproof, low-cost, low-expansion borosilicate glassware products. The company branded their new line of 'classic-American' glassware pieces as "Fire King," thus solidified their name in the history books as a contender for the kitchenware demographic.
The beautiful midcentury modern designs come in a variety of styles, colors, shapes and sizes. Fire King style kitchenware was made with durability in mind. While vintage collectors of our age might create shrines in hutches and cupboards all across America, the regular consumer from that era actually used Fire King branded products much like we use pots and pans in our own homes today. Used for baking, the storage of food, sauces, liquids and extensions of their buyer's personality, Fire King became a household name until production was stopped in 1976.
Fire King products could be purchased as single-item investments or in whole-set collections at various online auctions. In fact, the single-item variety could be found anywhere from grocery stores, gas stations and hardware stores. One production company even went so far as to give away a free glassware piece with every bag of flour sold – talk about an amazing freebie!
Today, Fire King glassware products are a force to be reckoned with. Sets selling for upwards of $4,500 are up for grabs for the highest bidder on auction websites. Recently, a set of two very rare Fire King maroon burgundy coffee cups went for two dollars shy of $2,000.
Popular Vintage Fire King Colors
One of the defining characteristics of these gorgeous pieces of mid-century craftsmanship is the veritable smorgasbord of bold color choice options made available by the Anchor Hocking Corp. during their production. While the incredibly popular, opaque green glass run of Jade-ite is by far the most recognized line of Fire King kitchenware pieces in the 'wild,' it is most certainly not the only option available. In fact, the styles outside the Jade-ite run of kitchenware are some of the rarest pieces on the market and at estate sales today.
Rose-ite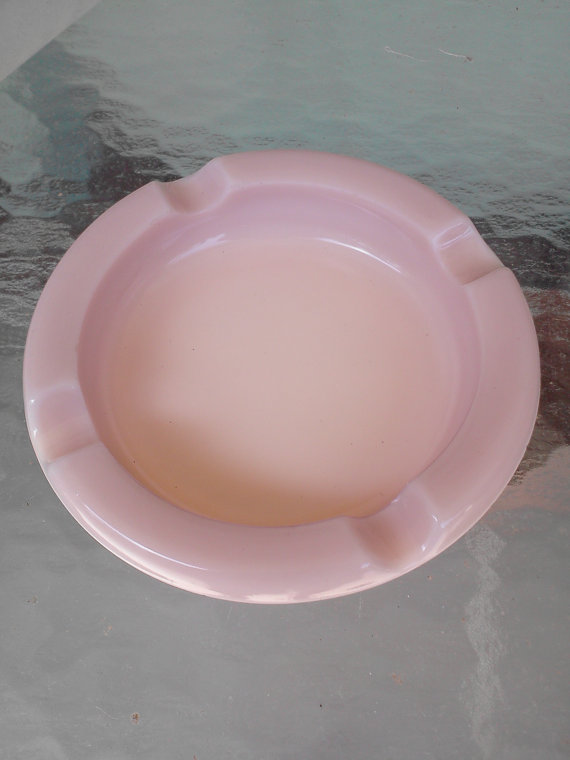 Much like its counterpart, Jade-ite, this lustrous alternative to green added a touch of femininity to any kitchen table. Rose-ite is a gorgeous creamy pink.
Turquoise Blue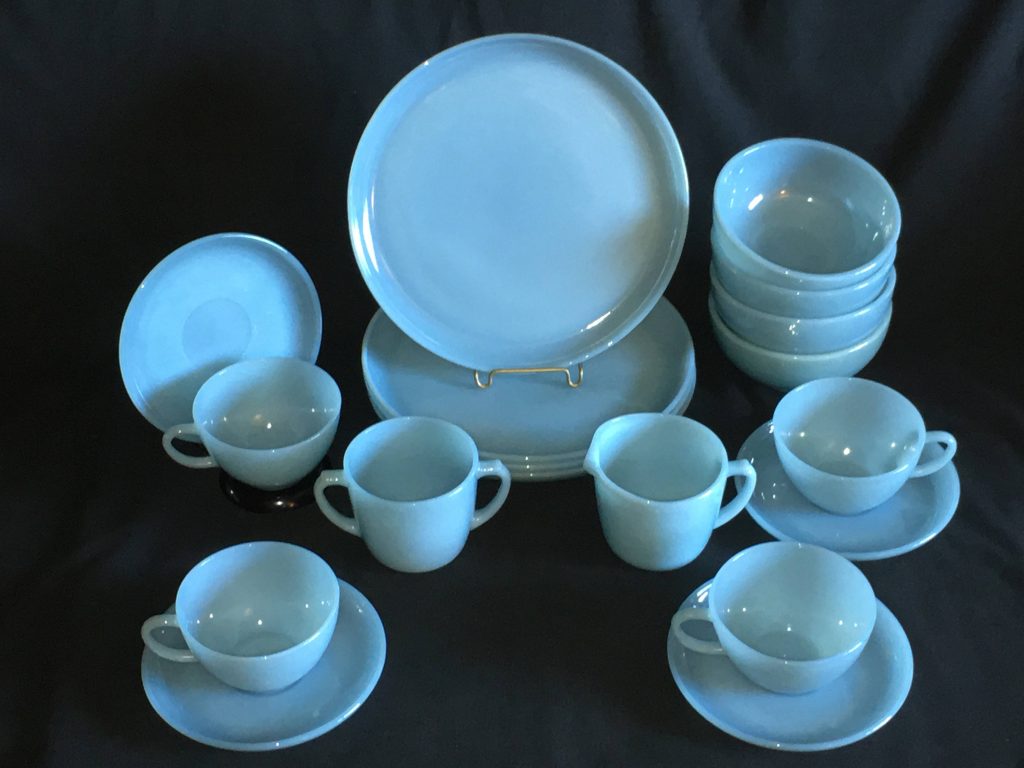 Turquoise blue was Fire King's answer to an opaque option that was also fun, festive and eye-catching.
Azure-ite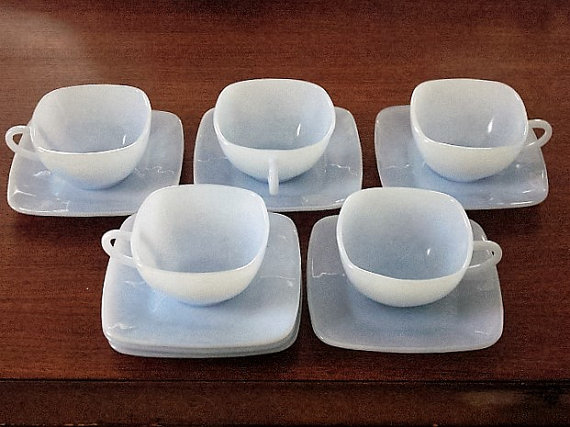 This subdued variation of the popular vintage Jade-ite allowed consumers the option of having the lustrous sheen of Jade-ite but allowing them to opt for a different color: light pale blue
White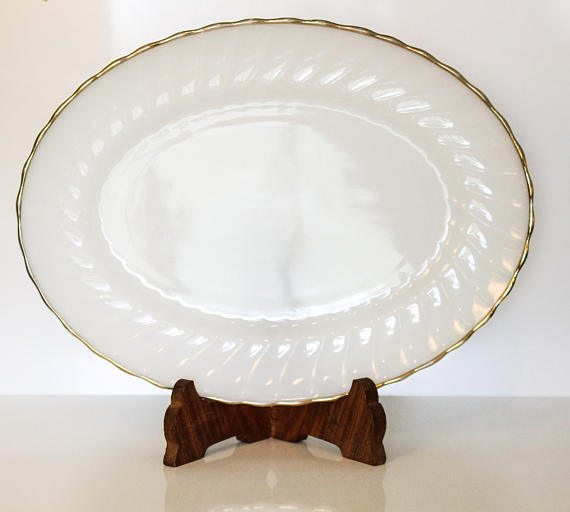 The white Fire King kitchenware pieces are most notably used in the company's decaled and patterned line variations.
Ivory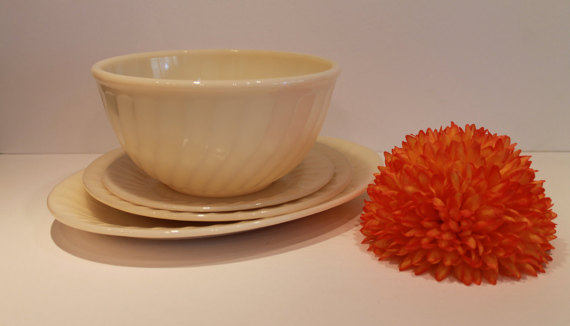 This elegant alternative to the stark-white substitute brings with it a touch of class and shine to any dining room table. The muted tone brings a more youthful perspective to stylishness without trying too hard.
Rainbow
Some of the greatest and most vibrant colors you'll find in any line of kitchenware, Fire King's rainbow run of products colors include reds, blues, greens and yellows. In some instance, the Fire King products in the rainbow line were also produced in pastel-style variations. These pastel variations are highly sought after collector's items.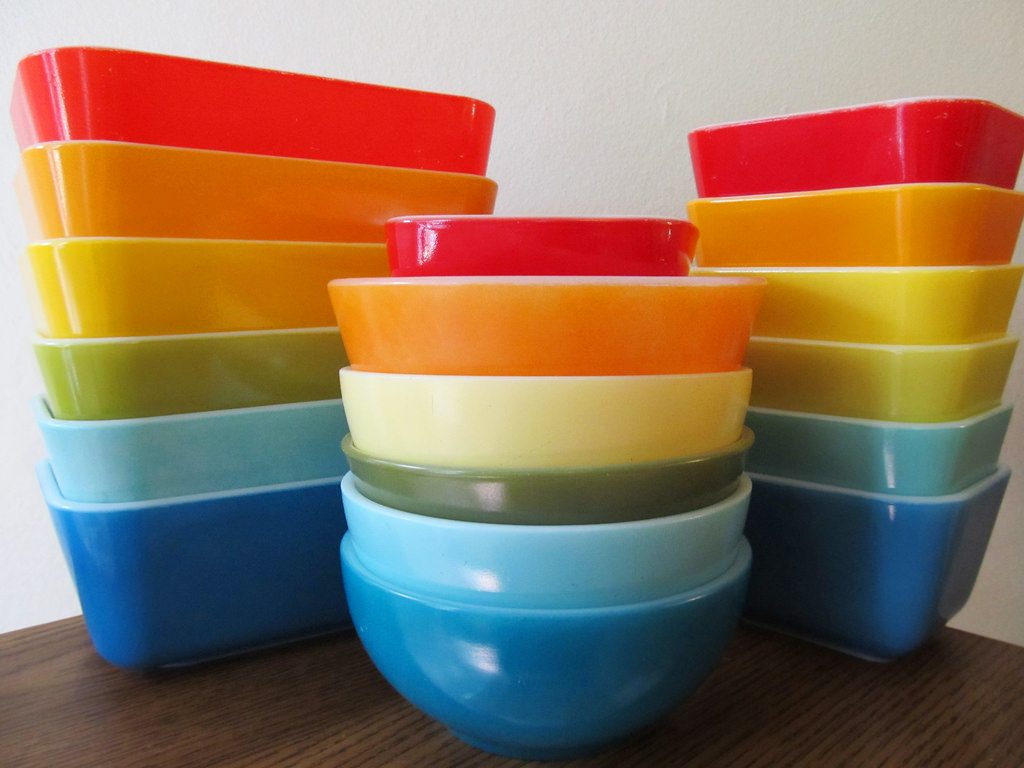 Peach Lustre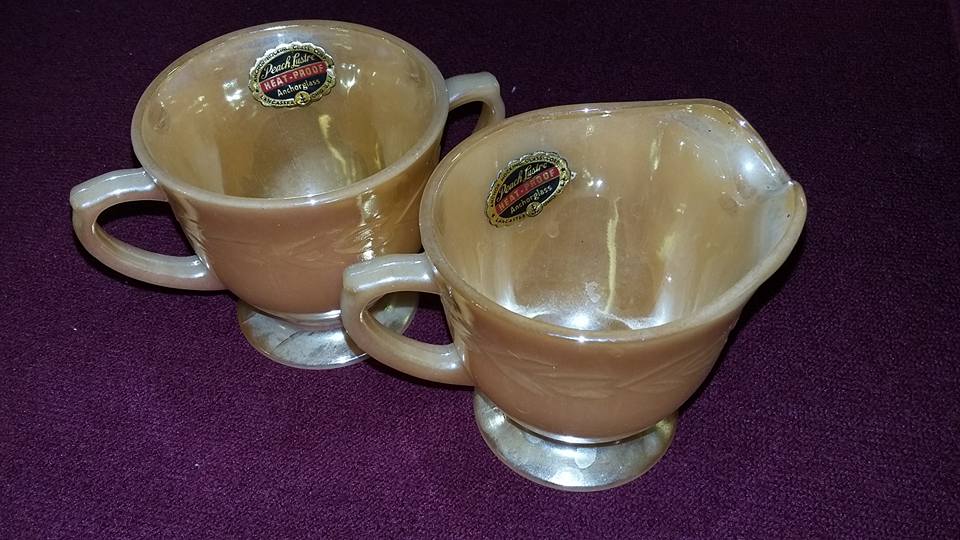 The most popular lustre among fans and critics alike is peach. Like the hand-painted Gay Fad pieces, NEVER wash Peach Lustre in a dishwasher.
Fired On Crystal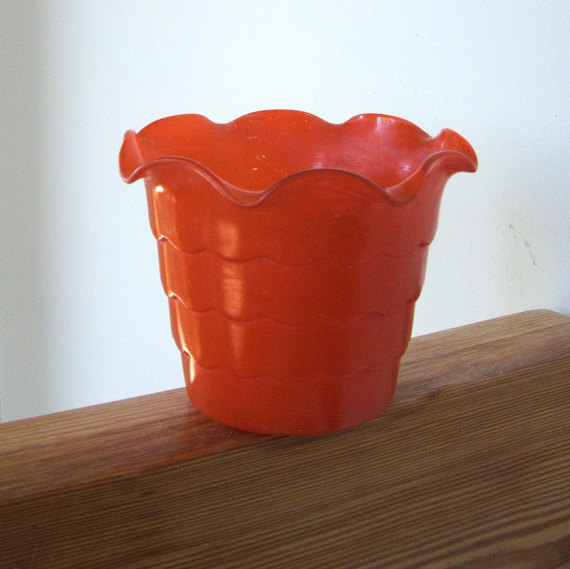 Fire King also made a line of pastel-style colored glassware that was fired over a base of clear crystal. The resulting clear and colorful effect is quite striking. For this particular style, a wealth of colors are known to have been produced ranging from yellow to orange to blue. This clear style is best paired with solid glass pattern stylings like three bands, shell, bullseye or swirl.
Vintage Fire King Patterns
The Fire King family brand of products weren't just known for their bold, sophisticated solid-color kitchenware designs, however; Anchor Hocking also produced a highly stylized, decaled and pattern-laden series of products as well. Two types of patterns were created by the glassware manufacturing magnate: styles with decaled patterns on solid backgrounds and stylized patterns molded into the glassware itself – in other words, what ultimately looks like painted detailing is known as decaled and stylization molded into the glassware itself (shell/swirl/sheaves of wheat) were known as solid color patterned pieces.
Popular Vintage Patterns
Blue Mosaic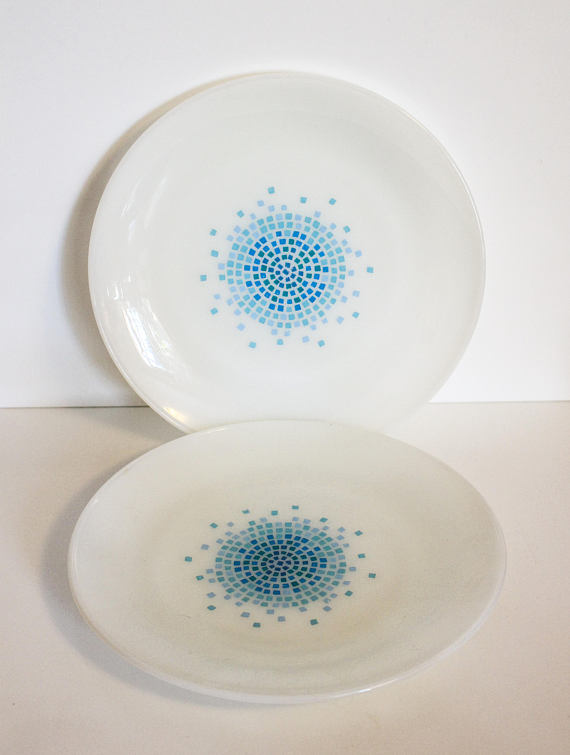 This patterned style is somehow both deceptively subtle and quite vivid at the same time. A retro mod style in its own right, the blue mosaic-style sees different colored blue-shaded squares fanning out over the inside base of the glassware it is applied to. The effect can be compared to that of a stain glass window.
Wheat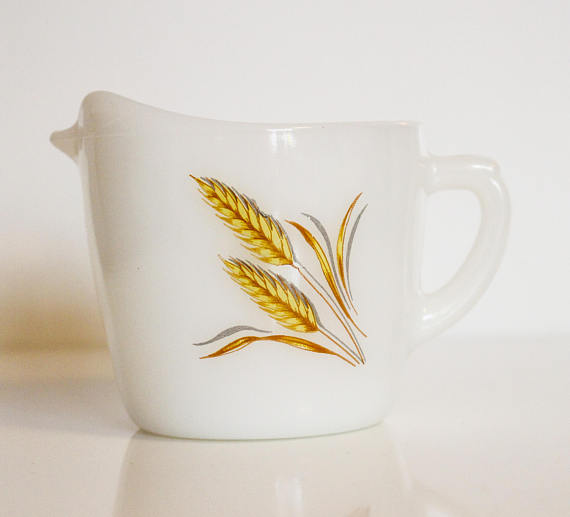 This luxe pattern is a favorite among collectors; especially in terms of the gorgeous gold-tinged serving and casserole dishes. A graceful gold foil and silver infused surface makes this pattern a prized possession.
Primrose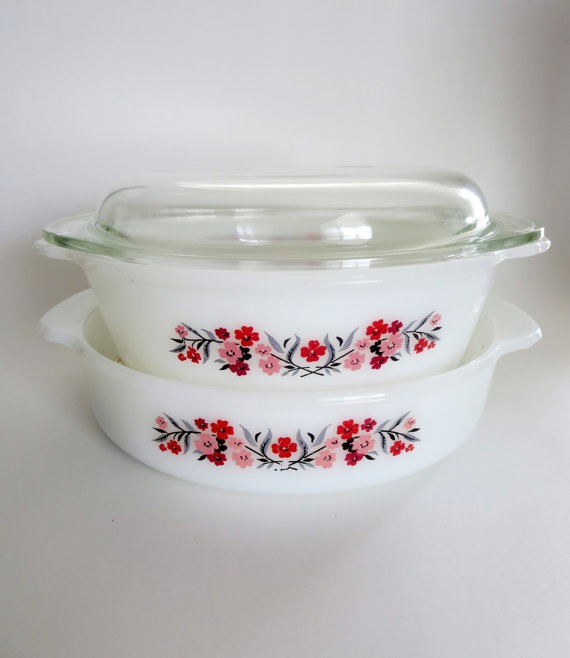 One of the most feminine patterns available in the Fire King line of products, the Primrose pattern depicts a romantic bundle of vibrant red and pink flowers that act as a stark contrast to the white surface they usually adorn. Simple and elegant are the best ways to describe this pattern.
Fleurette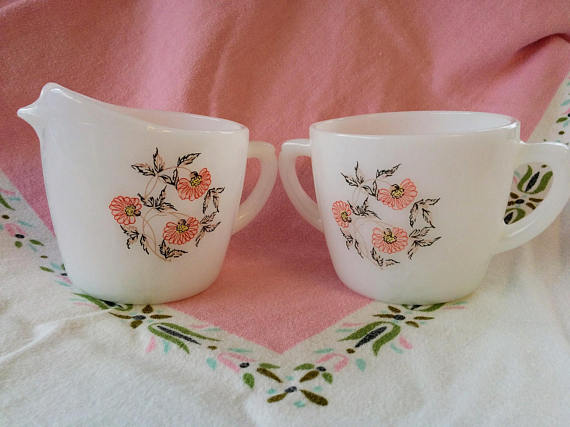 A pattern fit for a princess, the Fleurette series of patterned products put out under the Fire King name were one of the better selling patterns of its time. A picturesque circle of flowers add the perfect girlish touch to any dinner party or afternoon tea.
Forget Me Not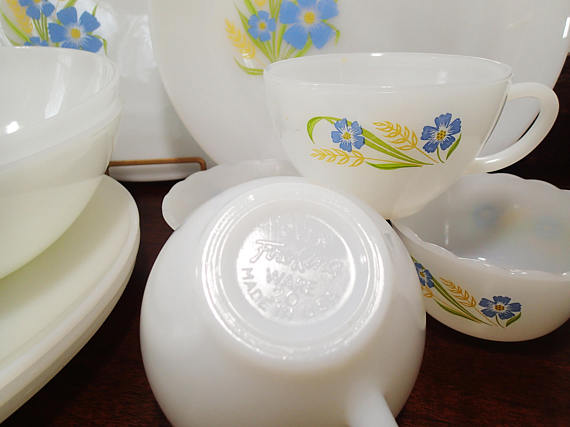 One of the more regal patterns in the bunch, the Forget Me Not run of glassware depicts simple, vibrant blue flowers bundled with vivid yellow stalks of wheat. The effect is quite magnificent when accompanied by a full 12-person dinner set.
Anniversary Rose
Frequently gifted to wives from their doting husbands – accompanied by gorgeous engagement rings – on big-year anniversaries, the Anniversary Rose pattern shows a simple, singular rose accompanied by a tasteful amount of leaves. The simple design looks just as elegant whether it is on a tea cup or a serving dish.
Popular Vintage Solid Glass Patterns
Swirl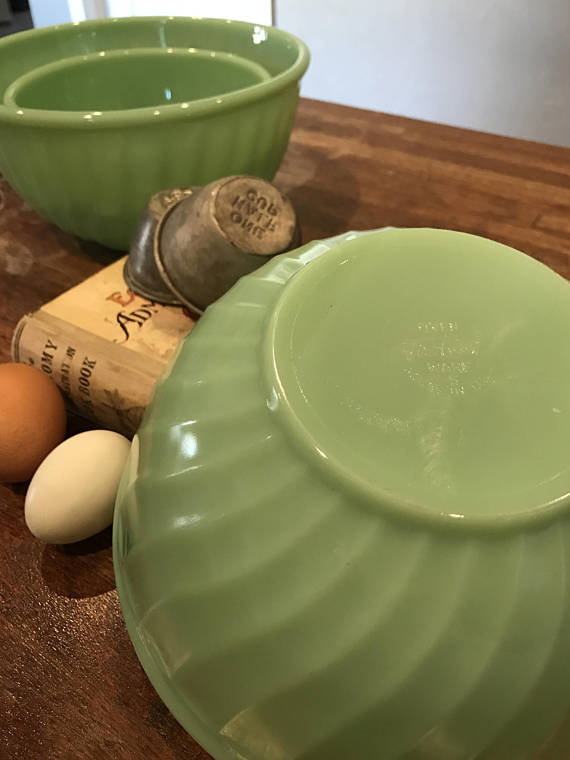 Rotating ridged border surrounds the glassware piece
Shell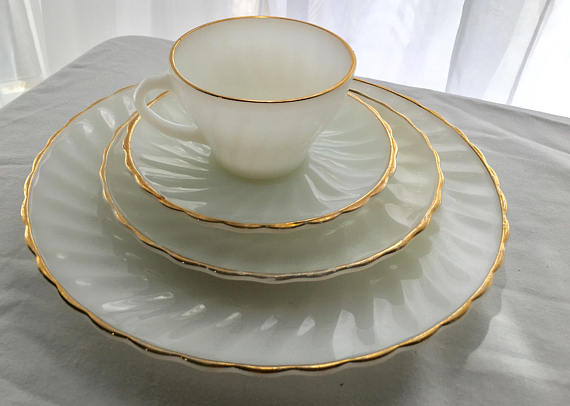 Raised molded edges form a seashell-like pattern across its face
Sheaves of Wheat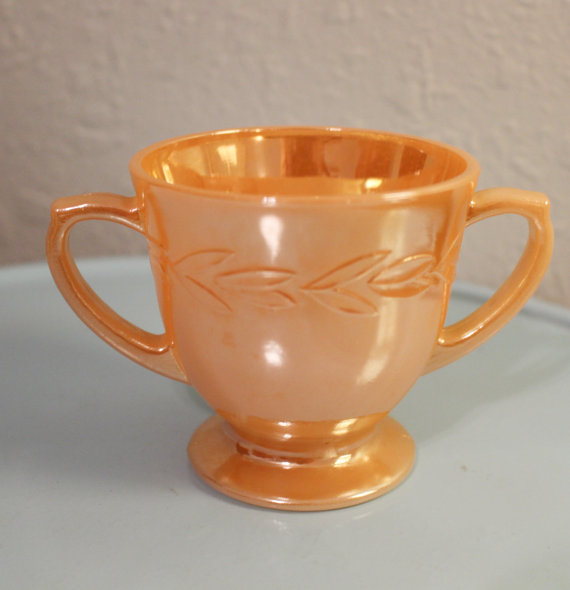 A wheat stalk pattern interlaced within the body of the glassware.
Fish Scale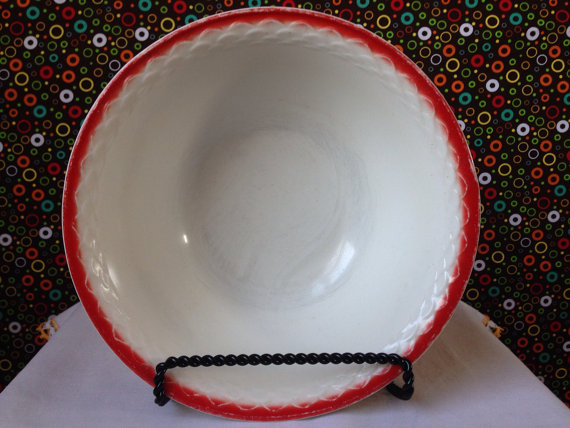 This mermaid-style texture brings a touch of class to any Fire King style.
Three Bands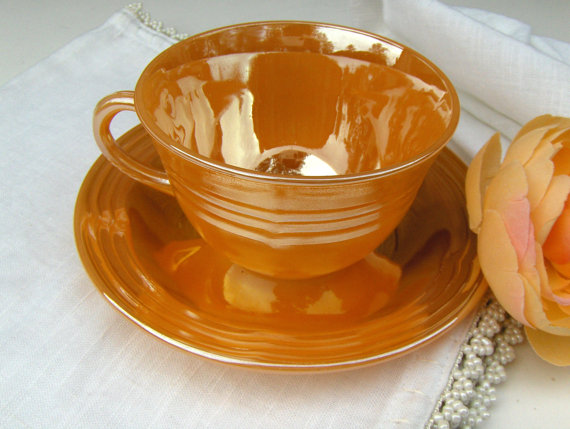 This stylized consecutive banding technique is highly sought after among long-time collectors and newbies alike.
Alice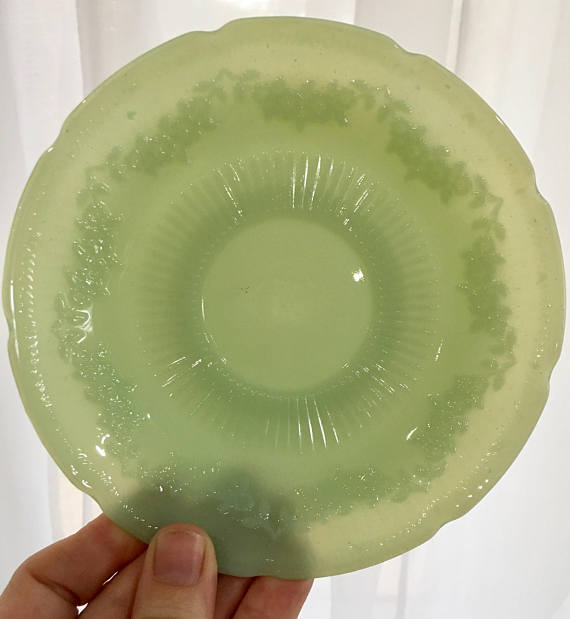 This pattern consists of a concentric circle of flowers ringing the glassware border of the piece accompanied by a ridged center pattern as well.
Vintage Fire King Piece Types
Fire King Dishes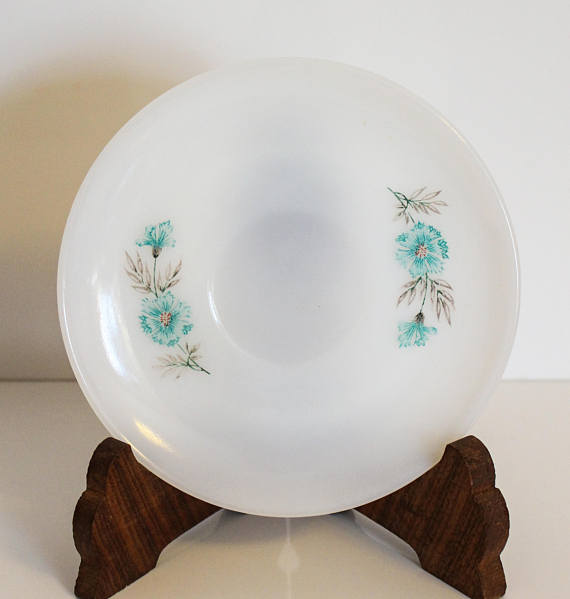 Dishes most certainly make up the widest ranging assortment of products within the Fire King brand. From large dinner plates to small tea cup plates.
Fire King Oven Ware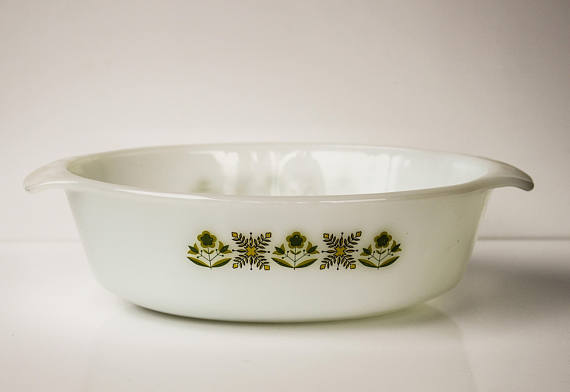 Ovenware dishes make up a large amount of the products most 'hunters' are able to find in the 'wild.' Ranging from small to large, the classic ovenware styles are inlaid with patterning on the outside and most often are molded into oval, square or rectangle shapes.
Fire King Nesting Bowls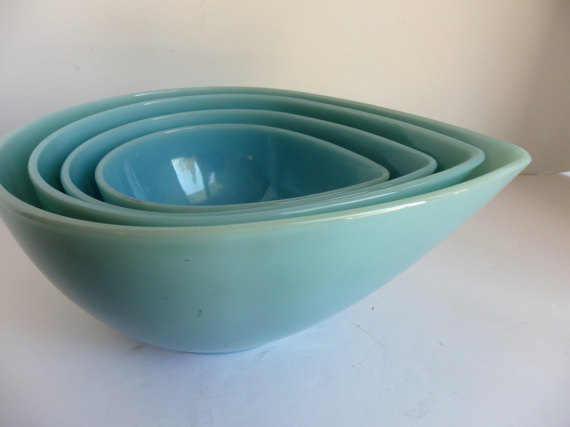 Nesting bowls continue to be one of the rarest finds of all the kitchenware styles Anchor Hocking was able to design. Consisting of four consecutively smaller and smaller bowls, all fitting neatly inside of each other, the Nesting Bowls make storing a breeze – Think Russian Matryoshka dolls but with bowls.
Fire King Ball Jug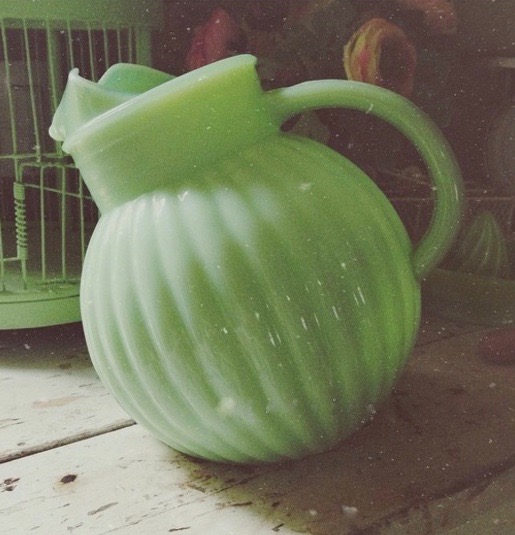 One of the rarest finds out of all of the products produced by the Anchor Hocking Company, the Fire King Ball Jug has been often imitated but never duplicated. Noted for its uniquely crafted serving lip, the Ball Jug sells for thousands of dollars every time it makes its way to auction.
Fire King Mugs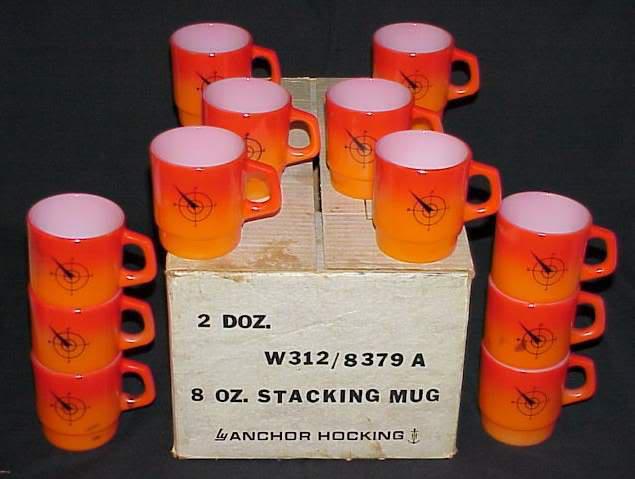 As some of the more common items in the Fire King family, the series of mugs produced by the company can be found in any number of antique malls or estate sale auctions. The styles range from plain, oddly adorned by well-known cartoon characters or business advertisements.
Fire King Storing Refrigerator Dishes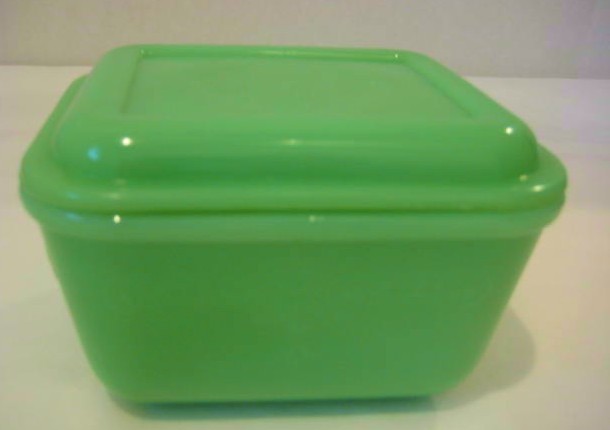 Mid-century versions of modern Tupperware, these durable refrigerator dishes were often given to guests or family members with leftovers inside to conveniently – in the container itself – reheat when the mood struck.
Fire King Jade-ite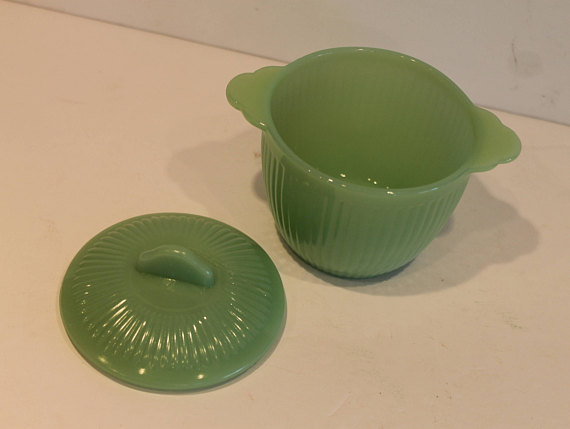 The most well-known of all the styles of Fire King products made by the Anchor Hocking Company is the world-famous Jade-ite style. The heavy, opaque green glass came in a variety of styles that have become increasingly hard to find due to immense demand. Coffee mugs, butter dishes, mixing bowls and heavy dishware were all molded in this bold style. Molded solid glass patterns in the Jade-ite style are some of the prettiest feats of craftsmanship on the market – Alice, Shell and the extremely rare beaded mixing bowls.
Why Invest in Fire King?
If you're looking for someone to talk you out of collecting these gorgeous pieces of American history, you came to the wrong place. The Fire King family of kitchenware products has, and definitely seems like it will continue to remain, a staple in any household by being able to be passed down from generation to generation. Fire King products are able to withstand intense heat, pressure and extensive use even often comparable to vintage cast-iron products. Not only are they durable, but they are some of the most beautiful pieces available on the market (from any era). We advise you to begin collecting pieces that catch your attention. After all, collecting is a deeply personal experience and no two collections will ever be the same. Invest in Fire King products because they will last – both in the quality of their manufacturing and the depth/vibrancy of their coloring. Sure, you can purchase plate/dining sets from major retailers for under ten dollars but the odds they will last more than three years are slim to none.
How Best To Care for Your Fire King Glassware
If you're lucky enough to find yourself in the possession of vintage Fire King glassware products, there is no hard and steadfast rules that say you can't enjoy using them from time to time (as long as you're incredibly careful). While the value of such pieces has certainly gone up significantly throughout the last fifty years or so, the beautiful thing about Fire King products is that they are extremely durable – even by today's standards! Originally used in cafeterias, army bases and church halls, Fire King branded products were produced to withstand the harshest conditions. Here are a few do's and don'ts for care and maintaining your vintage glassware: Never wash any Fire King pieces in the dishwasher. Detergents and extreme pressure, as well as temperatures, can create a not-so desirable reaction to the compounds within the glass itself. Some common consequences of machine washing Fire King products are a degraded cloudy 'etching' on its surface and both discoloration and peeling of decorative designs or decals. It is recommended to hand wash all Fire King products to ensure maximum longevity and condition.
If you MUST use Fire King glass products in the microwave, you are doing so at the risk of the product's original integrity. This is a highly debated topic of discussion among experts but since these beautiful products were mostly produced before the introduction of the modern microwave, the steadfast rule is: microwave at your own risk.
How to Determine Faux-Fire King Products
Unfortunately, as is the norm in collector circles, mass-produced fake recreations of these fine sets of high-quality kitchen wares have started to flood the market. It is important for collectors, and fans alike, to know how to spot a fake to steer clear of paying hefty prices for a recently-manufactured dud. In recent years, products claiming to be authentic but are in fact deceptive recreations made in Asia or Brazil have slowly trickled into the Fire King market seeking to trick consumers. Authentic Anchor Hocking manufactured Fire King product designs are hand-painted (where design allows) and then fired on to ensure maximum longevity of the product and durability. In Fire King brand advertising mugs, for example, a tell-tale sign of a fake recreation is to look at the decal in direct lighting. If the decal of the advertised character or brand has a glossy sheen to it, much like the glare looking at a physical photograph in direct light will have, odds are that the mug in question is a fake. The best advice is to air on the side of caution and educate oneself on the intricacies of Fire King logos, styles, colors and shapes.
Fire King Pricing
When first time, or newbie, collectors begin to express interest in collecting some of these fantastic kitchenware items produced by the Anchor Hocking Glass Corp, they may be surprised by the high price-points of some of the pieces. Finding a pricing guide that works for your needs is the best first step any collector can take. With new collectors added every day, interest has never been higher for the Fire King brand. Single pieces, like cups, mugs or dishes, can sell for as little as five dollars. The different color options don't seem to add too much price-point value to single item pieces – no more than ten dollars in most cases. Large sets, however, are a completely different story. A current eBay listing for a full 12-person set of original green Jade-ite Fire King dishes is up for bid starting at $3,500. For a 4-person set of white gold-rimmed Fire King dishes, cups, saucers and bowls, the seller is asking $800. While purchasing full-sets off of resale sites like eBay may be the quickest way to get your collection moving in the right direction, it takes away half the fun which is experienced in the hunt itself. Nothing beats the feeling of perusing estate sales and antique shops for that last piece to complete a set you've been working on for years.
Happy collecting!
Special thanks to those who provided photos for this article:
The Fire-King Jade-ite and Everything Vintage  Facebook page
FireKing Glassware, LivingVintageDesign, CloudburstVintage, FunkieFrocks, borninabarnvintage, lookonmytreasures, VintageVerveRetro, klassic, MyRetroRecollections, PrimroseTrailVintage, whitefarmhouse, nddevens & MyVintageAlcove on Etsy
Flying Funds on Bonanza