Choosing between vintage engagement rings is almost as important as finding the right partner. Because let's be real: having the perfect ring proves you and your love are truly unique (just like everyone else). The current engagement ring trends tend toward anything vintage.
Estate sales have also made a huge comeback when it comes to finding the perfect vintage engagement ring.  And with modern times come new engagement ring traditions.
"While most couples tend to follow the proposal traditions of the past, we do see more and more gents receiving rings from their brides-to-be, especially in couples with Scandinavian heritage where such tradition has existed for a very long time," said Leigh Nacht of AntiqueEngagementRings.com.
Before buying the perfect ring, it's best to be informed. Whether you shop for vintage engagement rings through a dealer or go straight to the source at estate sales, the more you know, the better decision you can make.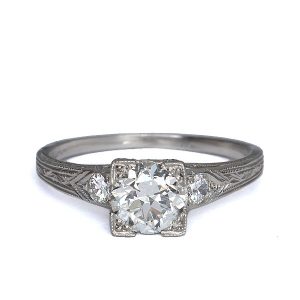 Antique vs. Vintage vs. Estate Rings
"Vintage engagement rings and antique engagement rings have blown up. Everybody wants them now," said Suzanne Sachs who writes for VintageDiamondRing.com. She attributes the high demand to a limited supply.
"The jewelers can't do what they did fifty years ago -it's impossible. These people actually sat down for weeks designing and hand-crafting these beautiful rings," Sachs said.
Though the terms sound similar, vintage, antique and estate engagement rings are not interchangeable. Generally "vintage" describes jewelry from any bygone era: Victorian or Art Deco, even the 1980s and 90s. As long as it's at least twenty years old, the vintage label fits.
Antique engagement rings, however, must be at least 100 years old to be considered true antiques. Authentic antique rings can be quite valuable, so be sure you're getting a genuine piece. One way to do this is to go through a dealer or estate sale company you trust.
Vintage or antique estate engagement rings, estate wedding rings, or any kind of "estate" jewelry label simply means it was previously owned.
Estate pieces are procured in various ways, according to Afshin Shaddaie of EstateDiamondJewelry.com. Diamond dealers work with estate buyers and pawn shop owners, attend auction and estate sales, and build relationships with other vintage jewelry collectors and enthusiasts. Estate sale diamond rings have become popular items to look for when picking – as well as vintage costume jewelry.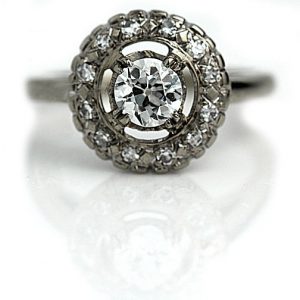 History of Engagement Rings
Engagement rings have been around almost as long as romance itself. While the common explanation is a ring proves some level of commitment (remember the two month salary rule?), rings as symbols of love can be traced back as far as ancient Rome, Egypt and Greece.
Even why women wear engagement rings on the fourth finger of the left hand can be blamed on the myth of the "vena amoris" – literally the "vein of love" – which the ancients believed ran from the ring finger all the way to the heart. Alas, their hearts must have been broken when they learned this vein didn't actually exist . . . and the world wasn't flat . . . and a bunch of other things. However, the "ring finger" tradition stuck to this day.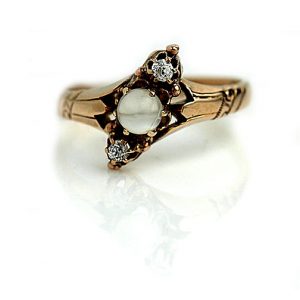 Victorian Engagement Rings 1837-1900
Some attribute the engagement ring going mainstream to Queen Victoria. She and Prince Albert had a high-profile storybook romance, kind of like Brangelina before the divorce. In fact, the rumor was she popped the question to him, a bold move in Victorian times.
To show he was also crazy in love, Prince Albert gifted the Queen with a serpent-shaped gold and emerald ring (which might not seem romantic, but Victorians were pretty weird). Naturally, this PDA kicked off a frenzy as couples rushed to emulate the royal couple by giving each other engagement rings as symbols of their undying love.
Victorian engagement rings have endured and are still sought after by brides looking for something different. Victorian ring styles mostly favored yellow gold and rose gold, which has made a huge comeback recently. The popular halo setting, usually with a colored gem at the center surrounded by tiny stones to resemble flowers, got big back then.
Since diamonds were scarce, cuts were smaller if used at all, and usually surrounded by other gemstones, like turquoise, garnets, pearls, and opals.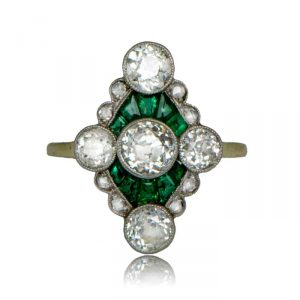 Edwardian Engagement Rings 1901-1910
Edwardian engagement rings are fun if you want to make a statement. Think: fancy flowers and filigree for days. Some people prefer a more elegant, ornate look – and admit it: There's something about a wedding that makes it okay to overdo it. Plan to spend more for Edwardian styles.
Platinum was the precious metal of choice in Edwardian times, which is more valuable than gold or silver. Platinum is also easy to work with, which is why you'll find a lot of lace-like nature designs in Edwardian style jewelry, like ribbons and wreathes. Edwardian styles favor rose cut diamonds. Basically the opposite of today's simple mass-made designs.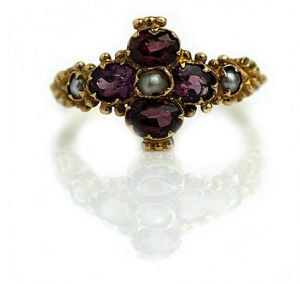 Art Nouveau Engagement Rings 1885-1915
Curves and swoops and flowers and butterflies were incorporated into design, including the (now, vintage) engagement rings from the time. Art Nouveau, or "new art" was a swing away from the intricate lacy designs of late Victorian and Edwardian styles, toward a more natural look.
Other popular art nouveau motifs were the female figure and face, usually featured with swooping hair, like maidens, mermaids and fairies. Using enamels in jewelry also became popular during the Art Nouveau movement and vintage engagement rings featuring colored enamel is a sign it's probably authentic.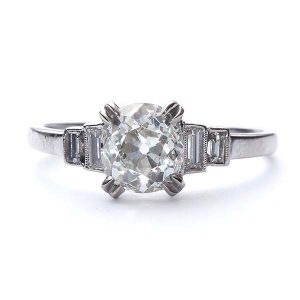 Art Deco Engagement Rings 1915-1930s
Art Nouveau is to Art Deco as circle is to square – although there was nothing square about a style that was born in the Roaring 20s. This was the time of speakeasies and jazz – before everything came crashing down with the Stock Market at the end of the decade. Until then, the mantra was more, more, more.
The popular Art Deco style favored a geometrical look that mirrored famous buildings from booming cities, like The Empire State Building and the Chrysler Building. This style has enjoyed a renaissance lately, which makes these rings even more sought after.
"As the supply of Art Deco engagement rings is dwindling, the demand is only rising," said Shaddaie.
Art Deco engagement rings often had a big gem showcased by a solitaire setting or a vintage halo setting for a dramatic effect. To keep jewelry affordable, some rings from this era used fake or less expensive gems. Vintage cuts to look for in estate Art Deco engagement rings are emerald, Asscher, and marquis.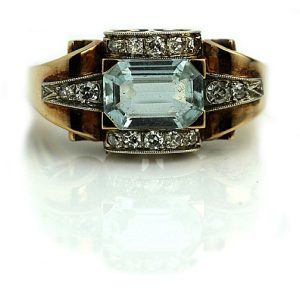 Vintage Engagement Rings 1930s-1955
When Black Tuesday happened, the party was over, and no one had anywhere to flaunt their platinum, as precious metals were rationed for the war. Gold begrudgingly came back in style. Costume jewelry and synthetic gems were used again, as well as cheaper jewels like citrine and colored quartz. Like everyone else in the Depression, jewelers scaled back.
What this means now is you can find good deals on vintage engagement rings from this time period.
"Rings from the 1930s – when people were somewhat less well-off than they had been the decade prior – often have very tiny center stones, but exceptional gold work," said Nacht.
"The 1940s styles tend to be very elegant – no filigree details or engravings – a turn towards perfection in simplicity. I think that many of our couples getting engaged grew up remembering their Grandmothers' or great-grandmothers' engagement rings, which are likely to date from this period," said Nacht.
Later, big diamond companies made moves into the market with mass- produced diamonds Everyman could afford.
"Who could ignore the influence of the DeBeers slogan "A Diamond is Forever" from 1948? Those four little words (and a good amount of advertising to go with it) have perpetuated the diamond engagement ring for over 70 years," said Nacht.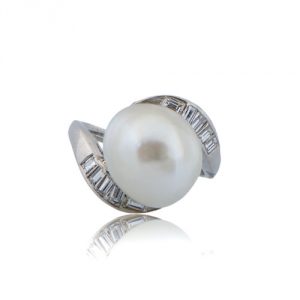 Vintage Engagement Rings 60s and 70s
Engagement ring styles stayed pretty traditional until the 60s when counterculture trends in art, design and music crossed over into jewelry.
"We see more of a move to some other diamond cut styles – emerald cut in particular was a favorite – but still a trend towards a very elegant solitaire look," said Nacht.
And when the disco age dawned, inspiring fashions to get funkier, ring styles followed suit.
"In the 1970s there is a big switch towards lots of very flashy, diamond-studded pieces. In many cases trying to achieve the biggest look possible with lots of smaller stones and heavy gold work," said Nacht.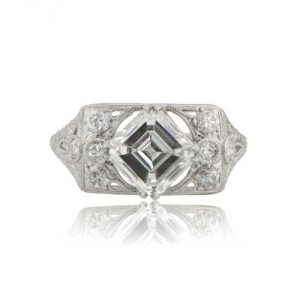 Popular Vintage Cuts & Settings
When it comes to choosing a vintage engagement ring, the cut and style will depend on the era it was made. Vintage cuts like Old European and Old Mine were hand-cut because people had more time then.
"Now they're doing computers simulations, all computers, everything's computer and it's not handmade anymore," said Sachs referring to modern ways of producing jewelry that came along with industrial advances.
"They'll do some handmade but they'll use castings. Rents are expensive. People just can't sit down and do something for months and stay in business anymore," said Sachs who laments the end of an important craft.
"It's like in everything. Handmade versus machine-made: both are beautiful, but handmade is always nicer," said Sachs.
Since precious gems were once more limited (due to conflict-free practices), jewelers took the time to hand-cut each jewel to the best of their ability to show off each facet – because every bit counted. In layman's terms: vintage jewels have a different shine to them. They sparkle inward.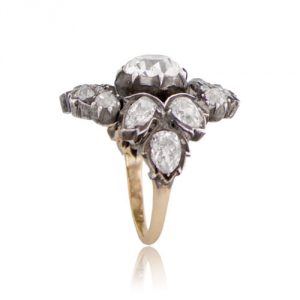 Common antique cuts or shapes are:
Old Mine
Popular antique cut that is shaped like a square with soft edges with a larger culet
Old European
Popular during Victorian, Edwardian and Art Deco styles, they are the earliest form of the modern brilliant cut. These round cuts, according to Nacht, are always popular.
Rose Cut
Circular in shape with triangular facets
Asscher Cut
Square step with cut corners like an octagon
Brilliant Cut
The most common shape of diamonds with 58 facets.
Baguette Cut
Tectangular cut with squared corners.
Cushion Cut
"Pillow-cut" with rounded corners and larger facets
Emerald Cut
Step cut with cut corners
Rose Gold vs. Yellow Gold vs. White Gold
Rose Gold
Rose gold is gold mixed with other metals. In this case, a tiny part silver and more parts copper, which accounts for its unique rosy color. And in case you haven't heard, rose gold has made a comeback in a big way (remember the iPhone 6s?) and is still all the rage for vintage engagement rings. Even moms have caught on – which means it's really gone mainstream.
Yellow Gold
The reason why yellow gold is so popular in vintage engagement rings and still today is because it's both versatile and affordable. It also looks good with a variety of stones and settings, adding to its timeless appeal. Yellow gold appears yellowish because it's gold mixed with nickel.
White Gold
Like yellow and rose gold, white gold is an alloy made up of gold + zinc and also a popular choice for vintage engagement rings, especially for people who prefer silver or platinum. It's a bit more durable that softer yellow gold.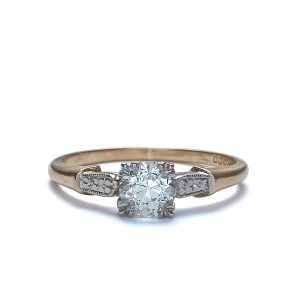 Platinum vs. Palladium
When it comes to choosing a precious metal for vintage engagement rings, it might be easy for a noob to confuse platinum and palladium since they look and sound similar. Value generally means the more dense, the more expensive. Thus, platinum is the more expensive of the two precious metals – important to keep in mind when shopping for vintage rings.
Palladium, however, is nothing to scoff at and is a budget-friendly substitute and also more scratch-resistant. Both are fair trade options, especially when made from recycled metals.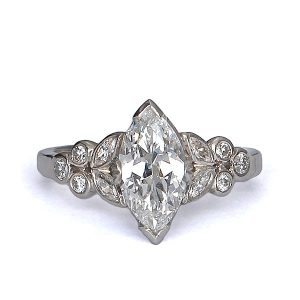 Conflict-free & Ethical Vintage Engagement Rings
While no one wants to think about blood diamonds when planning a wedding, the sad truth exists. There can be shady practices behind diamond mining. This could be one reason why vintage engagement rings have taken off, notes Shaddaie.
"There is no need to worry about this if the diamond in question is an antique, or over 100 years old," he said.
Millennials of the marrying age might be especially drawn to vintage rings since many of them are driven by ethical concerns; however even older generations are choosing more responsible alternatives. Some companies like Brilliant Earth are dedicated to conflict-free diamonds.
"Everybody wants conflict-free and ethical. You can be guaranteed from the 1920s through 70s it's all conflict-free because there were no conflicts in Africa back then. So that's really important today," said Sachs, who has written about ethical and conflict-free engagement rings.
"Same thing with semi-precious gemstones. Rubies from the 1930s and 40s are all conflict-free and ethical. You can't guarantee a new sapphire hasn't been dug by a kid," she said.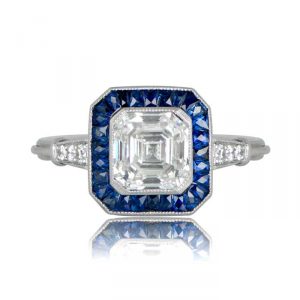 Where to Find Vintage Engagement Rings
If you haven't decided vintage engagement rings are worth their hand in marriage, what more reasons do you need? They're unique and stylish, often friendlier on the budget (but not always – as supply is diminishing and demand increasing), and they make a statement. Plus, they're ethical and conflict-free. If you have your heart set on on a vintage engagement ring, visit reputable websites like AntiqueEngagementRings.com, VintageDiamondRing.com, and EstateDiamondJewelry.com, and others.
You might also take treasure hunting into your own hands and sign up to find the estate sales in your area. After all, just like in marriage, the fun is in the journey – not the destination.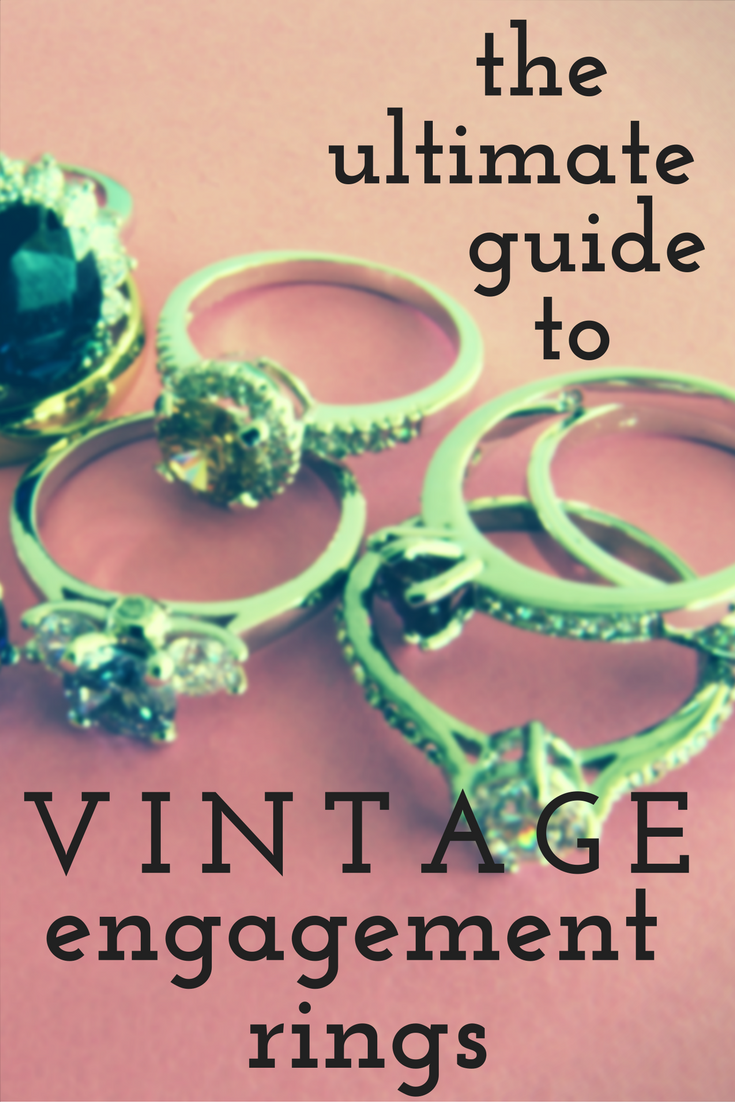 What are your favorite vintage engagement rings? Do you have a photo of one you'd like share? Leave a comment!