Estate sales are great places to buy big ticket items, like furniture. Not only can you find great deals, you're bound to run into some unique designer pieces- like midcentury modern or well known furniture brands noted for quality, like Drexel or Heritage. But don't go into it blindly! The best finds appear when luck meets preparation, which is why we shared our best tips.
Check out this guide to finding the best furniture at estate sales.
Make a Plan
Three words of advice: Don't wing it. Making a plan puts you ahead of the game and when it comes to estate sale shopping you have to outsmart your competition. Check out EstateSales.org to find where the sales are happening near you. You can search by your city or zip to easily map out where you're going to shop.

Create a route that makes sense to cut down on extra driving and backtracking. This is also your time to assess the neighborhoods, since some areas are known to have better stuff. Browse the listing photos beforehand so you'll have an idea of what kind of items will be for sale – especially if you're in the market for furniture.
Get a Head Start
This should go without saying, but the best things come to those who. . . run out and get it before anyone else does. Wake up early. Eat a hearty breakfast. Then hit the road, while your competition is still sipping their morning coffee.
Bring Cash
While many estate sale companies accept debit and credit cards…many of them don't and some will only after a minimum amount to justify the fee. Be prepared and bring cash instead. Hit up your ATM or bank before heading out, so you don't have to do it in the middle of estate-sale-ing and lose momentum.
Pack Smart
If you think you can get by with just your twenty dollar bills and your vehicle, think again. If you're serious about finding furniture at estate sales, you'll need to be prepared. In addition to your smartphone, this is a good list to start with: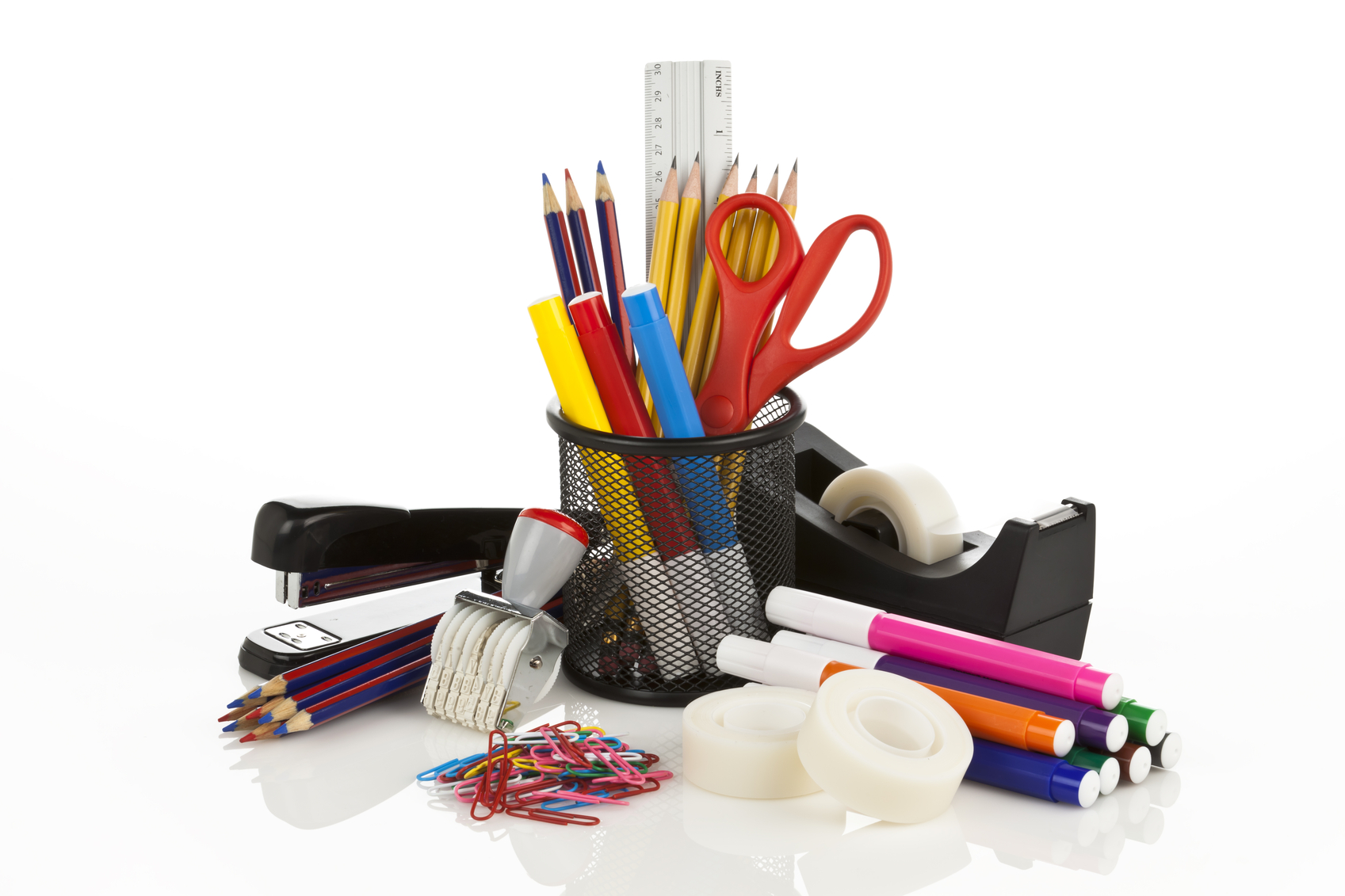 Measuring tape: To see if the piece will fit in your space
Flashlight: To examine scuffs in nooks and crannies or in case the room is dark
Tape & Sharpie: Since you can't very well carry around the chair or table you want to buy, the pros will put a piece of tape on the item with their name and "claim" it so someone else doesn't come along and snatch it up
Color swatch: If you want to make sure the upholstery matches your walls, or any number of things, bring a color swatch along for reference
Ask for a Preview
This might not go over with all estate sale companies, but some liquidators will allow you a preview for big ticket items like some pieces of furniture – even if you aren't a dealer. If you shop their estate sales regularly, you may have an even better chance of getting a first look.
Examine Wood Quality
The furniture you'll find at estate sales is often made of solid wood, which when treated properly can last a lifetime (unlike the flimsy put-it-together-yourself junk that's popular today). But just because it's wood, doesn't mean it's worth it. Examine the construction – if it has plywood, particleboard, or fiberboard, it won't stand the test of time. Likewise, if it's held together with staples or woods, better pass on it.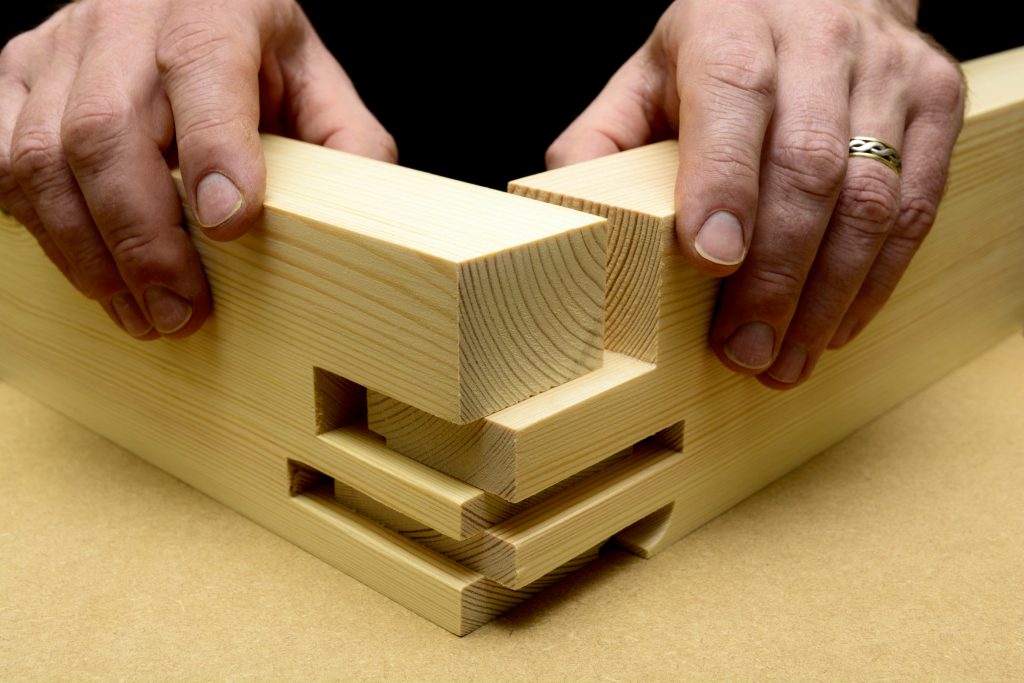 Things to look for: Dovetail joints, like the one pictured above (when the pieces interlock) or mortise-and-tenon (when one tapered end fits into a hole) are signs of good construction. With tables and chairs, check to see if legs are wobbly. Pull out drawers in dressers and desks to make sure they're on glides and open and close properly. Wood on wood is a sign of poor construction.
Consider a paint job
Before you scoff at scuffs, consider how you might DIY that shabby piece into something shabby-chic. A lot can be said for a decent paint job. Check out Pinterest for some estate sale find DIY ideas on how to spruce up that antique dresser or credenza into something cute and modern.
Examine Upholstery
If you can remove the cushions on sofas are chairs, by all means, do it and get a better look. Good upholstery jobs will align patterns. Is the padding intact? Check for smoke or pet smells that you may have trouble getting out. Even if they say it's a pet or smoke-free home, check for yourself: the smell will tell!
Compare Prices
These days, most shoppers don't jump into paying for a big ticket item, like a couch or dining set without doing a little research. Even if you're shopping estate sales, you should still be aware of market price. Use your smartphone to look up what things are selling for. Consider your location – some items do better in certain neighborhoods than others. This guide to estate sale appraisal and pricing is a good place to start.

Bring a Truck
If you already have a truck – perfect! If not, see if you can enlist a truck-driving friend to accompany you on your estate sale shopping — or rent one if you know you'll be buying furniture. Having a truck ready to haul items just saves you from having to do it later – and prevents other shoppers from damaging it (it happens) while it stays on the estate sale floor.
Don't Forget Reinforcements
We're not talking about snacks (although those help, too). If you think you'll need help with a bigger piece like furniture, consider bringing a friend along. Some pro shoppers even bring along a dolly to help haul big items. If it's an upright piano, you may want to hire professional piano movers.
Wait a Day or Two
While you want to get the day started early you may want to stay home on Day 1. Since estate sales are usually weekend-only events, often prices will be lowered on the 2nd or 3rd day. It's not unusual to find 25% off all items on the second day and half off on the last. While there's the risk of not getting the best stuff, you're more likely to find a deal on the furniture that is still left.

Stand Your Ground
If you have a set budget, stick to it. There's nothing wrong with trying to negotiate. In fact, some estate sale companies expect it. (Note: some do not and may even get offended; but no risk, no reward, right?) Don't let the sales person try to talk you out of giving the item a full examination.
Also, don't get intimidated by the professional dealers hitting the estate sale circuit. Dealers may count on you not knowing as much as they do, and may get you to second-guess your find — so they can buy it for themselves. Trust your gut and don't get bullied.
Bottom line: you should feel good about your furniture purchase. Unlike at a regular store, you won't be able to return the item if you get buyer's remorse. Go prepared if you want a better shot at finding the estate sale furniture of your dreams.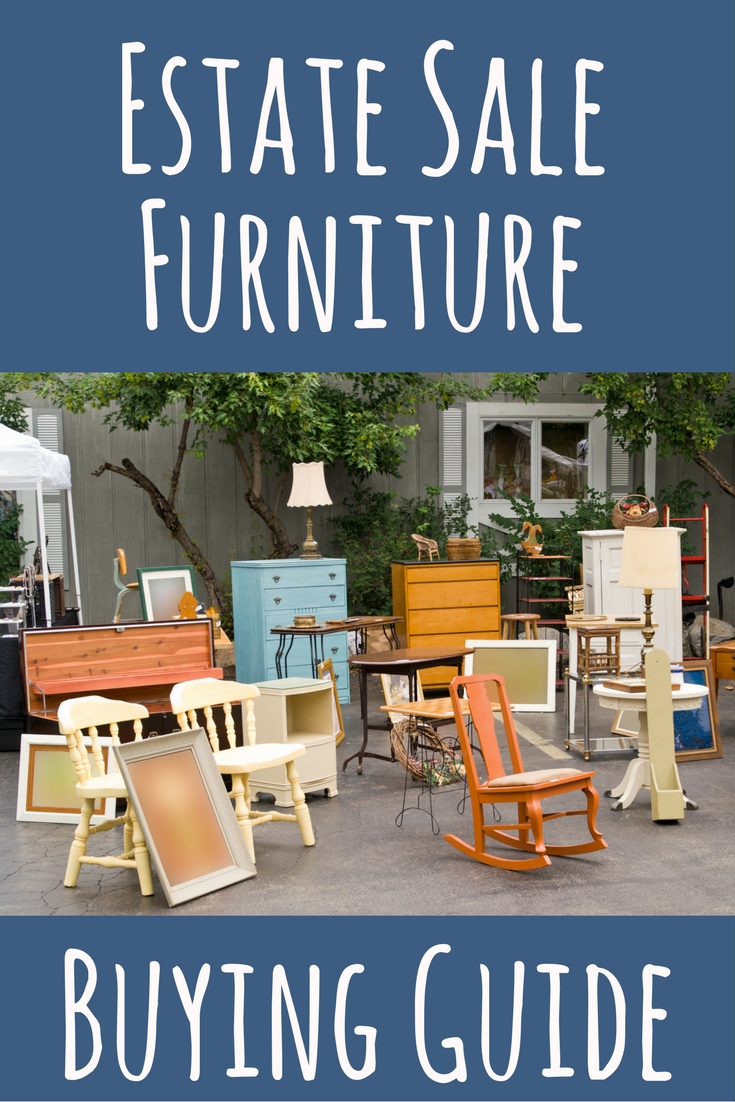 Do you ever buy furniture from estate sales? What are your best shopping tips? What's your most enviable furniture find? Share with us below!