What Is an Estate Sale?
An estate sale is when someone opens up their estate (usually a home or condo) with the intent to sell all their stuff quickly and for the most money possible. It might also be called a "tag sale". But whether you call it an "estate sale" or "tag sale," like "soda" or "pop," the only real difference is where you happen to live in the country.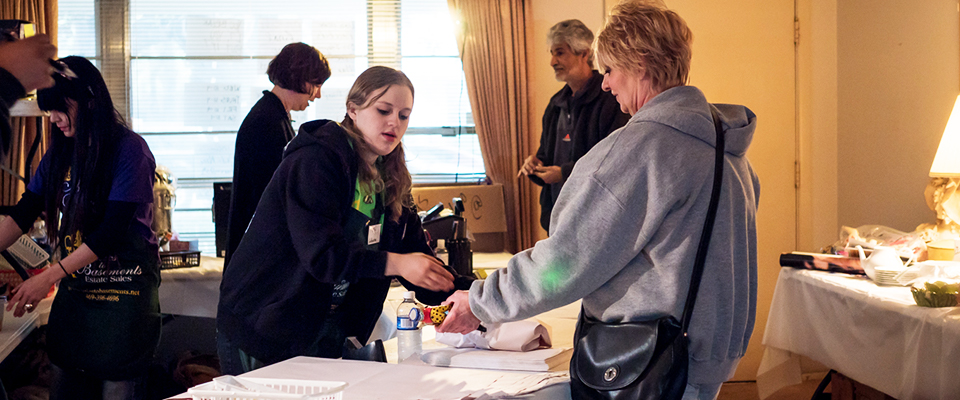 An estate sale is a liquidation of a legacy, everything in the home that has been cherished, regarded and beloved by the owner.
- Jacqueline Hammond, Fifth Avenue Estate Liquidations
Reasons why someone would hold an estate sale can usually be attributed to the 4 Ds: divorce, downsizing, debt or death. These monumental life changes not only bring on emotional challenges, they bring on logistical challenges, too. Specifically, people often find themselves in situations where they need to sell their stuff, and sell it quickly. That's where an estate sale comes in. Estate sales may be held by the family or estate executor taking matters into their own hands. Or people might hire an estate sale company where professional liquidators help set up the estate sale, from estate sale pricing and appraisal to clean out.
An estate sale is a liquidation of an entire home, and sometimes an entire lifetime of memories. An estate sale company works with the family to determine appropriate methods for selling items (locally, regionally, or nationally), and makes the home and its contents desirable to buyers by cleaning, staging, researching, and pricing items in the most appealing manner.
- Dianne Snider Graves, Vintage Prairie Auctions
Estate Sales vs. Garage Sales
While estate sales and tag sales are interchangeable, there IS a huge difference between estate sales and tag sales versus garage sales and yard sales. Estate sales take place because someone can no longer keep their stuff, while a garage sale or yard sale is held when people no longer WANT their stuff. There's a big difference. At an estate sale, you can find everything from high-end items like jewelry and fine art, to expensive household items like tools and kitchen stuff, to ordinary things like books and ephemera. (However, if the items at an estate are extremely valuable, sometimes they will get sent to an auction house under the guidance of a professional who specializes in antiques, fine art, jewelry or other niches).
It's like a yard sale but it's 1000x better because it is the whole house and it's all the stuff that people held onto until they died. It's literally the stuff people kept forever and everything is marked down to move-out prices.
- Elizabeth Robles, Noble Estate Sales
Another big difference between estate sales and garage sales is where they take place. Generally an estate sale happens at the actual estate, in the person's home. The estate sale company or person in charge knows how to organize an estate sale to look like a retail showroom for better browsing and buying — or not. At some estate sales, it might feel like you're walking around someone's old house - and this can be disconcerting at first. However, most people get used to it and find that part of the charm of shopping estate sales is getting an inside peek into someone's life and the objects and history they surrounded themselves with. A garage sale or yard sale takes place outside the home, in a - you guessed it - garage or yard.
In short, an estate sale is a liquidation of an entire estate that offers the public a chance to buy unique second-hand items, while offering an inside look at people's lives, and ultimately, history.
Estate Sale Song
This music video about estate sales captures what estate sales are all about. It's called "We Love Estate Sales!"
Here are some other commonly asked questions about estate sales:
---
Find an Estate Sale Company Near You
EstateSales.org has matched over 21,000 people with estate sale companies since 2010. Let us find you the best company based on your needs using our free estate sale company locator service.