Beyond the Tag, LLC
(810) 288-8001
Bonded and Insured
Member since Apr 27, 2015 - 4 years in business
About Beyond the Tag, LLC
Beyond the Tag, LLC provides professional services to liquidate your estate while minimizing your stress and maximizing your profit. Our team goes beyond the sale by providing solutions to empty your entire estate and ensure the home is move in ready. We also assist with downsizing, organization, various clean outs and more. Life's transistions can become overwhelming, let us take care of it all for you. We are a licensed, insured, and bonded company that serves southeastern Michigan. We are a proud member of the Better Business Bureau.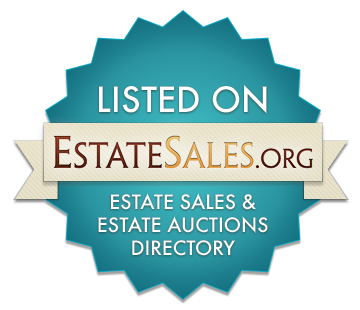 ---
Based out of Fenton, MI also serving Brighton , MI and Fenton , MI
---
In-person Estate Sales
Online Auctions
Appraisal Services
Off-site Sales
Live Auctions
Clean-out Services
Buyouts
Realtor referrals
Donation assistance
Downsizing
---
Memberships & Associations
This company does not have any active sales.
This company does not have any items for sale at this time.
What People Say About Beyond the Tag, LLC
"Well organized. Displayed collectibles for the sale. Thank you!"
K. Anderson December, 2018
"Holly and Jerod were extremely helpful during the entire process of downsizing, prior to my move. Would highly recommend their Beyond the Tag services, very professional, organized, and competent."
L. Drewett November, 2018
"Holly and Jerod were a pleasure to work with! They communicated every step of the way and told us what they would be doing. They set realistic dates for when they would be getting things done and met each date. They exceeded our expectations!"
M. Jacobson September, 2018
"Services were completed on time. Thank you for your help in the cleaning out of my mother's home and getting it ready for sale. It took a great amount of pressure off of me."
J. Mantey August, 2018
"Job well done! Thanks for being so accommodating. Including a tip, go out to dinner on me! Thank you!"
L. Legeret July, 2018
"Great job! A pleasure to work with, a very positive experience."
A. McCachren May, 2018
"Beyond the Tag did a beautiful job with my house. They were easy to work with and kept the communication lines open at all times. It was so nice to have such pleasant people to work with, who were awesome problem solvers. They really took the stress out of my move. My house was totally clean when they left. I highly recommend them!"
C. Wiese March, 2018
"The service was quick, they handled everything I expected would pop up, during what would have ben a huge task for me. Thanks again!"
S. Hamilton December, 2017
"Thank you for all your assurance that all would be taken care of. It was a pleasure to work with you! I wish I would have found you sooner."
-D. Balkin November, 2017
"Holly and Jerod are friendly, but very professional. I would not hesitate to call them again if the need arose. Their sales have great prices and the displays look like a Better Homes & Gardens magazine shoot."
-R. Hagerman September, 2017
"Job well done! Thank you."
-C. Madsen September, 2017
"Really I would have been still trying to decide whether to sell my house, if I hadn't called you guys. What a fantastic, dedicated, organized, detail oriented business. They kept the whole process rolling, efficiently and without problems! What a joy to work with professionals!"
M. Freeman July, 2017
"Really I would have been still trying to decide whether to sell my house, if I hadn't called you guys. What a fantastic, dedicated, organized, detail oriented business. They kept the whole process rolling, efficiently and without problems! What a joy to work with professionals!"
M. Freeman July, 2017
"Beyond the Tag did an outstanding job in handling all aspects of our estate sale. Holly and Jerod went above and "beyond" in cleaning, organizing, and displaying our treasures from years gone by; Some large and many small. Questions were always responded to quickly and professionally. They were a pleasure to work with; I highly recommend Beyond the Tag."
D. Ingamells June, 2017
"I observed Beyond the Tag cleaning and moving my neighbor's house. I was impressed with the organization and speed which they worked. When I contacted them to clean out my mother's house, I found they were professional and knowledgeable. I especially liked the polite text updates to keep me posted on progress. I was very pleased with the job they completed. Thank you!"
K. Childress May, 2017
"Even though they experienced personal issues during the process, they stayed on top of things. Very nice to work with and they took care of pretty much everything."
A. Kuhl April, 2017
"Beyond the Tag was really great and communicated every step thoroughly and professionally."
G. Amendola February, 2017
"This company delivers! We were overwhelmed with the prospect of cleaning out my elderly mother's house. They worked with us on a plan that fit our needs and handled the whole project without hassle and very minor involvement on our part. They are very professional and have numerous processes in place to make everything run smoothly. I would recommend them without hesitation."
S. Jones December, 2016
"The house was left clean and in good condition. Thank you!"
L. Reznick December, 2016
• "Beyond The Tag is an efficient and reliable company that I would recommend to anyone, to use. The name fits perfect for the services provided. They went beyond to help with a difficult estate sale. My parents were moving from their home due to my mother's Alzheimer's and the overwhelming task was made simple, they were honest and did what they said, and more. It was a short amount of time to clean out the home, manage the sale of all items and they were extremely professional with their services. I could have never managed the process without Holly and Jerod. I truly appreciate everything they did. They were there from the beginning and even past the sale of the home. The home was clean, looked better than it ever has for the new owners!"
S. Young, November, 2016
"In over 30 years of providing quality and affordable estate planning and legal advice to Genesee County residents, we have seldom seen a more professional or responsive organization than Beyond The Tag, LLC. Their staff and response time are unparalleled in the estate support services arena. We highly recommend Beyond The Tag, LLC, and look forward to engaging their services in handling future probate estates."
P. Anthony Mainprize Law Offices of Mainprize & Mainprize October, 2016
• "I found myself in a place I didn't want to be. Overwhelmed, exhausted, and emotionally drained. The thought of handling my parent's estate alone was almost more than I could handle. Beyond the Tag was hired to help me, and within two months the gigantic task was accomplished. I literally met with them signed papers, handed over a key, and a giant weight was lifted from my shoulder's. Every aspect of this daunting task was handled for me. The house is now ready to be listed and I am able to rest easy. I couldn't have done this whole process without them."
R. Juhl September, 2016
"Fantastic job! They had very short notice to complete a huge two story house selling, sorting, cleaning, organizing, moving, donations, everything. I highly recommend them and will use Beyond the Tag again!"
S. Stevens September, 2016
"Professional service and excellent organization, thank you!"

k. Smith May 2016
"I was blessed to have Beyond the Tag helping with my father's estate. They are professional and thorough, especially in researching item pricing. They went beyond my expectations from cleaning to organizing, handling the sale and disposition of items. They are fun and jovial and made the process a joy. I was confident enough that I could leave to return to my home state and know the estate would be disposed. I highly recommend Beyond the Tag to anyone needing to liquidate an estate."



L. Arnold May, 2016
"I'm deeply grateful to all the team at Beyond the Tag. I would highly recommend them to anyone. My home is clean and smells wonderful, now ready to be put on the market. Thank you again!"


P. Mattis April, 2016
"My experience with Holly and Beyond the Tag has been wonderful. I live in Florida and had the
sole responsibility of making sure the move of my 88 year-old mother from her home of 60 years in Flint,
Michigan, to a senior apartment went smoothly and with as little stress as possible. From my very first contact with Holly she has been very informative, thorough, and helpful. After the initial visit with my mom, we determined we were going to hire them. I have been kept in the loop with everything. They were very caring and compassionate with my mom, understanding that this was a difficult move. They came to the house, helped with packing, sorting, selling items, coordinating movers, donation pickup and cleanout after the move. Beyond the Tag has been nothing but professional, courteous, caring and punctual. I would recommend them to anyone, local or long distance. I know my mom agrees with me as well."



M. Madge April 2016
"I highly recommend Beyond the Tag! The company is very professional and true to their word! Excellent communication throughout the process, which was comforting, I trust them very much. Thanks for all that you guys have done!"
L. Burris March 2016
"I can't praise them enough, as they have helped me with a difficult move at a stage in my life, where I am unable to do heavy lifting. They are the most respectful and caring people you could hope to meet. They managed a big task of helping me rid myself of many years of property I can't take with my move. Their pricing was more than far and what they sold for me, was a good return. I just can't say enough good about them and do count them as friends now as well. I would use them again in a minute, if I had the need to again."

B. Croley March 2016
"Beyond the Tag was a godsend! What they were able to do in a relatively short period of time would have taken me months. The sale was well organized, items not sold were donated or disposed of. The house and garage were cleaned, left in move-in condition. They do what they say and satisfied our needs in a friendly and understanding manner."


K. Lang December, 2015
"Beyond the Tag did everything that was expected and was professional, thank you for that. People including me are overwhelmed, need to be concrete with contract. Overall thank you again, will send pictures and blog, the whole team is great."



B. Carter December, 2015
"The crew at Beyond the Tag are wonderful! They worked with us at every turn in and on again, off again, with the sale of the house. Our requests were met with professionalism and helpful suggestions."




D. Westbrook December 2015
"The sale was great, it was sincerely appreciated. Clean up of the property, house, and barn enabled the new owners to move in on schedule. Thank you!"


S. McFall November, 2015
"I was so impressed with the services provided by Beyond the Tag! They went the extra mile and really did an amazing job. You made this such an easy process. Thanks again for all of your help. I would highly recommend!"
N. Forte October 2015
"BTT was very professional and always responsive to any questions. They did a thorough job of the services provided and stayed with time frame that was agreed to. I would recommend BTT to anyone needing their services. Thank you for all of your help."



P. Zuelch October 2015
"I am so thankful I found Beyond the Tag! They did everything they said they would and more. They gave us peace of mind and made our move out of state, so much easier. Thank you!

J. Hubble October 2015
Enter testimonial"On behalf of my family, I am completely satisfied with the estate sale services Beyond the Tag provided. They did everything that they agreed to, and kept us updated along the way. I recommend their services, kudos to everyone at Beyond the Tag!"


M. Dunbar October 2015
"We are happy! Thank you so much for all your help."



D. Oppenheiser October 2015
"I was faced with the issue of having to move out of state on short notice. After being contacted by several estate companies I chose Beyond the Tag. When you are in this situation it's hard to tell who you should trust when selling your estate. BTT came by and instantly had energy and enthusiasm like no other. They made a detailed plan that included a lot, it was so much I was not sure if they could deliver. After the project was done, they did more than deliver, they exceeded any expectations that I had. This was a very big task, a lot of stuff and not a lot of time. They dug in… cleaning, organizing, and separating the sellable from non-sellable, in every part of the house. They are very detailed in presenting the items and took excellent photographs. The sale was promoted on several outlets and was a huge success. They provided great service before, during and even after the sale. Without question I highly recommend Beyond the Tag for any estate needs. Truly a company that you can trust and one that will deliver. I would like to thank the entire staff for a job well done!"
J. Lenz September 2015
"Thank you for completing such a big job, so we could actually have it all done in time!"
J. Hein August 2015
"I have the highest praise for Beyond the Tag, Holly, Jerod, Meg, and Margo really put our sale together quickly. We couldn't have done it without them. They are a hard working team, so friendly, I feel like they are family. I'm going to miss them but we will stay in touch. I was pleased with how the sale items were professionally staged and with the results. The big bonus was that the sale more than paid for itself, I would highly recommend Beyond the Tag."
K. Gasper August 2015
"The Beyond the Tag staff were very efficient and professional in helping when I downsized my home. Everything was done in a very timely manner. Thank You."

J. Cronin August 2015
"I was overwhelmed at the prospect of disposing of the contents of an elderly relative's household, and at the suggestion of a friend, contacted Beyond the Tag. After talking with them, I contracted for their services, which included sorting through everything left in the home and handling all aspects of a two day estate sale. Items with no salable value were donated or discarded, and they cleaned the home, including the garage and basement, following the conclusion of the sale. Their services were completed in the agreed upon timeframes, with the utmost professionalism. They were great to work with, and responsive to all of my questions and concerns during the process. Based on my experience, I would not hesitate to recommend Beyond the Tag to anyone looking for similar services."

J. Mann August 2015
"I enjoyed a stress free and very successful experience. A++! Beyond the Tag. The name well represents the service that they provided. The entire house was sorted, (junk and sellable), a sale held and the home was cleaned. My mother moved to assisted living, leaving me with the overwhelming task of emptying the family home, with 50 years of stuff. I interviewed three companies and choose the best of the bunch. They were enthusiastic, trustworthy, and dependable. They worked hard and fast, displaying mom's stuff in impressive staged groupings, which resulted in a professional sale with new and established customers. Beyond the Tag was knowledgeable of all aspects of provided services, and there was no problem they could not solve. My needs were their number one priority, providing me with a stress free and very successful experience. Thank you Holly, Jerod, and Megan!"
K. Hoffman August 2015
"Would have taken me forever to do what you accomplished. A huge weight lifted from my shoulders. The real estate agent was also very impressed."

J. Scriven July 2015
"Wonderful service provided! I couldn't have asked for more."
B. Allen June 2015
"I would like to thank everyone at Beyond the Tag, you did everything you said you would and more. Thank You!"
B. Hawks May 2015
"I hired Beyond the Tag last week. They are just what they say and more. BTT did the job with respect for us and our belongings. They are the best people to work with. Our job was done professionally and with great ease. Beyond the Tag did the best job of any company I have ever hired. You will get your money worth. BTT unloaded 95 boxes, hauled, trashed, and cleaned. We did not have to do a thing. Hire them and you will not be disappointed. Thank you!"
K. Adams May 2015