Alpha Estate Sales and Auctions
Bonded and Insured
Elite member since May 10, 2011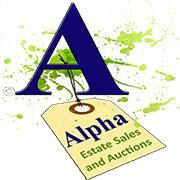 About Alpha Estate Sales and Auctions
HUNTSVILLE'S OLDEST ESTATE SALE COMPANY, SINCE 1983!

Alpha Estate Sales was formed in 1983, however, Bob Baker, the president of the company, has long been associated with the selling, appraising and collecting of antiques. Bob began his career in 1970 when he opened a small shop in Chattanooga, Tn. Relocating to Huntsville in 1975, he has continued his involvement in the antique business until today. Around 1998 he and Gary Knight began their partnership in the company and continue today. Gary is well versed in antiques as well as collectibles with his long term interest and eventually became the official auctioneer for the company. Although we specialize in antiques, we also are well versed in the selling of used furniture and miscellaneous items found in every household. Alpha also has a team of employees dedicated to making every sales event a positive experience for all involved. If others offer you estate sales service for less than Alpha, it only stands that you will be getting less service for your money! We are the best. Ask around.

If you are being quoted a low price for others claiming to provide you with the same service as Alpha Estate Sales, ask them how they can afford to do the job for so much less. Ask them about insurance, research, staging, marketing, experience and seasoned staff. We provide nothing but excellent service. Unlike other "estate sale" companies, we offer our customers charge card service and we take checks! Our sales are computer controlled where we can tell our customers what their items sell for. All of our customers receive printed receipts for their purchases. No scribbling numbers on legal pads! Now, may we help you? salesbyalpha@gmail.com
---
Based out of Huntsville, AL also serving Albertville , AL , Athens , AL , Cullman , AL , Decatur , AL , Florence , AL , Fort Payne , AL , Gadsden , AL , Grant , AL , Gurley , AL , Harvest , AL , Huntsville , AL , Madison , AL , Muscle Shoals , AL , Rogersville , AL , Russellville , AL , Scottsboro , AL , Chattanooga , TN , Lawrenceburg , TN , Lynchburg , TN , Pulaski , TN , Sewanee , TN and Tullahoma , TN
---
Memberships & Associations
ASTALOT DR, SE, HUNTSVILLE, AL 35803! FINE ART, FURNITURE & ACCESSORIES ESTATE LIQUIDATION! TWO DAY SALE! JANUARY 12,13,2018Come visit us, our hours are: Friday, January 12 from 9 AM-Noon, Full Price, Noon until 3PM 25% off and Saturday, Janu...
Huntsville

,

AL

35803
Sale starts Fri. Jan 12, 2018 at 9:00 AM
COL GARY KNIGHT AL #1850 AND COL BILLY BLANKENSHIP AL #5386More information and photos to come - so please check back! Our consignment for January 2018 auction starts the New Year off with a bang as we offer a huge, literally hundreds of item...
2315 Triana Blvd Suite C
Huntsville

,

AL

35805
Sale starts Sun. Jan 28, 2018 at 1:30 PM
This company does not have any items for sale at this time.
This company has posted a total of 82 estate sales. Only the most recent 50 sales are shown.