Christmas is upon us! This season is a time for all vintage and antique lovers to rejoice. Vintage Christmas is a holiday all its own. The Christmas ornaments and decorations from bygone eras can lend a nostalgic, cozy feel to any home.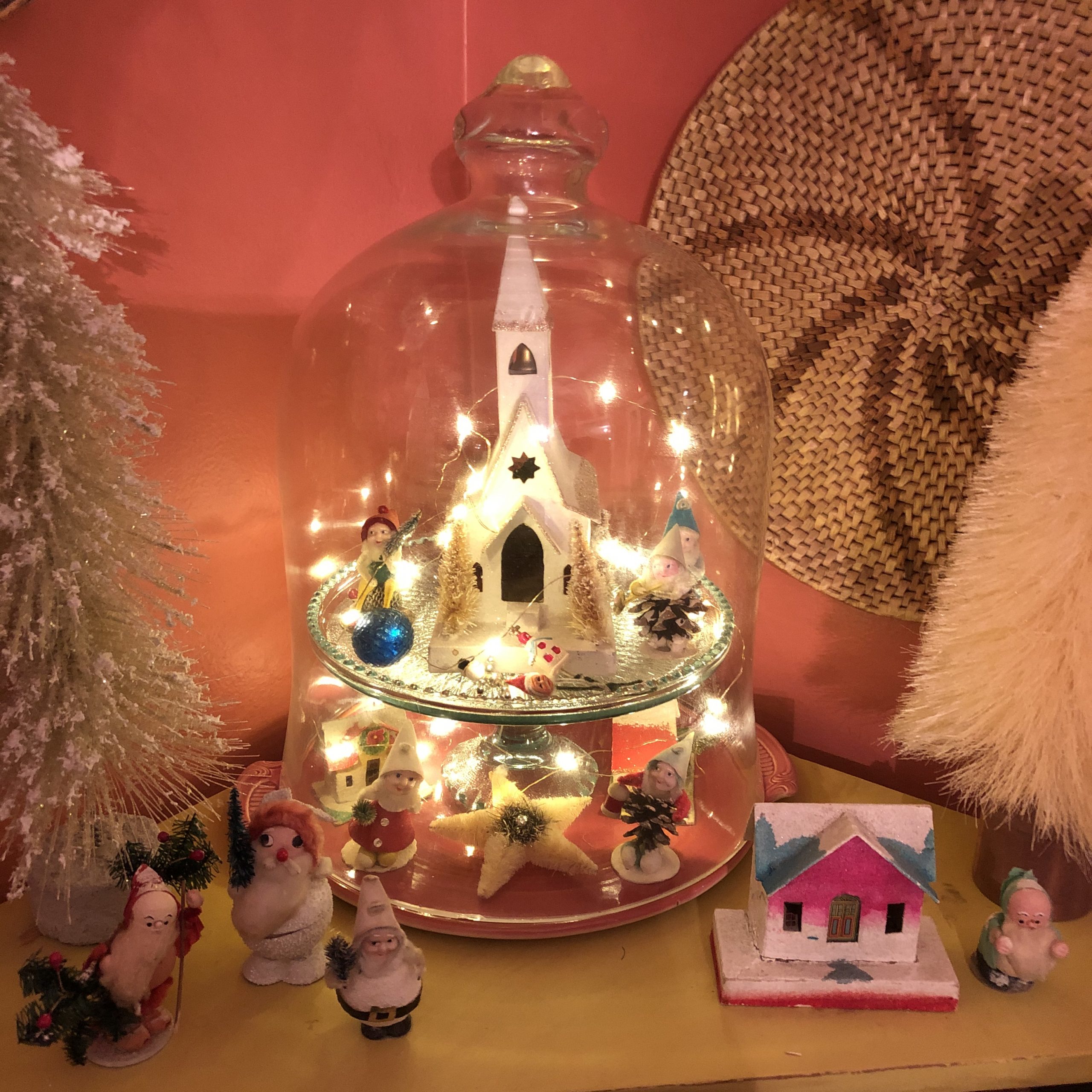 If you've ever been to an estate sale, it's likely you've seen a spread of antique Christmas ornaments and decorations. Holiday items tend to be something that people accumulate over time and, whatever the reason for the estate sale, these items are likely to be a part of the inventory-sometimes for a great bargain.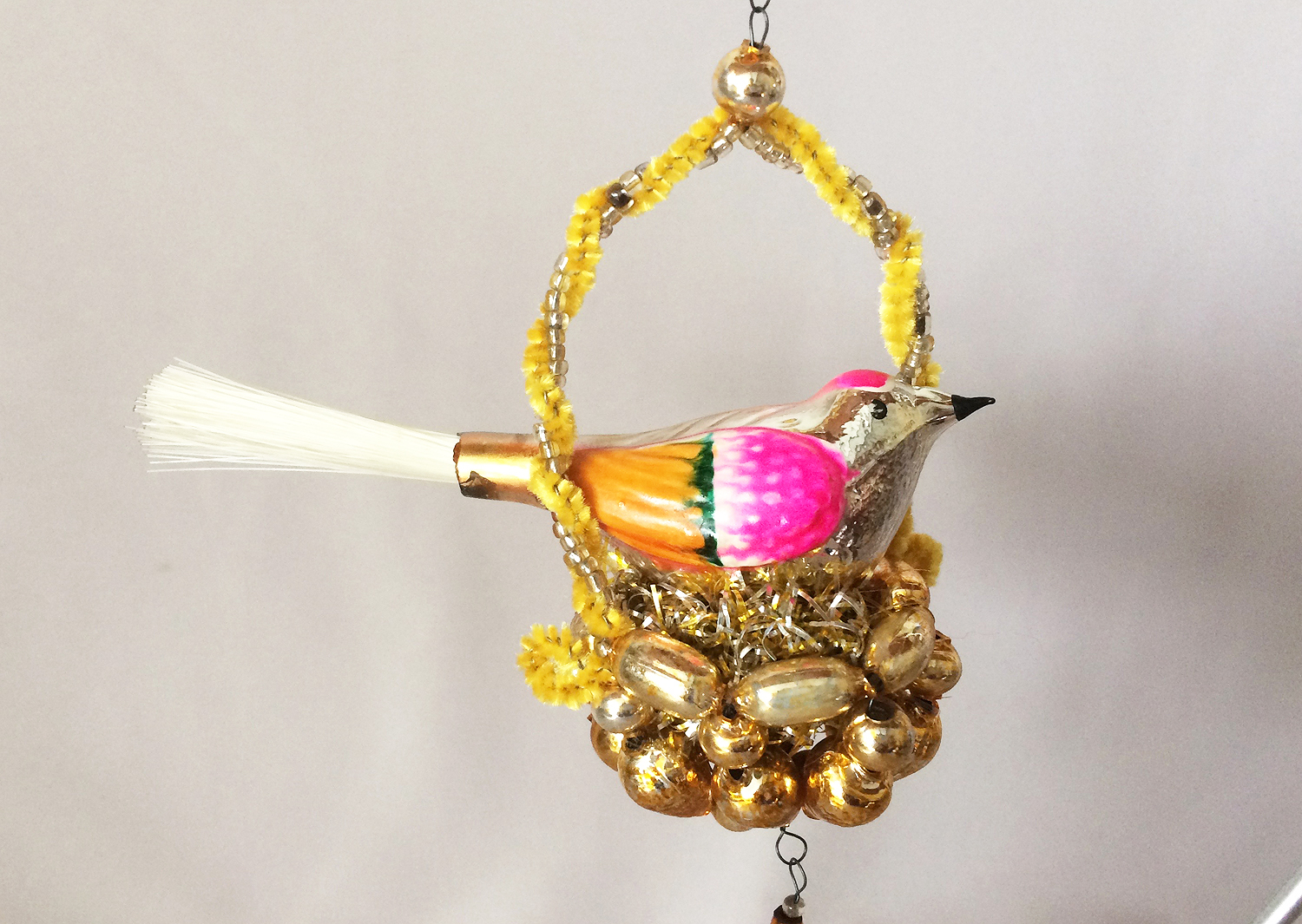 Whether you are shopping for gifts for other nostalgic Christmas-lovers or decorations for your own home, vintage Christmas ornaments and decorations make beautiful, high-quality heirlooms.
Vintage Christmas Ornaments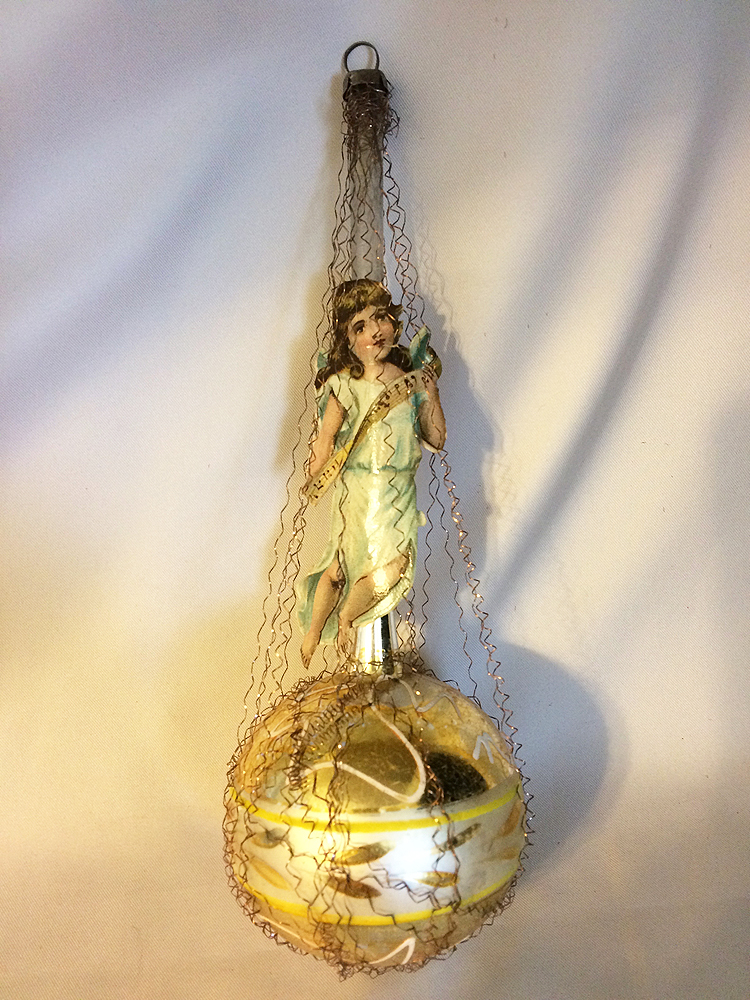 "What I love about vintage Christmas ornaments is their nostalgic look and their rustic beauty," says Penny Stark, owner of Love Vintage Christmas. "I think vintage is better because there is nothing like the charm, patina, and craftsmanship they have, and the treasure hunt is part of the fun." 
Nostalgia is also a motivator for Dee Martin, owner of Just Vintage Christmas. "The Christmas season always held magic and wonder for me as it was a big deal in our home," says Martin, who attributes this fervent Christmas spirit in part to her German heritage.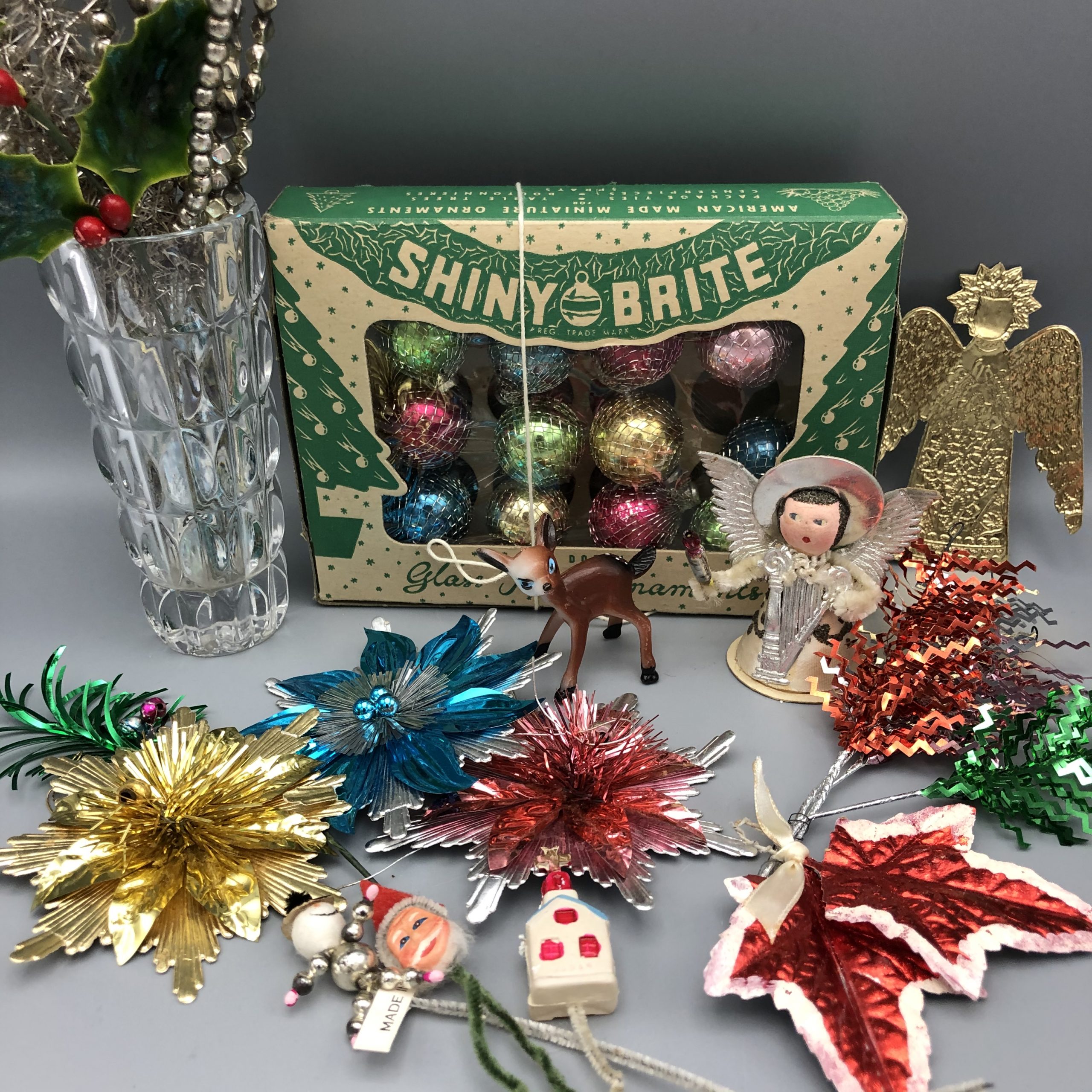 Martin says that quality and character make vintage ornaments far superior to modern ones. "The earlier ornaments were each hand crafted and hand finished, reflecting their one-of-a-kind human touch," she says. "Each era and generation of vintage ornaments reflects the current history of that time, which adds authenticity to any display. For example, during the Art Deco period, ornaments often contained linear and geometric elements. During the 1950s and early 1960s, plastic and aluminum were all the rage, reflecting the new materials emerging at that time."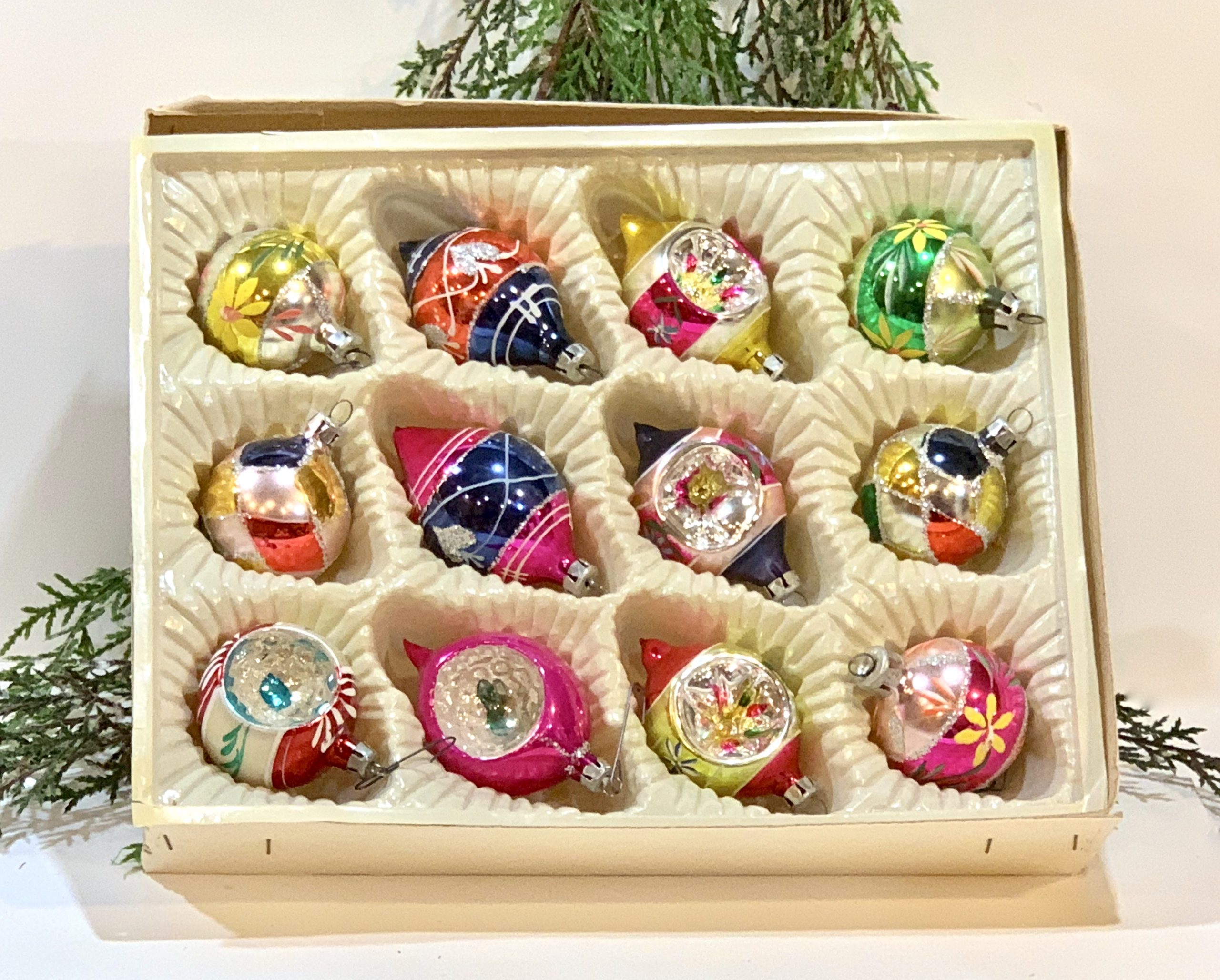 How to Identify Vintage Christmas Ornaments
There are many clues for authenticating vintage Christmas ornaments, even if you aren't an experienced collector.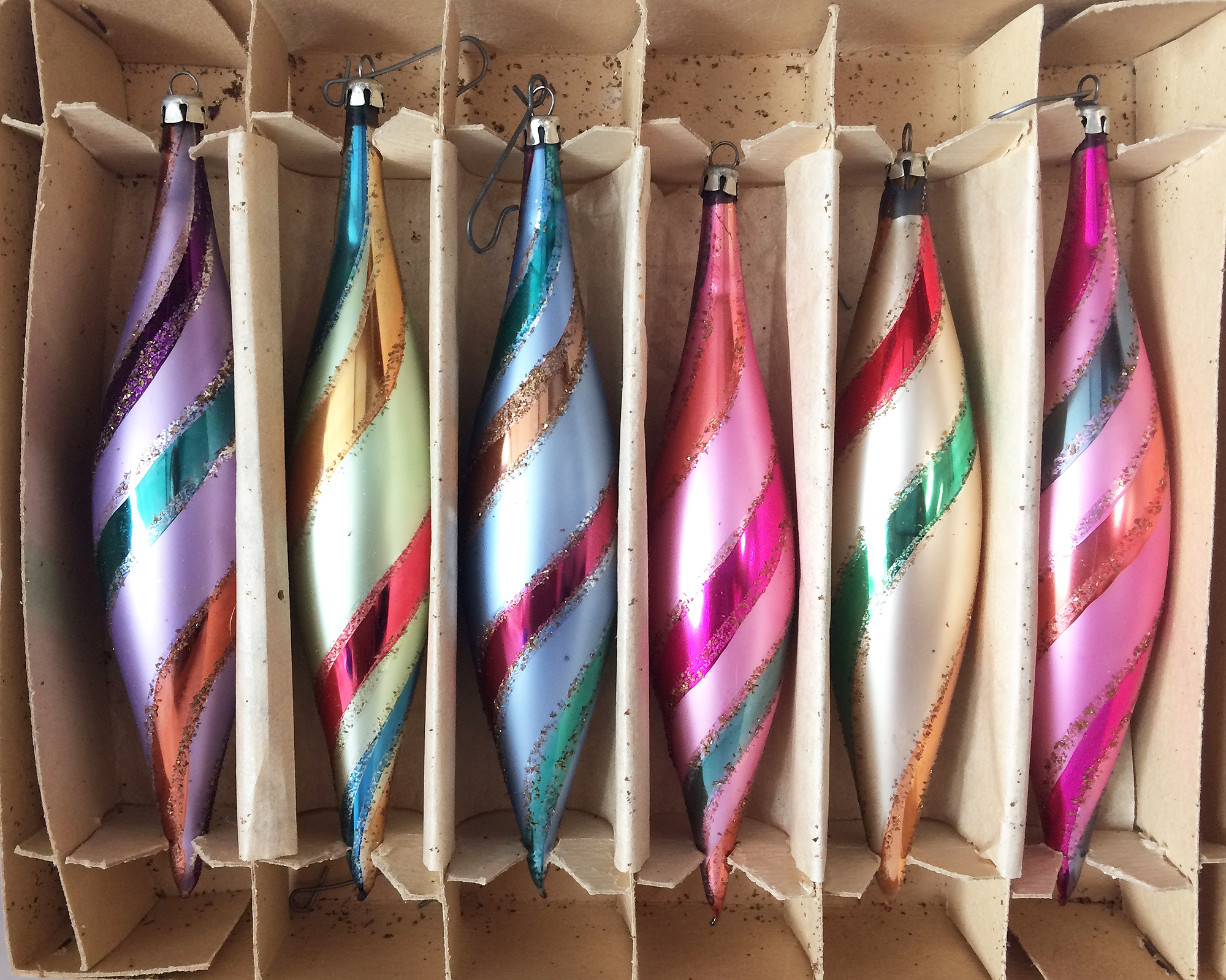 1. The Feel of a Vintage Ornament
"I can tell a vintage ornament by its patina and how it feels," says Stark. 
"Modern ornaments are also often made of a composition material or even hard plastic which tries to mimic the older mercury glass," says Martin. "You can tell by tapping on it if it is glass or not."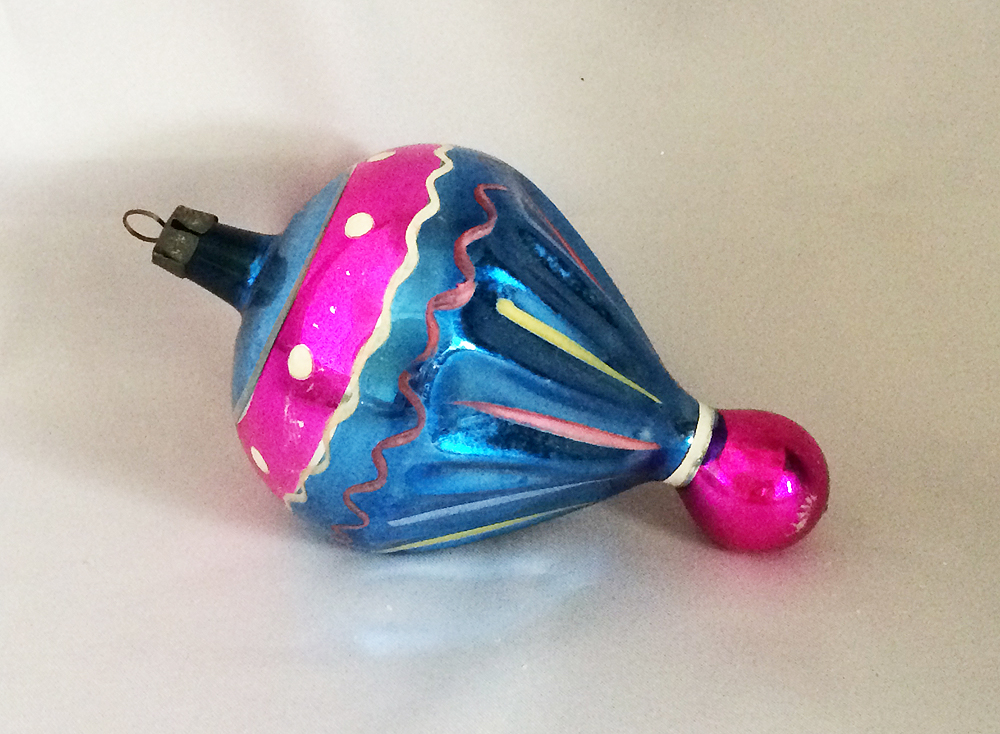 2. The Look of a Vintage Ornament
"Old ornaments are usually not as perfectly shiny," says Stark. The shapes can be a telling factor, too. "If they are mouth blown, they aren't always perfectly shaped," she says. "They should also have a pontil mark (usually on the bottom) where the glass was broken off the blow pipe."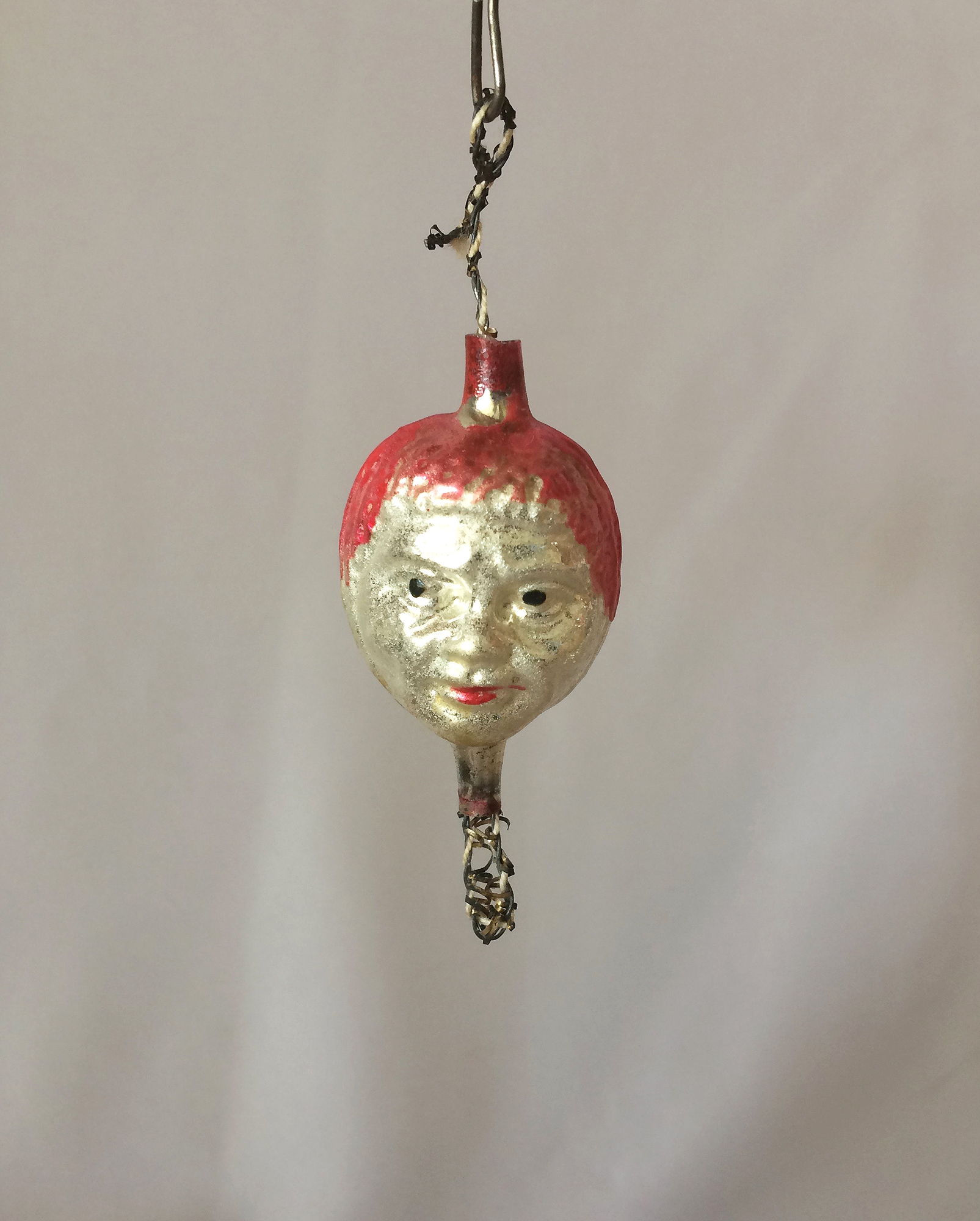 3. The Cap on a Vintage Ornament
The cap on antique Christmas ornaments can be a great indicator of age and vintage.
Silver Metal Caps 
With some exceptions, vintage Christmas ornaments will have a simple, silver metal cap. "Older ones are usually dull and not super shiny," says Stark. "Most nicer ones are stamped with West Germany, or Czechoslovakia."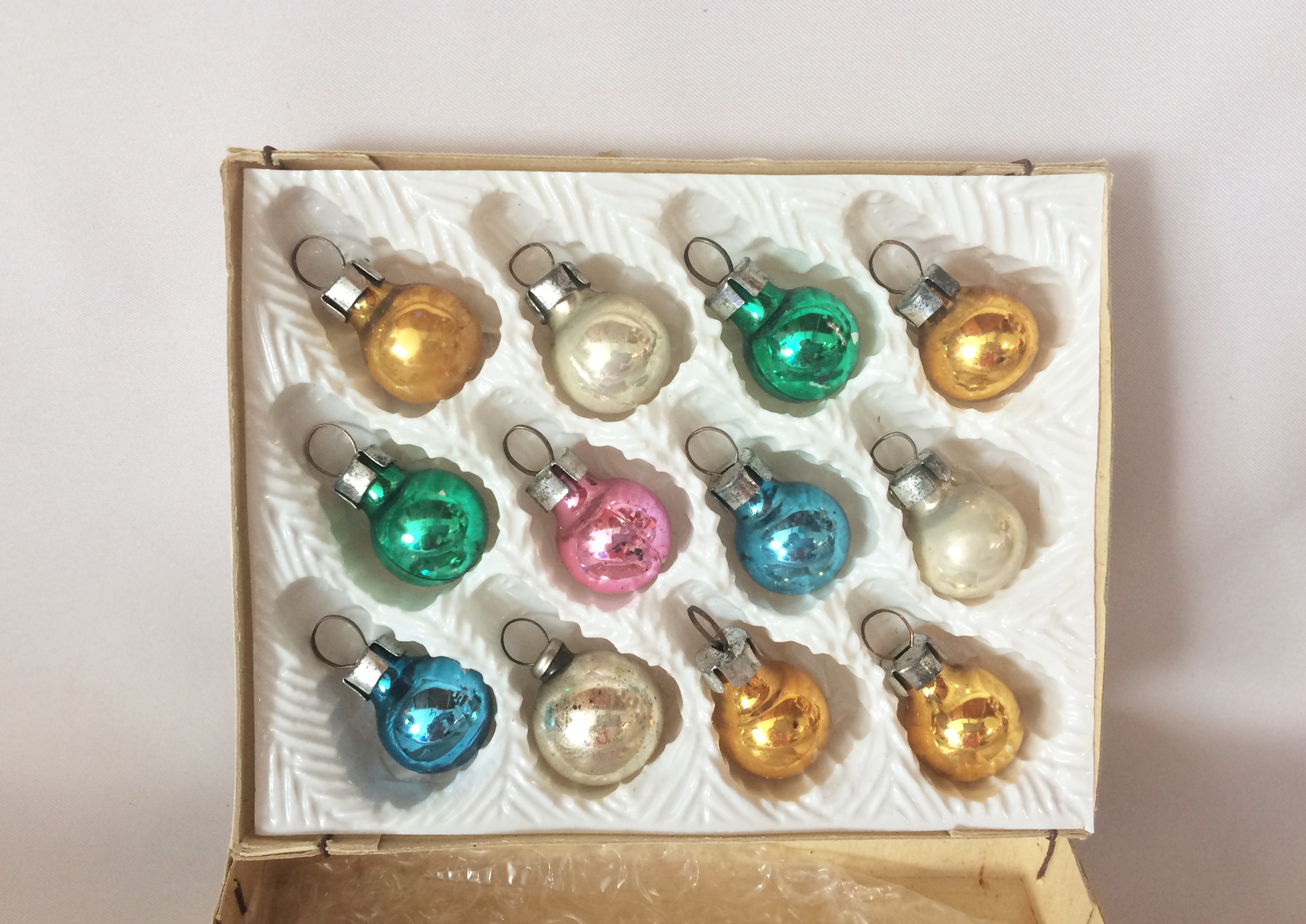 These caps are easy to differentiate from modern ornament caps. "Modern ornament caps are often very fancy, frilly, and ornate, some with additional tags attached," says Martin. "They are often gold but if they are silver, the metal is thinner than the older metal, or perhaps made of aluminum, or even plastic. A vintage metal cap will show oxidation, a darkening of the color, even a bit of rust. All of that is good and adds character."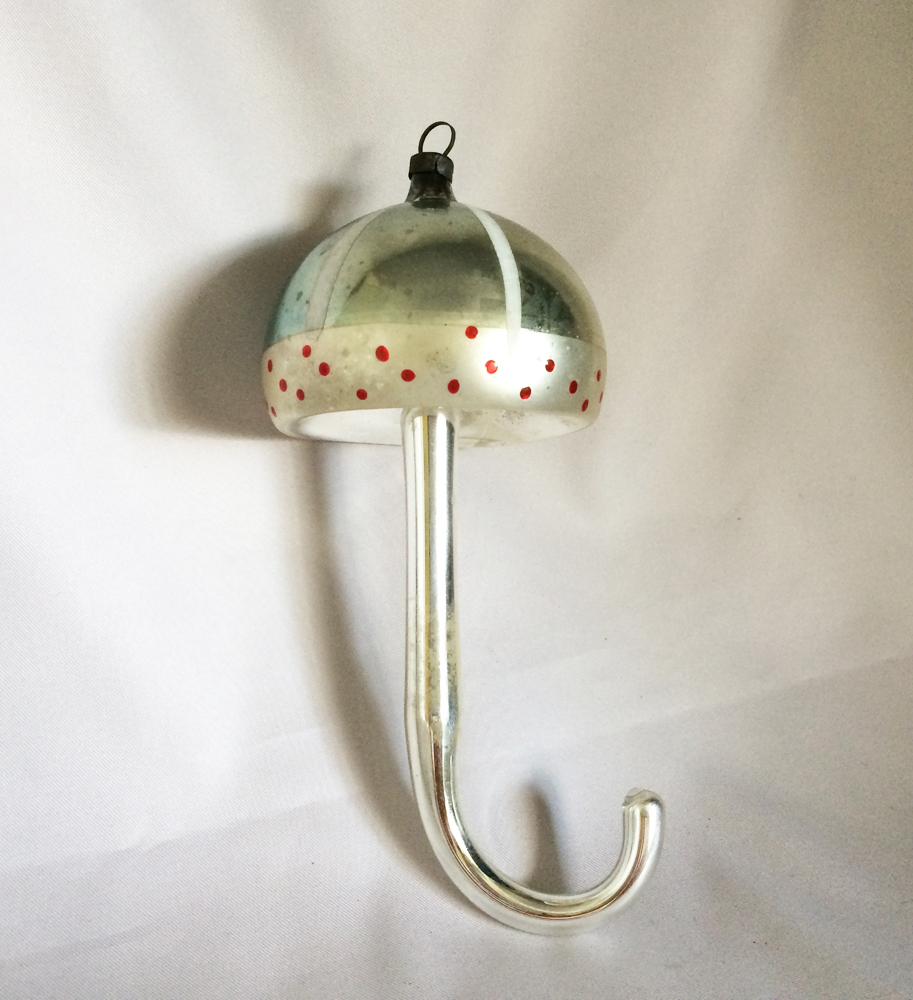 Some vintage Christmas ornaments are an exception to the silver metal cap rule.
Plaster Ornament Caps 
Pre-1900 Glass Christmas Ornaments from Germany "were finished with a plastered metal cap, before the invention of the popular spring cap," says Martin. The spring cap, a common style still today, was invented in the very early 1900s. "Prior to the spring cap, metal ornament caps and the hanging ring were adhered by hand with plaster, a very time-consuming and tedious process," says Martin.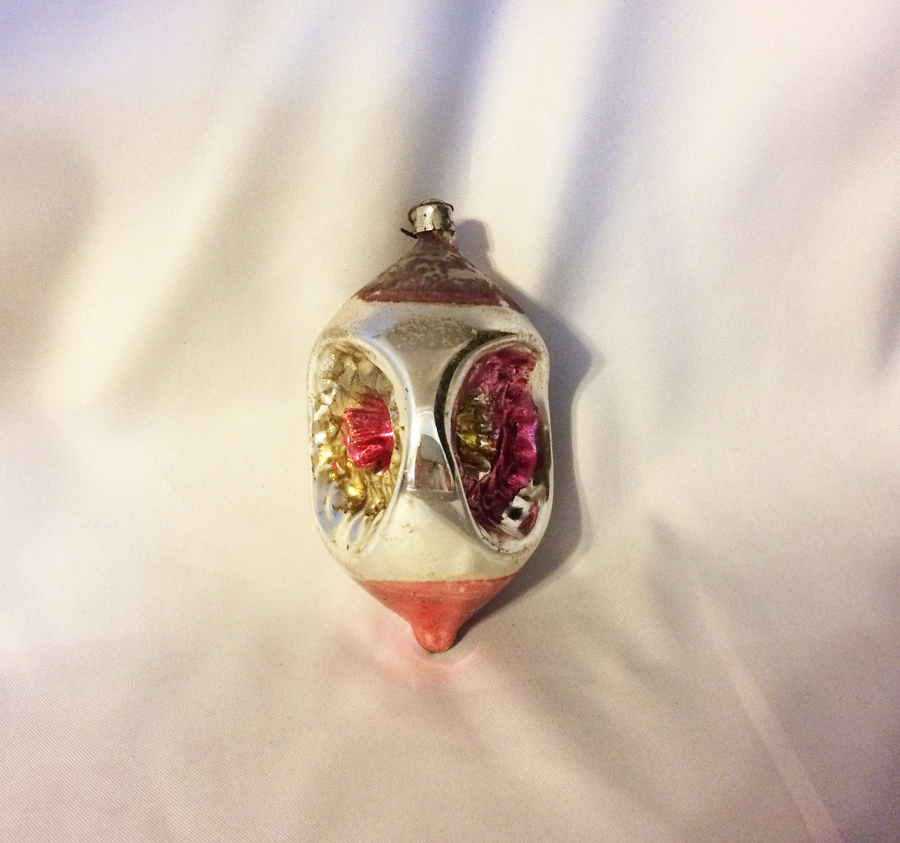 Paper Ornament Caps
American ornaments from 1942-1945 had paper caps. "WWII wartime shortages restricted the use of certain materials, including metal and also the nitrate used for silvering glass ornaments," says Martin. "American ornaments produced during this time frame were produced without silvering or metal caps, and instead were fitted with paper or cardboard caps. These types of ornaments were produced only from 1942 to 1945 and are quite rare and thus very collectible today."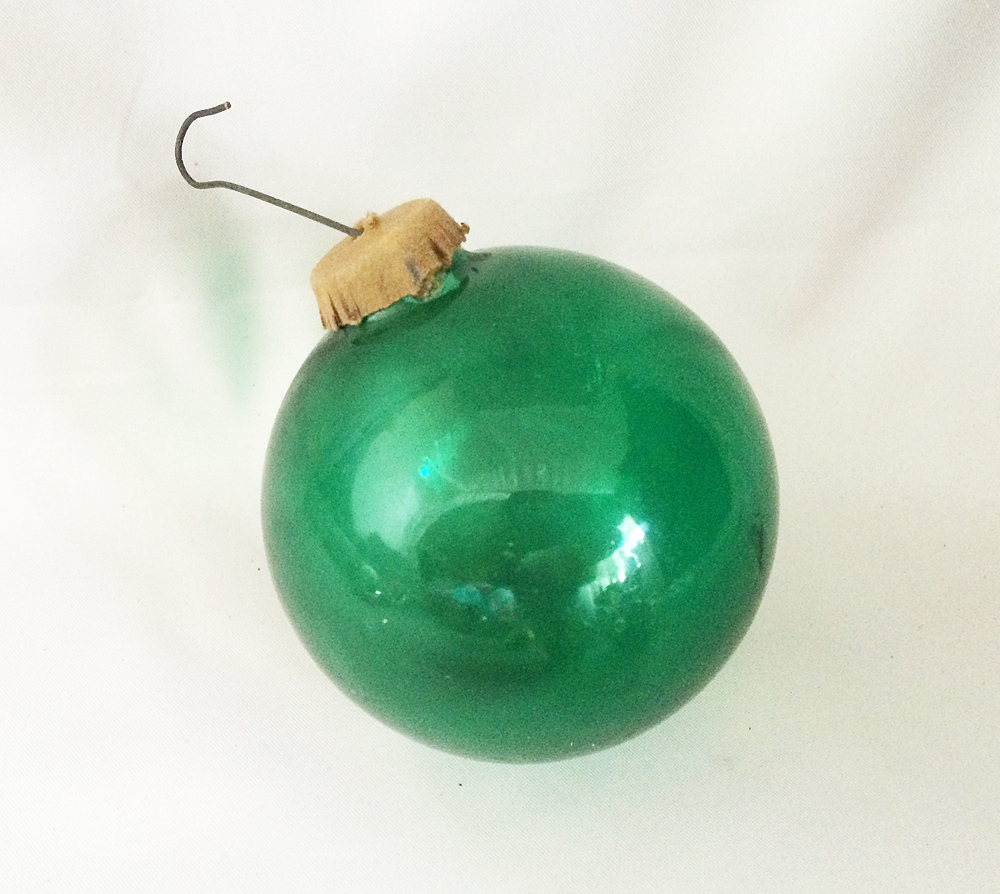 4. The Condition of a Vintage Ornament
Peaking underneath the cap can also reveal some telling marks. "The edges of a mouth blown ornament will not be perfectly even and smooth," says Stark. "The stem or neck is often little darker in color or has a little loss of silvering or paint. The ornament will probably have some degree of discoloration in the form of spots or fading. I do not require that my ornaments are perfect. That is all part of their charm."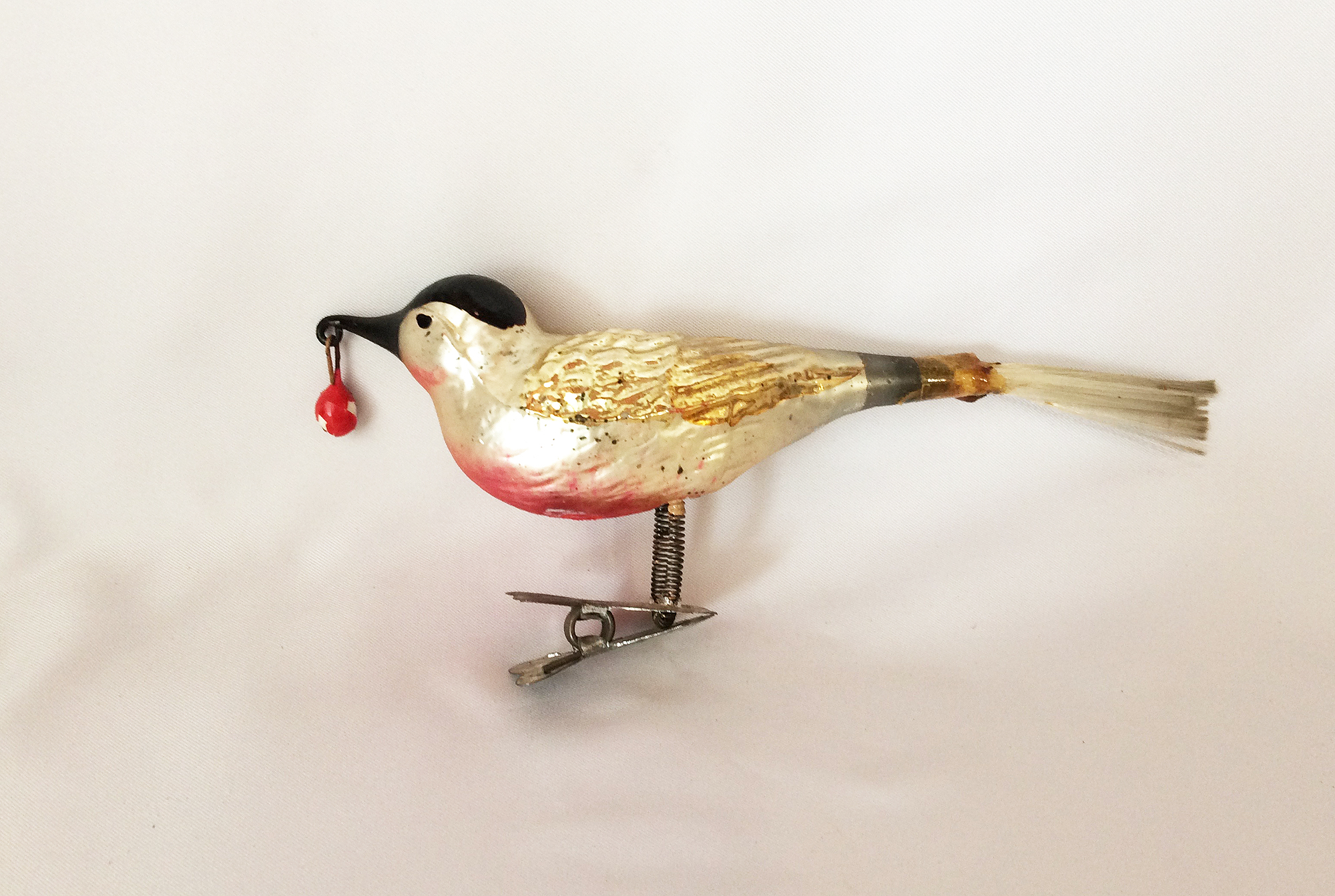 Substantial or even minor wear and tear are indicative that an item is vintage, as most modern ornaments are made to be nearly indestructible. "Vintage glass ornaments will often show some degree of light wear and some oxidation, especially at the pike or cap area," says Martin. "Hand painted decoration indicates an older ornament, and this will often show scratches or light wear. Bits of paint loss often occurs with older ornaments."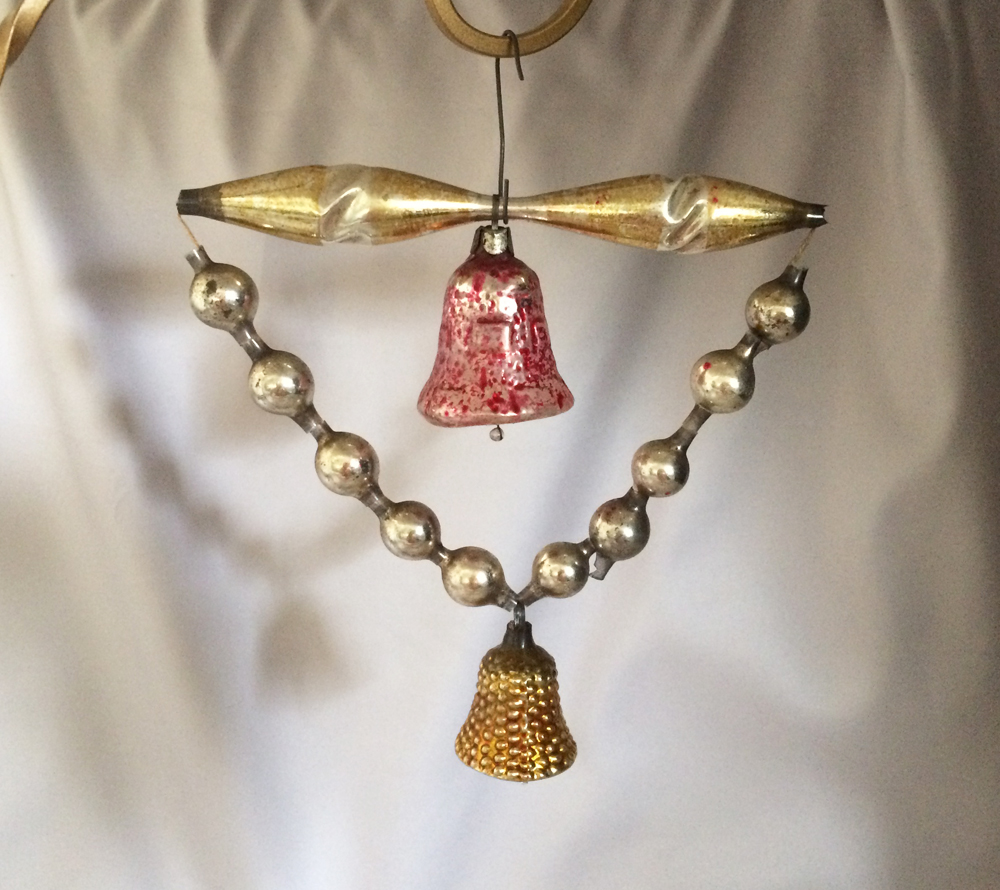 5. The Use of Mica in Christmas Ornaments
Mica was, and still is, a popular decoration material on ornaments to mimic snow. The texture of the mica on an ornament, or any Christmas decoration, can help identify the item's age. "The earliest mica used a larger grain which created a more bumpy, textured surface," says Martin. "Sometimes bits of mica flake off or goes missing." Modern mica is more uniform and less granular, with the appearance of thick glitter.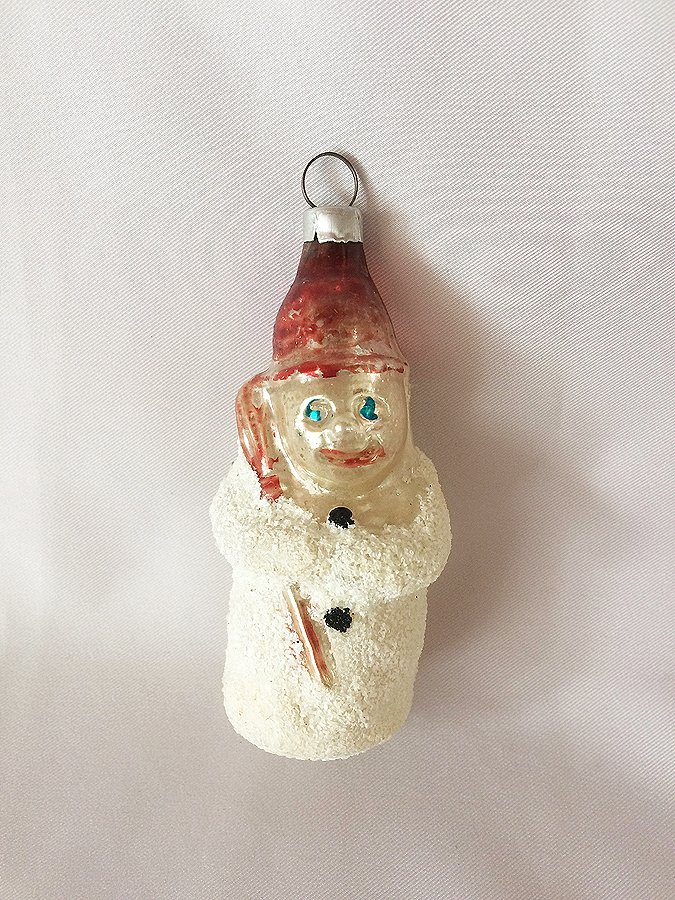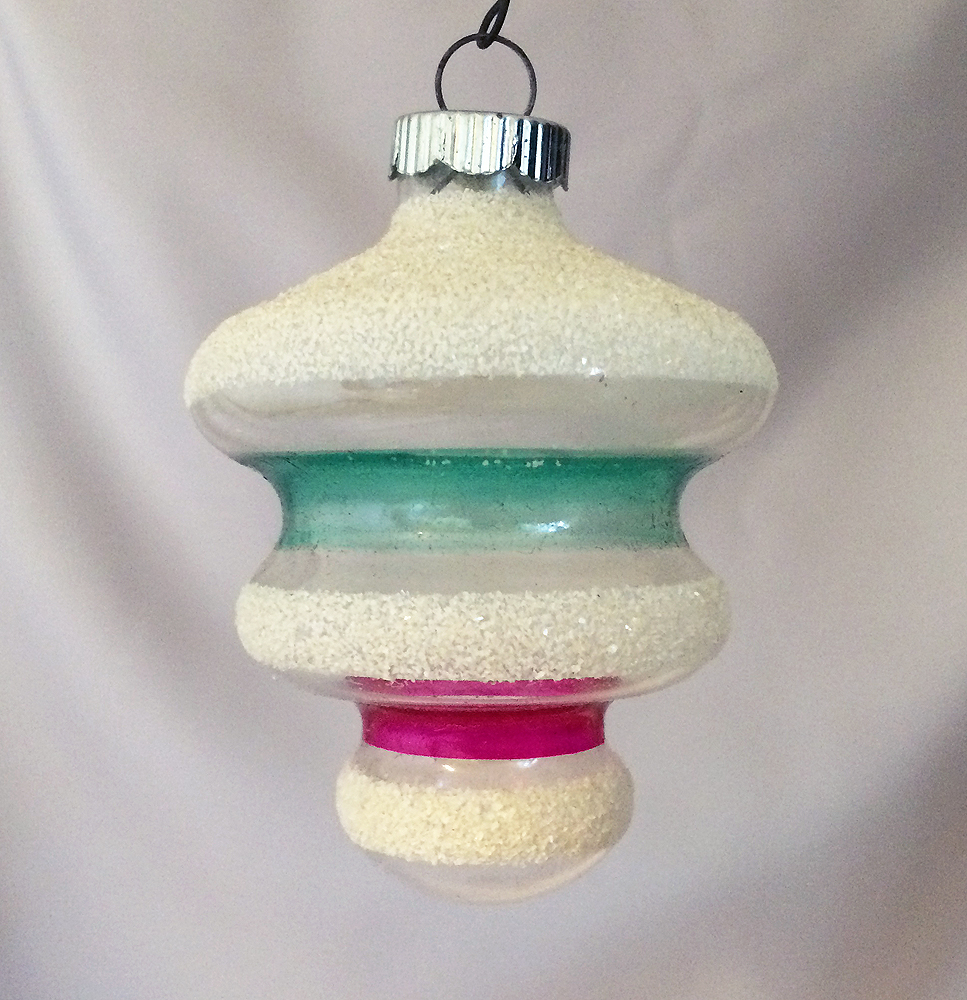 Rare Vintage Christmas Ornaments
You might get lucky and find a rare vintage Christmas ornament for sale, but you need to be able to identify which ornaments and decorations are actually valuable so you don't pay too much. Just because an ornament is old with peeling paint or even made with blown glass doesn't mean it's rare or valuable. Here are some qualities of the more sought-after vintage Christmas ornaments.
Free-Blown
Vintage Glass Ornaments 
Martin calls free-blown glass ornaments a "holy grail" item for vintage Christmas collectors. Free blown decorations are quite rare because it takes a long time to make them. Most figural glass decorations and ornaments were blown into a mold.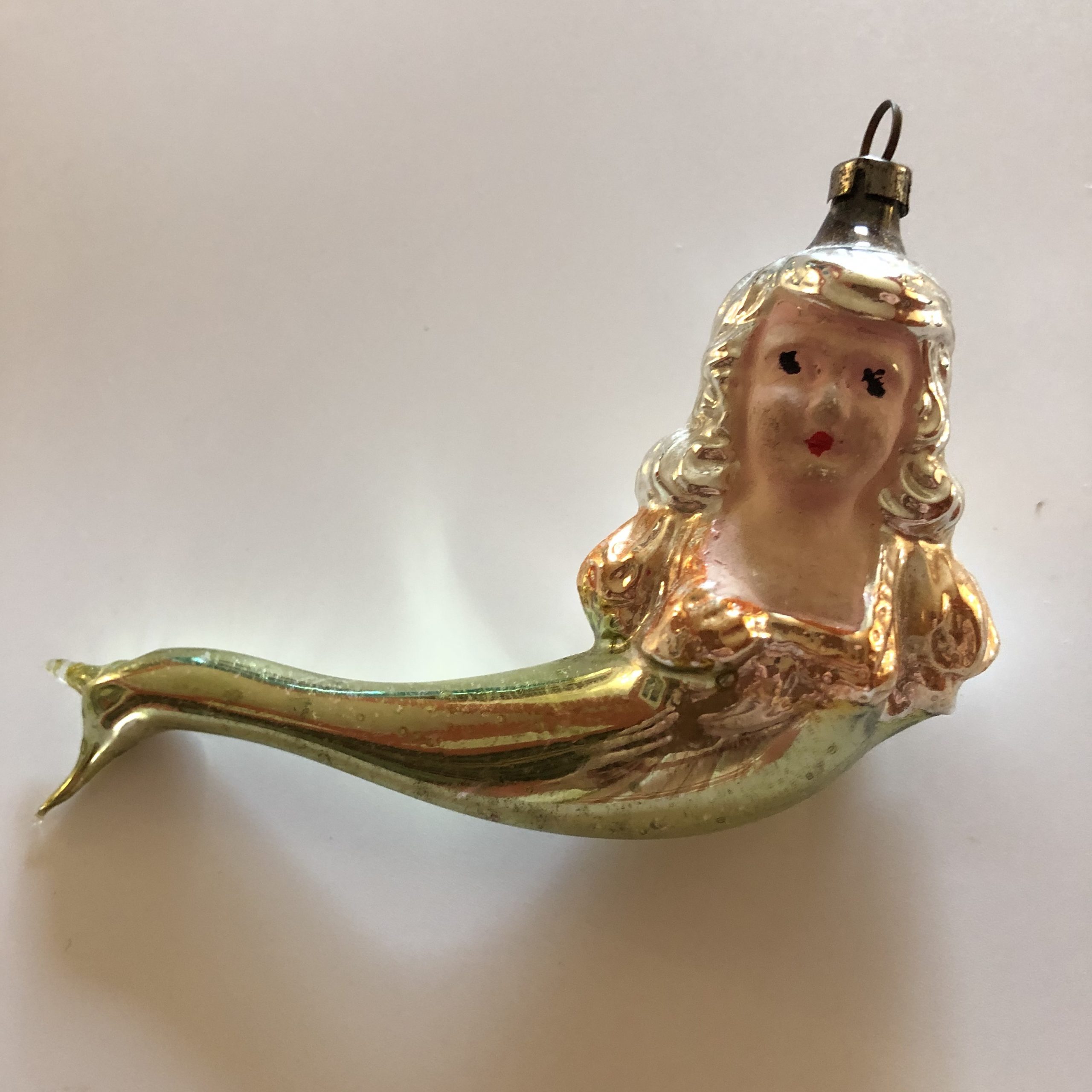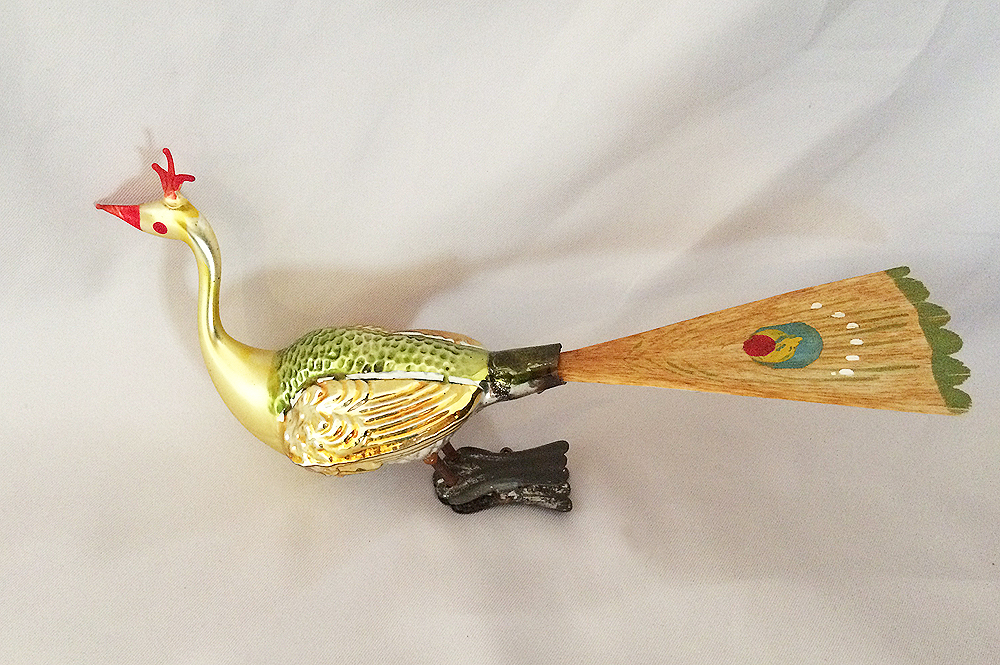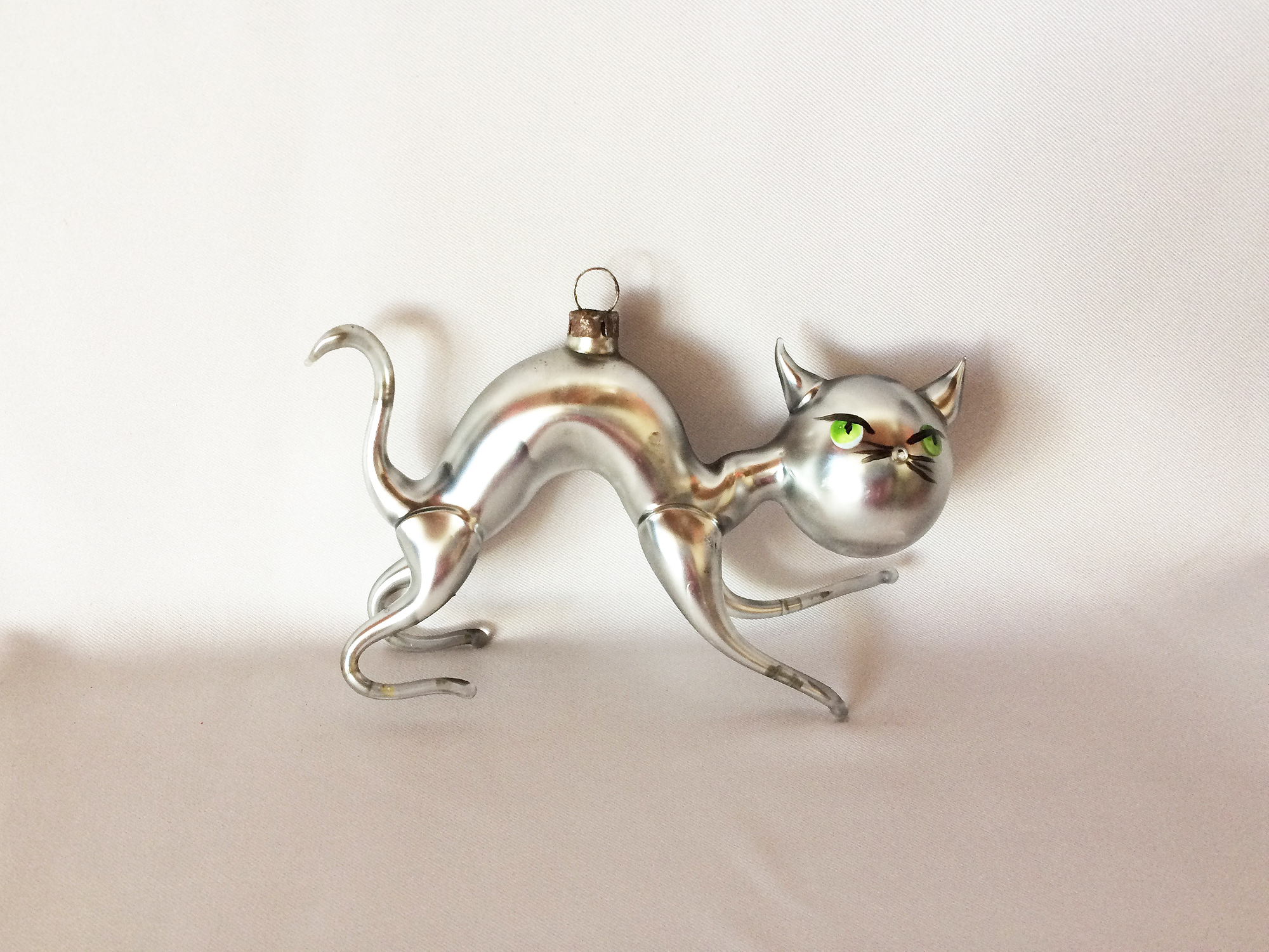 "The Germans made some free-blown ornaments in the 1930s to 1940s, but it was the Italians who mastered this process and made it their own," says Martin. "De Carlini is one of the most recognizable of the Italian free blown ornament makers."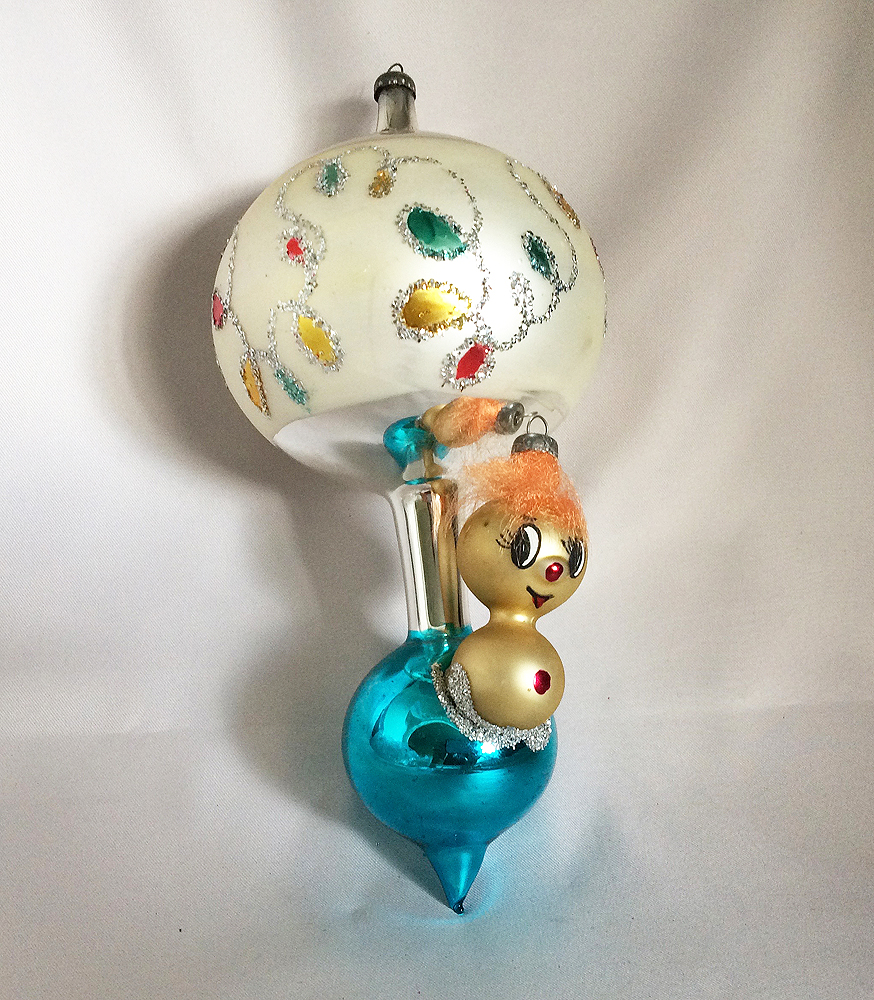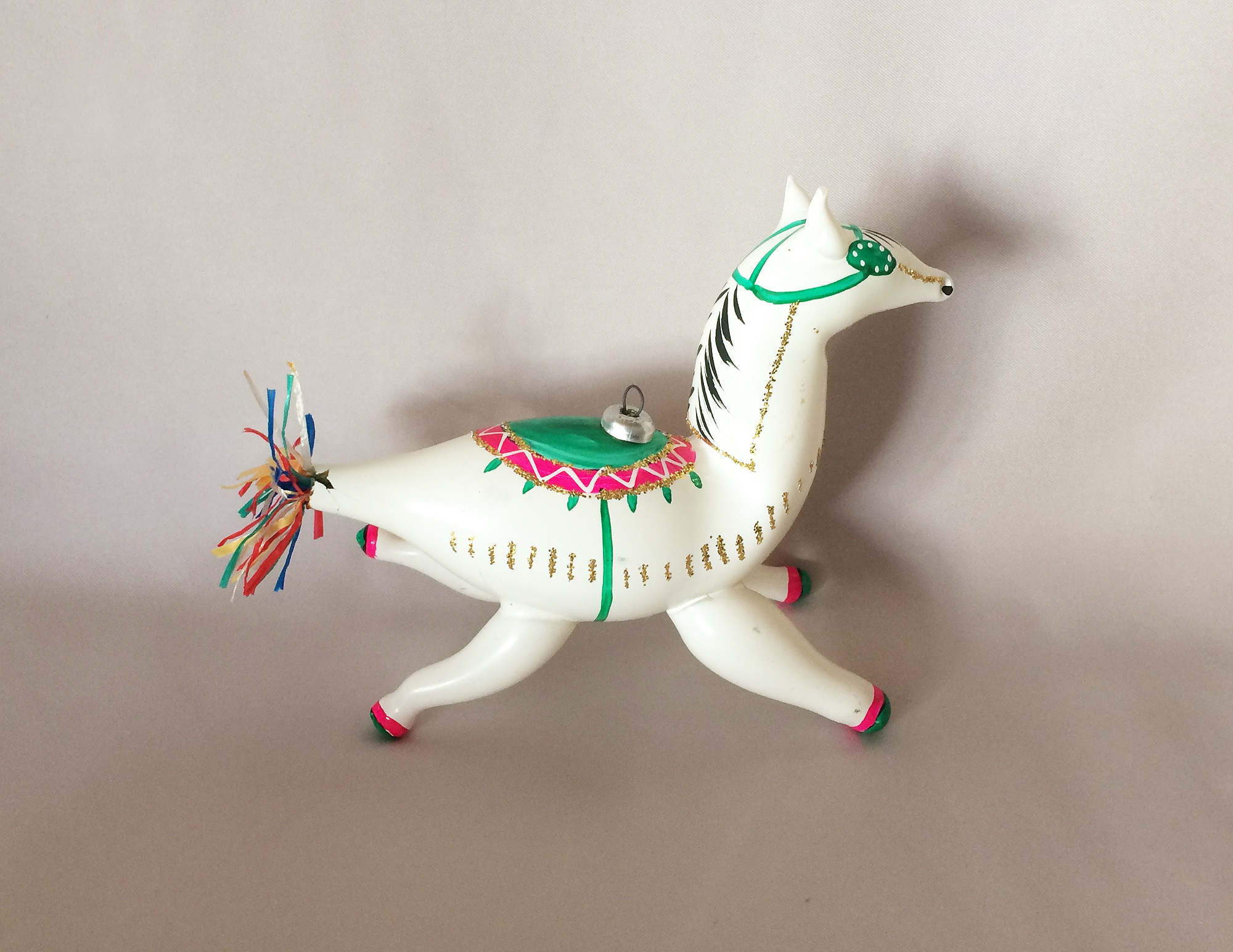 Two-Sided or Double-Embossed Glass Ornaments
Vintage glass Christmas ornaments featuring two sides or faces are quite special and hard to find.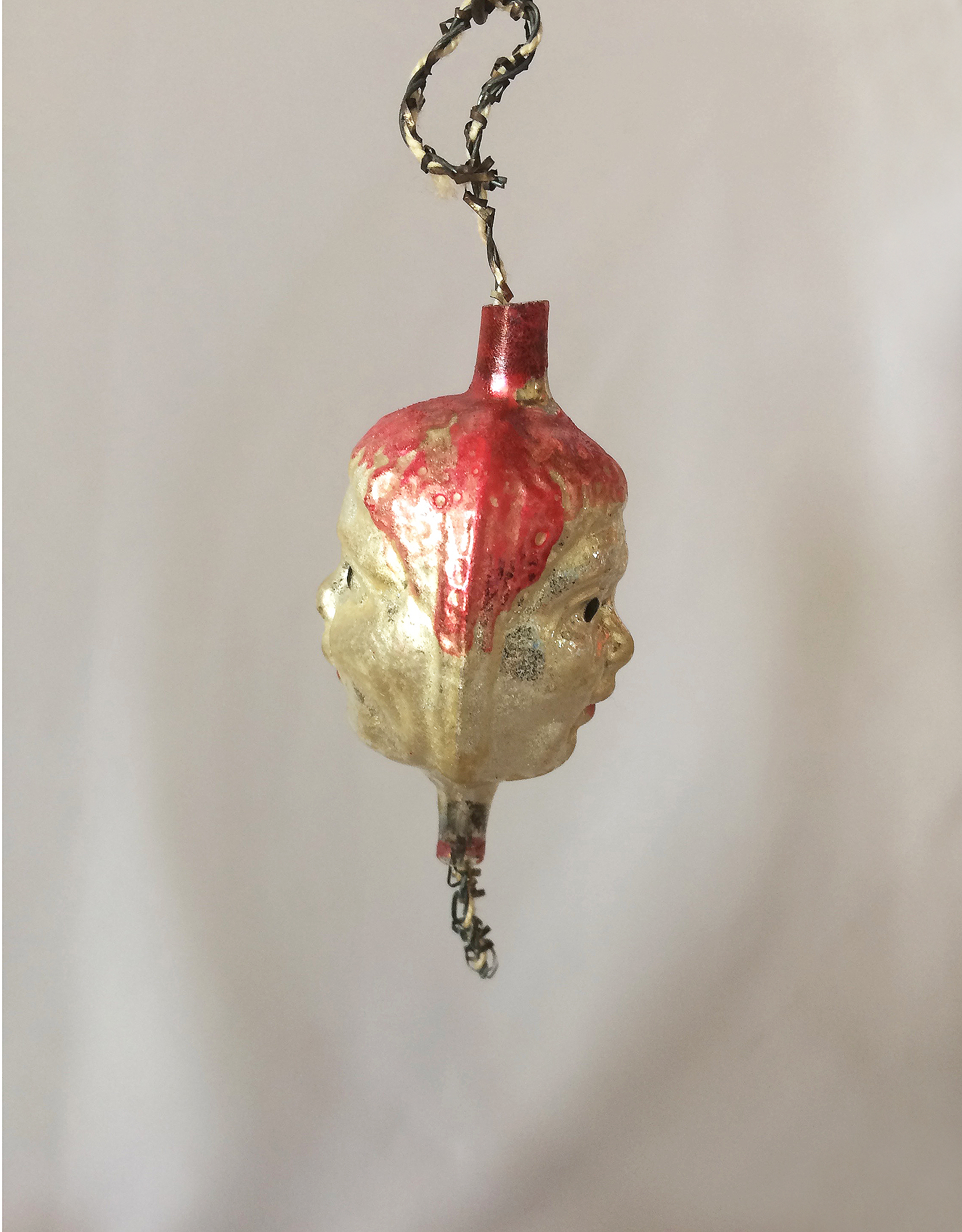 German Figural Glass Ornaments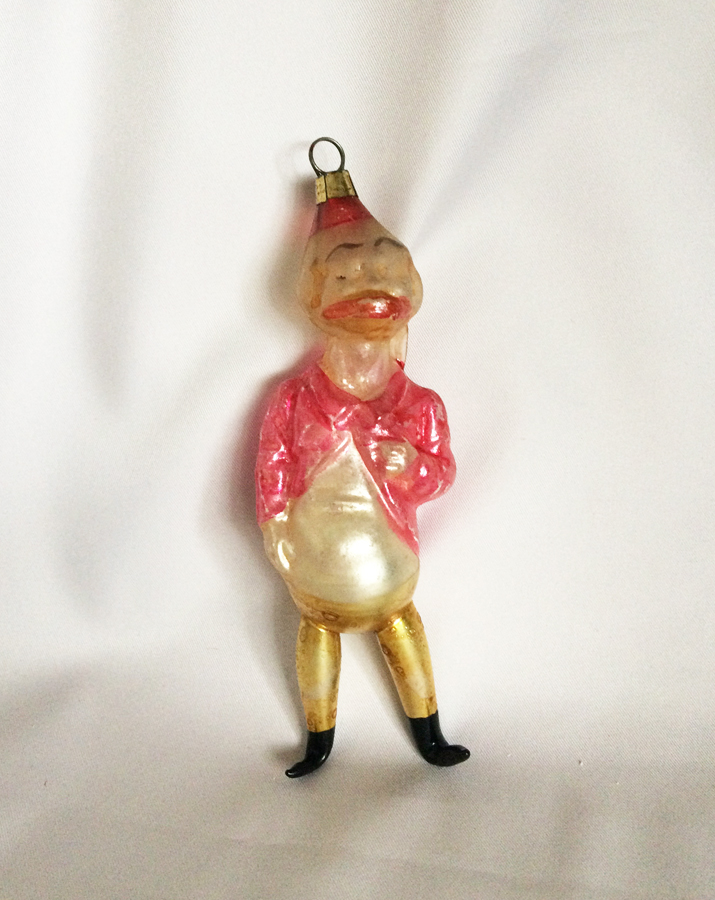 German character ornaments made in the Lauscha region north of Nuremberg became popular during Victorian times. "They were each hand-crafted and hand-finished with the extended legs, and sometimes arms, annealed to the mold-blown glass body," says Martin. "These antique extended leg German ornaments are becoming quite rare and desirable. " 
Vintage Christmas Decorations
There is an entire world of festive decorations beyond the tree. Ornaments are just one facet of the vintage Christmas decorating world. Here are some other ideas for completing your vintage Christmas interiors. 
Vintage Antique Tree Garlands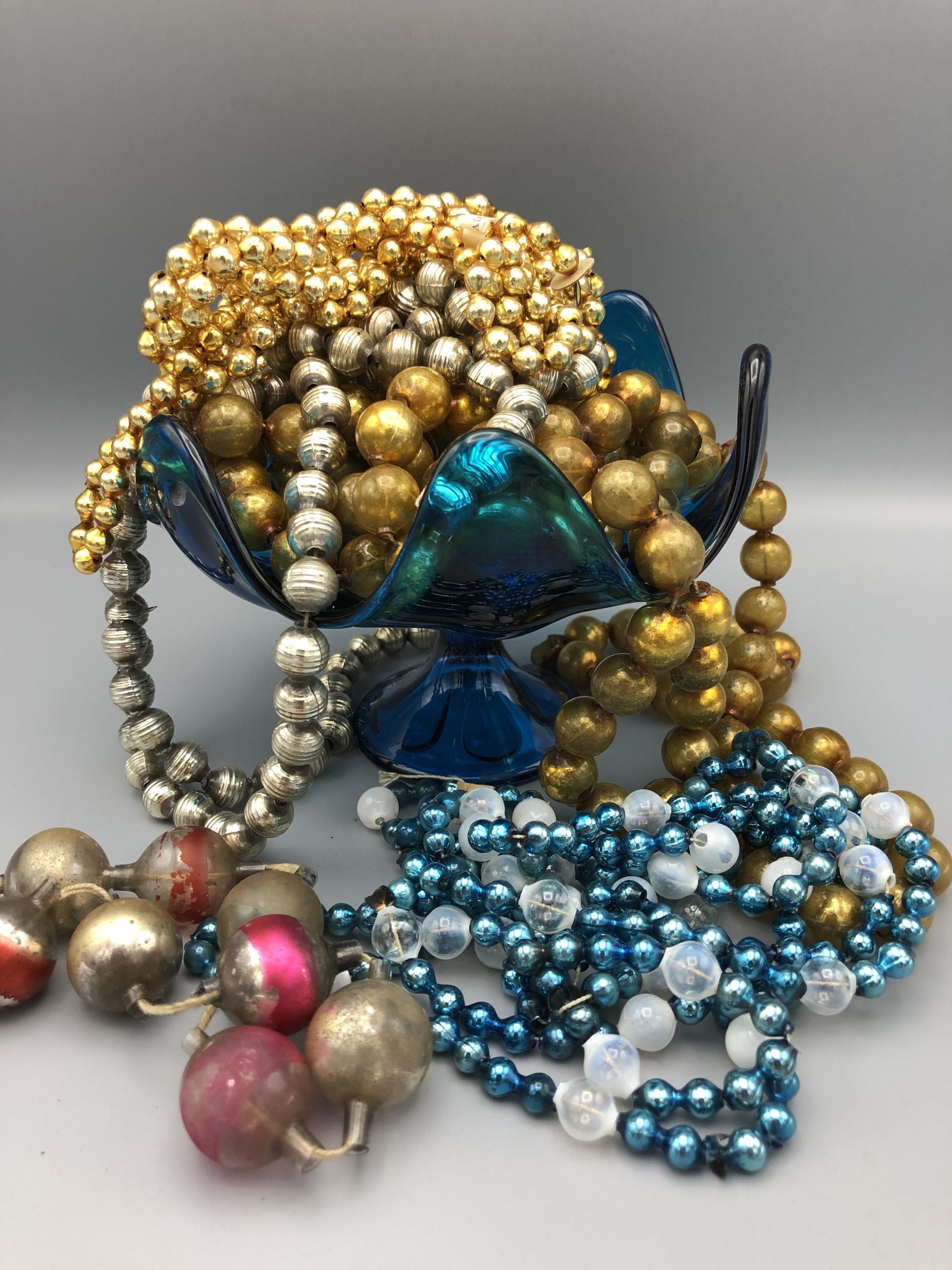 Early tree garlands were hand-crafted and hand-strung, just like the nostalgic tradition of popcorn garlands. Garlands made of German mercury glass are some of the finest and most high-quality tree garlands of the past.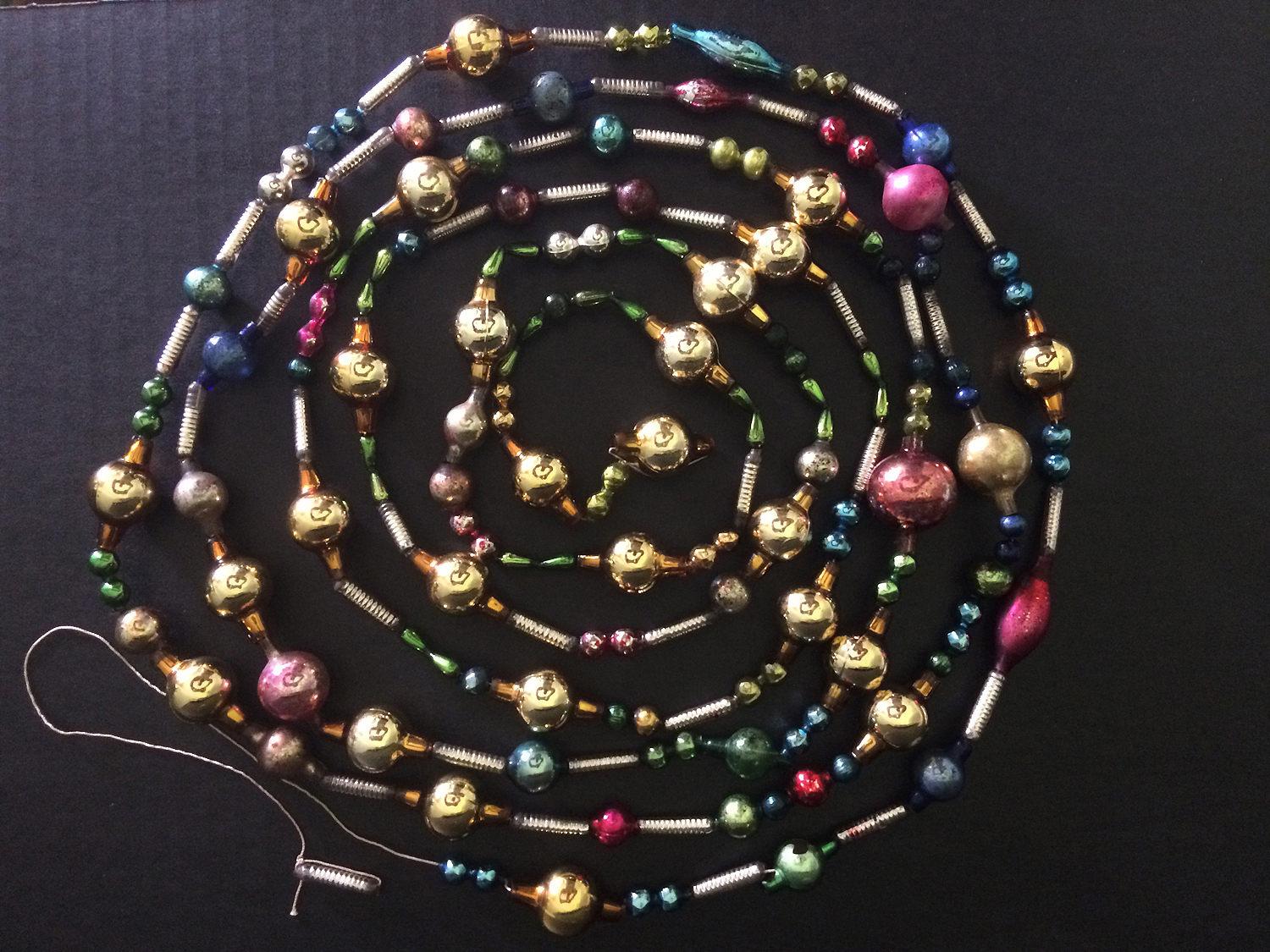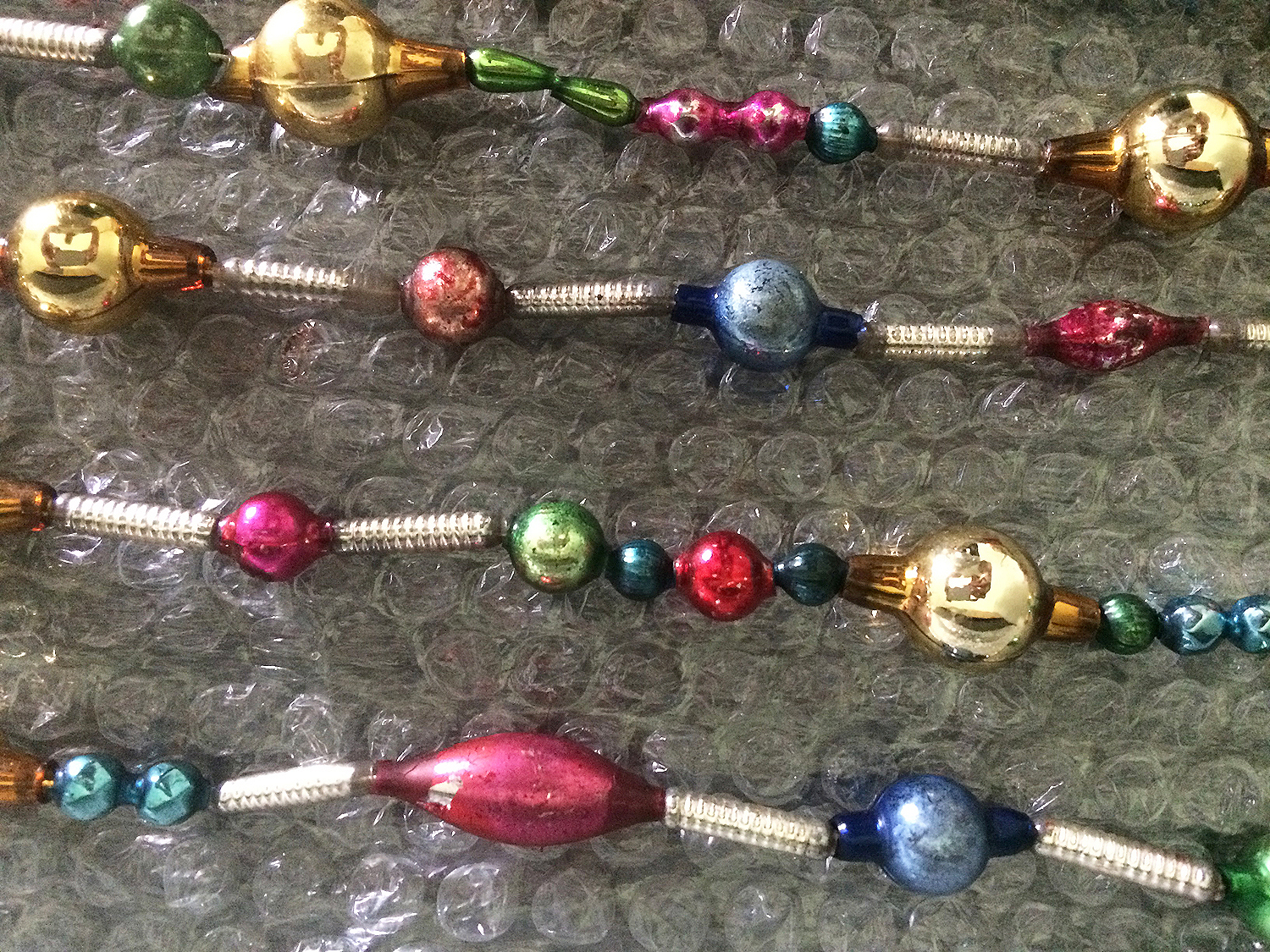 In the 1930s, Japan began to compete with the Germans in the Christmas decorations market, so there are some beautiful antique tree garlands from Japan.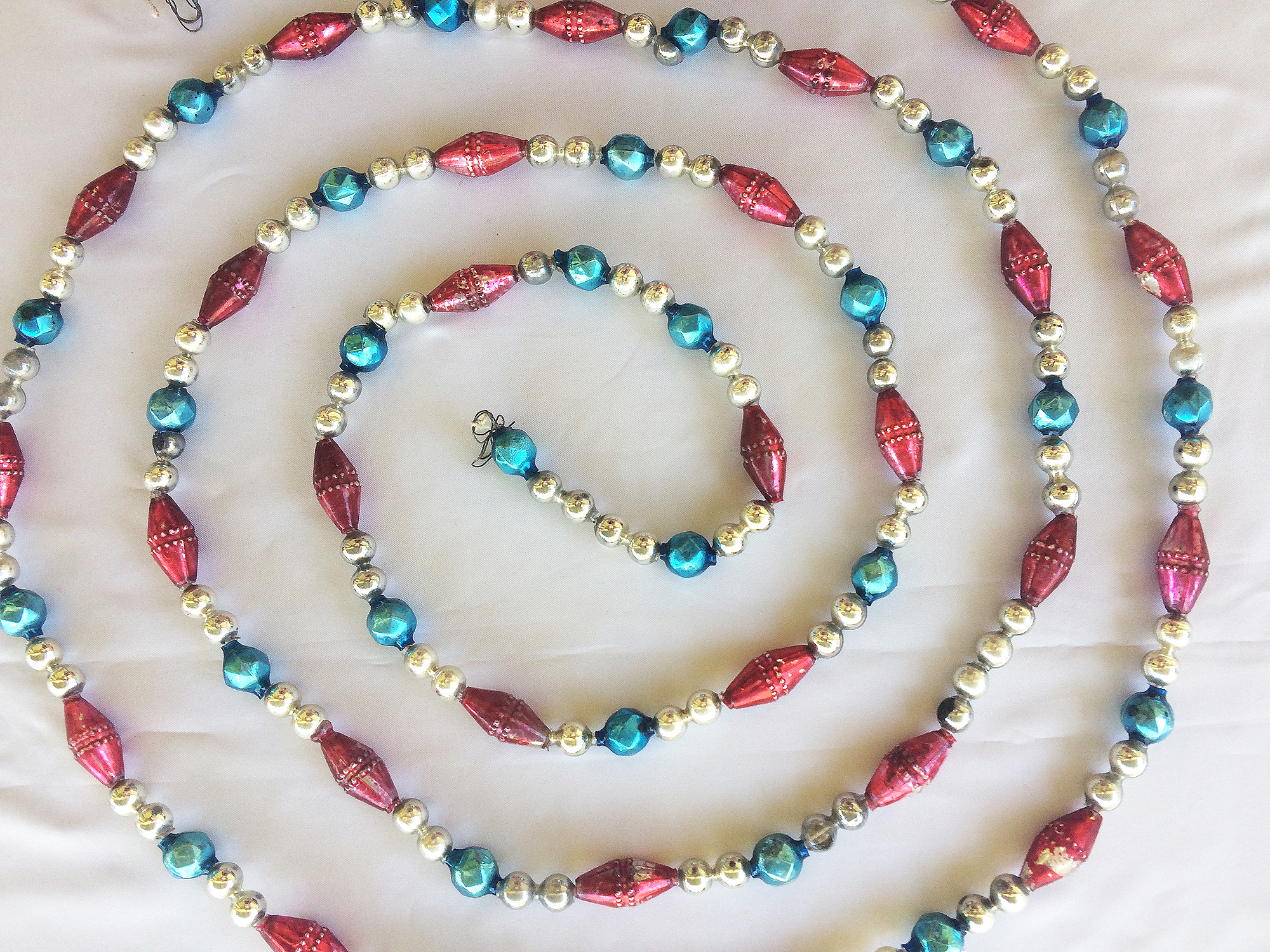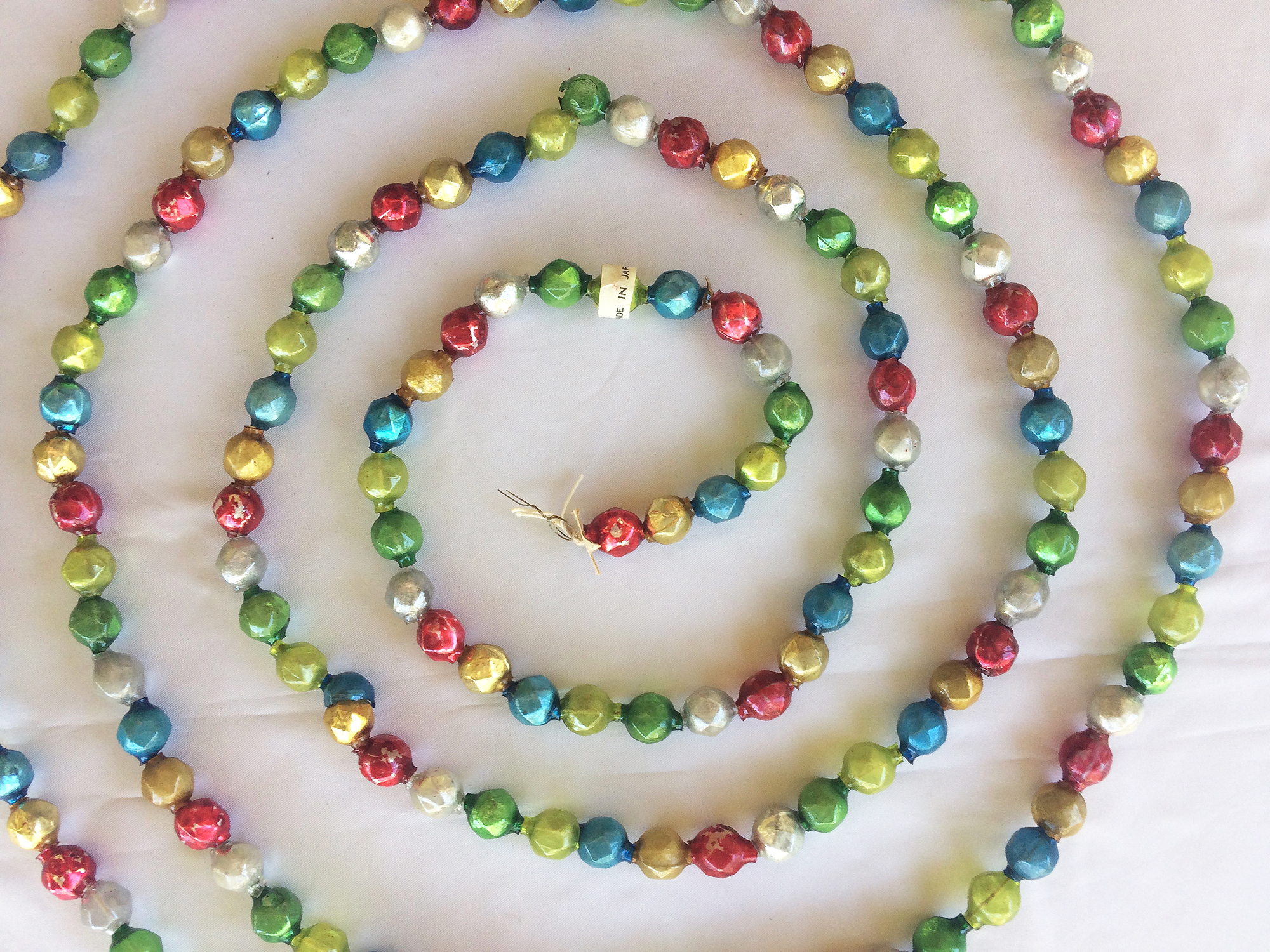 Of course, Americans made tree garlands in the early 1900s too. Cellophane was a popular material in these early American decorations. As it ages, silver tinsel oxidizes and takes on a golden sheen, which can be a sought-after decorating item.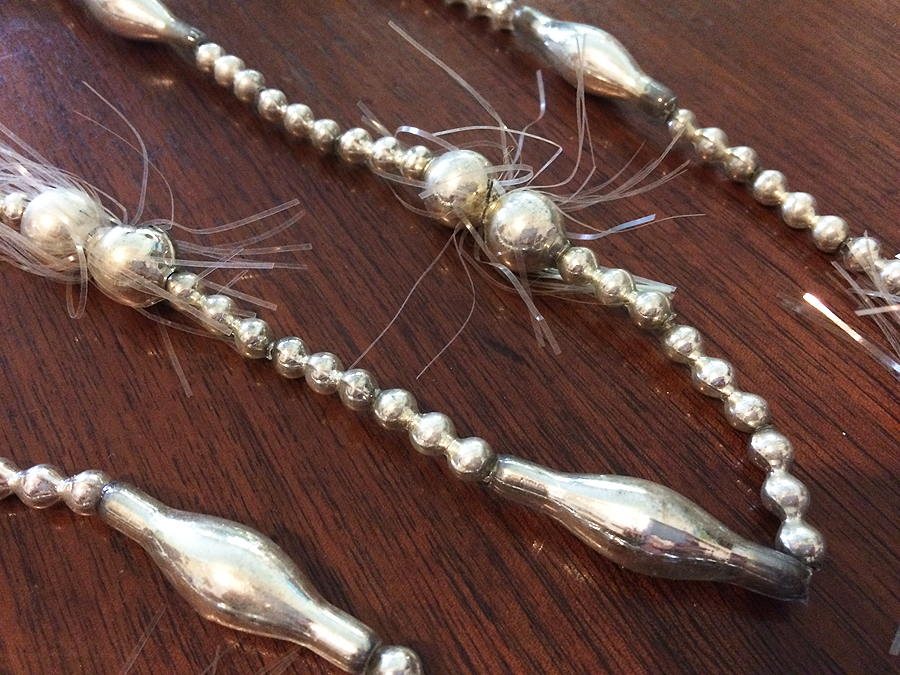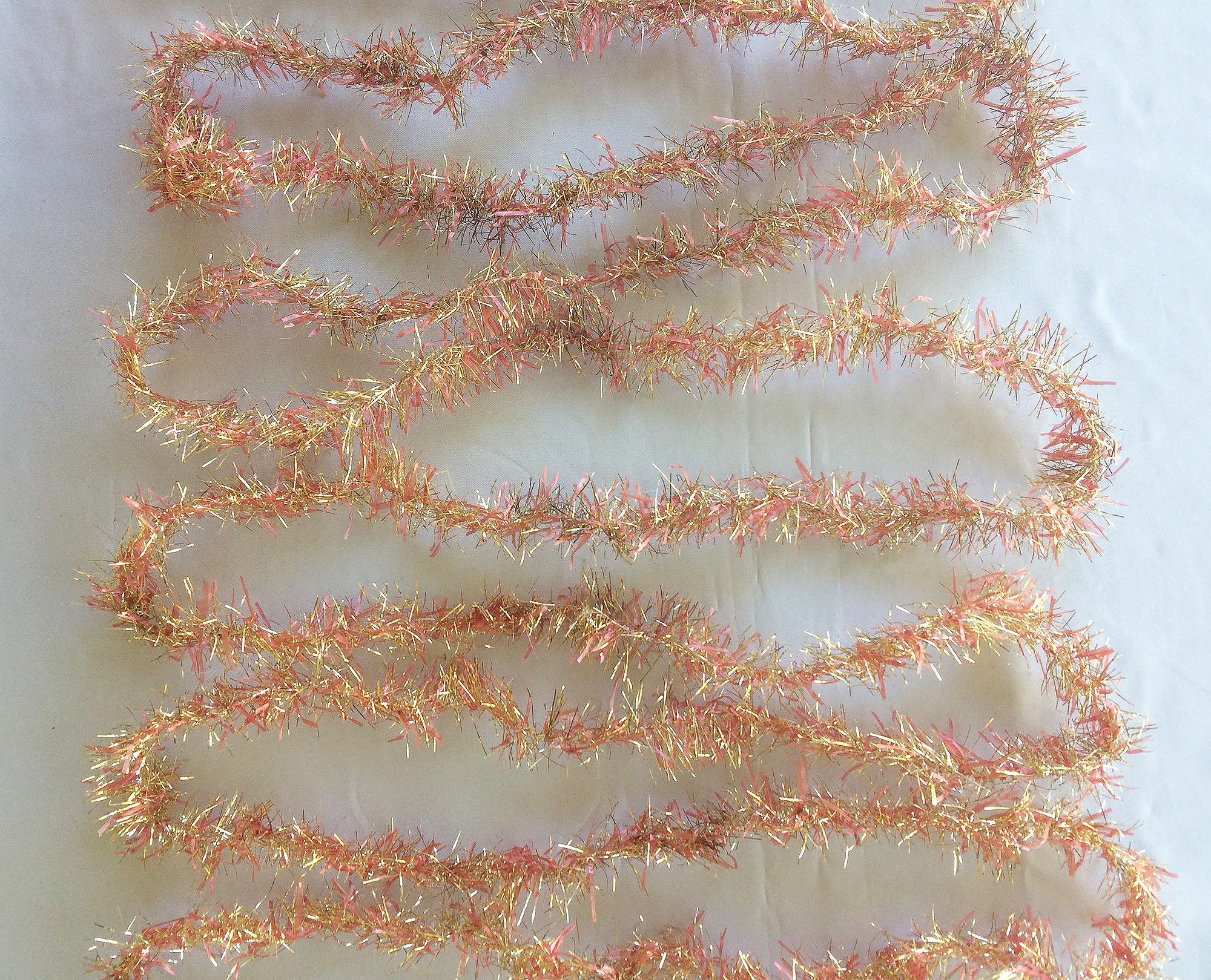 Vintage Christmas Stockings
Christmas stockings are an age-old tradition and can be used for decoration as well as filling with gifts. Stockings printed with Santa are often popular collectibles. "My personal favorites are the printed flannel and felt stockings from the 1940s and 50s," says Martin.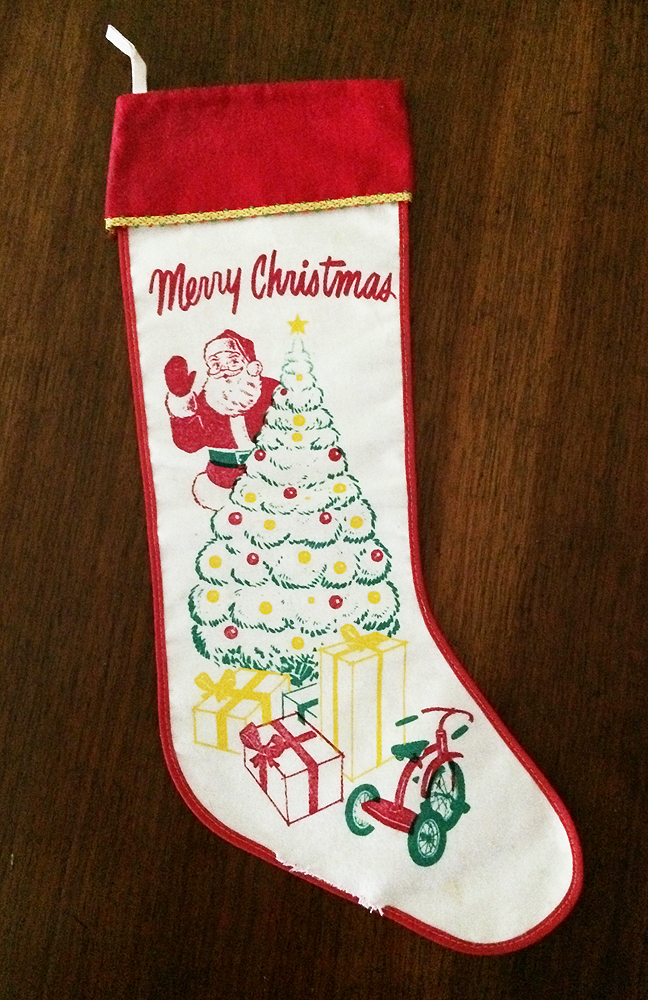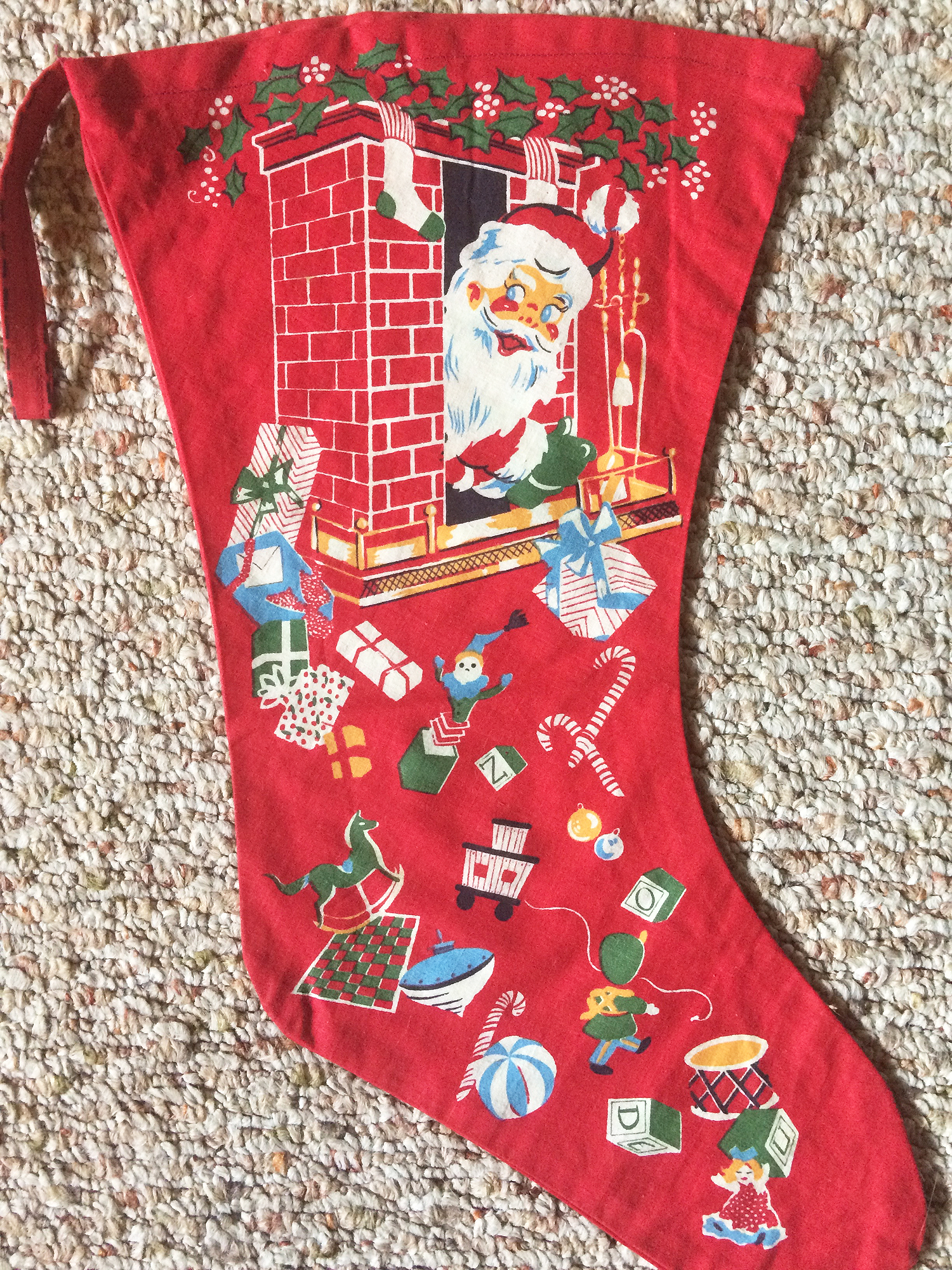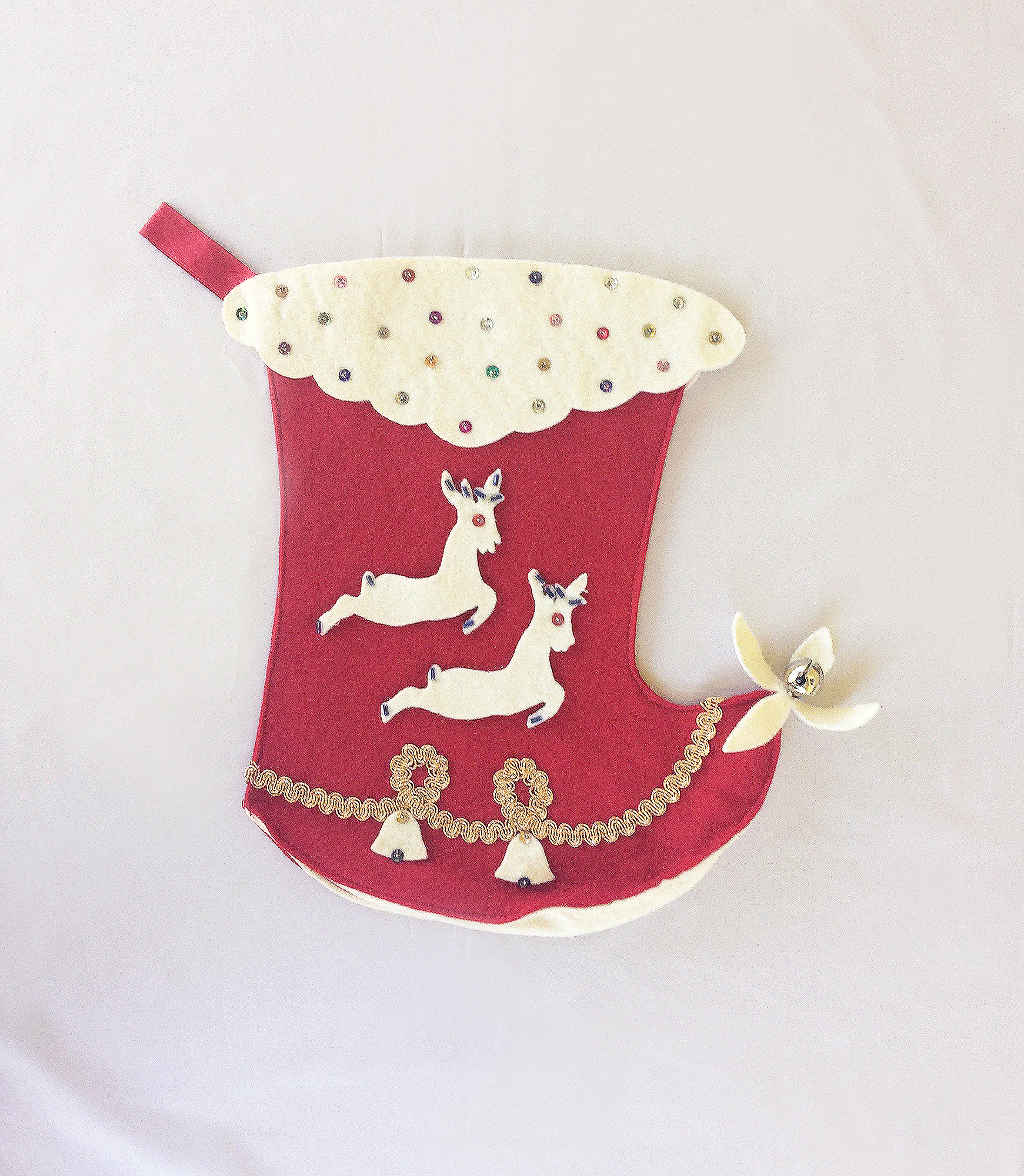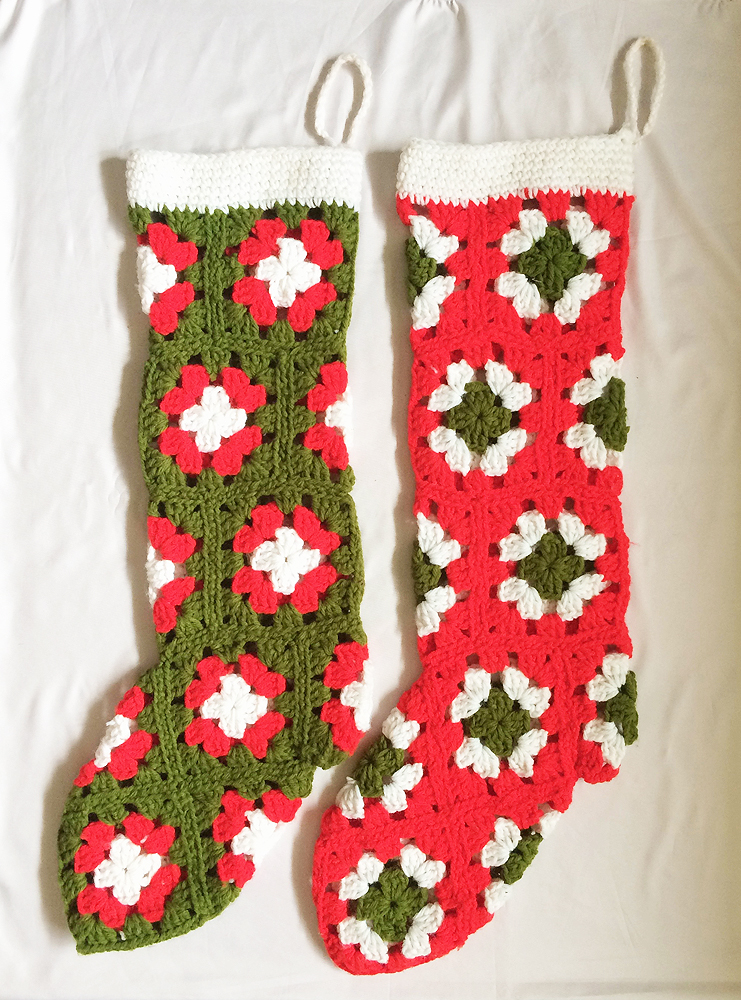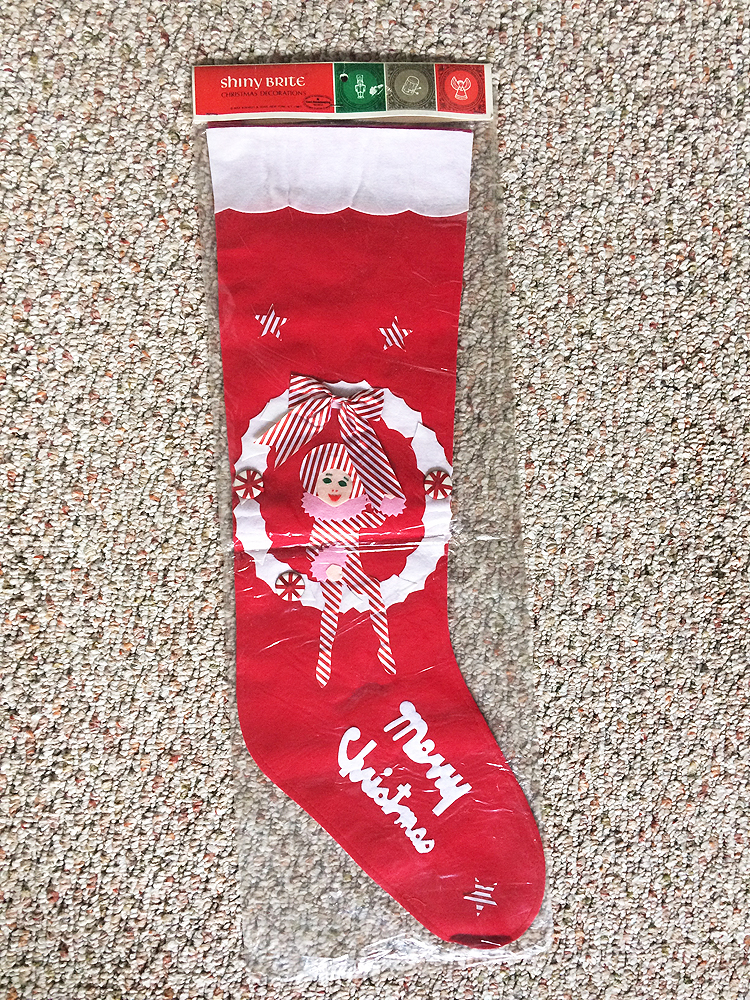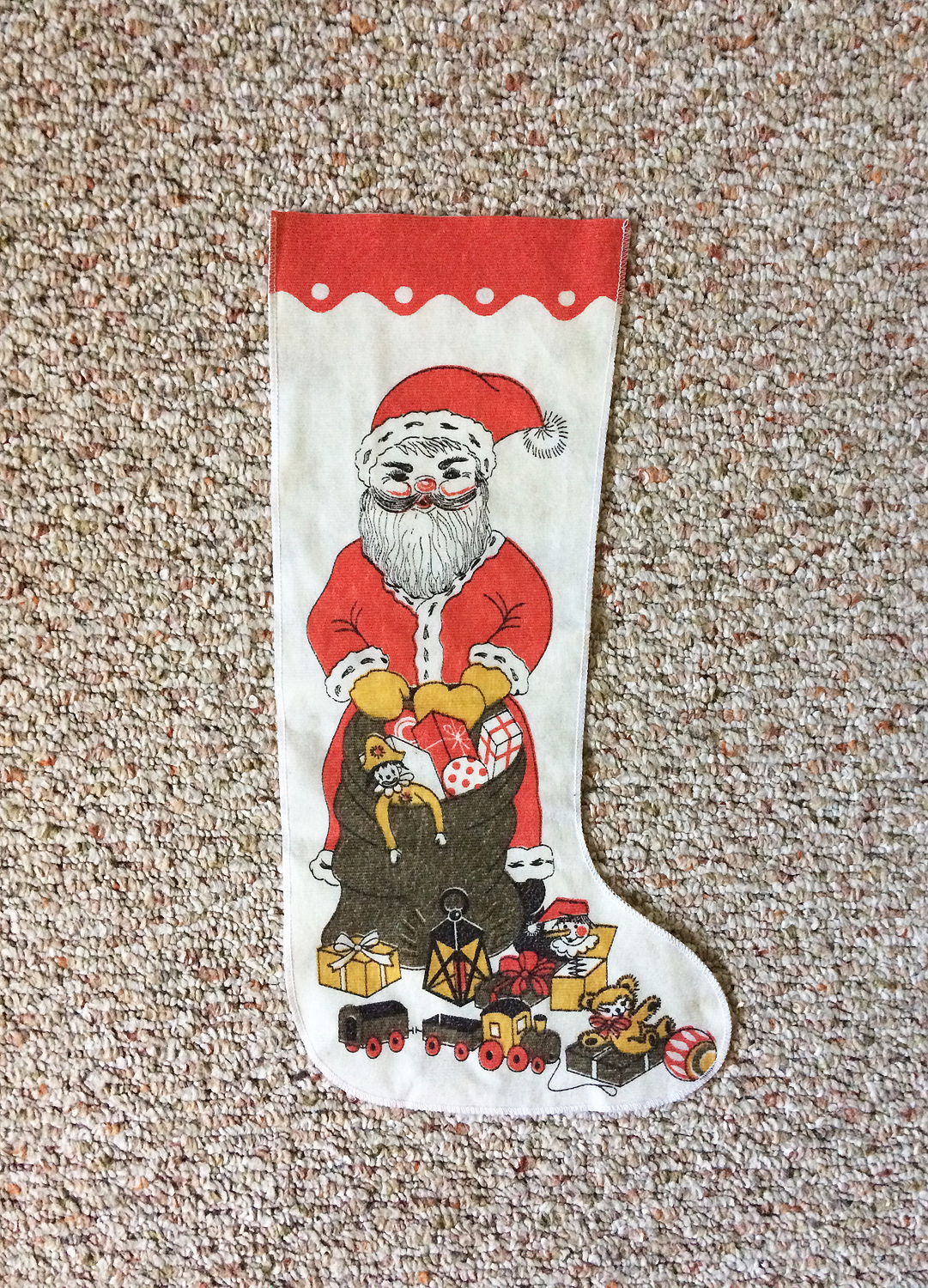 Vintage Pixies and Elves 
Small Christmas pixies and elves are a huge collectible genre. These little figurines come in countless styles and designs.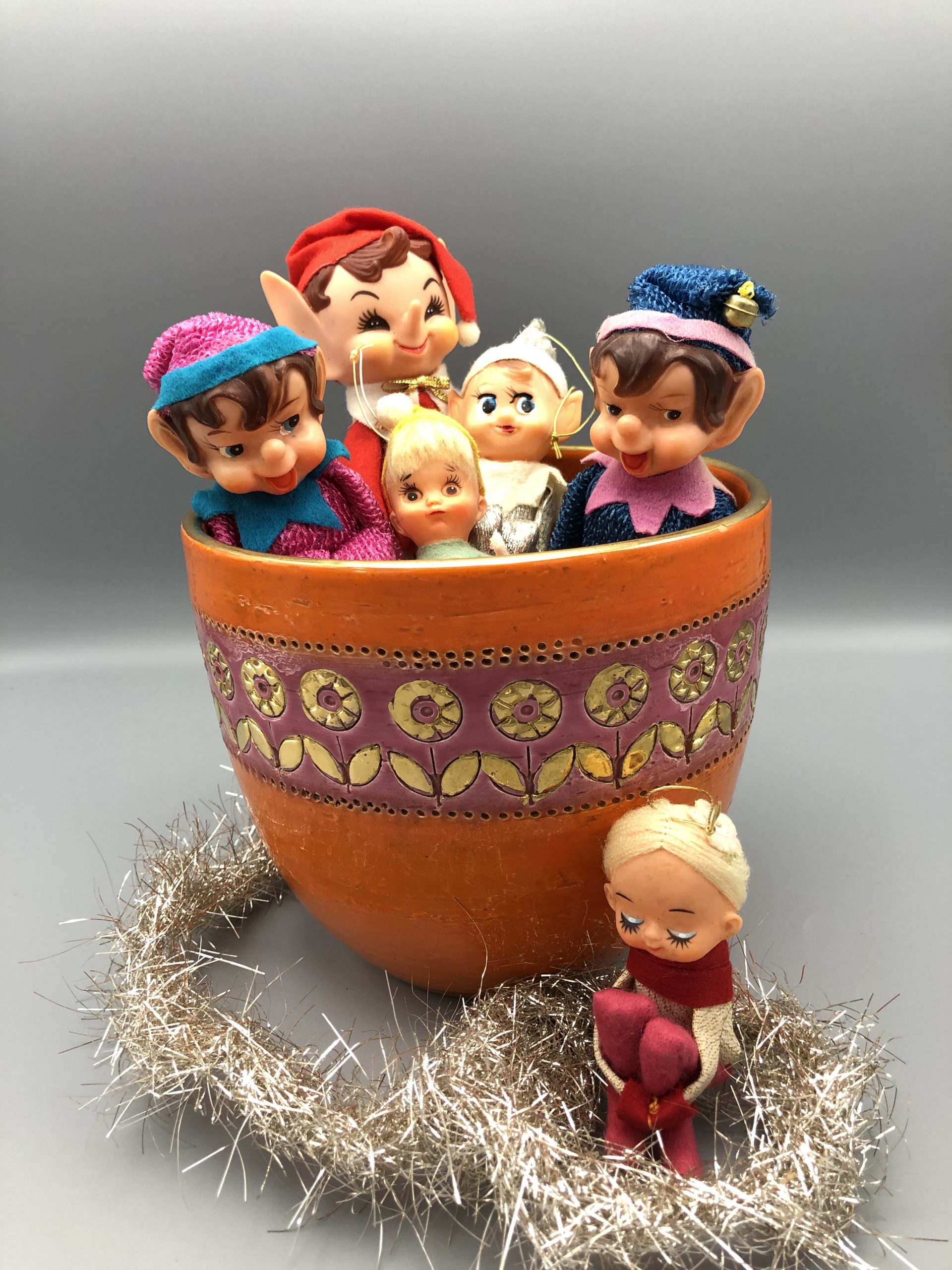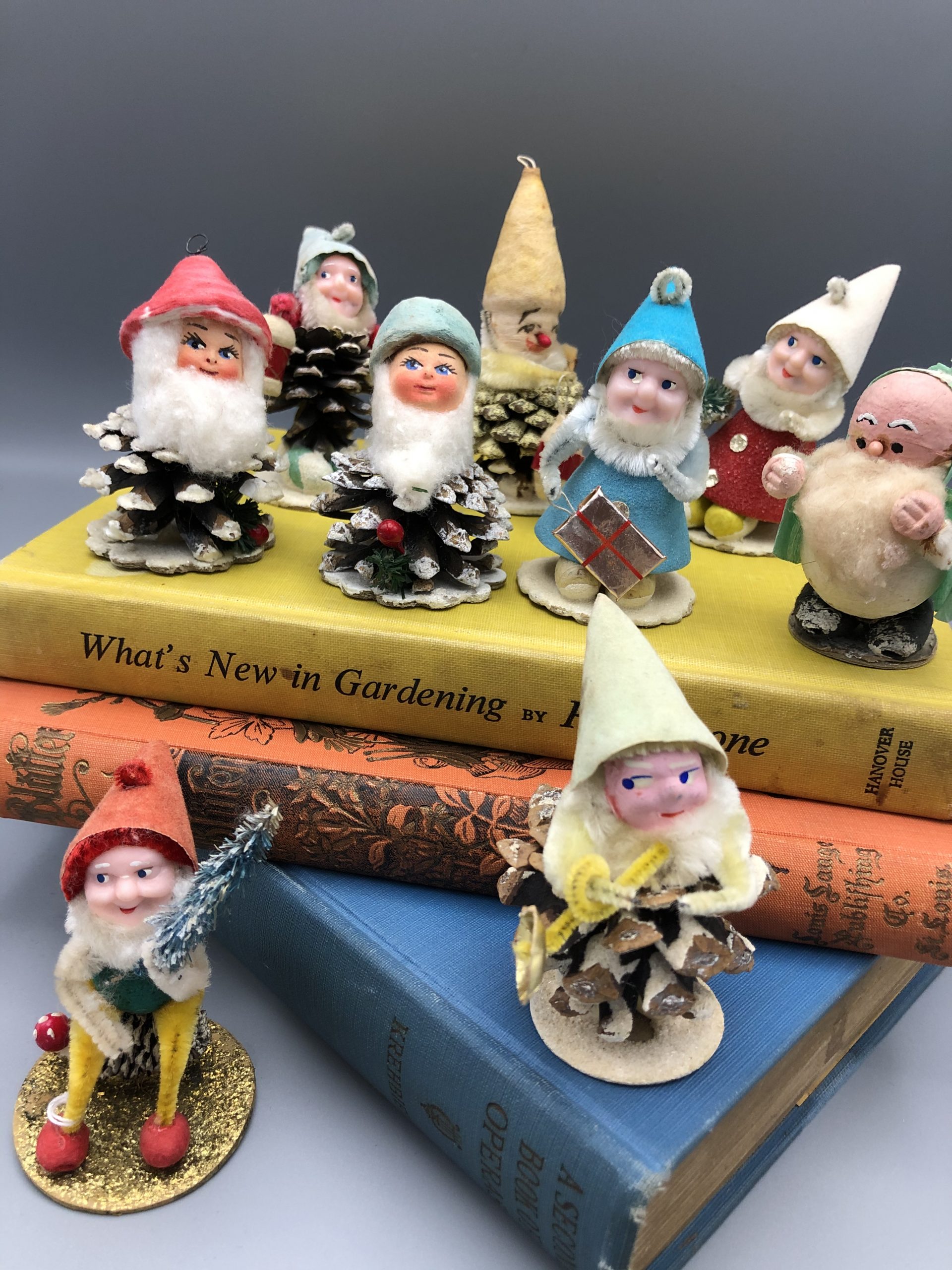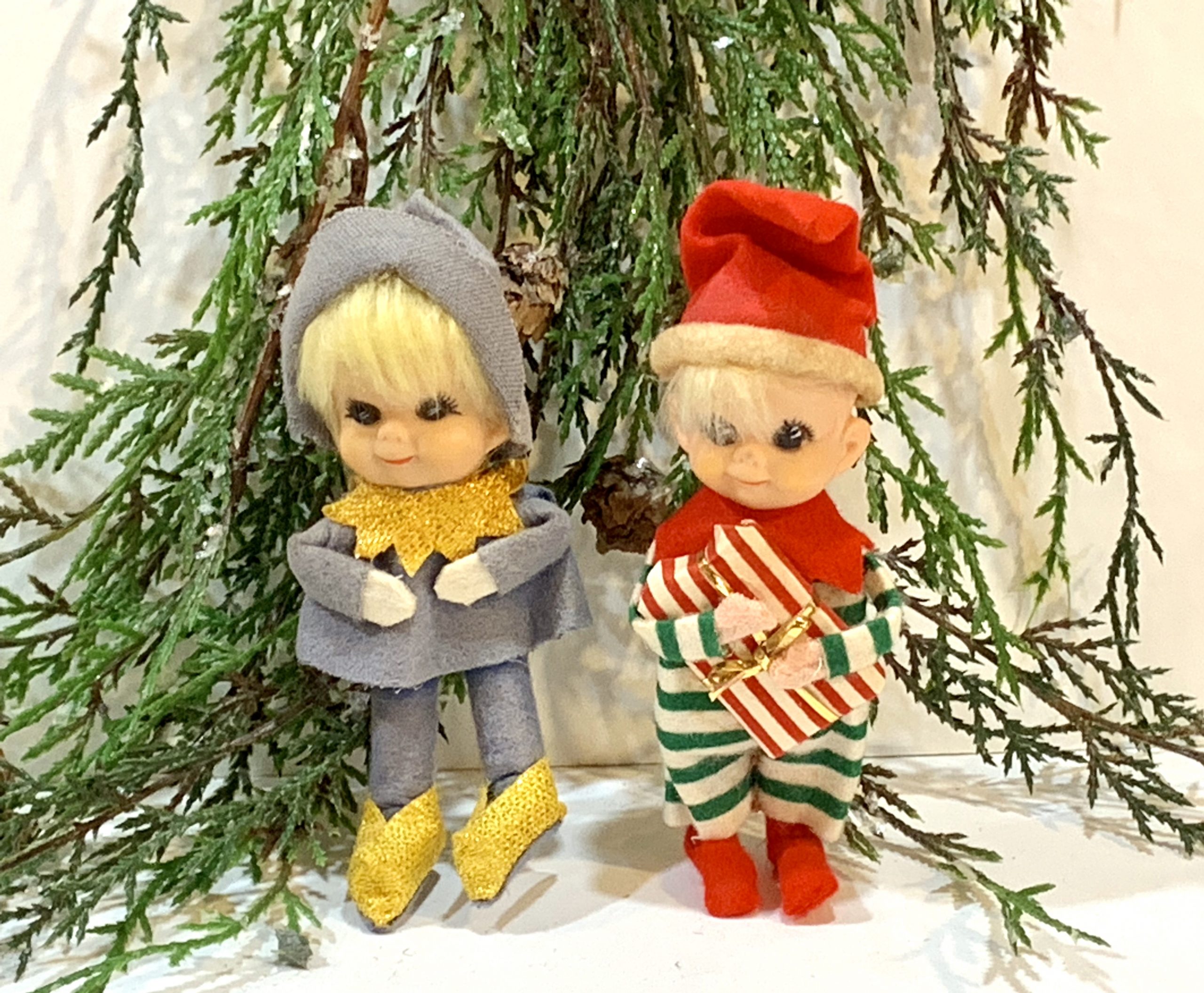 Vintage Angels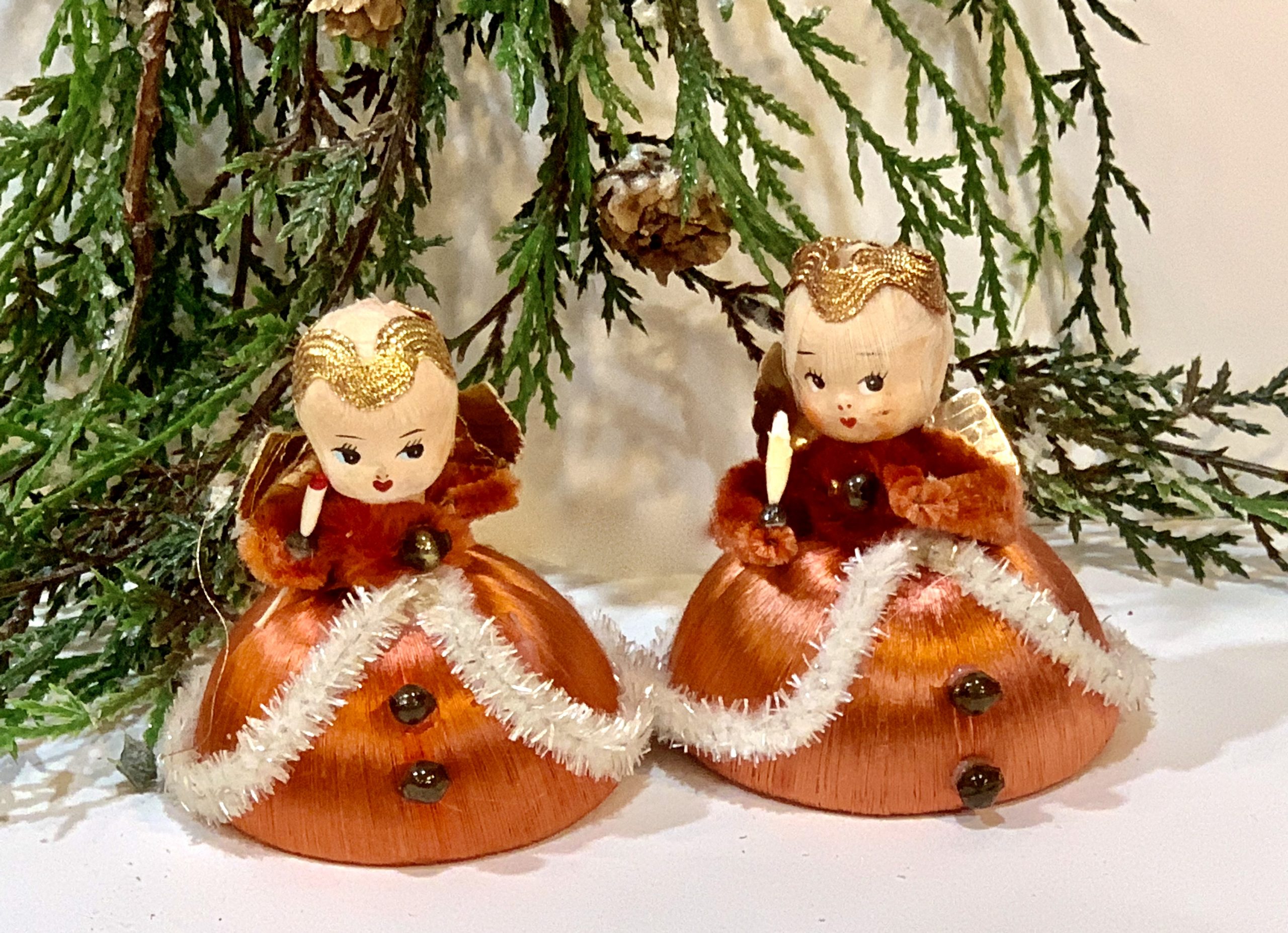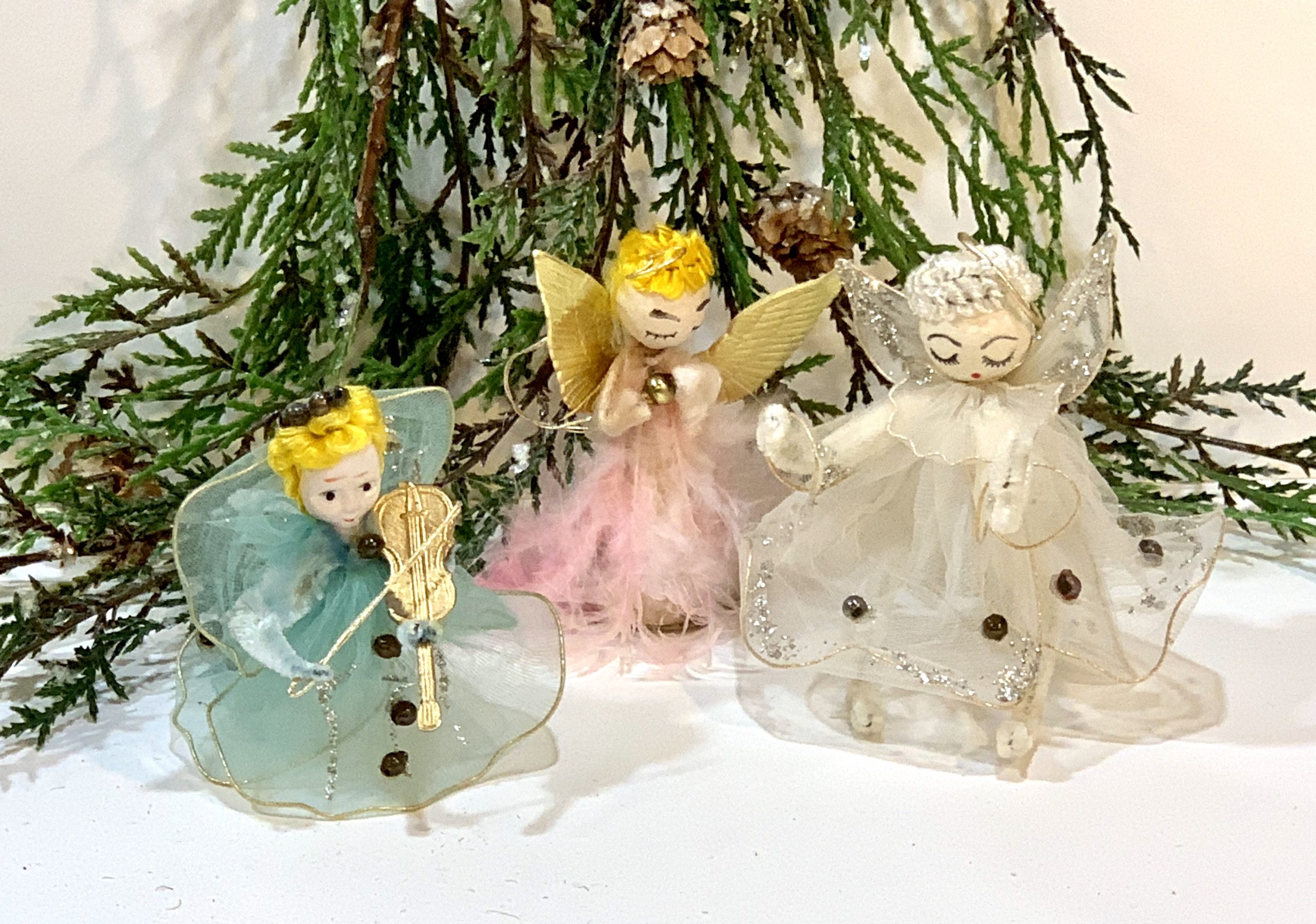 Vintage Christmas Tree Toppers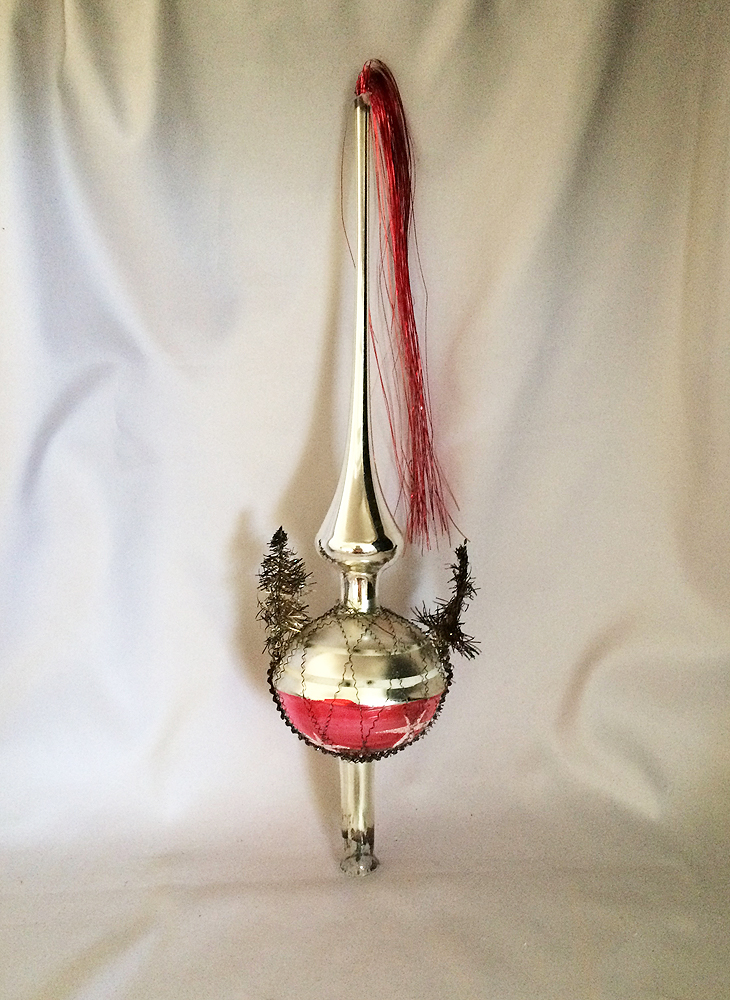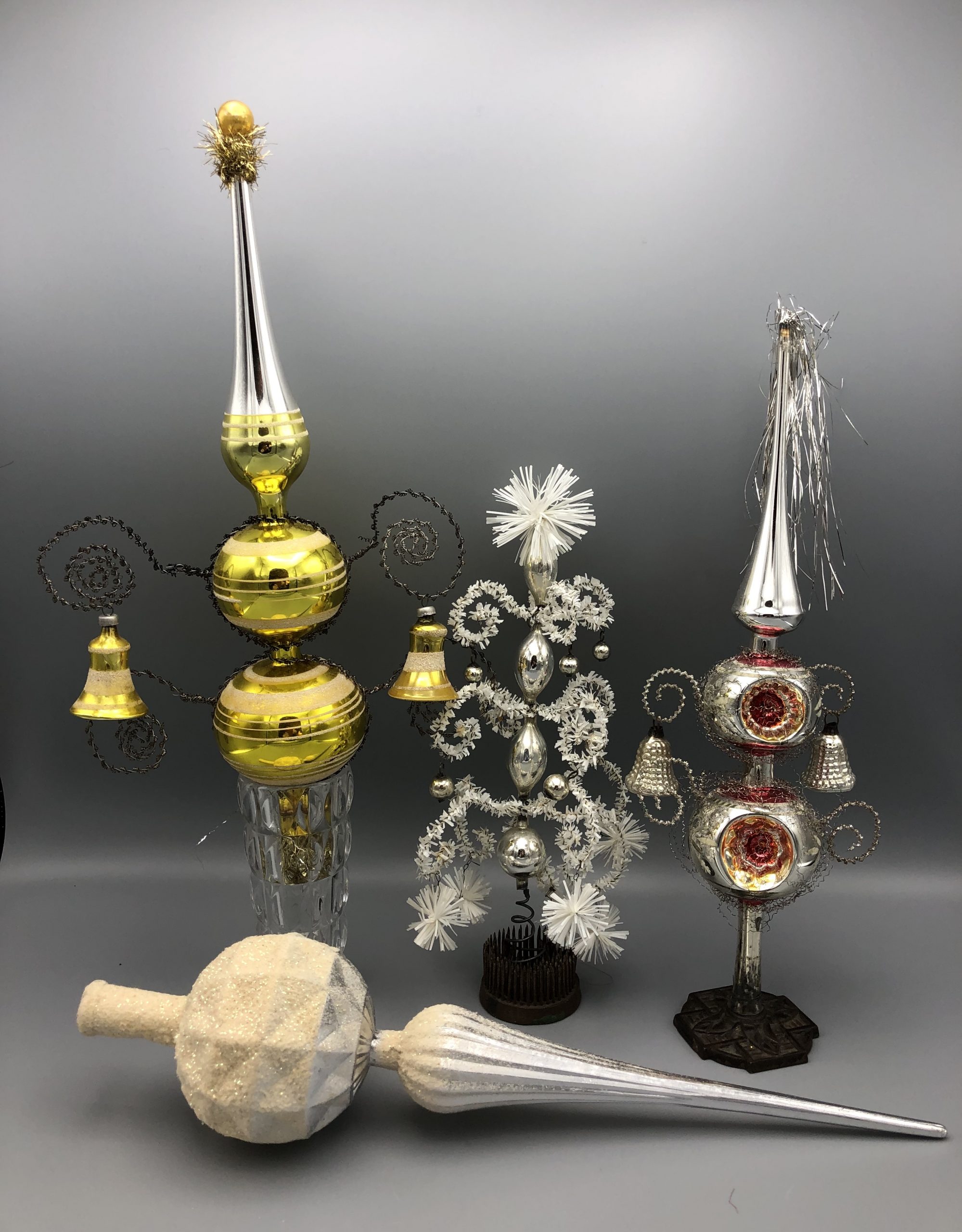 Vintage Deer and Reindeer
Christmas-themed deer and reindeer figurines are another highly sought-after collectible item.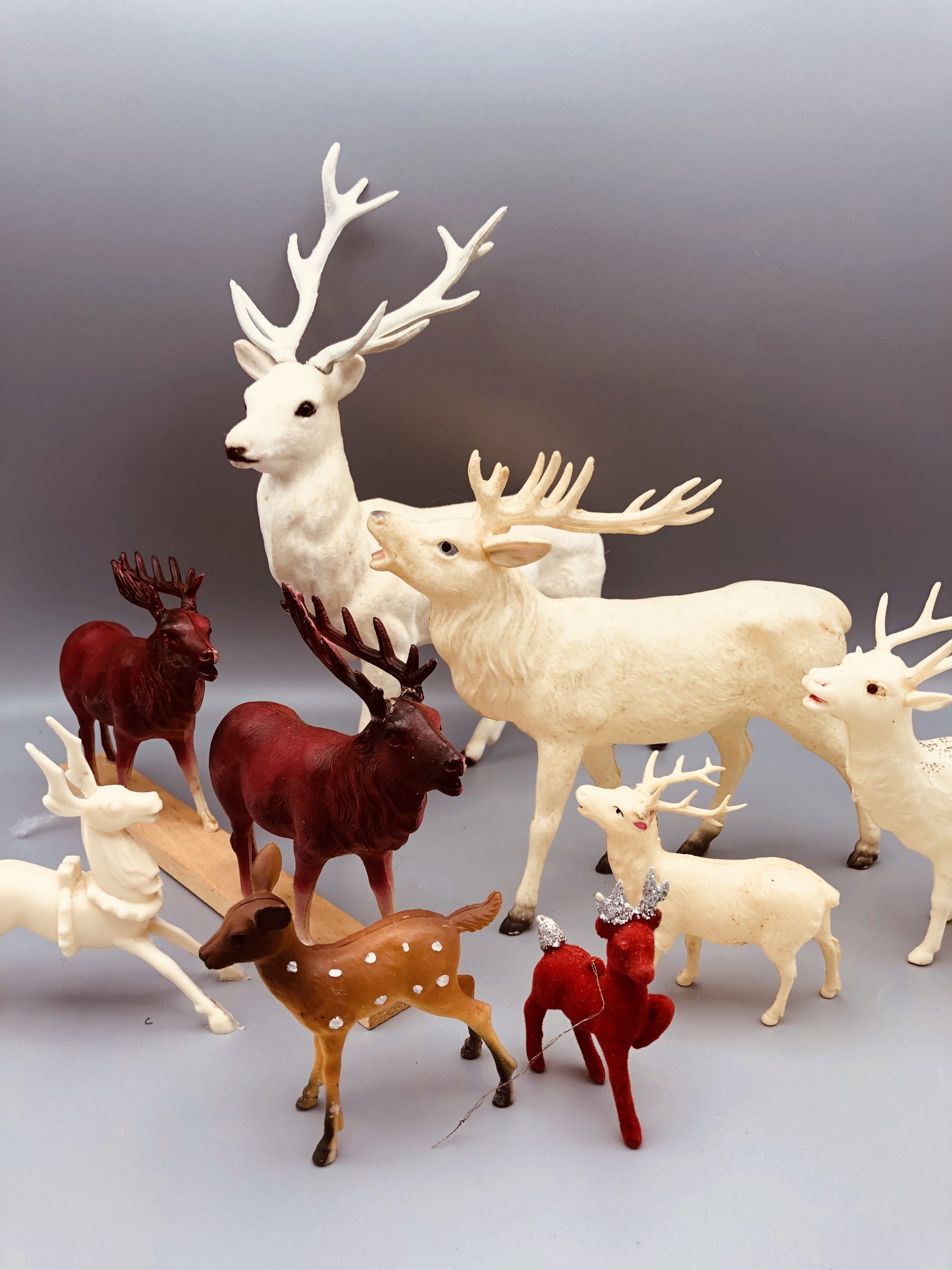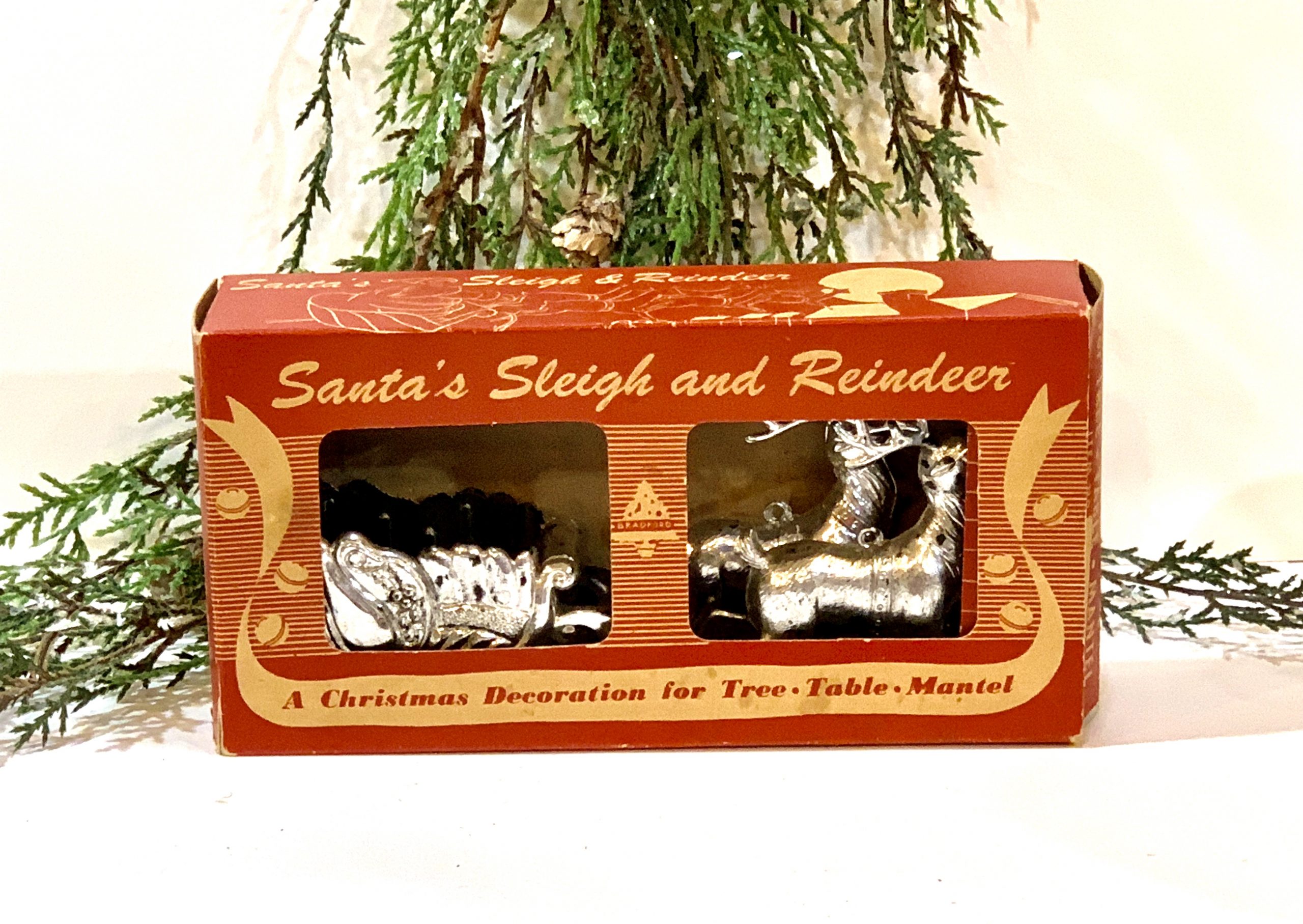 Putz House Christmas Decorations
Cardboard Putz houses and figurines can be arranged into little villages. Loosely related to the Nativity scenes that are still popular, "Putz" comes from the German word for "to put." Christmas decorators love to play around with how to "put" their Putz houses!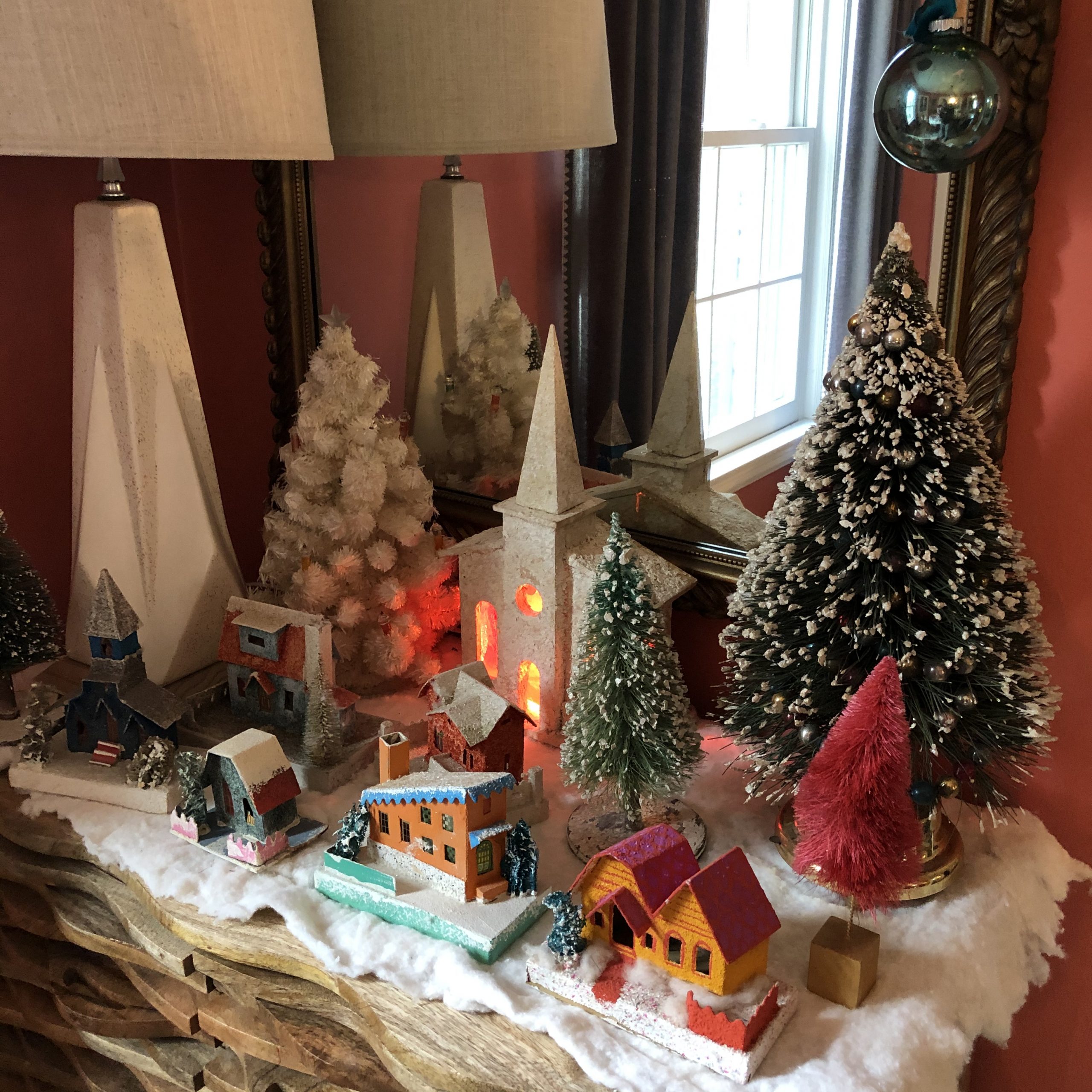 Vintage Santa Figurines
The big guy comes in all shapes, sizes and materials from all eras. People always love to see Santa in their homes during Christmas!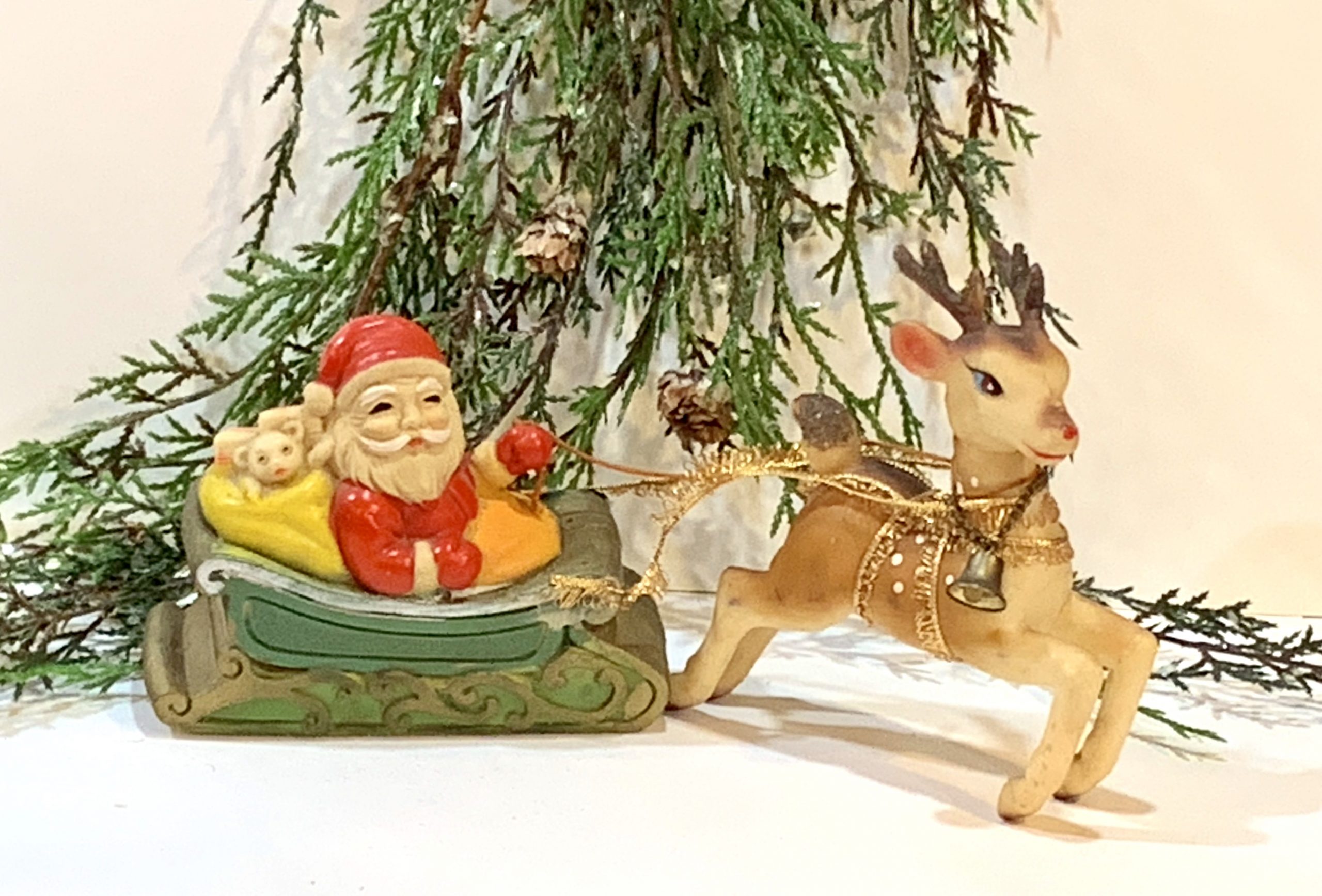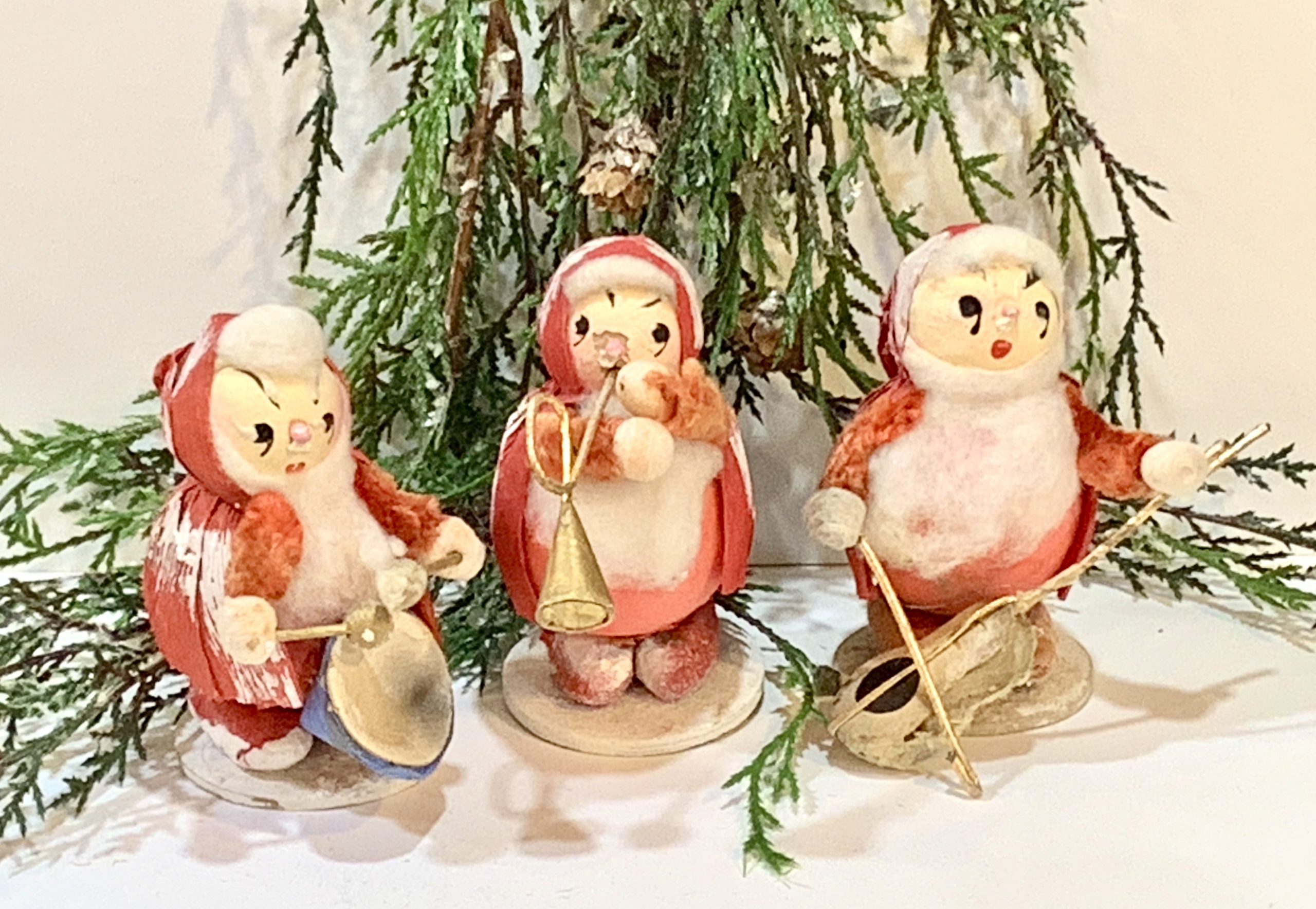 Bottle Brush and Ceramic Christmas Trees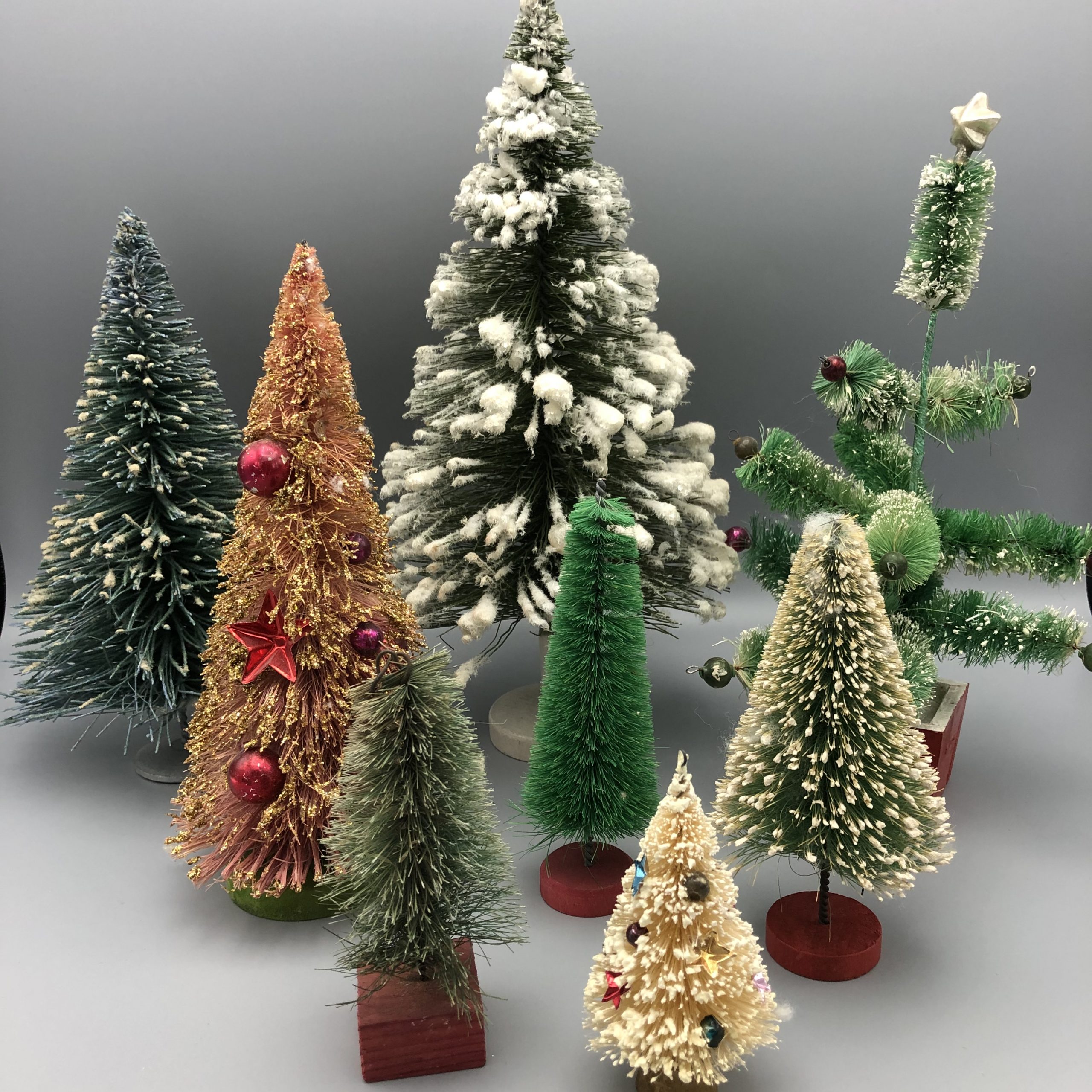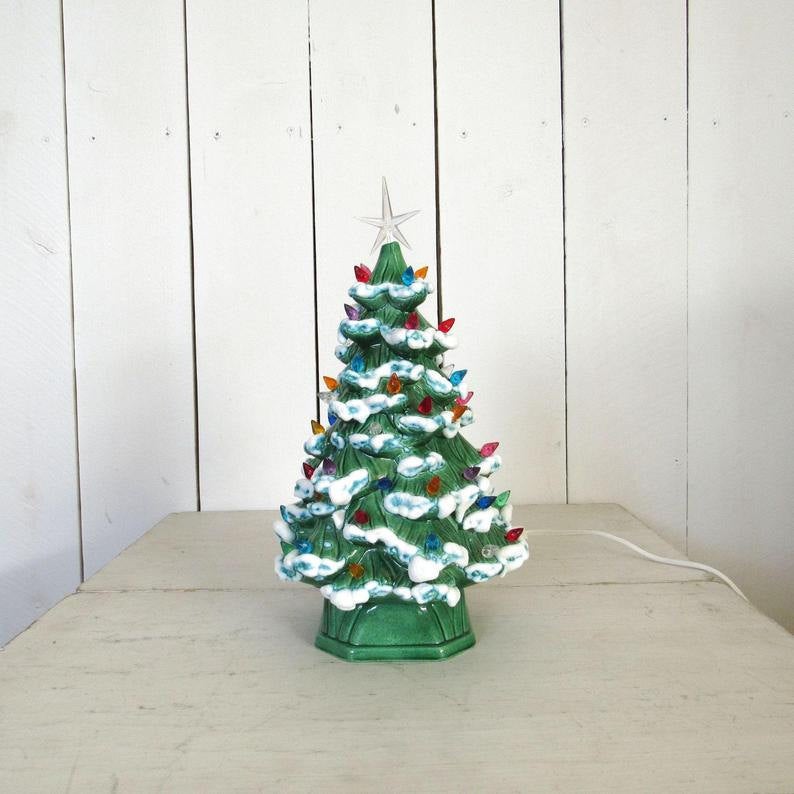 Vintage and Antique Christmas Paper 
Christmas cards, postcards and advertisements can make beautiful decorations, framed and hung on a wall or used as wrapping paper!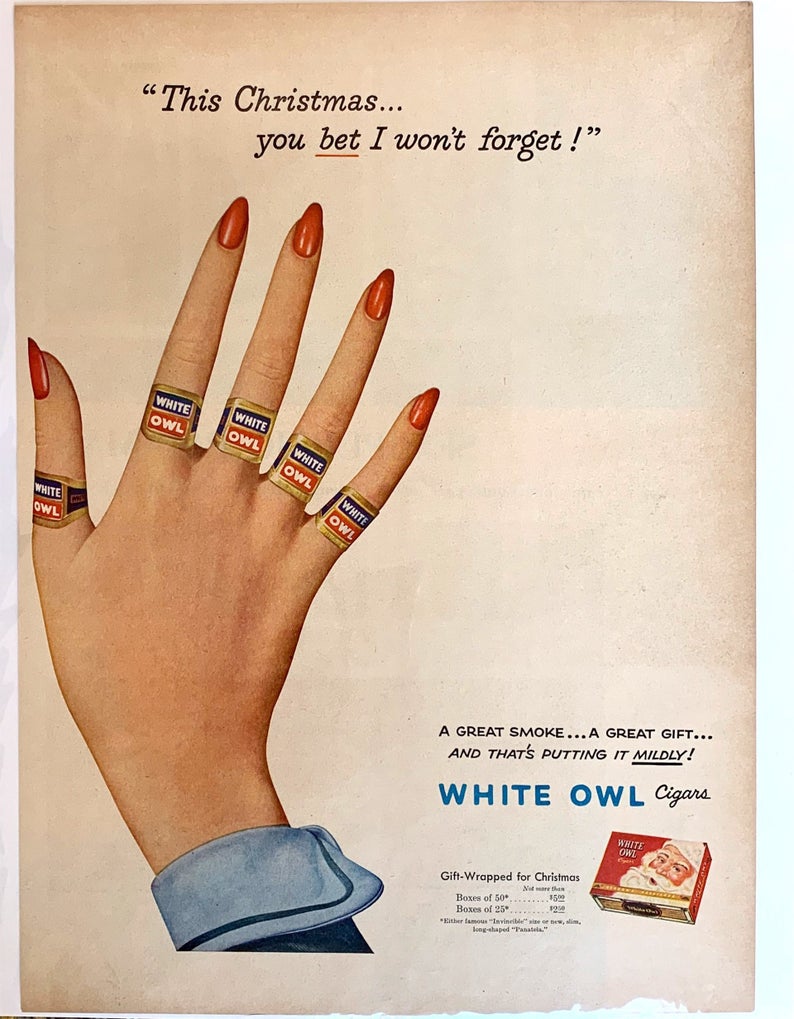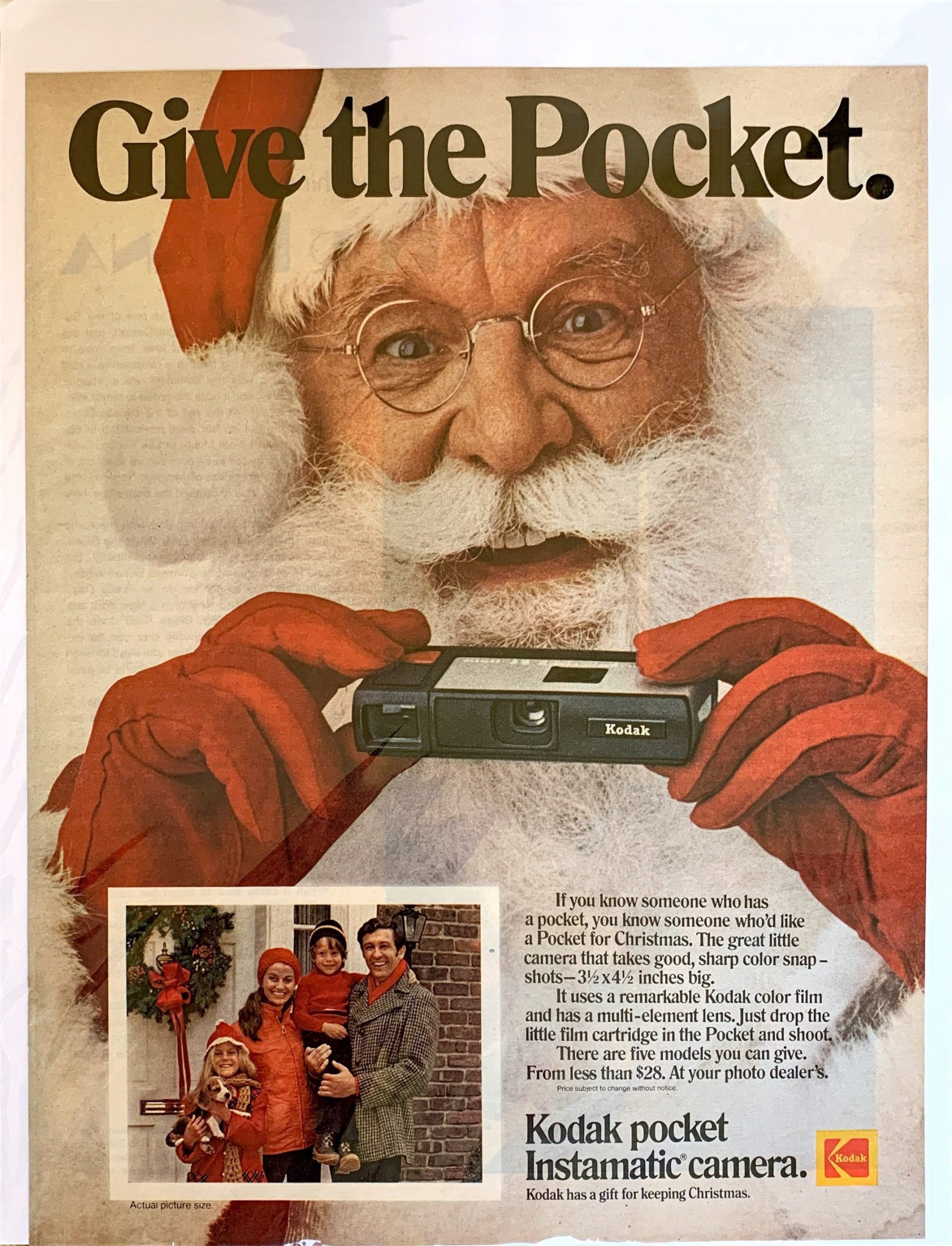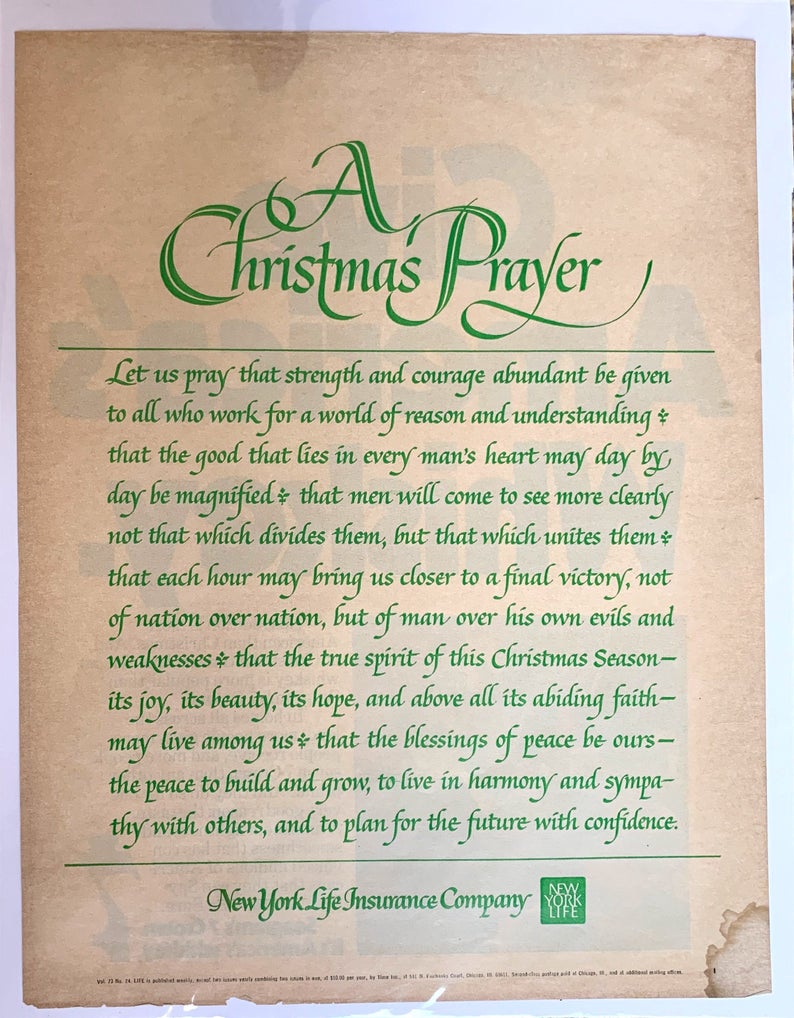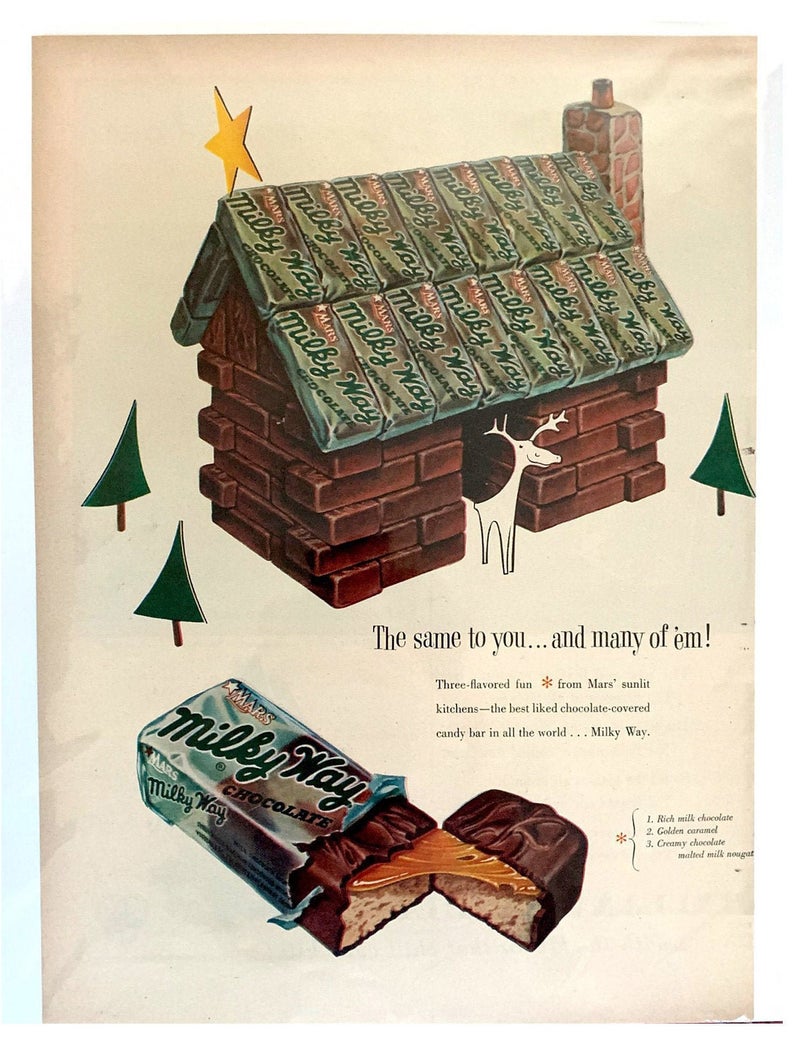 Where to Find Vintage Christmas Decorations For Sale
"The best place to find vintage ornaments is at estate sales, flea markets, and some times rummages," says Stark. 
As with many older, antique or rare items, the internet can be a great place to shop. In addition to Ebay and Etsy, Martin suggests perusing 21VintageStreet.com and Facebook Marketplace for vintage christmas decorations for sale. "Some of my best finds have been at church rummage or school fundraising sales, she says. "And of course, auctions and estate sales can be a great source for nice vintage collections and fun or rare surprises."
And the following Etsy shops (who were very helpful with this article) are also a great place to find your vintage Christmas decorations:
Happy holidays, and happy vintage hunting!