True Pyrex lovers know there's only one thing better than vintage Pyrex – and that's vintage Pyrex in action! We have to admit – we're a little obsessed with vintage Pyrex patterns. So we searched Instagram to find our favorite photos of Pyrex doing what Pyrex does best: acting as a super cute vessel to delicious food!  We couldn't decide which was more fun – the mouth-watering bites to eat or the fancy Pyrex dishware.
Which is your favorite dish and pattern?
1. Cupcakes in Balloons
2. Organic Tomatoes in Friendship
3. Personal Pot Pies in Snowflake Blue, Spring Blossom Green, Butterfly Gold & Butterprint
4. Acai Breakfast Bowl in Pink Gooseberry
5. Fresh Peppers in Black Gooseberry
6. Apple Brussels Kimchi in Snowflake Blue
7. Mac & Cheese in Brown Hex
8. Chocolate Cookies in Turquoise Butterprint
9. Chocolate Brownies in Pink Scroll
10. Cinnamon Rolls in Golden Pine
11. Agedashi Tofu on Copper Filigree
12. Couscous Salad in Mod
13. Croissant Bread Pudding in Woodland
14. Kamut Salad with Walnuts & Pomegranate in Autumn Harvest
15. Gluten-free Mac n Cheese with Seville Lid
16. Potato Soup in Early American
17. Roasted Root Veggies in Town & Country
18. Watermelon in Moon Deco
19. Bowl of Red in Forest Fancies
20. No-Bake Cheesecake in Horizon Blue
21. Fresh Fruit in Turquoise Starburst
22. German Potato Dumplings in Pink Daisy
23. Garden Tomatoes in New Dot
24. Watermelon-Basil-Feta Bites on Revel
25. Seasonal Oranges in Turquoise Scroll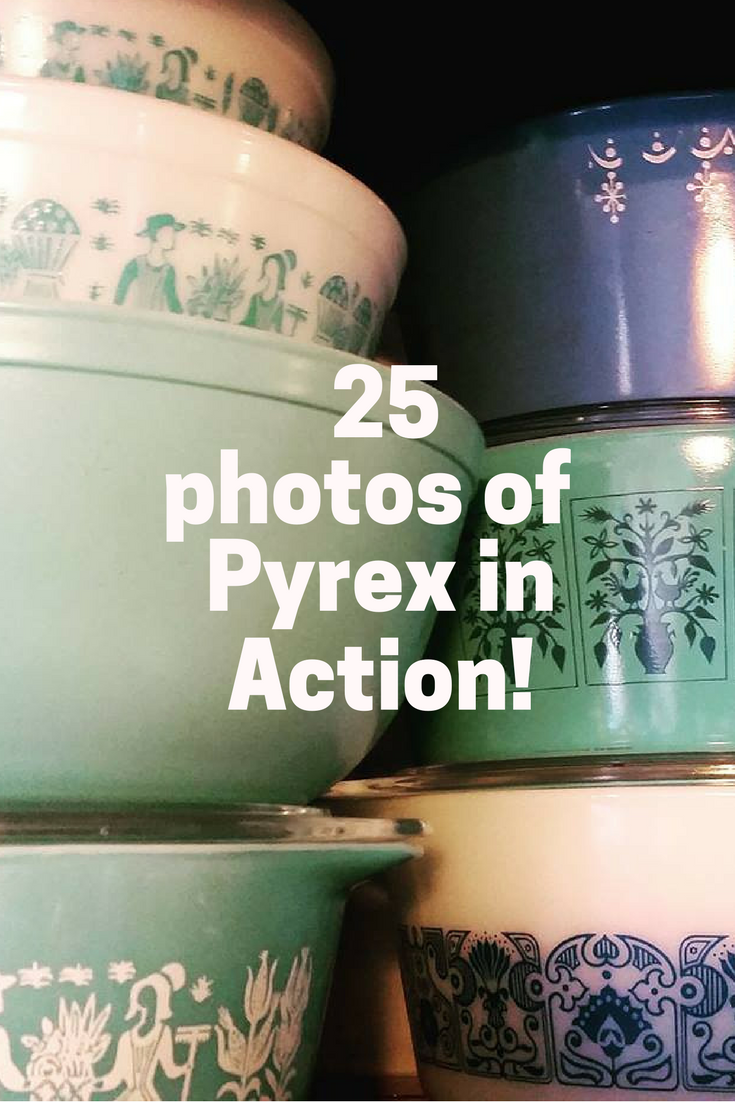 Got any photos of Pyrex in action of your own? Share them in the comments below!