VCS Estate Sales & Liquidation Services, LLC
Bonded and Insured
Platinum member since Oct 10, 2011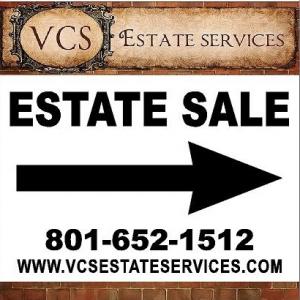 About VCS Estate Sales & Liquidation Services, LLC
VCS Estate Sales and Liquidation Services, LLC is a locally owned professional full service personal property estate sales & liquidation management company serving Salt Lake City, Sandy, Bountiful, Orem and surrounding cities in the State of Utah. We are committed to providing a professional full service compassionate and reliable estate sale liquidation service.

WE HANDLE THE FOLLOWING TYPES OF ESTATE SALES LIQUIDATIONS:
Family Estate Settlement
Family Member Moving to a Care Facility
Passing of a Loved One
Trustee Sales
Extreme Collector / Hoarder Homes
Relocation / Moving
Homes / Ranches /Farms / Outbuilding
Home Clean Out Services
Donation Management
Bank and Investor Real Estate Owned
Visit our website at www.vcsestateservices.com/shop to check out our on-line & estate pre-sale items offered for sale now!
Call Us Today!
(801) 652-1512 or call (801) 651-2852 to request a FREE Consultation or more information!

VCS Estate Services was founded based on our desire to offer professional, honest, friendly and compassionate assistance during a difficult time. "We're in it with you" is our motto. Our company is licensed and insured in the State of Utah and accredited by the Better Business Bureau of Utah. We are members of the American Society of Estate Liquidators, Antiques & Collectibles National Association and the Asheford Institute of Antiques. We have knowledgeable, professional and friendly trained specialist in customer service, set up, staging, property valuation, security, sales management, marketing and accounting. Our team of hardworking and compassionate individuals strive to make your transition simple and profitable, from start to finish!

We fully understand that an Estate Sale may involve selling your " memories of a lifetime", and we will always respectfully conduct your sale. We take pride in professionally managing all of the research, preparation, organization, presentation, advertising, setup, staging, management and final clean up of the estate. The most successful estate sales requires planning, meticulous attention to detail and strong customer service. Our experience and with 1,000's of buyers in our network and our expert marketing is invaluable in managing the resources needed to conduct a successful estate liquidation.

WE PRIDE OURSELVES IN GOING THE EXTRA MILE

We Offer a Free, No Obligation Consultation Seven Days a Week
We Offer 1-4 Day Estate Sales
We Offer On Site & Appointment Only Sales
We Provide a General Estate Summary of All Items Sold
We Provide 501-c3 Receipts for Items Donated to Charity for Tax Purposes
We Provide an Estate Summary and Payment Within 5-10 Business Days
We Accept All Major Credit Cards at all Our Sales (VCS covers the merchant fee's of this service)
We Collect and Remit State/City Sales Tax
We Offer Fee Based Clean Out Services when an estate sale is not an option
We Offer Real Estate Broker Referral Services to help you sell your home
We Offer Custom flexible Options to Fit Our Clients Individual Needs

EXPERIENCE
We have 20+ years experience appraising, evaluating, buying and selling antiques and collectibles, as well as household goods. We offer full service estate sale liquidation services for your personal property needs. Call us today! (801) 652-1512.
---
Based out of Salt Lake City, UT also serving Bountiful , UT , Ogden , UT , Orem , UT , Park City , UT , Provo , UT , Salt Lake City , UT and Sandy , UT
---
In-person Estate Sales
Online Auctions
Appraisal Services
Real Estate Sales
Clean-out Services
Liquidation Value Consultation Services
Clean-Out Services
Customized Estate Plans
FREE Onsite Estate Sale Consultation (SLC, UT) Day
Liquidation Value Consultation Services Fee Based
Appraisal Consultation Services Fee Based
---
Memberships & Associations
Better Business Bureau
American Society of Estate Liquidators
Antiques and Collectibles National Association
A+ Rated Better Business Accredited Business
---
Licensed Realtor (5483260-AB00)
This company does not have any active sales.
This company does not have any items for sale at this time.
This company has posted a total of 65 estate sales. Only the most recent 50 sales are shown.
What People Say About VCS Estate Sales & Liquidation Services, LLC
What started out as an overwhelming and dreaded task turned into relief and excitement as we could finally see that it would get done thanks to Jerril, Tamera and the staff at VCS Estate Liquidation Services.

Trying to clean out a 6,000 square foot house of 30+ years of accumulated possessions belonging to my parents and brother was daunting, and with the limited amount of time we had to spend, it would have taken us months to accomplish what Jerril and his team did in less than a week! They were able to go through the house and all the many items, stage everything beautifully, and successfully have the sale over a three day weekend, then had the house cleaned out on Monday! With their help, we were also able to get rid of years of paperwork that had been stored, as well.

Jerril has the experience and background to get this multi-faceted job done right. He has a team with the skills to research items for fair market pricing. Everyone was extremely professional, worked very hard and did a great job. They were helpful to us during the times we were at the house, and we really appreciated the respect they had for the home and the items they handled.

We couldn't have asked for a better outcome, we were very happy with the success of the entire process. With the number of people we had through the house for the sale, as a bonus we ended up with the house under contract and expect to close soon!



LaMarr Taylor
VCS is outstanding. In summary, our sale proceeds exceeded their estimate and even more importantly, they were sensitive and accommodating to our unique situation. Unfortunately, prior to engaging VCS, our mother's finished basement was evacuated due to a minor flood, which resulted in the entire contents being randomly boxed up and moved to a garage, making it nearly impossible to conduct an estate sale.

Unlike other estate sale companies with rigid processes and lack of responsiveness; VCS was responsive, flexible, sensitive and creative by offering a "clean-up service" to help restoring access and visibility of home contents, allowing family to efficiently removal personal items (photos, confidential records, keepsakes, etc.). Without this service, our only option would have been to have everything hauled off without an estate sale, costing the family cash, lost memories, and fear of private and confidential information falling into the wrong hands. Not only did VCS's service solve and preempt these potential problems, we ended up cash positive.

The VCS team is truly amazing. Their skills in being able to process and sort contents, merchandise for a sale, price it right and draw an audience is beyond my highest expectations. Go by one of their sales and see for yourself! Furthermore, they are the nicest and trustworthy people you will ever meet – very important when moving you mom out of your childhood home because mom can't live there anymore.



Randy F
Trying to settle and clean out my parents estate was so difficult because I could not watch their treasured items go out the door, I hired VCS Estate Services to help me liquidate the personal property and they did everything from beginning to end, I was so grateful and relieved when it was over like a weight had been lifted. VCS did a great job!
Jm H.
We had a 5 bedroom home full of a 40-year accumulation of possessions of my parents, another estate sale company canceled on us at the last minute and we only had 2 weeks to get the home cleaned out before it was sold. With out the wonderful, caring assistance of this company we could of never got the home cleaned out and would of had to give everything away. There was a great turnout, and they help us from beginning to end! The personal attention and support during the process they gave us was great. I don't know what we would have done without Jerril, Tamera and their staff!" ....
Phil B.
It was sooo hard to imagine trying to go through 45+ years of accumulation from my parents house. VCS estate services came, took the challenge and ran with it! It was so relieving to let someone else take care of going through what would have taken me another 1 1/2 years to accomplish. Now we can sell the house to continue to care for my aging mother. Thank you to VCS for taking on this overwhelming job and not running away scared!!
Scott & im
We certainly appreciated the professionalism. Everything was done on schedule and as explained. I would recommend VCS to anyone needing to liquidate an estate, while maximizing value.
Mark C.
Jerril, Tamera and team,

I am not quite sure how to express my thanks to you. As you know, it was only a few months ago that I began the process of researching estate sales, various companies, and how they work. I consider myself a business-oriented person, but have to admit that I was lost and scared about this whole process. I wanted to do the right thing for my Mom and Dad and all of their beloved possessions. This was a big challenge made even bigger by being in the midwest! After our initial call and meeting, I was impressed that you weren't completely frightened by the volume of items in the 5,500 sq ft house, both large and small —a few of your competitors weren't up to the task! You went into great detail to explain the process, what to expect, how you get paid, and what happens after the sale.

Given the task ahead of you, I truly thought there was NO WAY that you could get that giant house full of stuff sale-ready in less than 10 days, but you did!! It was an even bigger relief to know that you found Mom's diamond necklace (that I couldn't even find) and returned it to her—I am not sure that others would have done the same. I appreciate the fact that you updated me during the setup process, and after each day of the sale, and comforted me as my emotions finally got the best of me when the sale was complete. Of course, what we wanted most was to maximize value, and sure enough, you came through there, too, more than doubling the gross figures you thought you could attain.

I would recommend your company—no, your PEOPLE, to anyone who is considering an estate sale in your area. You were honest, dependable, and very comforting in an extremely difficult process. I only wish that I were there to thank you in person.

With many, many thanks!!!

Kelly C.
Thanks so much, you all were so professional and helped us get through such a difficult time. Don't know what we would have done with out you.
Sherien & Ralph