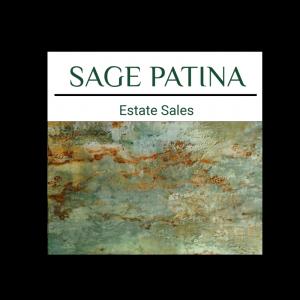 About SAGE PATINA Estate Sales
Welcome to SAGE PATINA Estate Sales Servicing Georgia, The Carolinas & Florida!  Our experience and professional approach sets our Premier Estate Sale Services a part from the rest.
A Harmonious Process Beginning to End... Easing the Stress & Relieving the Overwhelming Task Before You & Your Family.  We deliver a calm, polished, simplistic and professional approach to conducting the sale of the contents of your home. We are members of the Antiques & Collectibles National Association, as well as, Insured & Bonded. 

We've learned from past practice that in order to provide a harmonious process we must be selective with our Sales. We do not rush - diligent preparation is essential.  WE WILL ONLY CONDUCT TWO SALES A MONTH, NO EXCEPTIONS!  You can count on a well-prepared organized Sale that is our sole focus from beginning to end.

Together with our incredible TEAM, we deliver outstanding Estate Sales!  We hope to host your upcoming Sale, as well as, have you join us at one of our upcoming sales.

Warmly,

Chris & Amy
---
Based out of Fort Lauderdale, FL also serving Fort Lauderdale , FL , Orlando , FL , Atlanta , GA , Asheville , NC and Columbia , SC
---
In-person Estate Sales
Online Auctions
Appraisal Services
Clean-out Services
Organizing - Residential/Commercial
Staging - Residential/Commercial
---
Memberships & Associations
Antiques and Collectibles National Association
NAPW - National Association Of Professional Women
SAGE PATINA Hosts Amazing Avondale Estates 50+ Yrs of Collecting Estate Sale! Week 2 due to weather last week. 50% Off Thursday, Friday and Saturday! Home is still packed. Packed, stacked & simply amazing. The Sale collectors, r...
98 Clarendon Ave
Avondale Estates

,

GA

30002
Sale starts Thu. Dec 14, 2017 at 10:00 AM
SAGE PATINA Hosts Enormous Powder Springs Estate Sale! Packed with everything you can imagine! Additional details & pics will be posted momentarily.
Powder Springs

,

GA

30127
Sale starts Thu. Jan 11, 2018 at 10:00 AM
This company does not have any items for sale at this time.
This company has posted a total of 146 estate sales. Only the most recent 50 sales are shown.
What People Say About SAGE PATINA Estate Sales
Amazing - Sage Patina totally exceeded our expectations! They were very professional and thorough every step of the way. They even brought in additional experts to assist in pricing such as jewelry, antiques, furniture etc. I couldn't have asked for a better experience!
Nancy Juneau
Absolutely the greatest experience ever! I wasn't sure how to move or downsize. A friend recommended an estate sale. The greatest move ever! Amy & Chris took care of everything. I literally took what I wanted and left the rest! I made a killing! I got paid! Instead of paying for a moving company & packing all my belongings, paying for storage that would have been in the double digits I walked away from everything. Amy & Chris turned it into a fortune! My house looked like a mini Hobby Lobby / Academy, my friends called me bragging about Sage Patina and how well they were treated, what great buys were there and how quick they were in and out. I highly recommend Sage Patina to you and your family. They are a blessing!
Christie Smith
I would like to thank Sage Patina for the wonderful, stress free experience we had with them hosting an estate sale for my family.
They were friendly and professional and they took care of everything from beginning to end. I cannot thank them enough. Thank you Sage Patina (Amy & Chris).
Debbie Topin
"Amy and Chris, I want to thank you for all your hard work and the successful sale that you held for us this weekend. You both are wonderful and I was very happy with your dedication and professionalism that you put into all you and your company does Not only did you do great work but you went over and above what I had expected from you and your company. I will definitely recommend you and your company to anyone that I know that is looking to have a sale."
Joan Mierzwa
Seller Testimonial - Joan Mierzwa
"Amy & Chris are remarkable! They came into a house that had sixty-five years of history packed away in every room and attic space and turned all those treasures of a life well spent into an amazing Estate Sale They worked tirelessly uncovering, researching, preparing and staging all of my family mementos Their keen sense of value and business acumen resulted in a very successful sale They made what could have been a very stressful situation into a joyful experience We can recommend them with the highest enthusiasm and confidence."

Susan & David
Seller Testimonial - Decatur, GA
"Absolutely great people, very fair and wonderful to work with."

Taylor & Ashley

Buyer Testimonial
"You have just struck gold! Amy is enthusiastic, hard working, warm, caring and one of the most consciences people I have known Her work ethic is phenomenal as she seeks to do her best in tasks big and small...she has exemplary computer & organizational skills She is relaxed and efficiently manages an enormous workload with poise and grace Amy is creative and has a gift for organizing and hosting high profile events..."

Katie M.


You Have Just Struck Gold!