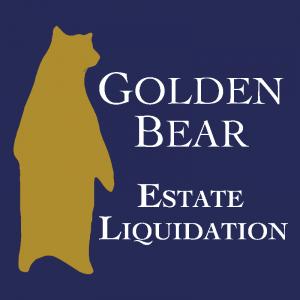 About Golden Bear Estate Liquidation
Service. Integrity. Respect. Knowledge. Experience. Results.
These are the bywords of our business and the basis of our philosophy. Estate Liquidation is a special kind of service provided almost exclusively to clients who are in need of expert advice and knowledge, generally during an overwhelming situation.
We respect our clients and recognize the needs of those who must liquidate their estate, downsize their home, or just change their lifestyle. We understand the sensitive nature of entering your home and disposing of your treasures or trash.
We are professional and our transactions are always conducted with integrity ensuring quality results for you. We do not mix your belongings with those of any others. Your sale is exclusive and you have our complete attention.
Call Golden Bear Estate Liquidation for a free consultation, and for specific answers to questions about your unique needs.
---
Based out of Oakland, CA also serving Alameda , CA , Albany , CA , Berkeley , CA , El Cerrito , CA , Hayward , CA , Lafayette , CA , Moraga , CA , Oakland , CA , Orinda , CA , Richmond , CA and San Leandro , CA
---
---
Memberships & Associations
American Society of Estate Liquidators
Antiques and Collectibles National Association
Sale includes, but is not limited to: Kimball baby grand piano (5100) and benchPair ladder back arm chairs Upholstered sofa and two arm chairs with matching fabric Demi lune dresser / console Game table and two chairs Large upholstered bench and...
10 Acacia Ave
Berkeley

,

CA

94708
Sale starts Fri. Dec 15, 2017 at 10:00 AM
This company does not have any items for sale at this time.
This company has posted a total of 12 estate sales. Only the most recent 4 sales are shown.
What People Say About Golden Bear Estate Liquidation
Bear effectively evaluated my relative's belongings. He quickly sorted out kitch from keep, and spotted other pieces in the estate that were worth following up on. Bear was also super helpful with a coin collection and other works of art.
For professional estate liquidation services, I recommend contacting Bear at Golden Bear Estate Liquidation.
L.H.- Oakland
My aunt needed to sell her house so that she could move to a different living situation. She was fortunate enough to contact Golden Bear Estate Liquidation.  Bear met with her and explained all of her options, and after a contract was signed, held an estate sale.  The estate sale went really well, and the house was left totally clean afterwards. All items and trash were removed and the house was left ready for sale.  My aunt was very pleased and would highly recommend them.
S.D.- Oakland
We needed to have an estate sale for an elderly relative in Oakland and we live 500 miles away.  Bear Sawtelle's Golden Bear Estate Liquidation rescued us and more than lived up to our hopes.  Bear got right down to business and pulled it all off for us one week later.  We were more than pleased all throughout the process.  He is professional, likable, humble, empathetic, responsible and reliable.  He knows his stuff.  What more can you ask for?  We highly recommend Bear and Golden Bear Estate Liquidation.
K.B.- Palm Springs
I enthusiastically recommend Golden Bear Estate Liquidation to anyone about to clear out their home. With my own downsizing, house sale, and move now accomplished, I look back at an island of relief during that stressful process--the professionalism, speed and thoroughness of Bear Sawtelle of Golden Bear Estate Liquidation.
I turned my keys over to Bear and went out of town for a few days. When I got back I found every room in my home transformed into an orderly, attractive display of the things two generations of us had brought into that house and its large basement. Bear identified what were collectibles. He advertised extensively and drew crowds every day of the estate sale. Total sales exceeded what I had hoped for. Within two days after the sale, Bear had cleaned out the house of all sale leftovers and trash.
My advice: use Bear don't try to do this yourself!
J.J.- San Francisco