Exclusive Estate Sales of Maryland
Bonded and Insured
Platinum member since Oct 9, 2016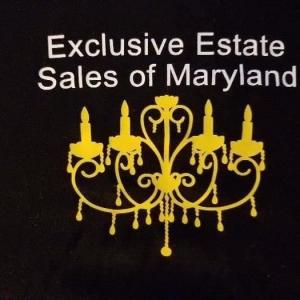 About Exclusive Estate Sales of Maryland
Exclusive Estate Sales of Maryland is a highly experienced, family owned full service estate sale company, with over 40 years experience in sales/marketing, antiques, collectibles, jewelry, furniture and artwork.
We have expertise in many different areas including antique and modern furniture, fine crystal, artwork, jewelry, glassware, rugs, clocks, tools, outdoor equipment and many, many others. We are experienced, professional, courteous and very efficient. We hold the degree of Graduate Gemologist from the Gemological Institute of America.
Exclusive Estate Sales of Maryland will take all the work, stress and concerns out of handling your entire estate, while maximizing on time and revenue. Exclusive Estate Sales has a reputation as a highly professional, yet compassionate, company that sincerely cares about our clients and helping them transition smoothly to the next phase of their lives.
---
Based out of Annapolis, MD
---
In-person Estate Sales
Online Auctions
Appraisal Services
Off-site Sales
Live Auctions
Clean-out Services
Consulting Services on liquidations
---
Memberships & Associations
Gemological Institute of America Graduate Gemologists
Certified Appraiser of antiques, jewelry & coins
This company does not have any active sales.
This company does not have any items for sale at this time.
What People Say About Exclusive Estate Sales of Maryland
Aug 6, 2016
I discovered Exclusive Estate Sales of Maryland after interviewing several estate sale companies and auctioneers concerning my late mother's estate. I have to express how truly grateful I am to be working with them. The Spence family runs a class "A" company. The time and attention to detail taken in handling, preparing and staging my mother's home to conduct the sale was nothing short of amazing. I particularly appreciate the time that was taken with me during our initial consultation. I had limited knowledge of estate sales having only attended one and not having the most positive experience. I wasn't sure what to expect or what people are actually interested in buying. Mr. Spence completed a walk through of my home and was able to determine that my mother had nice things, cared for them and there was indeed a market for her house full of "stuff". Another thing I can appreciate is that Exclusive Estate Sales understands marketing and the "psychology" of a sale. They know where to place various items in the rooms and levels of your home so as not to compete leaving one floor or room overlooked by shoppers. They truly turn your home into a store which translate into a serious and high quality sale. During my recent sale, I overheard so many customers discussing how wonderful a sale it was. Not only the available items, but how my sale was conducted. None of it would have been possible without Exclusive Estate Sales of Maryland. I wholeheartedly recommend their services in handling your love one's possessions.
Rosalyn Johnson, Pikesville MD
Rosalyn Johnson