Exclusive Estate Sales of Maryland
Bonded and Insured
Platinum member since Oct 9, 2016 - 43 years in business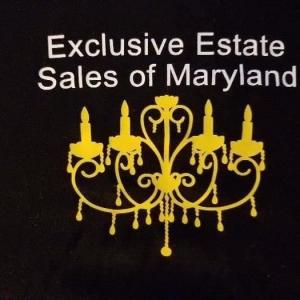 About Exclusive Estate Sales of Maryland
Exclusive Estate Sales of Maryland is a highly experienced, family owned full service estate sale company, with over 40 years experience in sales/marketing, antiques, collectibles, jewelry, furniture and artwork.
We have expertise in many different areas including antique and modern furniture, fine crystal, artwork, jewelry, glassware, rugs, clocks, tools, outdoor equipment and many, many others. We are experienced, professional, courteous and very efficient. We hold the degree of Graduate Gemologist from the Gemological Institute of America.
Exclusive Estate Sales of Maryland will take all the work, stress and concerns out of handling your entire estate, while maximizing on time and revenue. Exclusive Estate Sales has a reputation as a highly professional, yet compassionate, company that sincerely cares about our clients and helping them transition smoothly to the next phase of their lives.
---
Based out of Annapolis, MD
---
In-person Estate Sales
Online Auctions
Appraisal Services
Off-site Sales
Live Auctions
Clean-out Services
Consulting Services on liquidations
---
Memberships & Associations
Gemological Institute of America Graduate Gemologists
Certified Appraiser of antiques, jewelry & coins
Please scroll all the way down to the bottom to see the 200+ photographs of the home before we have staged it and priced it. We are recipients of "Most Viewed Estate Companies" awards virtually every month that they have been issued! We h...
Frederick

,

MD

21704
Sale starts Thu. Mar 29, 2018 at 9:00 AM
This company does not have any items for sale at this time.
This company has posted a total of 72 estate sales. Only the most recent 23 sales are shown.
What People Say About Exclusive Estate Sales of Maryland
Reisterstown 6500 Square Foot Estate Sale

In the summer of 2017 we were planning to downsize and move from a large home in Reisterstown to a rowhome in Baltimore. In doing some research, we concluded that an estate sale would be a worthwhile way of selling everything in our home (accumulated for the past 14 years) and starting anew as 'urbanites'.

After researching several estate sales companies, and personally meeting with the top 3 in our area, we ultimately decided to go with Exclusive Estate Sales of Maryland.

The initial decision was based on a few key factors:


The years of experience that Duke and company had in managing whole house estate sales. This was important as we had no experience.
Duke's level of knowledge and integrity along with a very successful and detailed business model.
The feedback from past customers that was consistently excellent not only about the overall success of their sales but also the positive feedback about Duke/team's integrity and comprehensiveness.
We made the right decision! Duke's team was professional, mature, honest and very accommodating throughout the process from contract review -> set up (they supplied all display cases and tables; thoroughly researched all items for sale to insure proper pricing (there were hundreds of items!) -> meticulous pricing and labeling -> excellent staffing for the weekend of the sale (all experienced professionals) -> crowd management and security -> fair negotiations -> detailed documentation of all inventory and sales results. Essentially, this was a complete turnkey operation.

The end result was more than we could have hoped for. The sales attendance was amazing. While I was totally skeptical about getting folks to show up, Duke assured me he would drive the traffic. He did! For 3 days he and team managed everything. Our estate sale was a total success!! We made significant money, had to do very little, and ended up with new friends- Duke, Ann Marie and Amanda!

Without any hesitation I recommend Exclusive Estate Sales for any size or level of sale. The team's work ethic, patience, knowledge and -above all- integrity, will ensure success for any size sale. We are happy to speak to anyone about our personal experience with Exclusive Estate Sales if you would like any more details.

Thank you, Duke, Annemarie, & Amanda and the Exclusive Estate Sales team for a wonderful experience!
John and Kim Callari, Reisterstown
Dear Duke:

We are so pleased with the job you and your sales managers performed on behalf of our family and the estate sale. You exceeded our expectations and your dedication showed with everyone was incredible.

It was a difficult time for our family and your knowledge, honesty, responsibility and caring made it so much easier to deal with, We gave you a key, you cleaned out the items that were left over and made donations, consignments and a lot of "trash". What a job!

We are truly thankful for the job you all did and have made a great friendship.

Sincerely,

Rod & Kathy
Rod & Kathy August 8, 2015
15,000 Square Foot Estate Sale Waterfront Property

Hiring Exclusive Estate Sales of Maryland to run our estate sale was a great experience. The owner, Duke Spence was very accommodating right from the beginning. During our initial consultation he took time to review our inventory and to discuss mutual expectations. We could tell right away that he was experienced and knowledgeable. He hires great people to help him with setup and the actual event. We found them all hardworking and respectful. They set up for the sale beautifully and strategically organized and placed our items to optimize the available space and create interest. During the sale Duke made sure there was enough staff to circulate throughout the whole house to ensure security and assist shoppers. Following the event, we received an itemized accounting of all items sold and a timely payout. The fees charged were commensurate with the time, effort, and resources Exclusive Estate Sales invested in the event. Duke has great work ethics and runs his sales expertly. We highly recommend his services.
Management for the William R. Miller Estate December 23, 2017
I discovered Exclusive Estate Sales of Maryland after interviewing several estate sale companies and auctioneers concerning my late mother's estate. I have to express how truly grateful I am to be working with them. The Spence family runs a class "A" company. The time and attention to detail taken in handling, preparing and staging my mother's home to conduct the sale was nothing short of amazing. I particularly appreciate the time that was taken with me during our initial consultation. I had limited knowledge of estate sales having only attended one and not having the most positive experience. I wasn't sure what to expect or what people are actually interested in buying. Mr. Spence completed a walk through of my home and was able to determine that my mother had nice things, cared for them and there was indeed a market for her house full of "stuff". Another thing I can appreciate is that Exclusive Estate Sales understands marketing and the "psychology" of a sale. They know where to place various items in the rooms and levels of your home so as not to compete leaving one floor or room overlooked by shoppers. They truly turn your home into a store which translate into a serious and high quality sale. During my recent sale, I overheard so many customers discussing how wonderful a sale it was. Not only the available items, but how my sale was conducted. None of it would have been possible without Exclusive Estate Sales of Maryland. I wholeheartedly recommend their services in handling your love one's possessions.
Rosalyn Johnson, Pikesville MD
Rosalyn Johnson August 6, 2016