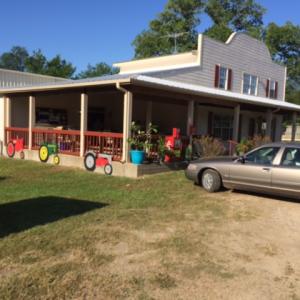 About Estates By Slate, LLC
Estates by Slate is an estate sales company that specializes in rural properties that are over packed with life's collections and more, We are meticulous in handling every last item in a collectors property. We do not come in and make empty handed promises. What we say we put in writing and do just that!

We are Insured, have a Notary & Bookkeeper on staff. Our team is thorough and detailed orientated.

The owners of Estates by Slate were both widowed years ago and were the family caretakers, so they know first hand what it is like to have the overwhelmed feeling of "where do I start". We can work hand in hand with the Executor, and probate Attorney to make the liquidation of Life's Collections go cleaner and easier.

We have been hosting in house estate sales for years and found that most of the family dealing with sales, just want it gone! They want someone that knows what they are doing that they can trust unconditionally to just make it all go away. That is us. And your check is ready the week after the sale. We can even zelle the proceeds too!

Compassion, Honesty and Transparency are our cornerstones. We believe in the principle of handling business as we would expect to be treated, upfront, simple, & caring.
---
Based out of Livingston, TX
---
In-person Estate Sales
Buyout on jewelry, china, crystal, silverplate
---
Memberships & Associations
Notary Public
Estate Bookkeeping
This company does not have any active sales.
This company does not have any items for sale at this time.
A country home with everything. Garden tools, pots, plants, decor and furnitureDining Room FurnitureThree bedrooms of furnitureKitchen decor, dishes and moreAppliancesLiving room furnitureFuton'sGaming chairsRockers, reclinersShelvingLawn mowers...
Shepherd

,

TX

77371
Sale ended Sat. Jun 2, 2018 at 3:30 PM CDT
This is the pickers sale! So much to see. From the garage to the patio this life's collection is the place to shop. You will find: Lots and Lots of Tools of every kindChains, binders, new tractor & trailer partsAntique tools Garden Decor...
Livingston

,

TX

77351
Sale ended Sun. Apr 22, 2018 at 3:00 PM CDT
This company has posted a total of 186 estate sales. Only the most recent 2 sales are shown.
What People Say About Estates By Slate, LLC
I called Estates by Slate and they came as agreed, and on time. They were dressed casual professional, It felt like my long time friends had arrived from the first moment I saw them.
I was in such a mess trying to deal with Mom's years of hoarding. They looked everything over, listened to me patiently then gave me a game plan on how to get to my end goal.
You get the feeling it isn't all about selling and money with Pam & Garth. True business professionals with compassion.
They truly understood my problem. I felt they were here really wanting to help me where I was in this chapter of life.
They even made an offer on some of the smaller items right there on the spot. Boy did that help! Some stuff out of my way right then.
I was so amazed after they set up a "buy party" with their buyers in my Mom's home. No one but them and me knew what was going on till it was over. And the house was near empty. No nosy neighbors checking it out and asking questions and people you don't know coming in. It was like a hen party and most everything was going out the door at the price we agreed upon!. They paid me that same day! .
If you are ever left in this position, you would be a fool not to call them!
Dora
I was left with lots of dishes, glassware, silver-plated dishes and costume jewelry. Pam came in we went through everything. She offered me a fair price for the items I needed to clear out to be able to see what else was left. She made it so simple. I felt at ease with her. She even advised me on some jewelry I thought was junk, (that wasn't). I have a new friend and will recommend this way of liquidating to all my friends.
T. Hallbertson
They came in evaluated what I wanted to sell, researched right there on their computer the market value, talked to their buyers, made me a fair offer and boom! Sold! I was paid and everything sold was out of my way same day. Not every last thing was sold to the first buyers, but they hooked up with other buyers that would get the rest of the job done, on my time schedule. What a deal! I didn't have to move out, rush, have others shopping in my home or worry. They have the contacts that I needed. This is the way to do business. Upfront, honest and quick.
L. Mayfield
This team came in, in the rain, and worked tirelessly to remove everything from the house so the realtor could sell the property quickly. They sold at their store in multiple sales until everything was gone! I am happy, they took a big burden off of me.
D. Robinnette
I had to move some stuff out to be able to stage the house for sale. Pam & Garth came over, told us what they were going to do, did it and even helped us get the house staged and cleaned. They were a God send!
They even sold what we agreed on before my in house estate sale has even been scheduled! What a team.
J. Nothrup, Trinidad, TX
I hired Estates by Slate to handle my sister's estate. All I can say is WOW! These people are awesome, small crew that comes in and cleans, sets up, sales and best thing....I got my money within 4 days after the sale!
I came the 2nd day of the sale and had to park 2 blocks away and get in line to get into the property!
Highly recommended.
J. Smith Mexia, Tx