Estate Sales Masters
(970) 250-7539
Bonded and Insured
Member since May 11, 2017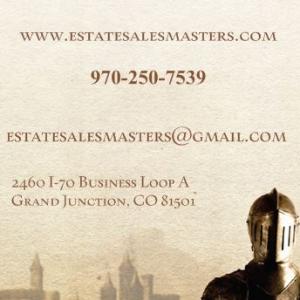 About Estate Sales Masters
We handle complete estate sale packages as well as offer our clients the ability to online consign their high end collectibles and antiques, and showcase the estate sale online with Professional Photography and Videography, reaching a myriad of collectors, dealers, and local buyers. Our packages include a FREE consultation. We handle the set up and everything needed to make your estate sale worth while and profitable as well as basic cleanup and donation-disposal of the few leftover items. In addition we also offer complete home inspections that can be included in the estate sale package, as well as pre-sale repairs of your vintage/antique furniture, appliances, or electronics to bring our clients maximum profit from the sale. Our past clients include realtors, private home owners, Transitioners, and Downsizing collectors.

We are here for you 7 days a week, every estate sale that is managed by Estate Sales Masters receives a Free consultation, online consignments at no additional fees, and a full needs analysis with options that fit your desired result. You will receive an inventory list with profit analysis, updated status reports, and immediate sale notifications for online sales.

Let us set up an appointment with you and your family to discuss your desired outcome and where our services best fit your needs with our compassionate staff. From Online consignments to live video announcements, advertisements and handling the clean up, we offer a variety of packages that fit your desired outcome and make the transition easy on you. From Pre-sale setup to the cleanup after sale you can rest assured your assets and property will be taken care of and properly managed. In addition if your needing a home inspection we can handle that too. We also offer Estate Sales Masters Club - A free to join email and text list feature that brings in more local buyers.

Maggie and Lucas Heiser have operated and currently own several successful business's in the area including a restoration facility in Grand Junction, Colorado. they also offer your estate sale with high end online consignments, and full service estate sale management. They are members of the antique and collectibles national association as well as non-profit contributors and nationally known. Maggie is a certified business consultant and a social media marketer, Lucas is a certified real estate inspector and Master antiquities researcher. Their team has a background in business as well as proper marketing skills.

We look forward in meeting with you and your family.
---
Based out of Grand Junction, CO also serving Cedaredge , CO and Grand Junction , CO
---
In-person Estate Sales
Online Auctions
Appraisal Services
Off-site Sales
Clean-out Services
Transistion sales
Downsizing sales
Divorce sales
Coin-op collection sales
---
Memberships & Associations
Antiques and Collectibles National Association
Professional Real Estate Inspection Certification
Vintage Arcade Preservation Society
International Arcade Museum
This company does not have any active sales.
This company does not have any items for sale at this time.
A long time Volkswagen mechanic has passed and his treasures will be at this Mechanics Dream Estate Sale for the Hall Family. Don't miss this one, all major american name brand tools, tool chests, roller cabinets, c...
Grand Junction

,

CO

81503
Sale ended Sun. Sep 10, 2017 at 2:00 PM MDT
One, Two, Three, It's yours! Clearance Sale. We are assisting some local vendors with liquidating multiple antique booths and pickers shelves. A vast array of items with no reserves only low starting bids and we have added a few buy it no...
Grand Junction

,

CO

81501
Bidding closed
A Colorado owned online record store is closing its doors and we are liquidating its inventory of vintage vinyl albums. This is a mixed bag auction, 1 lot buys all. Records are from all genres, are in conditions from NM to approx ...
Grand Junction

,

CO

81501
Bidding closed
Fill your man cave, game room, lodge, or store with these nice taxidermy mounts. Trophy African animals, new zealands, alaskans, and more. Some mounts done by legendary Jonas Brothers. Chess sets and more. All taxidermy legall...
Grand Junction

,

CO

81501
Bidding closed
All Aboard for this exciting mix of collectibles and business liquidation sale. Choo Choo- Large collection of Vintage Electric trains with Miles of tracks and accessories in different sizes by Lionell, Tyco, Marx and m...
Grand Junction

,

CO

81506
Sale ended Sat. Jun 24, 2017 at 4:00 PM MDT
Join us June 16th and 17th for this Worldly Estate Sale. Jim Danbury has passed and left a lifetime collection of Trophy Taxidermy from around the world, Worldly Antiques and Collectibles that include - Hand Crafted Ch...
Grand Junction

,

CO

81506
Sale ended Sat. Jun 17, 2017 at 4:00 PM MDT
In-Person Estate Sale
Online Auction
Dont miss this Amazing Fruita, Colorado Downsizing Estate Sale: Antique and Amish furniture, Antique toys, Antiques, glassware, collectibles, tools, john deere riding mower, metal workbench, metal cabinets, parts bins, vintage audio, antique books, ...
Fruita

,

CO

81521
Bidding closed
Sale ended Sat. May 20, 2017 at 4:00 PM MDT
This company has posted a total of 10 estate sales. Only the most recent 7 sales are shown.
What People Say About Estate Sales Masters
They helped me with my estate sale and will give you peace of mind in hectic times, I highly recommend them
Kensie Terrill
They went above and beyond for us, very professional in all my dealings with them.
Matt Bashara
"They were very helpful and professional in handling our estate sale. Would recommend without hesitation."
Cory Kehm
"Excellent, Professional and timely service"
Dennis Schneider