Dominion Estate Sales, LLC
Platinum member since May 13, 2016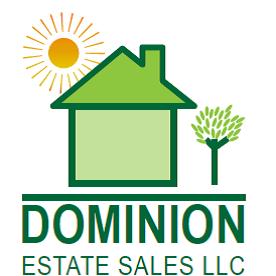 About Dominion Estate Sales, LLC
Perhaps it's time to move or downsize. Maybe you are settling an estate. What do you do about all those possessions? Establishing the best way to sell your antiques and furniture depends on having a clear idea of value. An independent, impartial, expert opinion is essential for a fair sale and just as important for peace of mind. Our company provides complete onsite estate sales and services conducted by experienced professionals in a discreet and confidential manner. Call on Dominion Estate Sales to meet your needs.

Handling a loved one's estate or needing to liquidate your own personal assets can be a difficult and emotional task. The Dominion Estate Sales team handles everything from staging the sale, pricing, advertising, signage, crowd control, staffing and cleanup. Let Dominion Estate Sales minimize your stress. Our priority is to liquidate household contents as quickly and efficiently as possible. When pricing items, we consider all markets and other important factors relating to the item, ensuring an optimal outcome for you. Benefits of a professional sale include targeted advertising, signage, crowd control, staffing and negotiation. Throughout the liquidation process, your household contents will be treated with respect. We understand that you are not only liquidating personal property, but that you may have memories associated with many of the items to be sold. Our goal is to provide you with a professional liquidation and to help eliminate the unwanted stress associated with such situations.

Appraisal Services

A full complement of professional appraisal services is offered and provides our clients with an accurate, impartial and informed value of each item's true market value.

Consignment Services

Consignment services are available for full estate liquidations or to sell particular items either before or after a sale.

Auction Services

Auctions are for personal property which benefits from the competitive setting only an auction bidding process can generate. Auctions are a great option for single high value items, special collections or personal property located where an estate sale is not possible. Dominion Estate Sales provides the expertise, understanding and strengths of a variety of auction companies in order to generate the greatest value through matching your property to the most appropriate auction house. Your valuables will be inventoried, packed and transported to the proper auction house. Dominion Estate Sales receives discounted rates from many auction houses allowing us to provide an integrated liquidation service to you which is thorough and reliable.

Estate Buyouts

The task of organizing personal property to maximize its value can seem overwhelming and time consuming. A buyout occurs when a dealer purchases everything in an estate for a wholesale price. If the personal property is located in a storage facility, co-op, condominium or apartment house where estate sales are not permitted, a buyout is a viable option. A buyout should be considered when immediate cash is needed or when the value of the items to be sold is determined to be so marginal that taking the time required to pursue maximizing its value with other options is not cost effective. Dominion Estate Sales Comprehensive Buyout Service will purchase the personal property which needs to be liquidated and leave the premises broom clean.

Internet Auctions

Internet Auction Services uses eBay and other internet venues to directly market certain categories of collectibles: costume jewelry, figurines, memorabilia, pottery, art, glass and thousands of other categories. Dominion Estate Sales runs multiple online internet auction stores, including eBay. Great success has been achieved in getting maximum dollars for items that may seem ordinary to some, but are highly sought after treasures by avid collectors. Through on-line marketing, access to collectors that were at one time isolated is achieved. The internet is an excellent way of contacting various associations and private collectors to make them aware of available merchandise that is unique to their special interests.

Senior Relocation

Experienced and sensitive senior relocation services are offered. Dominion Estate Sales compassionately assists elderly residents transition from their home into another residence or care facility. Dominion Estate Sales works closely with conservators, family members and senior referral services to plan the move; sort, pack and ship belongings; arrange shipments of personal property and furniture. Dominion Estate Sales provides turnkey services for your new residence making the move stress and worry free. In short, Dominion Estate Sales will do whatever is necessary to satisfy the needs of our clients, with grace.

Other Services

Arranging an Estate Sale with Staging
Vehicle(s) Sales and Removal
Landscaping Services/Property Prep for Home Sale
Internet and Live Auction Consignments
Junk Clean Out and Removal
Liaison Services with Real Estate Companies and Agents
---
Based out of Catharpin, VA also serving Washington , DC , Bethesda , MD , Potomac , MD , Rockville , MD , Alexandria , VA , Ashburn , VA , Catharpin , VA , Chantilly , VA , Fairfax , VA and Gainesville , VA
Descriptions will be posted soon. Please stay tuned !
Manassas

,

VA

20110
Sale starts Fri. Mar 2, 2018 at 10:00 AM
This company does not have any items for sale at this time.
This company has posted a total of 27 estate sales. Only the most recent 10 sales are shown.