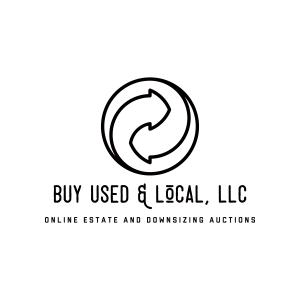 About Buy Used & Local, LLC
Buy Used & Local, LLC is an estate sale and downsizing online auction business committed to sparking a movement to encourage buying used locally, finding the most environmental waste stream possible for unsalable goods, donating a percentage of profits to organizations that have a positive impact on children and helping clients disperse of their items with integrity, compassion and efficiency.

We sell stories, history and useful things that need new homes or a new purpose. For our sellers and buyers we promise to be honest, transparent and to lead with both compassion and integrity. This is about more than just selling used goods, it is a movement to create a community that sees the economic and environmental value of buying used items locally.

We will lot, photograph, catalog, measure all the items in the home that are being sold to create an online auction. Only the winning bidders come to the home on a preset date to pick up their items. We also advertise the sale, collect payments and taxes, and supervise the pick up. We provide packing, sorting and cleaning services as well.

Benefits of an Online Auction:

1. Potential to sell more items. All items in the home are sold in lots. This allows us to combine several items together for buyers to bid on versus a traditional estate sale where buyers choose individual items to purchase. We sell most household items from the cleaning supplies to the furniture to the car.

2. Minimal disruption to the home. We lot most items in place. Dishes stay in the cupboards, all furniture remains in place and there is minimal movement of the items in the home. This decreases the potential for damage to the items and requires less set-up work and labor to sell the items. All lots are photographed and catalogued for the on-line sale.

3. Only the winning bidders enter the home. All the items are sold to the highest bidder on-line and only those buyers will come to the home at a preset day and time to pick up their items. Typically we can clear a house in a 5 hour time frame once the auction closes. The buyers are the movers - they pack their winnings and carry out their purchases. As part of our services, we supervise all buyers in the home as they pack their items. This process greatly decreases the foot traffic through the home which can be essential if a traditional estate sale would be difficult due to the location of the home, and decreases the possibility of theft and liability of having hundreds of buyers coming through the house. 

4. Ability to reach more buyers for a longer time frame. Buyers bid on-line for 1 to 2 weeks which allows us to market intensively during this time. Buyers are only limited by the ability to pick up their won items on the preset date and time. At a traditional estate sale, the items are priced ahead of time and the first person who picks up that item will pay that set price, and the sale is only held for 1 to 3 days which limits the number of buyers to those who are able to attend the sale. An auction allows for people to bid against each other to determine the final price of the item. This is great for buyers because every sale allows them to purchase the items they want as long as they are the highest bidder, and an advantage to sellers because the market value of the item is determined by how much the buyers are willing to pay. At a traditional estate sale the item a buyer may want (and would have potentially paid more than the asking price for) could be already purchased before they get into the sale.

Please visit our website at www.buyusedandlocal.com to learn more about us or give us a call at 650-766-3345. Consultations are free!
---
Based out of San Jose, CA also serving Cupertino , CA , Fremont , CA , Gilroy , CA , Los Altos , CA , Los Gatos , CA , Menlo Park , CA , Milpitas , CA , Morgan Hill , CA , Mountain View , CA , Palo Alto , CA , Redwood City , CA , San Jose , CA and Sunnyvale , CA
---
---
Memberships & Associations
Antiques and Collectibles National Association
This company does not have any active sales.
This company does not have any items for sale at this time.
This sale includes a wide variety of office furniture including desks, Herman Miller cubicles, CubeSpace workstation, filing cabinets, Hon Company conference tables and chairs, LG flat screen TVs, Flash Furniture modular seating, IKEA desks and cabin...
Campbell

,

CA

95008
Bidding ends Wed. Nov 8 at 7:30PM PST
This sale includes many items collected over a lifetime from a local couple who were not only involved in the community, but also traveled the world. As you explore the lots in this auction you can see where they visited and the memories they took ba...
San Jose

,

CA

95112
Bidding ends Thu. Nov 2 at 7:30PM PST
Selling the contents of two storage sheds. These items have only been in storage since July. Sale includes Thule ski, bike and luggage racks, ladders, tools, fishing gear, 4 piece Leather Trend theater couch, bar stools, kitchen ware, Pyre...
San Jose

,

CA

95112
Bidding ends Thu. Oct 5 at 7:30PM PST
This is a fundraising auction sponsored by San Jose's Aflac team - Duck Crusaders - to support the Leukemia and Lymphoma Society's Light the Night Walk happening on October 14th at the Avaya Stadium in San Jose. For more information on the even...
San Jose

,

CA

95119
Bidding ends Wed. Oct 4 at 7:30PM PST
Lots of vintage smalls in this one. Perfect for collectors or resellers! All lots start at $1.00. Bidding begins at 6:00pm Thursday, August 31st and starts to close at 7:30pm on Thursday September 14th. Pick up is from 10am to 3:00 pm on Su...
San Jose

,

CA

95123
Bidding ends Thu. Sep 14 at 7:30PM PST