Alacrity Estate Services LLC
(623) 465-9506
Bonded and Insured
Elite member since Mar 24, 2016 - 3 years in business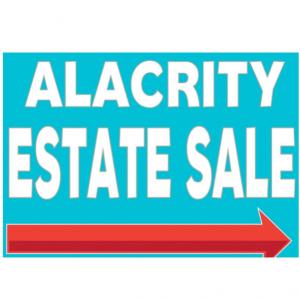 About Alacrity Estate Services LLC
Alacrity Estate Services is a full service, family owned and operated estate & moving sale company, serving the greater Phoenix metro area. Licensed & insured. Committed to integrity, transparency, and accountability - we strive to meet each clients needs and goals. We offer commission only services and years of expertise. Leading the industry in technology assisted operations - point of sale software, reports, audio & video recording security systems. Going above and beyond to make everyone's estate sale experience a great one!

At Alacrity, we are committed to integrity, transparency, and accountability. We implement systems and technology in assisting our research and appraisal efforts, as well as our point of sale software and hardware systems, to ensure the maximum return of your items. Clients are issues sales reports and receipts of services which detail the monies generated during the estate or moving sale.

Our team is dedicated to providing an organized, professional, and inviting estate sale environment. Typically, homes require a week or so of preparation in order to organize and price the items that are for sale. We set up the home and price the items, cleaning and fixing things as we go. Occassionally, we take on projects that other companies will not take on, such as a hoarder's home or a large property needing a lot of clean up. These projects require more effort than the typical family home and can take a month or so to prepare.

Each client is a priority and we strive to ease the anxiety and immense amount of work that can involve cleaning and clearing the contents of a loved-ones home. As each person is different, so are the circumstances that involve an estate. We take into consideration these circumstances and customize the estate or moving sale experience to fit our clients needs.

Our commission based compensation is typically percentage based. This ensures that we are always working to generate the most money possible. There are never any out of pocket fees. We bring our own supplies, such as tables, table cloths, clothing racks, wrapping paper, cash registers, price takes, etc. These items are cleared from the home after the sale has concluded and the home will be left "swept clean".

BE GREEN - At Alacrity, it is a personal mission to lessen the impact we have on the environment and the amount of items end up in the landfill. We encourage all clients not to throw away items, other than personal care/hygiene items, and try to sell almost everything in the home. People are incredibly thrifty and resourceful and it is amazing at what people can think of to do with your undesirable items. Alacrity also has relationships with local recycling companies that want to pay you for your scrap recycleables. We look to recycle anything that we know is not sellable. We can sort recycleable items as we set up and often trade them in for cash. It might sound petty, but our social responsibility and preserving our environment is priceless.

FREE CONSULTATION
---
Based out of New River, AZ also serving Cave Creek , AZ , Glendale , AZ , New River , AZ , Paradise Valley , AZ , Phoenix , AZ , Scottsdale , AZ and Sun City , AZ
---
In-person Estate Sales
Appraisal Services
Off-site Sales
Clean-out Services
Consignment
DONT MISS THIS SALE - SUPER COOL STUFF! HOME IS FOR SALE - we can put you in touch with the realtor. This estate is of a client who was regularly featured in the newspaper for his extensive Halloween decorations! Simple decorations and lots of...
15427 W Meadowbrook Ave
Goodyear

,

AZ

85395
Sale starts Thu. May 31, 2018 at 7:00 AM
This company does not have any items for sale at this time.
This company has posted a total of 83 estate sales. Only the most recent 9 sales are shown.
What People Say About Alacrity Estate Services LLC
Krista did a great job for us, She was efficient and easy to work with. It could have been difficult because neither my sister nor I live in the Phoenix area but Krista made it really smooth.
Laree Morris
Krista,

Thank you for an excellent result in the management of a very smoothly executed estate sale. What was so impressive to me was your honesty, integrity, and ability to sell everything. I couldn't have wished for a better result. Best of luck in the future.

My best regards,

Joe
Joe Kalish
Recieved via email:

Dear Krista,

My experience with Alacrity Estate Services was terrific and I want to thank you for your professionalism. You were very helpful in doing research for the antiques, and advertising the most interesting pieces of furniture. Your honesty, reasonable commissions, cheerful attitude and attention to details were exceptional and I am happy that you also extended the sale by selling some items on EBay. Overall you provided an excellent customer experience and I would recommend Alacrity in the future.

Sincerely,
Nan
Nan Hunter