Advantage Auction Services
(828) 674-7307
Bonded and Insured
Platinum member since Jul 18, 2016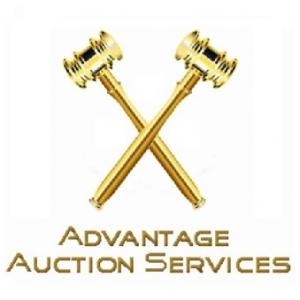 About Advantage Auction Services
Let us give you the ADVANTAGE when it comes to selling your estate! As a licensed auction and real estate company, we are able to offer you more options to sell your personal property and real estate than a traditional estate sale company. We also offer CAGA certified appraisals as part of our service package. Consultations are always free.

As well as having 30+ years experience in the auction and estate sale business, the business owner and auctioneer, John Lynn, is a licensed real estate broker who is a member of the top selling real estate team in Henderson County at Keller Williams! He has all the tools and support necessary to make sure your home is priced right and will be ready to sell when it's time.

The first step in helping you find a solution for your needs is for us to visit and do an assessment on what is being sold. After we're done, we'll provide to you our recommendations giving you several options for selling your property. We strive to give our clients the best service in the industry!

Whether it's real estate or personal property, Advantage Auction Services can sell it and will be there with you from beginning to end to make sure your property brings the most it can bring in today's market. Call us today at 828-674-7307 or visit us on the web at www.advantageauctionservices.com to see how we can help you!
---
Based out of Hendersonville, NC also serving Asheville , NC , Brevard , NC , Cashiers , NC , Hendersonville , NC , Highlands , NC , Waynesville , NC , Anderson , SC , Greenville , SC and Spartanburg , SC
---
In-person Estate Sales
Online Auctions
Appraisal Services
Real Estate Sales
Live Auctions
Clean-out Services
Senior Downsizing & Relocation Services
---
Memberships & Associations
National Auctioneers Association
Auctioneers Association of North Carolina
Certified Appraisers Guild of America
NC Realtors Association
Henderson County Board of Realtors
SRES - Seniors Real Estate Specialist
Federal Firearms License Dealer
South Carolina Auctioneer - License #4579
---
Licensed Realtor (NC 273508)
Licensed Auctioneer (NCAL 9301, SCAL 4579)
This company does not have any active sales.
This company does not have any items for sale at this time.
MARCH 2018 ONLINE-ONLY AUCTION MARCH 21ST, 2018 AT 5:00PM UNTIL MARCH 25TH, 2018 AT 5:00PM PREVIEW WILL BE BY APPOINTMENT ONLY! 140 4TH AVE W, SUITE 100, HENDERSONVILLE, NC 28792 PICK-UP WILL BE TUESDAY MARCH 27TH FROM 10AM UNTIL 4PM. ...
Hendersonville

,

NC

28792
Bidding ends Sun. Mar 25 at 5:00PM EDT
ANNUAL WILD GAME DINNER & AUCTION SATURDAY MARCH 3RD, 2018 AT 6:00PM ***SILENT AUCTION BEGINS AT 12:00PM*** MILLS RIVER UNITED METHODIST CHURCH 137 OLD TURNPIKE RD, MILLS RIVER, NC 28759 JOIN US AGAIN FOR THE CHURCH'S ANNUAL F...
Mills River

,

NC

28759
Sale ended Sat. Mar 3, 2018 at 8:00 PM EDT
ONLINE ONLY LIVING ESTATE AUCTION FEBRUARY 6TH, 2018 AT 5PM THROUGH FEBRUARY 11TH, 2018 AT 5PM PREVIEW FRIDAY FEBRUARY 9TH, 2018 FROM 10AM-2PM 5 N CLASSIC CT, HENDERSONVILLE, NC 28791 This online only auction contains a wide variety of item...
Hendersonville

,

NC

28791
Bidding ends Sun. Feb 11 at 5:00PM EDT
This online only auction contains a wide variety of items! There is everything from collectibles to tools to furniture and a lot more. Plenty of vintage items to choose from and lots of very unique artwork, too. Due to the location of this sale, we a...
Hendersonville

,

NC

28739
Bidding ends Sun. Dec 10 at 5:00PM EDT
Estate Online Only Auction This sale contains a wide variety of items to include hand thrown pottery, sterling silver flatware and other sterling items, a reproduction Chippendale table and chairs, artwork, a 1995 Chrysler Town & Country mini van w...
Clyde

,

NC

28721
Bidding closed
ON-SITE ABSOLUTE AUCTION!www.wecansellit.net 212 BENTON FARMS LN, HORSE SHOE, NC, 28742 10AM OCTOBER 27TH, 2017 PREVIEW WILL BE ON OCTOBER 26TH, 2017 FROM 2PM-5PM THIS IS A SHORT NOTICE SALE AND ALL ITEMS FOR SALE WILL BE SOLD ABSOLUTE! ITEM...
Horse Shoe

,

NC

28742
Sale ended Fri. Oct 27, 2017 at 2:00 PM EDT
This sale will offer a wide variety of unique items for the public to bid on! There is everything from guitar making equipment to lawn equipment being offered for sale. You won't want to miss this opportunity to own something that you don't normally ...
Hendersonville

,

NC

28791
Bidding closed
THERE WILL BE A WIDE VARIETY OF ITEMS FOR SALE INCLUDING ANTIQUES, MID CENTURY AND MODERN FURNITURE ART, SILVERWARE, VARIOUS INDOOR AND OUTDOOR TOOLS, OUTDOOR CONCRETE FIGURINES, A WOODEN DESK WITH INLAID TOP, WOOD ROCKING CHAIR, HISTORICAL JAMES RIV...
Hendersonville

,

NC

28739
Sale ended Sat. Jun 3, 2017 at 2:00 PM EDT
ON-SITE DECEASED ESTATE AUCTION ESTATE OF PETER R. LANGGAARD SATURDAY OCTOBER 8TH, 2016, AT 9:00AM 77 JERVEY RD, TRYON, NC, 28782 PREVIEW WILL BE HELD ON OCTOBER 7TH FROM 12:00 NOON UNTIL 4:00PM ITEMS TO BE SOLD INCLUDE A 2004 JEEP WRA...
Tryon

,

NC

28782
Sale ended Sat. Oct 8, 2016 at 12:00 PM EDT
This sale features a wide variety of antique and modern furniture. Other items include pottery by Hull, McCoy and others, lots of art glass and lead crystal by Fenton, Carnival and others, vintage appliances, Pyrex and Corningware coo...
Hendersonville

,

NC

28791
Sale ended Sat. Aug 13, 2016 at 2:00 PM MDT
This sale features a collection of stained glass lamps as well as antique and modern furniture. Other items include vintage appliances, Pyrex dishes, bedroom furniture, metal frame day bed, exercise equipment, figurines and art glass ...
Hendersonville

,

NC

28792
Sale ended Sat. Jul 30, 2016 at 2:00 PM MDT
This company has posted a total of 185 estate sales. Only the most recent 11 sales are shown.
What People Say About Advantage Auction Services
I started my "journey" with John in the spring of 2017 shortly after my father passed away and we were looking to clean out the house contents and prepare the home for sale. John was amazing through our entire time together. He helped us with the content liquidation, the cleaning of the house inside and out, arranging for necessary repairs for us in order to get the house listed and then was our agent for the listing itself. Through the entire experience, John was extremely helpful, gracious and professional. My parents had retired to Hendersonville, NC, but all of the remaining family was still in New York, so it was difficult for us to even think of dealing with all of this long distance on our own. John was a life saver for us and we are so pleased with all his help and services. We sold the house for more than we were expecting and it was certainly thanks to John and his team and all the hard work and professionalism they have displayed throughout our time together. I would highly recommend this team! Thank you John for all you have done for us!
Colleen M.
I can't thank John and his incredible team enough! My husband passed away suddenly last year. I was so overwhelmed with everything he left behind. I was sad walking around my house, my husband had decorated it all and it felt like a museum.
John and his team took charge! They cleaned everything up, tagged it, put it all together for a big auction! My home now feels fresh and new! I made enough money to replace basic furniture sets for most of the rooms and my children and I will slowly decorate it our style! Thank you John, Billie, and Jim! You all are amazing!
Kristie G.
I had never even been to an estate auction much less arranged one. It was very difficult for me since it was my late father's estate and I live in Arkansas. John guided me through every step of the way and gave his honest opinion. He was sensitive, patient and very respectful. He arranged security since I was not there for much of the process. The auction itself went very well and exceeded my expectations. I am grateful to him and his associates. The customer service and attention to detail is superb.
Karen N.
Advantage Auction Services is a top-rate, professional operation. John Lynn, the owner and auctioneer, along with his friendly and talented staff always provide the best service to both sellers and buyers.
Janet N.
I saw a posting from Advantage Auction for an estate auction and had been house hunting for a while. I called Advantage Auction and spoke with John Lynn; he eased my mind and let me know exactly what I needed to do before the auction. I quickly realized that purchasing a house at auction could be a real opportunity. The process was relatively painless and much easier than evaluating several houses and the time required accomplishing this laborious task. I just raised my paddle (several times) and the house was mine! Time is something I don't have a lot of lately, so I appreciated the efficiency of the process. John was also helpful in making sure the deal went through and that my requests for inspections and house visits were accommodated. I would recommend Advantage Auction Services to others who are looking for real estate, every day or unique items.
Sharon F.
We had a huge move ahead of us and felt overwhelmed with deciding what to take, what to leave, and what to sell. John came in and organized a great sale that put a lot of money in our pockets and brought out more bidders than we could have hoped for. If you need to downsize or liquidate an estate for moving, Advantage Auction Services is the company that will get the job done.
Paul B.
I decided to close our business and sell off the business assets. John was recommended to me as a person very capable of handling such a huge task. It was amazing what he did with our place in setting up the auction! There were a lot of bidders there and John brought in the money that he told us he was expecting. The fact that the building was empty and we had to make one trash run speaks volumes on how well he cleaned out and sold the contents of our business. Even the store racks and other equipment was sold! Given the choice between John and anyone else, we would gladly hire John and Advantage Auction Services again.
Barbara P.