A Simply Amazing Estate Sale & Consignment
Bonded and Insured
Platinum member since Jun 13, 2013 - 10 years in business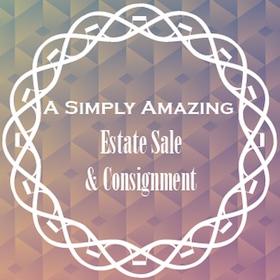 About A Simply Amazing Estate Sale & Consignment
----We are looking for experienced estate sale agents to join our team. Call today if you're interested!----

Wondering where to begin?
Feeling overwhelmed?

WE DO IT ALL!

Complete House Liquidation Service
Tag/Estate Sales - Moving Service
Storage - Packing - Clean Outs
Online Auction Services

BONDED & INSURED with physical commercial location.

Whether you are in the middle of downsizing, have been charged as the inheritor of an estate, dissolving a business or just moving A Simply Amazing Estate Sale + Consignment is here to manage your project.

We will obtain the best possible prices for your furnishings, lighting, art, sculpture, varied collections, porcelain, silver, even clothing and every day items. We also sell cars, office furniture, and the contents of homes being de-constructed .... Simply said, we do it al!

Our experience, knowledge and skills will ensure that your sale will be successful and profitable. Whether we are doing a traditional estate sale or transporting all of the items to our warehouse for an online auction, we will provide you with the quality and customization needed for your sale.

How to get started:

- We will meet with you to discuss the best options, timing and opportunity for your needs.
- We will then research and set prices for your estate items.
- We will sort, organize and prepare the home for sale including tables, racks or anything necessary to set up and display your items.
- We will advertise and promote your sale in newspapers, on the internet and in social media.
- We will notify our mailing list via email about your sale.
- We will work the days of the sale to ensure maximum profit for your items.
- We provide detailed reports and invoices of what sold and for how much and give you options for any remaining items or services you might need.

*** Should you not wish to have a public sale we can offer a variety of options to help liquidate your home, office or business. Options may include auction services, clean out services or private buyers for certain types of quality items.

How do you choose an estate sale company? Here are a couple things to consider...

1.) Are they a real company?

This is important because there are a lot of companies out there that pass themselves off as estate sale companies but are not legitimate businesses. They pay their people in cash and don't pay sales tax. We are a REAL company-- licensed and insured-- and our professionalism translates into more money for the client.

2.) What is the company doing when you aren't is looking?

This is all about integrity. We are completely transparent with our process and mandate that our employees follow a strict contract that protects both the client and the company.

3.) Do they have professional signs?

This might not seem like a big deal but a lot of companies make their own signs with poster board and markers for each sale. We have professionally made signs that will get the maximum number of people to your sale.

4.) How is the company advertising?

Many estate sale companies advertise in one or two places and expect people to show up. We have established an extensive routine of both online and offline advertising that reaches more people than the other companies we've researched.

We love what we do! Give us a call for a free consultation, with no obligation whatsoever.

Thank you for taking the time to read about our services ... we look forward to speaking with you!

A Simply Amazing Team
248-289-0016
www.simplyamazingestatesales.com
---
Based out of Grosse Pointe, MI also serving Auburn Hills , MI , Berkley , MI , Bloomfield Hills , MI , Canton , MI , Casco , MI , Clawson , MI , Detroit , MI , Farmington , MI , Fraser , MI , Grosse Pointe , MI and Harrison Township , MI
---
In-person Estate Sales
Online Auctions
Appraisal Services
Off-site Sales
Live Auctions
Clean-out Services
Real Estate Auctions
---
Memberships & Associations
Antiques and Collectibles National Association
Auctioneers Association of Michigan
Our February 20th online auction is a big one you don't want to miss! This online auction features over 500 lots! Items consist of new, returned, and overstock shelf pull items. Tools, Appliances, Flooring, Hardware, and more! The retail value of the...
24100 Groesbeck Hwy
Warren

,

MI

48089
Bidding ends Tue. Feb 20 at 8:00PM EST
This company does not have any items for sale at this time.
This company has posted a total of 597 estate sales. Only the most recent 50 sales are shown.