A PRESTIGE ESTATE SERVICES National Company
Bonded and Insured
Platinum member since Jun 10, 2014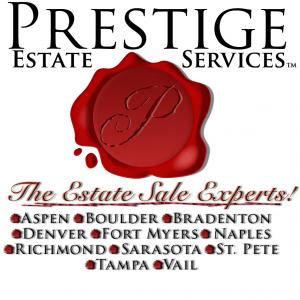 About A PRESTIGE ESTATE SERVICES National Company
Is your home a little cluttered? Do you need estate help in Tampa, St. Pete, Clearwater, Sarasota or Bradenton or the surrounding area ? Are you moving and would like to have an estate sale in order to turn some of you personal belongings into profit? If that sounds like you then Prestige Estate Services The Premier Estate Sale Experts are here to assist you!  As a locally owned and operated branch of a national company, we are Prestige Estate Services, the estate sale experts and we service the entire surrounding area!




Prestige Estate Services, offers services that cover your project from A to Z. We conduct estate sales, moving sales, tag sales along with services such as art and antique appraisals, haul away and cleaning services. Need a home inventory and valuation report for divisions of assets? We do that too!

With Prestige Estate Services there is no out of pocket costs, or upfront fees, only profit. We handle your estate sale project for beginning to end, from strategic advertising and marketing plans, appraisals and valuations, prepping the estate and overseeing sale days and after sale clean up. An estate sale is a great way to sell your home furnishings and treasures.


With our experience and our expertise as a national company we can handle your estate properly. With each sale, whether it is a small to average sale, or a multi-million beach estate, we give each client our Prestige premier customer service. By hiring Prestige Estate Services to conduct your estate sale, you will receive expert knowledge in finding value and finding the best venue to sell your items for the most profit. We not only conduct estate and tag sales we also offer online and on-site auctions.


Read our page on estate sales vs. estate auctions. We often get asked should I have an estate sale or estate auction? The article on our website will give you the pros and cons of having one versus the other. If you're looking for more information on estate sales or any other services, we encourage you to visit our website at www.PrestigeEstateSalesTampa.com and click on our services page.

We want to empower you and your family with information, our website is designed with this in mind. Knowledge is power and we want to help you in deciding what Tampa estate sales company is the right choice for you to hire for your sale you only get one chance at a sale be prepared to properly represent your estate by arming yourself with tons of great information found on our website.

Remember, you have one chance for your estate sale to be profitable and successful so don't entrust it to part-timers or hobbyists. Trust it to Prestige Estate Services, a professional and proven brand. Our business model has delivered excellence to many happy estate sale clients all over the country from our offices over the years. We can provide with you with many references so you can know for sure that Prestige Estate Services has your best interest at heart. We are a privately operated and owned business.




We have hand picked a team of excellent and professional specialists to serve you and your estate. Our Branch Managers Jeff and Julie provide you phenomenal sale results through experience that has been built over years of conducting estate sales. We have successfully conducted well over 500 estate sales and provided many more services to our wonderful clients over the years. Contact us today, to schedule Jeff and Julie to come and meet with you and discuss our estate services. To learn more about our team CLICK HERE


Our website provides lots of information about our services so you can choose what works best for your situation. We deal with many different types of estate situations. One of our helpful estate sale experts would love to discuss your project specifics so contact us today and we encourage you to spend some time on our website provided to you,
as a tool, so you can go through the information on estate sale services we offer all over the Southwest Florida area.  We also have offices in the Fort Myers and Naples area.

We also have other offices across the country, which has allowed us to create and grow a very powerful national database of individuals that are willing, ready and qualified to buy specific items when they come available for purchase. This helps us to create competitive bidding increasing the value of the item and the estate.  With a national presence, we can drive traffic and profit to ensure success and profit for your estate!

Thank you for considering Prestige Estate Services and allowing us the opportunity to earn your business.  We would be glad to discuss your project and set up a free, no-obligation consultation on the premise to further discuss your project.

Call us today at 813-701-2623 or 1-844-EST-SALE
---
Based out of Tampa, FL also serving Bradenton , FL , Largo , FL and Tampa , FL
---
Memberships & Associations
FURNISHINGSENTERTAINMENT CENTERKITCHENGARAGEACCENT PIECESARTWORKHOME DECORQUEEN SLEIGH BEDROOM SETTWIN BEDACCESSORIESCHAIRand more….....
North Port

,

FL

34286
Sale starts Thu. Mar 22, 2018 at 9:00 AM
This company does not have any items for sale at this time.
This company has posted a total of 185 estate sales. Only the most recent 50 sales are shown.
What People Say About A PRESTIGE ESTATE SERVICES National Company
The circumstances surrounding an estate sale make the process of choosing an estate sale service extremely difficult. In the midst of all the grief -- and the myriad other financial, medical and legal matters that must be tended to -- trying to figure out which personal possessions should be kept and which should be sold or given away is, in a word, heartbreaking.

Natalie and her team not only have the skills to organize and price items reasonably and properly, but they also possess the sensitivity needed to carry it out with care for the client.

Example: Even though my brothers and I had been through the house 20 times before preparing for our Mom's estate sale, Natalie came across several items that she set off to the side simply because she thought they were things we would want to keep (and she was right - we had missed a few things such as family photos and some other papers). In a few cases, she identified objects that were more valuable than we had thought and we were extremely excited to see the profit from these items.

I highly recommend them.

Patrick Junkrowski - References Available
Patrick Junkrowski
When it came time to have an Estate sale, I choose Prestige.  From the first call to the distribution I was treated warmly, professionally and efficiently. I was fortunate to work directly with Mrs. Chandler for several weeks.  I found her to be so kind with only my best interest at heart.  She worked endless hours, dealt with many unusual family complications and  wore so many different hats. Throughout she was professional and always receptive to my calls and emotions.

If you are looking for an estate sale service I would recommend Prestige Estate Services.
Faith Nancarrow - References Available
Faith Nancarrow
My sisters and I were faced with a daunting task when we had to sell an inherited home in Bonita Springs, Florida because we all live in California and couldn't spend the time needed to go through the contents.  After finding Prestige on the Internet and being impressed with the website we were able to hire Brad, Natalie and Alicia to appraise all the home's contents and walk us through the difficult task of resolving our parents estate.
Mrs. Chandler was especially effective for us.  She came at the end of our process and did last minute valuations and essentially held our hands.  We nicknamed her our Angel.
Thank you Prestige and Natalie for your excellent work!

Sincerely, Jeanne Dentzel - References Available
Jeanne Dentzel