Lott's Treasures Estate Sales LLC
(404) 450-1593
Bonded and Insured
Elite member since Aug 31, 2015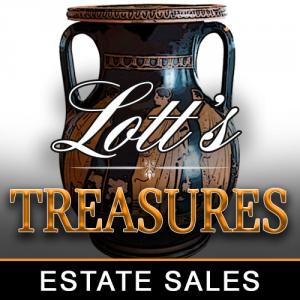 About Lott's Treasures Estate Sales LLC
"The Estate Sale Company that Cares"



Hi, my name is Steven Lott. For years I have gone to estate sales and auctions. It has really opened my eyes and given me a better perspective on what could have been done better as well as what would have worked better for the customer. In short it has given me insight into making Estate Sale Services a more lucrative experience for you. It has given me the freedom to loosen the tie, put away the dress clothes and be comfortable knowing that I am in a position that allows me to be involved in your community.



It affords me the opportunity to help you with important matters in your life such as downsizing, family moving or the loss of a loved one. I care about the industry that I am in and moreover want Lott's Treasures to be known as "the estate sales company that cares".

The retail industry has kept me very busy over the last 36 years with an adventure at almost every turn. I've received training in business operations, marketing and valuation. My roots began in store management, then district management, followed by corporate management. Not only that, but I had the wonderful opportunity to be involved in management training. I have received numerous awards for top sales and training which all culminates to one thing, being here for you.



My team: Don, Jeri, Kitty, Whitney, Rocky, Jodi, Matt and Shirley. I believe that I have chosen the best. Most of the staff are not only friends, but professionals whom I have worked with over 30+ years.

As a professional family we will do our very best to make sure that you and your family have not only a profitable and successful estate sale, but an experience that was pleasant and kind. We look forward to a great estate sale with you and yours.



Lott's Treasures Estate Sale LLC

404-450-1593

---
Based out of Lithia Springs, GA also serving Alpharetta , GA , Atlanta , GA , Covington , GA , Lithia Springs , GA and Marietta , GA
Rhubarb is a name familiar to almost everyone in the South as being the voice of a radio icon. The reason for his far reaching accomplishments in life, as he has said, can be attributed to his growing up years in Tallapoosa. Tallapoosa is most proud ...
70 Rhubarb Ln
Tallapoosa

,

GA

30176
Sale ends Sat. Apr 21, 2018 at 5:00 PM EDT
Amazing Antique Treasures Everywhere! Family lived in this home since 1956! Owner was an antique dealer and collector! We will be posting information & photos in a few weeks! This will be an ANTIQUE SALE not to be missed!...
3831 Ben Hill Rd
Lithia Springs

,

GA

30122
Sale starts Wed. Jun 27, 2018 at 9:00 AM
This company does not have any items for sale at this time.
This company has posted a total of 165 estate sales. Only the most recent 50 sales are shown.
What People Say About Lott's Treasures Estate Sales LLC
Dec 15, 2015
I had to sell my house quickly and had a house full of antiques and three floors of furniture. I found Lotts treasures online and called the company to have them come out and take a look at what I had. Steve and Don made me feel so comfortable and reassured when meeting with them. They came in and took care of EVERYTHING. They cleaned and prepped the house for the sale and were so very nice and extremely professional. These guys were genuinely the most wonderful gentlemen I've ever met. I would more than recommend Lotts treasures to anyone thinking of having an estate sale.
Steve Stager, Douglasville GA stevestager88@gmail.com (buyer)
Dec 02, 2015
When it comes to the loss of a loved one, the last thing you need is uncaring business contacts when it comes to closing out that loved ones affairs. Steven and Don were the exact opposite. My mom's belongings were about more than money. They were patient when I was not sure about when or how much things were purchased for. I would recommend anyone to these guys. They have a precise expertise on period and antique pieces. Their attention to detail gave me the trust I needed to focus on the other long list of responsibilities I had to handle and leave them the space do their job. And the feedback from our neighbors was so.... encouraging. "They had lines of people coming to shop, cars were lining the street. They treated your mother's things like their own personal belongings." They even had a mechanic there to give information on the car we were selling!!!! My husband and I give them 10 out of 10 stars! Thank you again! Please hear me when I say hire these guys to help you. You won't regret it!
Miyoshia Varner, Covington GA miyoshiagordon@hotmail.com (seller)
Oct 27, 2015
As a shopper it is important to walk into a friendly environment with no pressure sales. Steve and Don have an amazing staff that truly want to help and never pressure anyone. Top that off, they display and stage the home with pride making it a pleasure to shop. I have been to many of their sales and will continue to be a customer for years to come.
steve malek, atlanta GA visitor23yrold@aol.com (buyer)
Oct 18, 2015
Moving is one of the most stressful moments in life. However , Steve and Don alleviated as much of the stress as possible and made our very first (and hopefully last) estate sale surpass our expectations. From the very beginning, they were responsive, professional and caring. They listened to our concerns and were patient with our questions and uncertainty. They staged our items with their magic touch so nicely that even I would have wanted to buy some of the things that I never really appreciated before.

Steve and Don communicated daily and sometimes even several times a day before, during and after the sale. They treated our home and our items with respect and care. Throughout the process, they operated with our best interests in mind. And we were paid promptly and easily via bank transfer.

While we hope we never have to downsize, move and have an estate sale again, we would without reservation look to Lott's Treasures again.
Christine Allen, Alpharetta GA christineallen@me.com (seller)
Oct 15, 2015
What a great experience! Lott's did everything for my sale. They took all my items and staged them so they looked appealing and interesting, set the selling price and labeled each item, cleaned whatever needed to be cleaned or slightly repaired, staffed the sale, hired the valet, did the advertising and signage, conducted the sale and cleaned up after the sale. All I did was layout the items. They even brought in other items to fill out the staging so my items would look appealing. I left for the day and returned to an empty house. Their pricing is fair and I had a check in my hand two days after the close of the sale. What more could you want? Steve and Don and their staff are delightful, polite, very helpful and extremely professional. I highly recommend Lott's Treasure to anyone who is considering an estate sale. They will make it so easy!
Barbara Roush, Atlanta GA barbaraaroush@hotmail.com (seller)