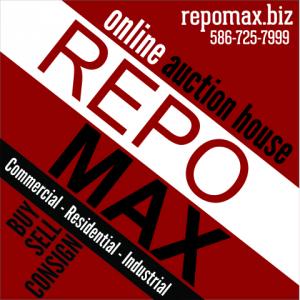 RepoMax Auctions is an online auction house that specializes in estate sales, business liquidations, certified repossessions and personal consignments.

We have at least two auctions each month with everything from furniture, tools, heavy machinery, cars, trucks, computers, electronics, antiques, toys and other items.

All bidding is done online (like ebay) and then winning bidders pickup and pay for their items at our warehouse in Warren.

RepoMax Auctions is a wonderful alternative to a traditional estate sale. We are the perfect fit for individuals who:

- are uneasy about a company (or the public) coming into their estate to stage and buy for several days
- are looking to liquidate their estate in a short amount of time
- want the benefit of thousands of dedicated bidders (way more than typically come to an estate sale!)
- are in a location that is difficult to get to
- don't want to worry about weather affecting their turnout and profits
- want the auction process to drive up bids and profits for their items rather than taking less under pressure

Our agents will help you every step of the way!

Here's how it works:

1.) Call or email our office and express your interest
2.) Work with our sales representative to find the best option for liquidating your assets
3.) Send sample pictures of featured items
4.) Finalize the contract
5.) Transport the items or schedule a pickup
6.) Sit back and relax as RepoMax photographs, writes descriptions and advertises your items
7.) Auction Day!! Watch our bidders bid your items up!
8.) Winning bidders will pickup and pay for their items at our secure location
9.) We will send you a check in the mail with the profits from your estate!
10.) You will tell your friends and family about us! (hopefully!)

Whether you are looking to buy, sell or consign-- RepoMax Auctions is your one-stop-shop for a quick, efficient and profitable liquidation experience.

To set up a free consultation and speak to one of our representatives please call: 586-725-7999

Website: www.repomaxauctions.com
Facebook: www.facebook.com/repomax
Facebook Group: www.facebook.com/groups/repomaxauctions/
Address: 24100 Groesbeck Hwy Warren, MI 48089
---
Based out of Warren, MI also serving Auburn Hills , MI , Berkley , MI , Birmingham , MI , Bloomfield Hills , MI , Casco , MI , Clawson , MI , Clinton Township , MI , Eastpointe , MI , Ferndale , MI , Fraser , MI and Warren , MI
---
In-person Estate Sales
Online Auctions
Appraisal Services
Off-site Sales
Clean-out Services
---
Memberships & Associations
Antiques and Collectibles National Association
Michigan Auctioneers Association
State of Michigan Vehicle Dealer
Federal Firearms Licensee
Our last auction of 2017 ends on December 19th! Get your last minute holiday shopping done here with over 500 lots of toys, appliances, cookware and more! Toys · Avon Kids Metro Train Set ·...
24100 Groesbeck Hwy
Warren

,

MI

48089
Bidding ends Tue. Dec 19 at 8:00PM EST
This company does not have any items for sale at this time.
This company has posted a total of 416 estate sales. Only the most recent 50 sales are shown.
What People Say About RepoMax Auctions
All I can say is that RepoMax is GREAT! I have bought and sold there. The people are so friendly there, they make the whole buying and selling process so easy and stress free. I had a 1968 Chevell SS Convertiable that I have been trying to sell for over 1 year and I took it to RepoMax.Biz and they sold it at auction for $20,000 more that I was asking for it. Their Buyer base is huge and they have a great marketing department.
Mark H.
1968 Chevell SS Contvertible