Star Wars is more than a series of films. It's a cultural phenomenon made in part by marketing thousands upon thousands of action figures and collectibles to generations of consumers. It's safe to say, Star Wars has become ingrained in the collective consciousness.
"It was the whole marketing campaign that made Star Wars so unique because it was really the first toy line to be marketed like baseball cards – like, collect them all! You'd get a figure, and it would have on the back of the package a list and pictures of all the different figures with numbers, and you'd always save an extra package to check off which ones you had," said Matt George, who has been collecting Star Wars figures since he was a child in the 80s. Back then, he says, toys cost around $2.99 apiece.
Star Wars creator George Lucas was a smart negotiator. According to The Daily Beast, Lucas revealed, "What happened after that was Star Wars came out, then we went to a toy company and helped them build these little action figures . . . and they became very successful." Lucas went on to explain how he negotiated to retain merchandising rights, which is what ultimately built his fortune — not the money made from the movies.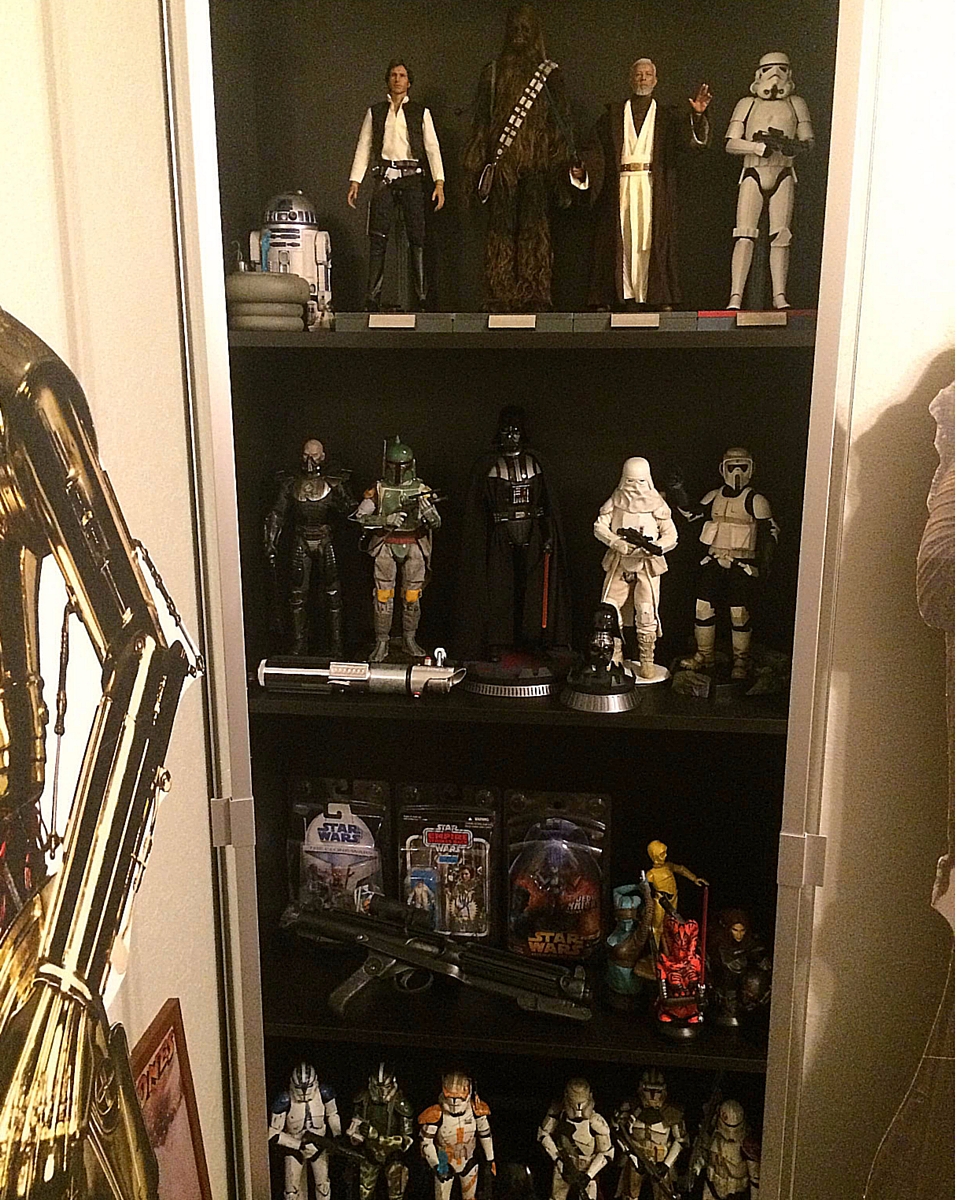 Kenner's Original Vintage Star Wars Line
While it may be called A New Hope now, back then it was just Star Wars, and when it came out in May 1977, it was a huge hit. The toys depicting Star Wars vehicles and characters from the film also took off. After that came The Empire Strikes Back in 1980 and Return of the Jedi in 1983. The Star Wars figures made during this time period by toy company Kenner are referred to as Vintage Star Wars (not to be confused with The Vintage Collection, which is a line that came later in 2010-12), and are highly sought after today, in or out of the original packaging.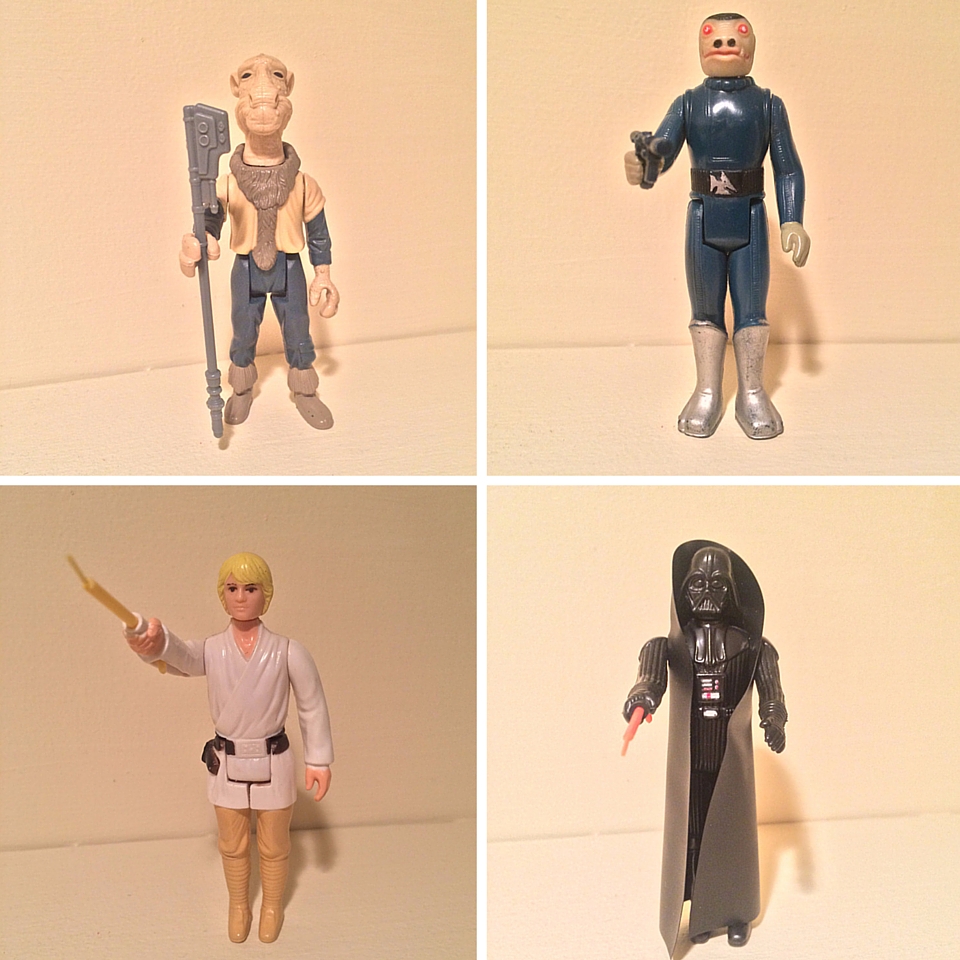 "I remember going into Toys R Us, and it's not like it is now where you have a couple racks or just a section. You'd have both sides of an entire aisle, and every peg would be absolutely so full that they [the toys] would be on the ground. They made, I believe, close to 30 million of these figures from 1977 to 1985. So, there were a lot," said George.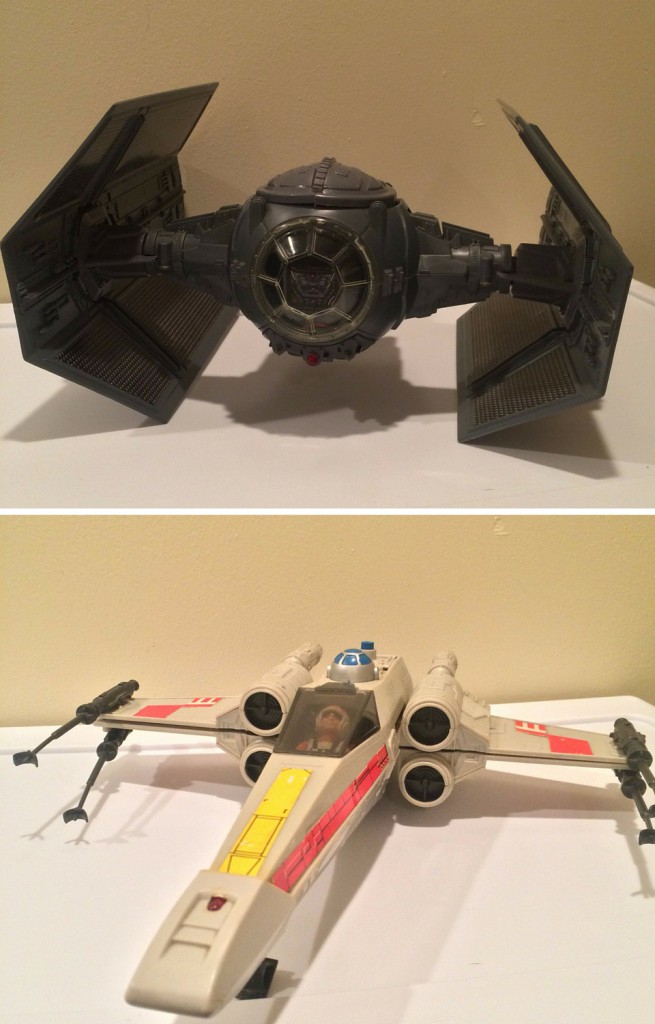 Vintage Star Wars collectibles are highly sought after because of their monetary value (some figures can sell as high as $15k in "mint in box" condition), and, of course, for the nostalgia attached to them. Whether you were born in 1975 or 2005, Star Wars reminds people of childhood. The story is timeless, which is why Ryan Myers, a 17-year-old Star Wars collector with two rooms full of 90s Star Wars collectibles, counts an original Yoda from 1980 as his most prized figure.
"It has all its accessories. The only thing missing from it is its original packaging. I totally came across it by chance. I didn't know it was so old, but I got it for a sale price at a local comic book store. And after I bought it, I realized it was rare. They knew – but I didn't know. If it hadn't been on sale, it would have been a little over $25 for a little figure that's about an inch and a half tall. I got it for about $16 – sale price," Myers said.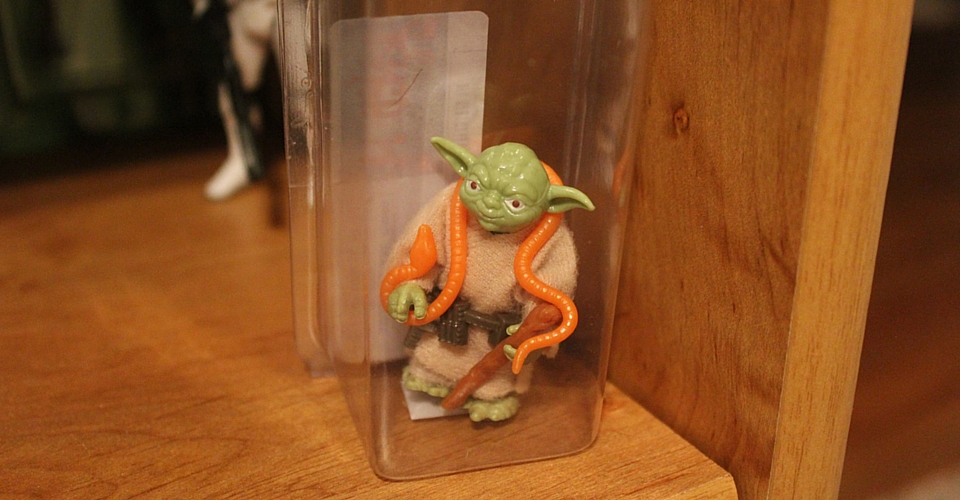 The Power of the Force 1995 – 2000
In the the summer of 1995, Hasbro (which purchased Kenner in 1991) released a new line of toys called Power of the Force. Because there hadn't been any movies released since 1985, the Star Wars toys had come to a standstill, until then.
"The first of the novels started coming out, and then the video games started coming out, and Star Wars kinda started to make a little comeback," said George, referring to the otherwise "dark" period after 1985.
The new 90s Hasbro Star Wars action figures stood out for their "buffness," compared to the original line, and included new figures like Princess Leia in a slave suit, a Sandtrooper, and Han Solo dressed up like a Stormtrooper, among others.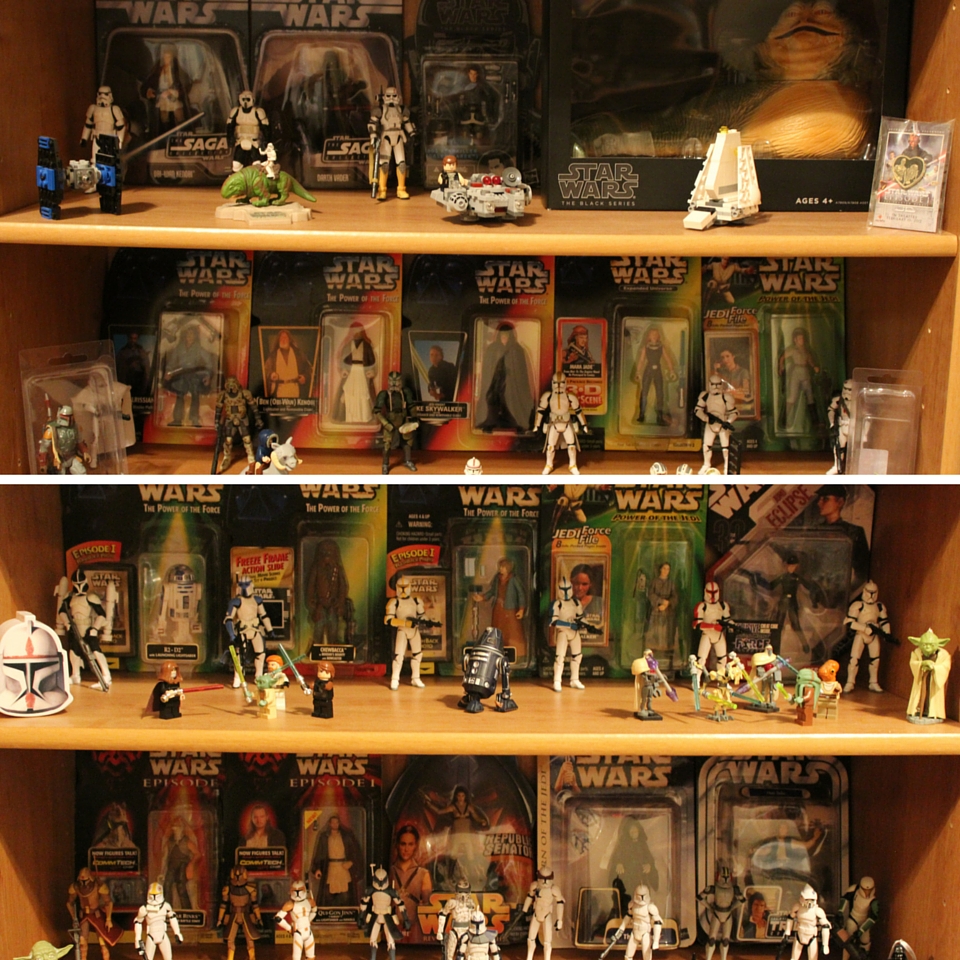 LEGO Star Wars
At the end of the 90s, Lego Star Wars was released in 1999 with The Phantom Menace, and has released toys with each release of the Star Wars prequel movies and Star Wars Clone Wars.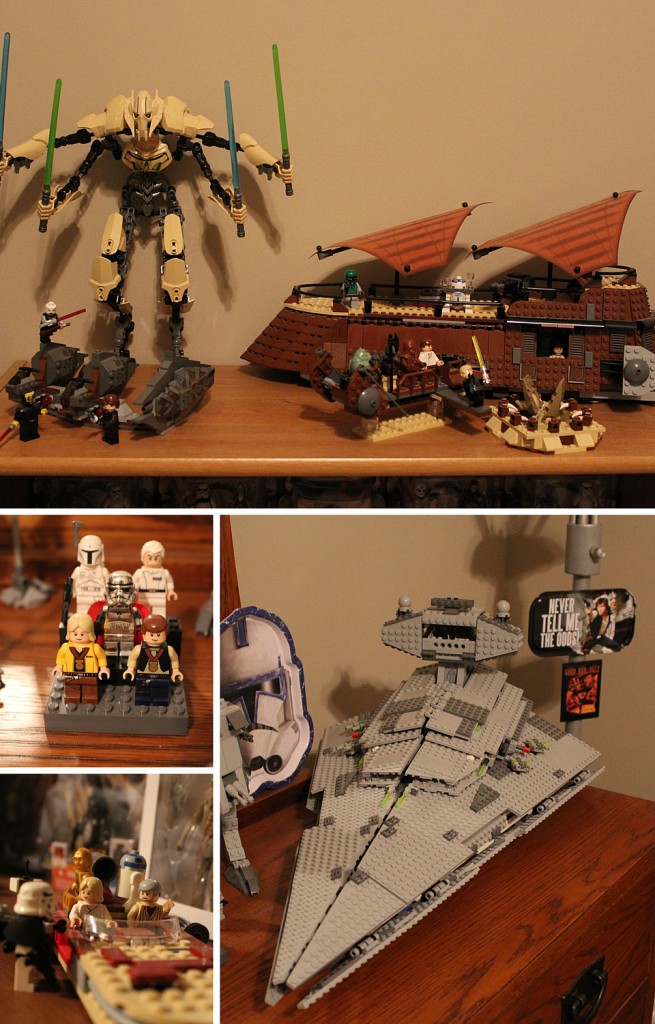 The Clone Wars 2008 – 2013
The Clone Wars, or what I call "that Star Wars cartoon," started in 2008, and the toy line reflects the cartoonish look of the characters' animated versions. While purists may not like it, The Clone Wars kept the story alive for another generation.
"I think in my generation a lot of it has to do with if the parents knew about Star Wars, they let their kids know. The introduction of the Clone Wars TV show in 2008 exposed a lot of kids to Star Wars without the need for parents introducing their kids to it. My parents weren't really into it. The roles are kind of switched around for my family. I got into it and I'm trying to get my father and mother into it," said Myers.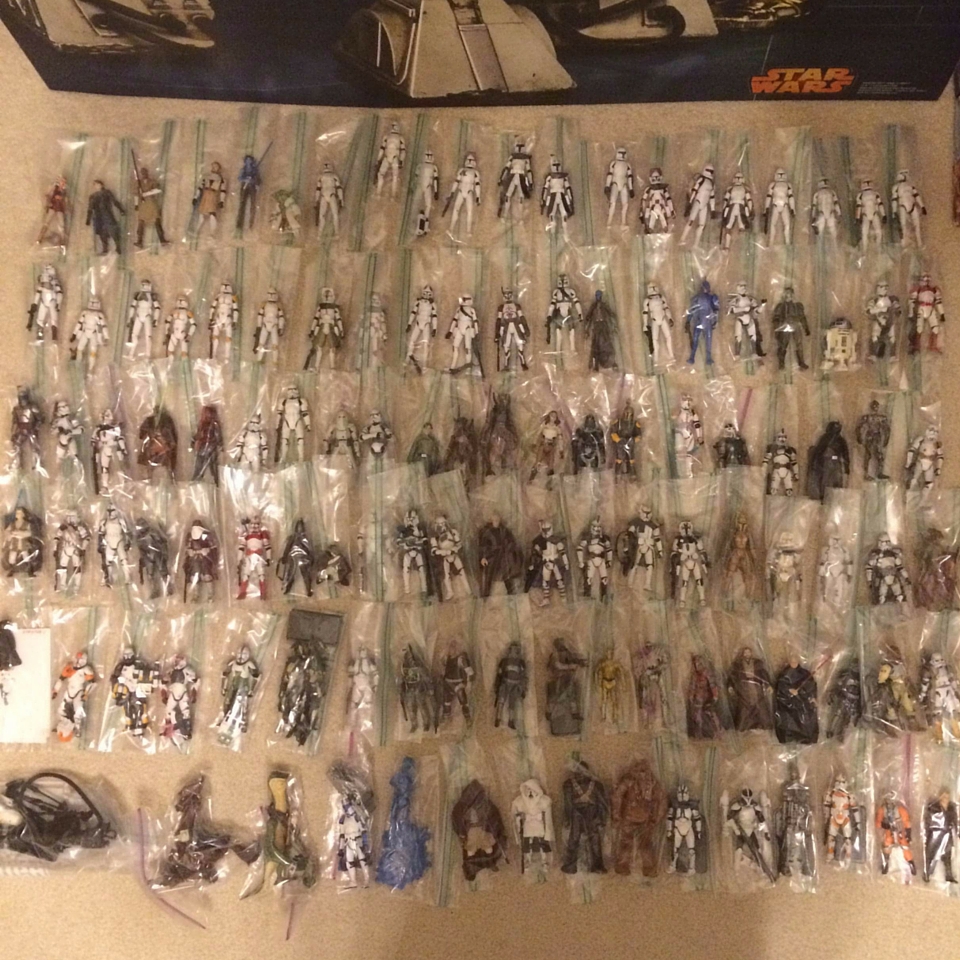 Star Wars Rebels 2014 – Present
Star Wars Rebels premiered in October 2014 and was Disney's first foray into the Star Wars world. Produced by LucasFilms but appearing on the Disney Channel, Rebels occurs five years before Episode 4: A New Hope, aka Star Wars.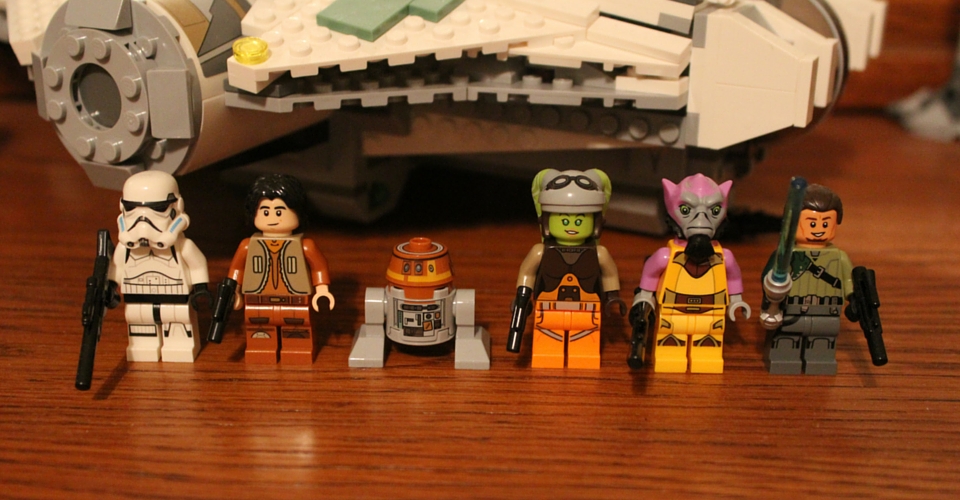 The Force Awakens
Unless you've been living under a rock, you probably know the latest Star Wars movie comes out this December. The Force Awakens will be the first film produced by Disney and not LucasFilms – since Lucas sold his company in 2012. While this might be shocking to some, it's safe to say most of the fans are excited and eager to see how Disney handles their beloved Star Wars characters.
And of course collectors have cleared room on the shelves for more Star Wars memorabilia – including Clint Sceeles, 19, who runs the largest Star Wars fanpage on Instagram, Star Wars Daily. He considers himself a "modern" collector, with a Star Wars collection mostly from 2005 and up. Sceeles made sure he got in on this year's Force Friday action, a marketing event produced by Disney that released the new toy line in relation to the upcoming movie.
"I was second in line at Toys R Us, and I managed to pick up a lot of The Force Awakens merchandise. I stayed up all night! I went to about five Wal-Marts, two Targets, and Toys R Us," Sceeles said.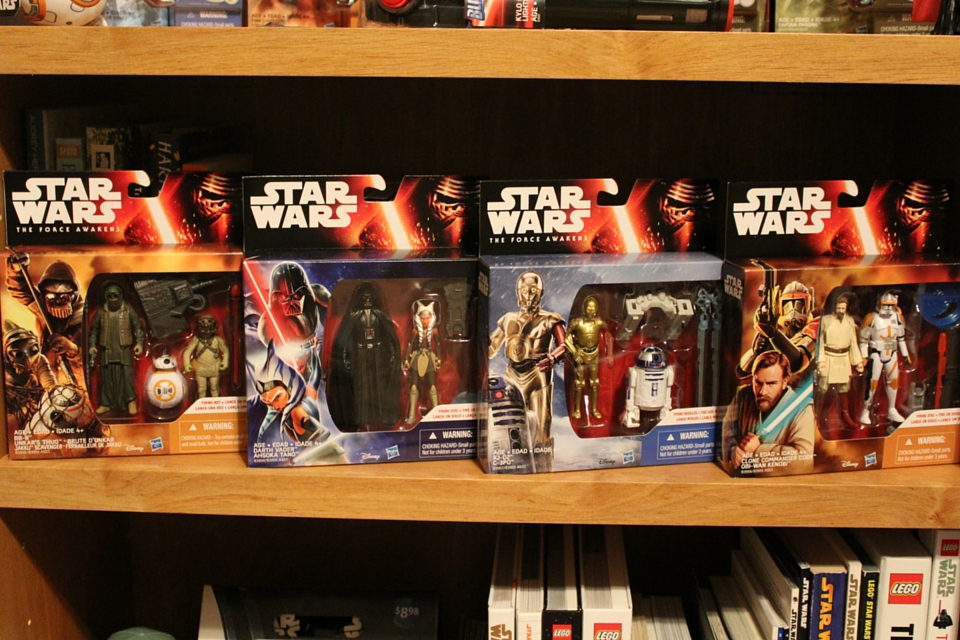 Star Wars Collectible Variants
Part of the fun of collecting is the specialized knowledge you acquire, not only about the story and characters, but interesting lore about the Star Wars figures. After all, toy companies are made up of humans, and humans are prone to error. So it's no surprise there were a bunch of toys released with imperfections or variations. These collectibles are known as variants. What this means is more fun for the collector, who can spend hours researching his/her next find.
"Take the first Han Solo that came out. They call him Small Head Han. They looked at that figure and they realized, that doesn't really look like Harrison Ford! And so it was replaced with a larger head version," said George. "And there are at least 12 Bespin Lukes, with variations of his boots, hair color, and facial expressions.
A lot of that stemmed from the fact that you had toy companies such as PBP, Palitoy and Mecanno – those toy factories made figures exclusively in Europe, so those figures tend to be a pinch different than the average Kenner figures that were made.
Then you have what's called the Lily Ledy line – and that was the Mexico toy run, and those are gonna be the wildest and craziest figure variations. And again those are very highly sought after by collectors," said George.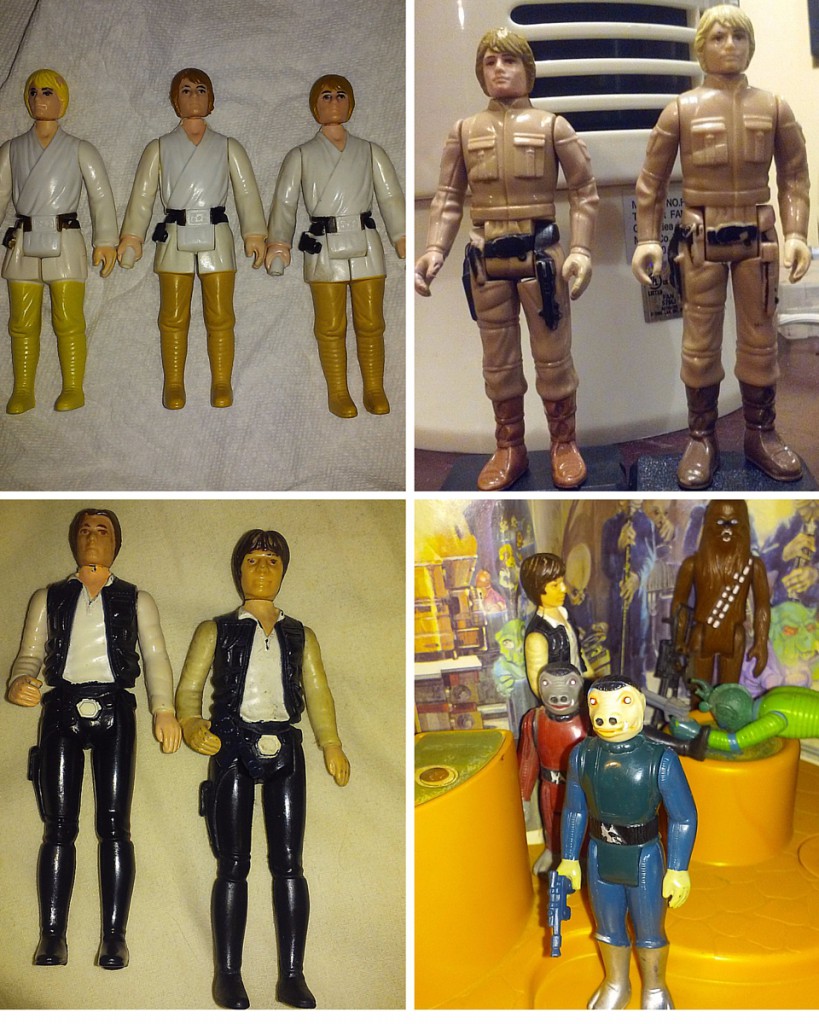 In Search of the Holy Grail: Taiwan Vader
Serious Star Wars collectors are always searching for that next obscure find. Whether they have to scour estate sales, hit up garage sales or yard sales, or spend hours scrolling eBay, part of the fun – and responsibility – of being a collector is finding the Holy Grail. For a lot of people, it's the Blue Snaggletooth, or Vinyl-caped Jawa. For Matt George, it was Taiwan Darth Vader.
"It took me three years to find what's called a Taiwan Darth Vader. There's a Made in Hong Kong, there's a Hong Kong, and there's a Made In Taiwan. And then there's a Darth Vader figure same as all of them — but on the leg it just says Taiwan. [Out of 1.5 to 2 million] Taiwan Vader looks completely different and they only made a handful," said George.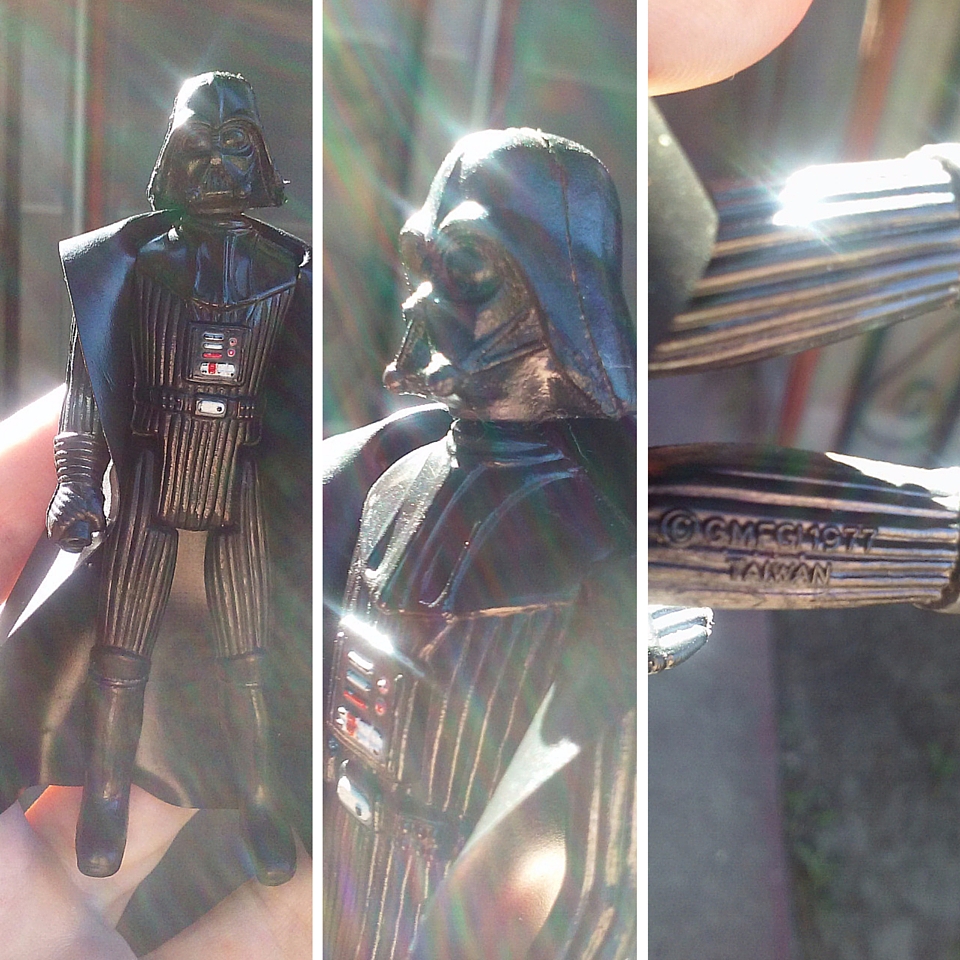 Valuing Star Wars Collectibles
How does a new collector distinguish which collectibles are valuable? Besides the vintage Star Wars collectibles, usually the things that are worth the most are the most flimsy.
"The ones that are the most valuable are the cardboard playsets because they got destroyed, so very few people have those. And if you get one that's AFA [Action Figure Authority] graded I've seen them sell for $3000 in the box. The stuff that's really valuable is the crap no one really wanted, or the stuff people destroyed, or was fragile like cardboard. And the weapons and accessories – because every kid lost those," said collector Max Berendt, who began his collection as a kid back in 1977, but now takes more of a casual approach to collecting.
While in his late 30s and grappling with the fact that "collecting" might just be a fancy word for "hoarding" (and makes moving difficult), Berendt still holds onto his nearest and dearest collectibles, including the original Creature Cantina playset in the box, pictured here.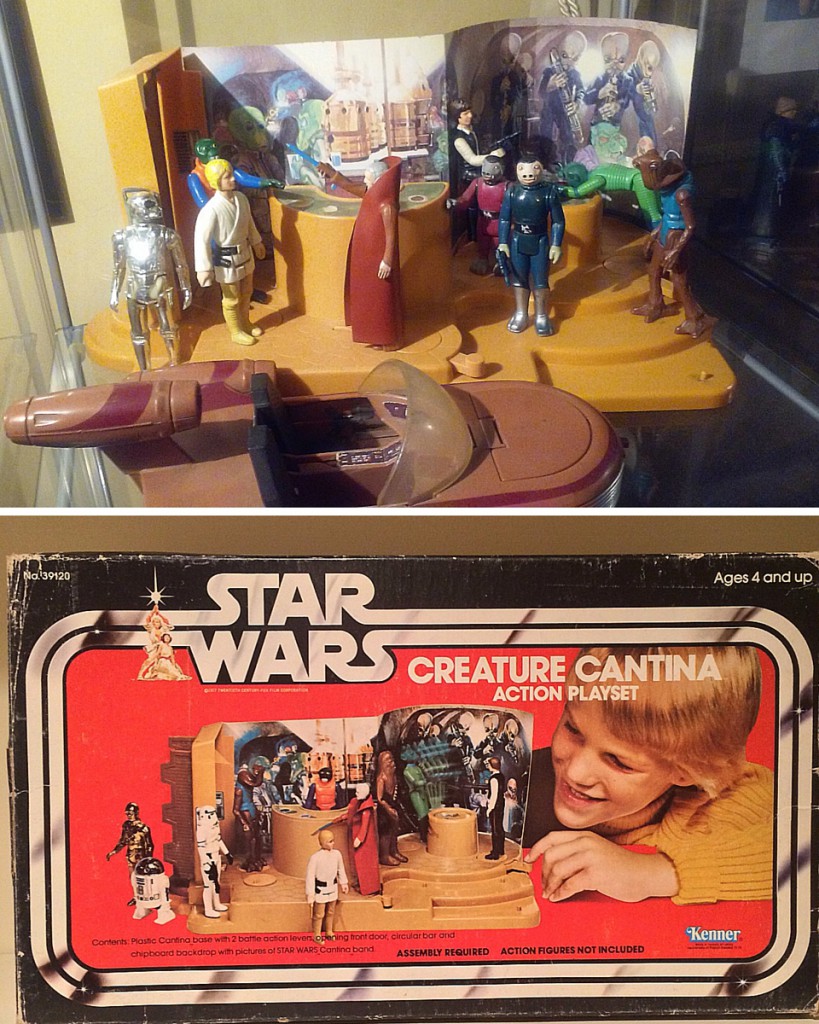 Tips for Finding Star Wars Collectibles
With so many Star Wars action figures out there, how do collectors ensure against fakes? There are a few ways, including the "float test" but watch out! This test isn't always fool-proof.
"I've spotted fakes recently that will float, and they're as fake as can be. I think the only real way to know is to be somebody like myself, who's been around these things for 30 years and have touched thousands of them. I can pick one up and can tell you just by picking it up that it's fake. Just the feel. Usually what I find is that they're lighter. They just feel cheap. They make a different noise. If you took a real weapon vs a "repro" weapon and dropped them on a hard wood floor, they'd make two totally different noises. But that takes a really trained ear to distinguish that difference," said George.
The best places to find Star Wars collectibles are at estate sales, garage sales, and yard sales (check affluent suburban neighborhoods to find the best ones, preferably households that had kids in the 80s), at websites like eBay and RebelScum, or by connecting with other collectors online. Happy hunting — and may The Force be with you!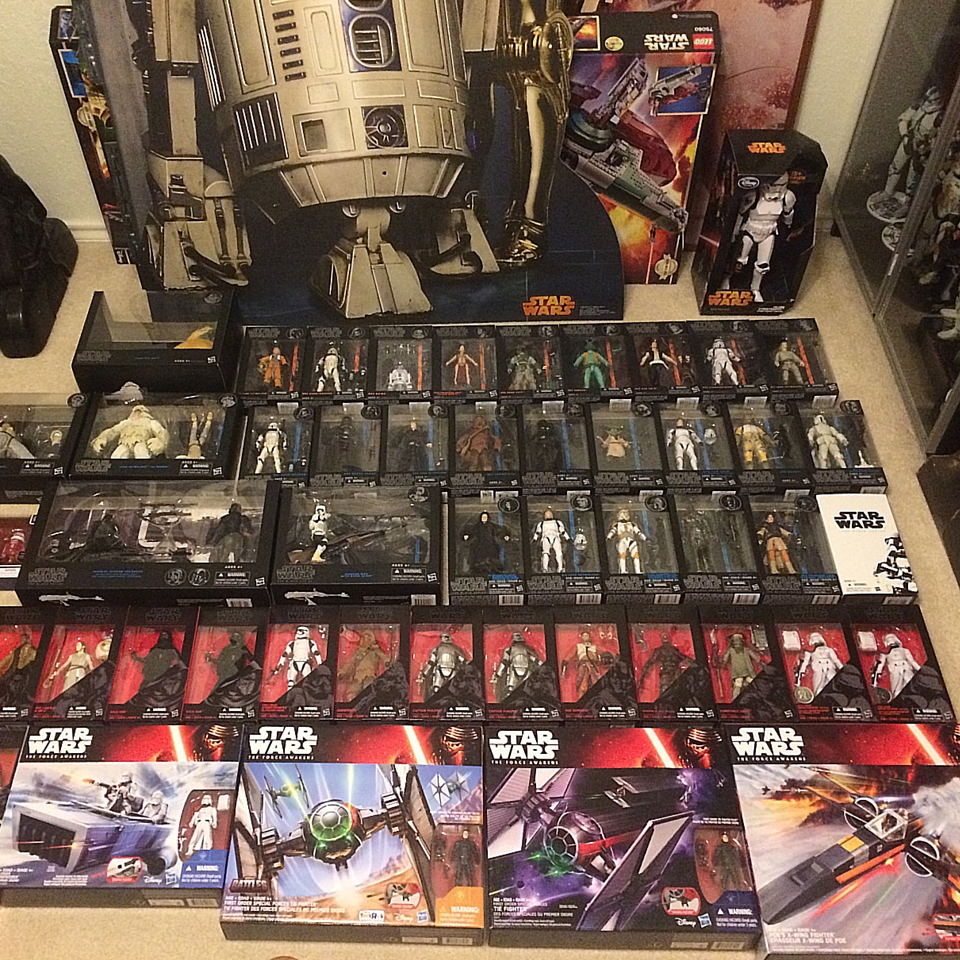 A very sincere thanks to our contributors for sharing their collections! Find them on the Web at: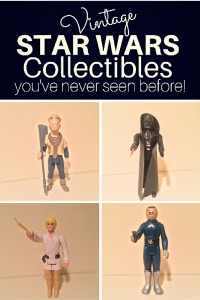 Do you have any vintage Star Wars collectibles or action figures? Share them in the comments below!