Here's a little secret: Estate sales are the best places to pick up cast iron, and you can find some pretty good deals on cast iron dutch ovens, skillets, griddles, and more. How good are the deals? It's not unusual to find brand name vintage cast iron for just dollars. If you haven't tried cooking with cast iron yet because you're not a professional chef, or you think it's too old-fashioned or intimidating, we're here to tell you why it's seriously the best.
To prove all that cast iron lying around estate sales is not just a steal but an investment, check out these smart reasons why you should never pass it up.
1. Cast iron lasts forever.
This isn't Teflon® from Target. This is rock solid cast iron cookware that when treated right can last a lifetime – maybe longer. Pick one up at an estate sale for dirt cheap and the return on investment is infinite. Check out this rare Griswold Skillet Number 4 from the early 1900s!
2. It makes for great family heirlooms.
The great thing about cast iron is it can get passed down for generations. Something sturdy like this Wagner dutch oven is one of the best kinds of family heirlooms: one that's practical and functional.
3. You'll have a reason to season.
If the phrase "seasoning your skillet" intimidates you, don't worry. It's easy – and necessary if you want to get the most out of your cast iron. Simply coat it with oil or shortening and then bake it for an hour. This will create the smooth, glassy patina you're looking for, that like a fine wine, only gets better with age.
4. 5 words: vintage cast iron cornbread molds.
Sure you can cook up some cornbread in a regular old cast iron skillet. Or you can get cute and try to score vintage cornbread molds at an estate sale for some extra flair.
5. It's easy to clean!
If you haven't yet faced the wrath of a chef whose cast iron skillet you've doused in dish soap, take note. The beauty of cast iron is you don't need to wash it. In fact soap will only interfere with the seasoning. If you need to scrub it, try using salt instead.
6. Steals on brand name and vintage cast iron.
A brand name (read: quality) non-stick skillet can run you hundreds of dollars on Amazon. But you can easily get a cast iron skillet at an estate sale for much cheaper. Brands to look for are Lodge, Griswold, Piqua Ware and Wagner to name a few.
7. Fresh cinnamon roll.
When you need to brown something, cast iron is the way to go. Whether you're cooking fish sticks, pancakes, or French toast, cast iron can fry deep or shallow. Take a look at this cinnamon roll which was super easy to make – and looks delicious.
8. It doubles as a grill.
Hotdogs. Hamburgers. Steaks. You no longer have to withstand the blistering heat outside in order to enjoy your backyard favorites. Whip out the cast iron and get the same charred effect.
9. Take it to-go.
Going camping? Don't forget your cast iron skillet. Cast iron is designed to cook over any heat source, like an open flame, and is versatile enough to serve as your only cooking utensil if you need to pack light.
10. Cast iron skillet pizza.
Who needs delivery when you can make your own homemade skillet pizza in vintage cast iron – in 30 minutes or less?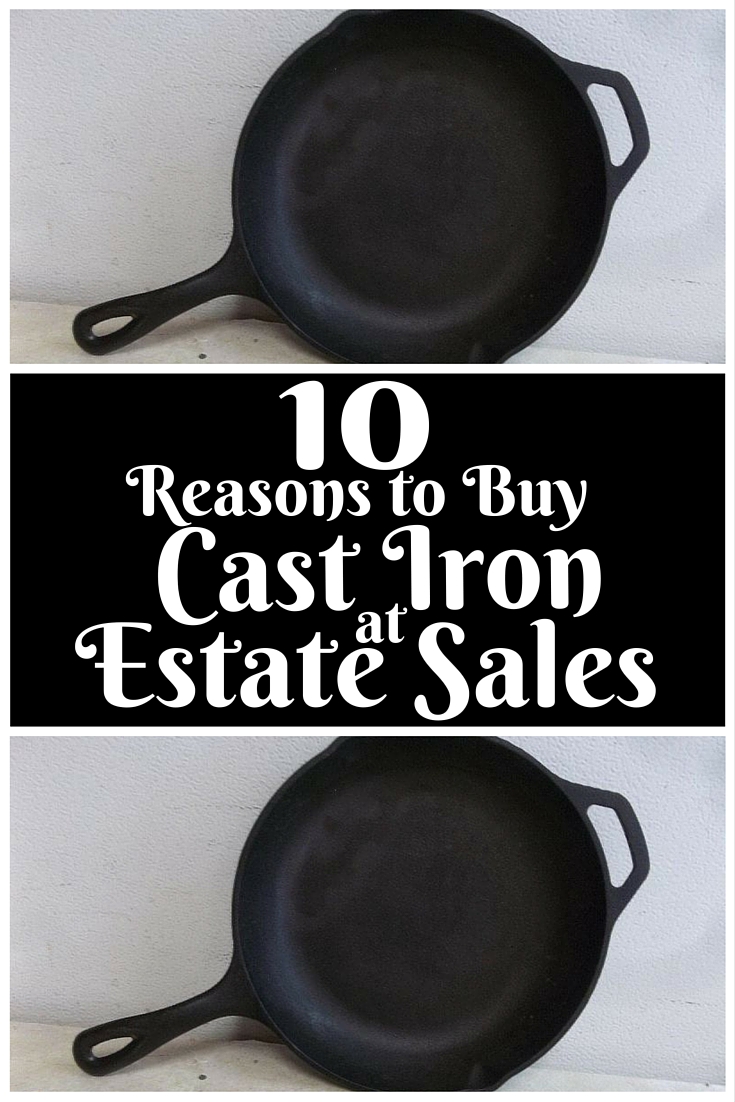 What's the best deal you've found on cast iron at estate sales? Let us know in the comments!