There's a lot of Lucite love going around lately, and we've been seeing it everywhere: from fashion runways to home decor magazines, and of course, at estate sales. Lucite is a special plastic, sometimes called "acrylic glass" or "Plexiglas" that's similar in look and feel to glass, but much more durable and lightweight. It's also water and UV ray resistant.
Some backstory: Lucite was created in the mid 1800s and was finally patented and branded "Plexiglas" in 1933. By World War II this wonder plastic was used in everything from windshields and periscopes to ammunition parts. Other functional uses for Lucite over the years have included car lights and eye glass lenses, aquariums, police car windows, dentures, and even cosmetic surgery.
Lucite is also used to create pretty things. Lucite jewelry especially became popular after the Depression because it was cheap to make. It's also versatile and easily dyed, although clear Lucite jewelry is just as popular. Ironically, while Lucite used to be a cheap, costume-jewelry alternative to real jewels, vintage Lucite bracelets, rings, and earrings can be quite expensive today now that they're considered collector's items.
Because it has that 1960's Space Age look, Lucite was a favorite of midcentury designers and was used in furniture and art that continue to be stylish and collectible. After all, everything retro is in again – and doesn't look like it's going back out, so put this stylish plastic on your treasure list when you're out estate sale-ing.
Need inspiration? Here are a few of our favorite photos of Lucite on Instagram!
1. Lucite Hardware
2. Lucite Heels
3. Lucite Sculpture
4. Vintage Lucite Coffee Table
5. Vintage Lucite Lamps
6. Vintage Lucite Furniture: Side Table
7. Lucite Chairs
8. Lucite Bubble Chair
9. Lucite Dining Table
10. Beetles in Lucite
11. Vintage Lucite Jewelry
12. Vintage Lucite Ring
13. Lucite Wine Rack
14. Lucite Lipstick Holder
15. Lucite Guitar
16. Lucite Shelf
17. Vintage Lucite Purse
Like this blog post? Read about more trends, like vintage Bakelite and midcentury modern chairs to find at estate sales.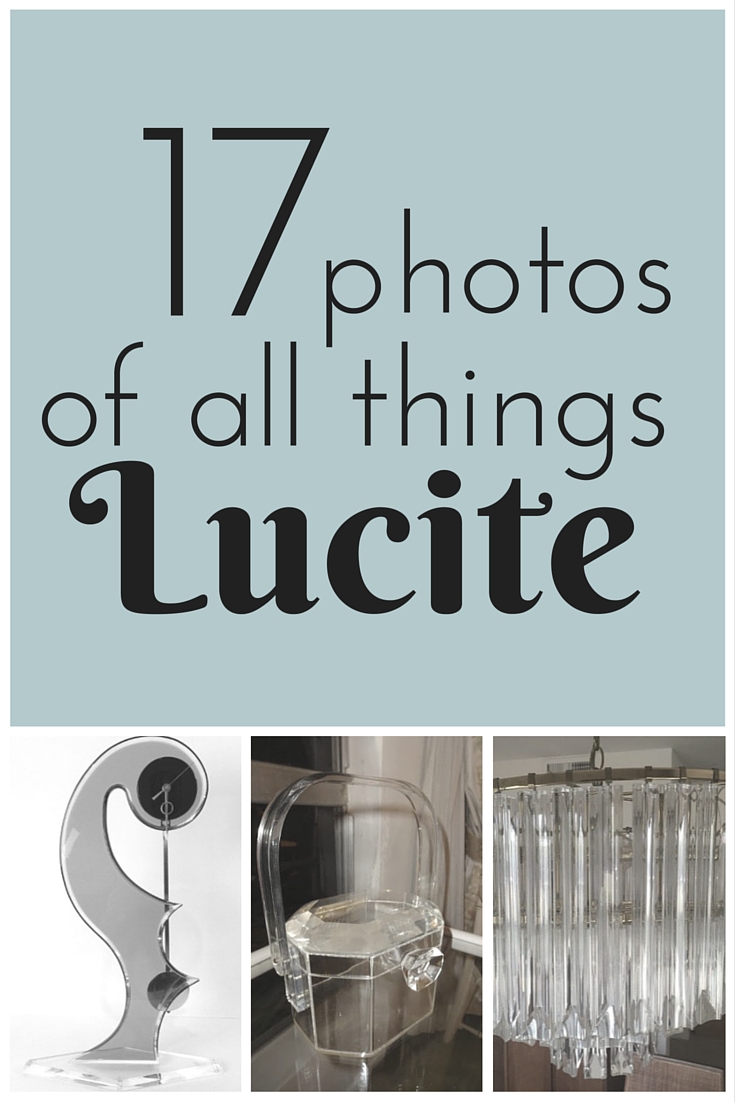 What vintage Lucite do you look for at estate sales? Tell us about it in the comments!